Ya'll, I LOVE lasagna.
For us Trim Healthy Mamas, that's probably because most lasagna is an S, and therefore super filling and satisfying.  We really like our S meals.
But the reason I like lasagna, specifically, is not because it's easy, but because it can be prepped ahead of time, appeals to everyone (even non-THM-ers) and is a sort of "fail-safe" when company pops in unexpectedly.
I would guess we almost always have the ingredients needed on hand.
And so it's my go-to.
But regular lasagna (as awesome as it is) does get old after a while.
And when that happens, it's time to break out the big guns: Trim Healthy Mama Taco Lasagna.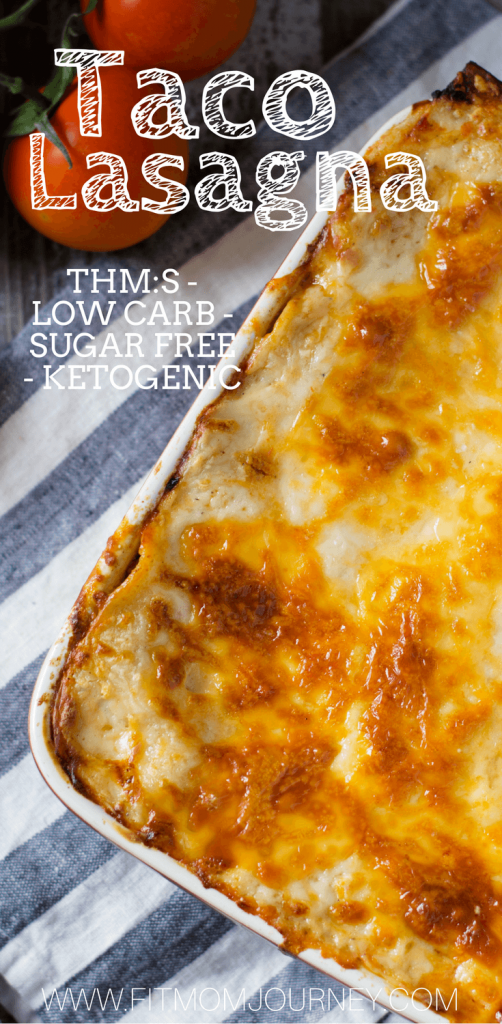 Think of it like taco night but without all the little bowls of toppings, dishes, and (as much) chopping.  Plus, it's on the table in under an hour!  Even better, the recipe is only 7 ingredients!
However, a word of caution: Taco Lasagna is great for a quick weeknight dinner, but it's definitely full of franken-foods.  The canned soup, the lavash, and even the sour cream and cheese are perfectly fine as long as you're not in Deep S, or during a Fuel Cycle.  If that is the case, you'll want to skip this in favor of a true deep S meal to help your body heal.
Want to learn more?  Check out Trim & Health 101!
Give it a try!
And, if you like Trim Healthy Mama Recipes, I would love for you to sign up for my newsletter!

Taco Lasagna (THM:S)
Prep time:
Cook time:
Total time:
Ingredients
1 pound of ground beef
1 packet taco seasoning
1 can Rotel
1 can nacho Cheese Soup
¼ cup Sour Cream
¼ cup milk
1 cup grated Cheddar Cheese
2 Joseph's Lavash wraps
guacamole, cilantro, and sour cream for toppings
Instructions
Preheat oven to 350 degrees. Spray a 9x9 square pan with coconut oil cooking spray.
Brown the beef in a large skillet, drain the fat, then stir in the taco seasoning.
In a bowl, combine the beef, taco seasoning, rotel, nacho cheese soup, sour cream and milk. Stir to combine.
Place ½ a Joseph's Lavash in the bottom of the square pan. Top with ⅓ of the meat mixture.
Repeat layers until you end with a ½ lavash on top. Sprinkle the cheese on top.
Bake for 20 minutes until hot and melty. Serve with guacamole, cilantro, and sour cream as toppings.
Talk Soon,
Gretchen
This post may contain affiliate links.  See my disclosures for more information.