I remember the thought that went through my head at the precise moment I was handed Trim Healthy Mama for the first time:
"Any plan with a name like this just isn't for me!"
I mean really, I'm a feminist in the truest sense of the word, I'm not really into rabbit food, and reading an honest to go paper book?
This was not happening.
But my Trim Healthy Mama journey has been one of the best things I've ever done.  It's helped me shed weight, have more energy, eat and exercise more, and so many other things.  Here are some of the reasons why Trim Healthy Mama was right for me:
I Love Food.
As I've gotten older, I've realized that there's no sense in denying it.
I just really like food.
An while I might want to be skinny, and be strong, I'm not willing to do it at the expense of food. My husband gets to eat all of those delicious, indulgent foods, so why should I deny them myself?
I shouldn't, and Trim Healthy Mama doesn't make me.
I can still have steak, butter, chocolate, and fruit. Even if those aren't your favorites, don't fret, because you can have your favorite foods!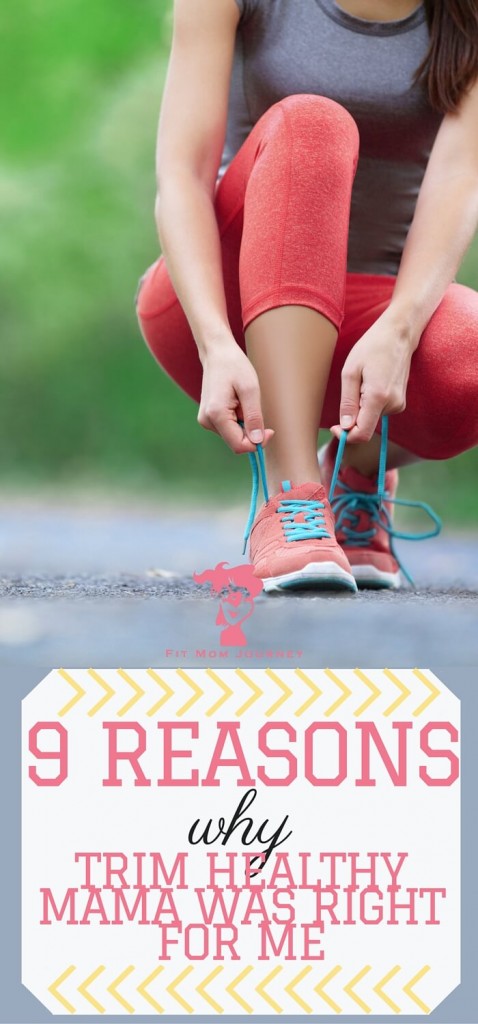 It Seems Sustainable
I've tried Paleo, I've tried only eating 1,200 calories a day, I've tried doing low-carb, and of course I've tried eating basically only protein.
And while those diets may work short – term, in the back of my mind I knew that they weren't sustainable. They were either too expensive, didn't taste good enough, or the long term effects of them would not be good for my health.
I knew that they weren't sustainable.
Not only does THM get results, it is a lifetime plan, something I can do without denying myself any of the food groups, still eating dessert, and that doesn't cost a fortune.
It's Made For Women
Sorry guys! I know you may want to lose weight too, but THM was designed for women.
Yep, it will work for the gentleman, but the book and the cookbook were written with women in mind, so naturally the plan will work better for women.
What's more, it takes my unique hormonal and bodily needs in mind when it gives recommendations, not the crazy amounts of food that men need to keep their bodies fueled.
It's Purity-Focused
You can do THM using processed foods and still lose weight, but one of the things that I love is how they gently introduce you to more clean – even organic – foods.
They make sure you understand the "why" in eating clean before you just take their word for it so that when you make purchases, you can evaluate them on your own and decide which organic ingredients are for you, and which are now.
Personally, I understand that many of the chemicals in processed foods harm our health, but I don't understand why or how. The book explains the authors' views on different foods, and gives tons of helpful information so that you can truly grasp how important it is to eat organic with certain foods.
No matter what you decide, you can lose weight with THM.
They Claim It Can Heal Your Thyroid and Blood Sugar Issues
I'm admittedly still in the beginning stages of my THM journey, but I'm already seeing that this is true.
My body had started to show signs of insulin resistance, sugar addiction, and thyroid issues.
As a result, it was cold all of the time, had no energy, and was always thirsty, no matter how much water I drank.
But, within 2 weeks of being on THM, my thirst is 70% gone, my energy levels are through the roof, and the cold I constantly felt has definitely subsided.
I haven't been to the doctor yet to have my blood work run, but based on these symptoms (or lack thereof) I'm guessing my body has already started healing itself.
It Got Rid of My Headaches
Prior to THM, I had headaches every single day. Usually they didn't start appearing until after noon, but that didn't make them any less unpleasant.
I tried drinking more water, drinking caffeing, not drinking caffeine, stopped eating sugar, ate more protein, and tons of other things, but still the headaches came on like clockwork.
I'm not one to take ibuprofen – or any pills for that matter – but ibuprofen became a daily regimine.
Now, with only 2 weeks on THM under my belt, my headaches are almost completely gone.
The Energy is Insane
For the last few years I've felt tired all the time.
I chalked it up to having a baby, working a lot, and getting older, but I'm only 24.  Was I going to feel like this – and worse – for the rest of my life?
Trim Healthy Mama has helped me to sleep better, wake up more refreshed, and I've been shocked at the amount of energy I have every day!  I don't need pre-workout supplements, I don't drink more than a few cups of coffee, and the result is that I've been exercising more, which gives me even more energy!
I Can Still Have Coffee
Caffeine aside, there is something that I seriously love about coffee.
In January, I gave it up, partially because I had just been fired, was throwing a pity-party, and was too lazy to make it, and partially I had been wanting to give it up for a while.  Well, January forced me into it, but my energy didn't improve when the caffeine addiction subsided.
Trim Healthy Mama has improved my energy so much that I don't need coffee, even though I start work at 5am.
Usually one cup will get me started for the day, but beyond that I really enjoy that warm, comforting cup of coffee that I get to wake up to – and Trim Healthy Mama doesn't try to take that away from me!
My Thirst is Gone
For the last 3 years, I have been thirsty every minute of every day.
It's been a nightmare.
But in only 2 weeks of Trim Healthy Mama my thirst went down by 70% – no more guzzling 2-3 gallons of water every day and still being thirsty!  I actually wrote more about the drastic changes my body saw when I first started doing Trim Healthy Mama in this post!
Trim Healthy Mama isn't for everyone – I'll be the first to admit that!
And just like any eating plan you won't have success with it unless you are truly committed to learning about it, but my experience has been so overwhelmingly positive that I just had to share it with you!
After all, who wouldn't like an eating plan that revvs their metabolism, lets you eat all of the "fattening" food and dessert you like, and gives you energy through the roof?
xoxo,
Gretchen