(Scroll down for pantry basics)
Shop Favorite Products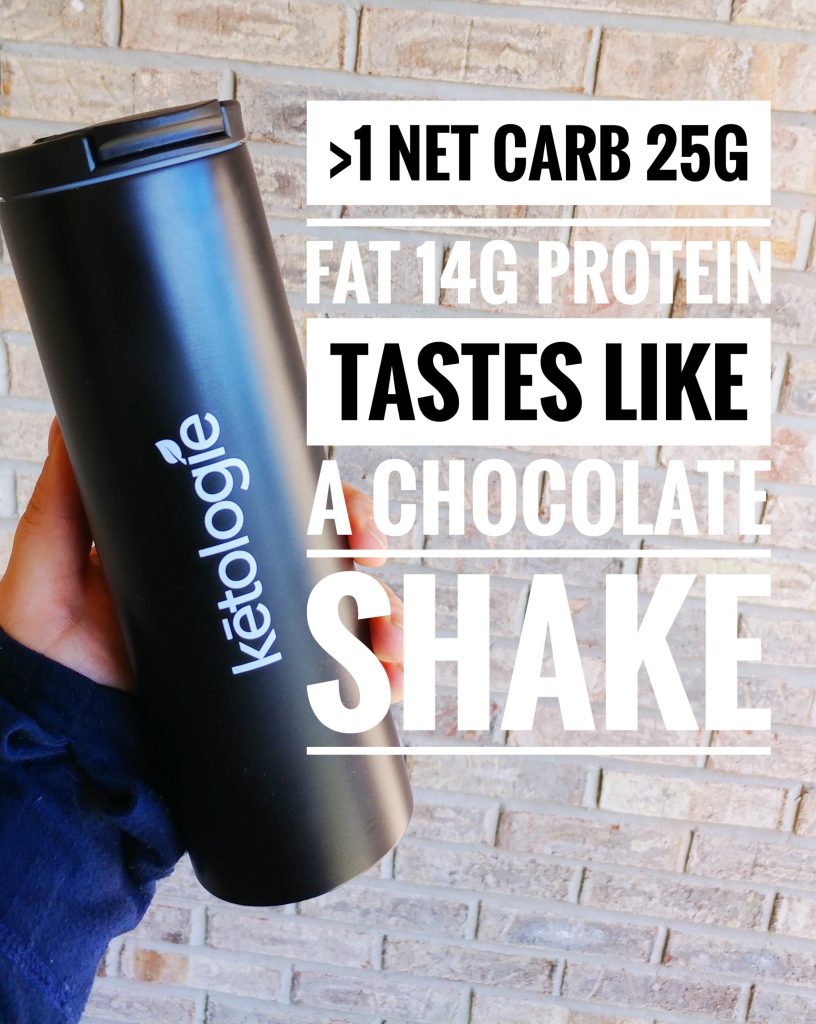 Ketologie: This delicious shake has 25g of fat, 14g of protein, and <1 net carb, and I drink this for breakfast nearly every day.   It tastes so good that even my picky husband loves to drink it with his morning coffee.  Plus, we love that it's an affordable, keto meal replacement shake, and we like their bone broth too, as an easy-to-make gut-healing drink.
I use Ketologie in my Mocha Keto Shake, Fat-Fueled Coffee, InstantPot Chicken Soup, and more.  I reviewed Ketologie's Bone Broth here.
---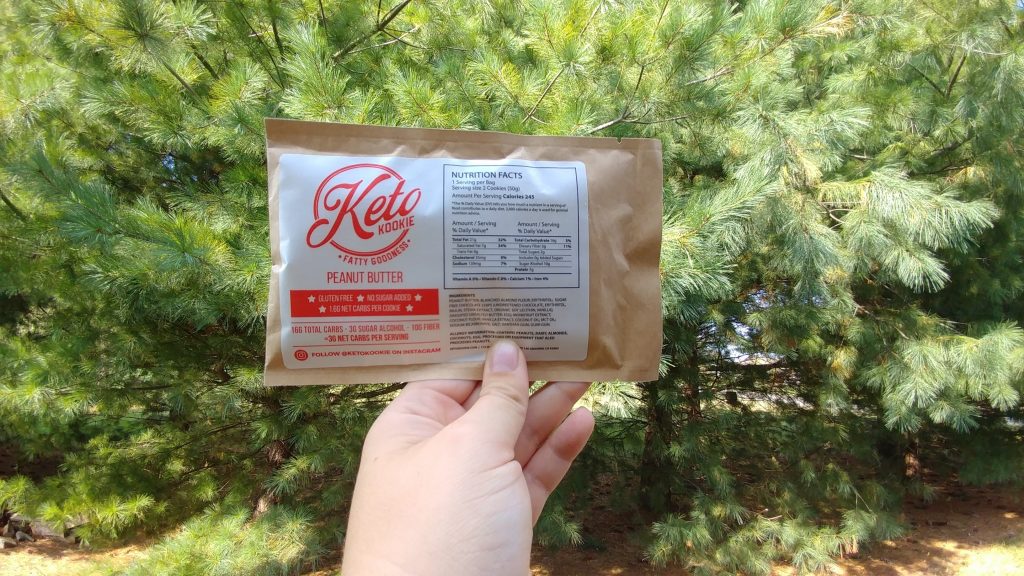 KetoKookie: Easy, delicious, portable Keto food!  Keto Kookies always go with us when we're out and about. because my daughter and husband love them (ok fine, I do too!) and they fit perfectly into our ketogenic, outdoor lifestyle.
---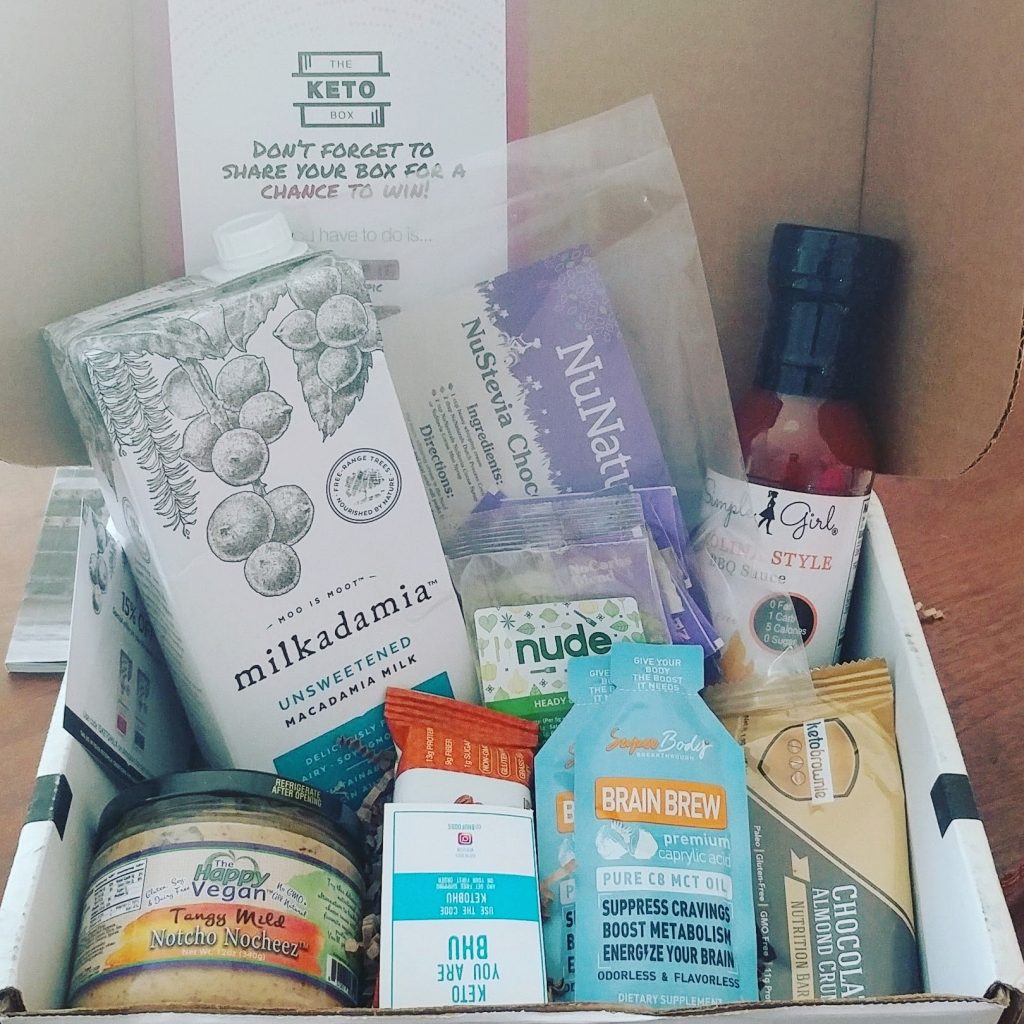 The Keto Box: My favorite way to discover new and awesome keto products, The Keto Box will run you $40 a month (you can cancel anytime).  Use my link to save $5 off your first box.  See my Keto Box unboxings here to see what has come in past boxes.
---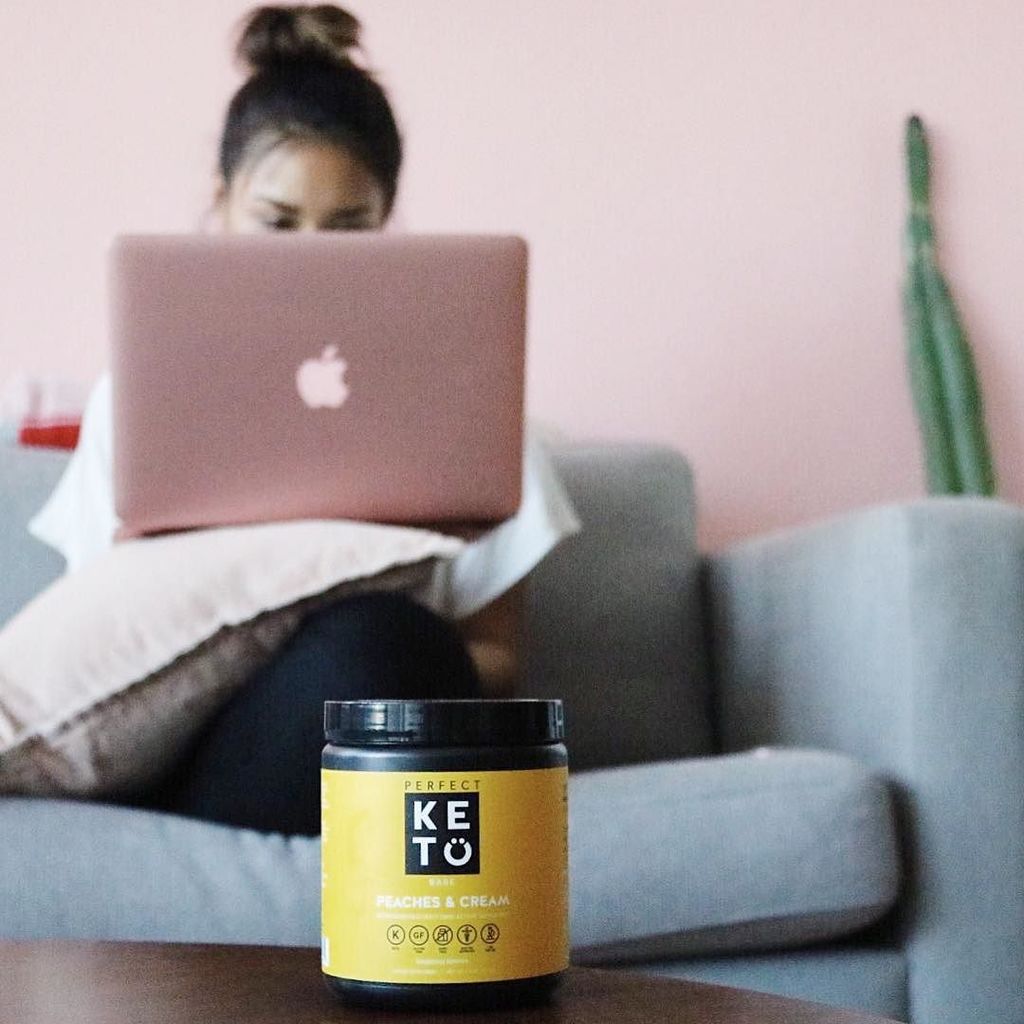 Perfect Keto: Ketones can help you survive Keto Flu, increase your energy levels, and in my case stop my muscles from shaking during weight lifting sessions.  I also use the Perfect Keto MCT Oil Powder in my iced coffees to make them bulletproof.  Perfect Keto is my brand of choice because of their quality, affordability, and taste.
---

SmartCakes: These yummy cakes are not only carb-free, they're delicious!
Save 10% using code "Fitmomjourney"
---
Shop Pantry Staples
Looking for Keto, Paleo, or Whole30 Pantry Staples?  Visit that Pantry List here.
I get the bulk of my Pantry staples from Aldi, Amazon, and Thrive Market.  Here, I've broken them down for you, based on where I've found the best prices on these pantry staples.  The following are mostly affiliate links.  This means that if you click on my link and make a purchase, I may make a small commission at no cost to you.  Commission help me keep up with the costs of running this blog, and enables me to keep pumping out recipes for ya'll.  Thanks for your support!
Before I get into the "meat" of what typically resides in my pantry, I want to explain something really breifly:
You don't NEED any special ingredients to successfully do Trim Healthy Mama
Aside from the regular foods you buy every shopping trip, you don't have to buy the coconut flour, the nutritional yeast, the coconut oil, or anything else – and you can absolutely be successful as a Trim Healthy Mama.
However, as you slowly start to adjust to this new way of eating (and living!) you'll start to want to incorporate some more speciality ingredients.
But won't it cost more?
First of all, don't buy anything you can't afford.
We've had tight budgets, lose budgets, and budgets that were somewhere in between, and overspending never helped when things were tight.  If you can't afford it, please do not buy it in the name of Trim Healthy Mama.  You can be successful without them.
I call some of these "speciality ingredients" which makes them seem really fancy and expensive, but that's just not the case.  In fact, since I've started Trim Healthy Mama, our grocery spending has actually gone DOWN.  This is partly due to the fact that we were eating more at home, partly due to eating for health (rather than becuase it's indulgent and eating too much), and we've found that many of these ingredients are actually less expensive!
Who knew?
I do my best to shop at some of the least expensive stores in our region (we're in the Southern Illinois/St. Louis area, for reference): Sam's Club, Amazon, Aldi, and Thrive Market.  This combination of budget grocery chains + strategic online shopping has helped us to reduce our grocery spending while still sticking to plan.
You won't see a ton of meats on this list, not because we don't eat them – in fact, meat plays a part in nearly every meal we eat – but becuase we're smart about where/how we buy it.  We buy chicken in builk from Zaycon Foods because it's fresh, never frozen, and antibiotic and hormone free.  For pork, we raise our own pigs, then send them to a meat processor to be processed and packaged.  This saves us a LOT of money on meat, but it does require planning ahead to be able to pay for large meat purchases when the time comes.
For some other things, we buy in bulk from Sam's Club.  We get a discounted Sam's Club membership because my husband is in the National Guard, and I usually pay for every single purchase from the store with Swagbucks gift cards. (On one of my other blogs, I wrote a tutorial about how you can earn more than $1,200/year from Swagbucks).  Currently, I earn $300 – $400/month in Swagbucks gifts cards, which I redeem for Sam's Club, Target, CVS, and Amazon gift cards.
Aldi has been a long-time staple in our house.  In fact, I was raised shopping at Aldi, and their products have come a LONG way since then!  If you have been leery of trying Aldi, I highly recommend that you give them a change – you will be surprised!
And finally, one of my most recent favorite stores is Thrive Market.  I started my 30-day trial membership to write a cost-comparison article, but was hooked!  They have in-house brands that are of the highest quality, at super low prices, help me get creative with my THM cooking, and their prices on many items are better than anywhere else.  The membership costs us $60/year, but if you're interested in looking around for yourself, you can start a free, 30-Day Membership here (<< — Affiliate Link.  Use my link for your trial membership and you'll receive a free box of Cashew bars with your first order!)
The best thing about Trim Healthy Mama iss how flexible it can be.  Many THM-enthusiasts buy lots and lots of specialty ingredients, but I buy only a few that I really, really love.  I've tried lots of them, but have been able to narrow it down to the ones I've listed below.
Just getting started with Trim Healthy Mama?  Read my Trim Healthy Mama 101 page for a breakdown, plus helpful tips!
Amazon
Lily's Chocolate Chips
Gentle Sweet
Pure Stevia Extract
Super Sweet
Natural Peanut Butter
Defatted Peanut Flour
Joseph's pitas & flatbreads
Stevia Syrups (caramel, chocolate, toffee, butterscotch, etc)
Whole Husk Psyllium Flakes
Oolong Tea
Glucomman
Gelatin
Miracle Noodles
BioChem Protein
Collagen
Aldi
Sprouted Bread
In season berries: raspberries, blackberries, blueberries
Root vegetables: onions, carrots, red potatoes, radishes
Leafy Greens: Arugula, spinach, lettuce
Herbs: Cilantro, Basil, Oregano
Anything else in season: bananas, celery, cabbage, limes, lemons, oranges, tomatoes, mushrooms, squash, apples, peaches, pears
Greek Yogurt (organic & non-organic)
Canned & dry beans
Lunch Meat
Frozen, prepared chicken strips (for quick meals)
Thrive Market: Thrive Market has offered my readers 25% off their first order + FREE shipping + FREE Coconut Aminos though my link only.  Plus, Thrive Market gives you a 30-day free trial, no credit card needed.  It's a no-brainer.
Thrive Market also has some really cool starter kits at even biggest discounts than normal:
What's Included:
Whether you're trying it for the first time or a seasoned expert, Thrive Market's Ultimate Paleo Kit makes eating primal as convenient (and tasty!) as ever.
EatingEvolved Caramel & Sea Salt Coconut Butter Cups, 2-pack (4 cups)
We've combined the cleanest Caramel with our famous Coconut Butter Cups to create a truly magical chocolate experience. With only five simple ingredients you'll be left wondering how so much delicious taste could be packed into one cup! This is one of our favorite products, we hope you enjoy it as much as we do!
Kettle & Fire Grass-Fed Beef Bone Broth
While many think of bone broth as the latest food fad, it's not anything new. In fact, this nutrient-rich stock––a blend of bones, meat, and/or veggies––dates back centuries. Kettle & Fire's variety is a modern-day favorite that takes the hassle out of making it yourself. It's slowly simmered for at least 24 hours to extract tons of flavor and nutrients including collagen, calcium, phosphorous, glucosamine, and other essential amino acids that help fight illness, inflammation, and anxiety. Each batch is made with bones from 100% grass-fed cattle that are hormone- and antibiotic-free. Organic vegetables and herbs, sea salt, and black peppercorn are also mixed in, creating a savory and soothing broth to enjoy solo or as a versatile soup stock.
Paleonola Chocolate Fix Grain-Free Granola
Sometimes you've just got to get your chocolate fix—you're only human. But it's no problem to give in to the craving with Paleonola's granola, which mixes 100% cacao with a delicious blend of hearty nuts and berries that can satisfy your sweet tooth without derailing your Paleo plan. Topped off with a generous portion of unsweetened dried coconut, this grain-less granola is guaranteed to become an instant favorite for breakfast, snack time, and desserts.
Primal Kitchen Avocado Oil Mayo
A Paleo-approved mayo? You're not dreaming. From the Primal Kitchen of Mark Sisson, health and fitness guru and author of The Primal Blueprint, comes a spread made with pure, wholesome avocado oil, cage-free organic eggs, and organic vinegar. This popular avocado mayo contains absolutely no added sugars, soy, canola, or trans fat. Instead, it's rich with healthy fats that help reduce inflammation and lower bad (LDL) cholesterol.
Classic Almond Butter
Move over peanut butter, Thrive Market's Organic Creamy Almond Butter is having its moment. Made with hand selected dry roasted almonds, and nothing else, this is a high quality spread you can trust. We honor our commitment to offering pure, wholesome foods so you can live your healthiest life—and our almond butter is no exception to that.
Mavuno Harvest Organic Dried Tropical Mix
Here's a real fruit snack for you and the kids. Mavuno Harvest's naturally-sweet medley of organic dried pineapple, mango, and banana has zero fat, cholesterol, or sodium and tons of fruity flavor that makes it a solid choice between meals. You can also snack happy with Mavuno Harvest knowing that every sale contributes directly to the rural African farming communities that produce it.
Primal Kitchen Ranch Dressing with Avocado Oil, Dairy-Free
The last step of making your salad—the dressing—is hands down the most important part. Dress your salad in creamy, dairy-free perfection with Mark Sisson's Primal Kitchen Ranch dressing made with avocado oil. It's Paleo-approved and contains no sugar, soy, or canola. No matter what diet you follow, a fresh salad is universally recognized as a healthy choice.
Bragg Organic Extra Virgin Olive Oil
For 100 years, Bragg has made their Extra Virgin Olive Oil with all-natural Koroneiki Greek olives that provide a consistent, delicate flavor. This olive oil makes the perfect salad dressing, bread dip, and popcorn topping. Bragg Organic Extra Virgin Olive Oil is also kosher, vegan, Paleo-friendly, and doesn't contain any sodium or carbohydrates.
Wild Planet Albacore Tuna
No more draining cans of tuna. The juices in Wild Planet actually enhance your meal with pure flavor. That's because these albacore steaks are hand-packed raw into each can without any added salt, oil, water, or fillers, and cooked just once to retain all of the goodness. The wild stock is also rich in omega-3 oils and lower in mercury compared to conventional tuna.
Wild Planet Alaskan Pink Salmon
When you eat a can of Wild Planet Alaskan Pink Salmon, you are doing a world of good since the supply is sustainably caught by local fishing families. You are also doing yourself some good eating the skinless and boneless fillets that are hand-packed fresh and cooked just once to retain their nutritional potency, which contains an average of 340mg of omega-3 oils in each serving.
Wild Planet Non-GMO Wild Sardines in Extra Virgin Olive Oil
Every single sardine caught by Wild Planet has been immaculately cleaned and scaled before being canned in extra virgin olive oil for impeccable taste and a range of health benefits. In addition to being tasty, Wild Planet sardines are certified organic, verified as Non-GMO, packaged in BPA-free cans, and have no artificial ingredients.
Red Boat Fish Sauce
Red Boat premium fish sauce is a secret ingredient used by professional chefs and home cooks around the world. A national treasure of Vietnam, Red Boat is made using traditional chemical-free fermentation methods, a unique two hundred year-old artisanal process using only the freshest cá cơm (black anchovy), salted minutes after leaving the sea then aged for over a year in traditional wooden barrels.
Thrive Market Ghee
Thrive Market's pure ghee adds a rich, creamy flavor to almost any dish—and it's lactose-free! Ghee follows an ancient Indian tradition that slow cooks fresh butter until the milk protein separates; once removed, the result is a golden-colored, gluten-free kitchen essential that can be a healthy condiment or cooking oil. Even better, a spoonful of ghee has digestion-aiding butyric acid and healthy fat-soluble vitamins.
Nuco Coconut Wraps
Clocking in at only four net carbs and 70 calories per wrap, this tortilla alternative is made from hand-harvested organic coconuts and packed full of energy-fueling medium-chain triglycerides (MCTs). Unlike other gluten-free options, there's no need to refrigerate or freeze these wraps to preserve their freshness (which lasts up to nine months). Use them however you would a tortilla––from breakfast burritos and cheesy quesadillas, to turkey wraps and even crepes!