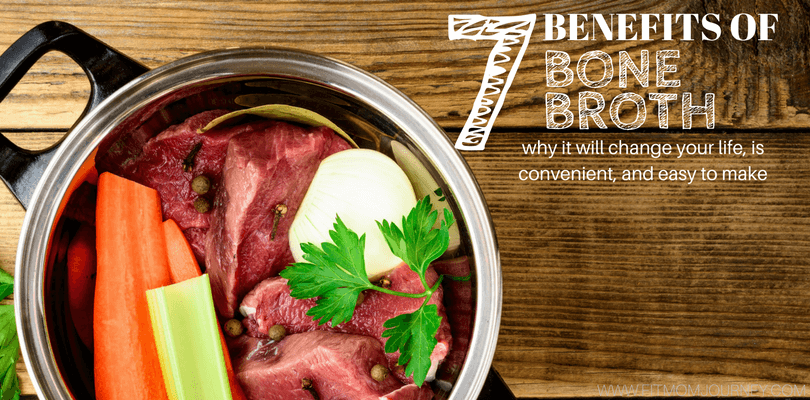 ---
7 Health Benefits of Bone Broth Soup
Bone Broth has gone mainstream.
What started as something you could only find at specialty grocers, or by making your own has turned into an empire.
In fact, the last time you bought broth at Walmart or Target, you probably saw bone broth on the shelves right beside the chemical-filled broths.
And, if you weren't familiar with what it was, you probably saw the price tag on that bone broth and didn't buy it.
So why is bone broth popping up everywhere?
Simply put, it's because the health benefits of bone broth are so many we (the health community) are still learning about them.
But what we DO know is that bone broth can help with:
Healing Leaky Gut Syndrome

Help with food intolerances and allergies

Improve Joint Health

Reduce Cellulite's Appearance & Improve Your Skin

Boost Your Immune System

Sleep Better

Prevent Osteoporosis and Strengthen Bones

Supplement Your Diet with Protein
When you got sick as a child, there was a reason your mom gave you Chicken Soup: because it contains bone broth, which will help you get better faster than any drug on the market.  
Bone broth is created by simmering the bones, marrow, skin, feet, tendons, and ligaments of cows or chickens.  This simmering takes place of the course of several days, and causes all the components to release the healing compounds within such as collagen, lysine, proline, and glutamine.
Even better, researchers found that your body can easily absorb the nutrients and minerals found in bone broth such as calcium, magnesium, phosphorus and more.  It contains chondroitin sulfate and glucosamine which is what you'll often see as the active ingredient in expensive joint supplements. (source)
What about the inexpensive broth found in grocery stores?
Most store-bought stocks today aren't even real food.  Instead, labs have started creating beef, chicken and vegetable flavored soups, sauces, and bullion cubes.  Often, they even use MSG (Monosodium Glutamate) which is a proven neurotoxin.
Real bone broth only comes from reputable sources – including your own kitchen.   From real, healthy bone broth, you'll be able to see big health benefits.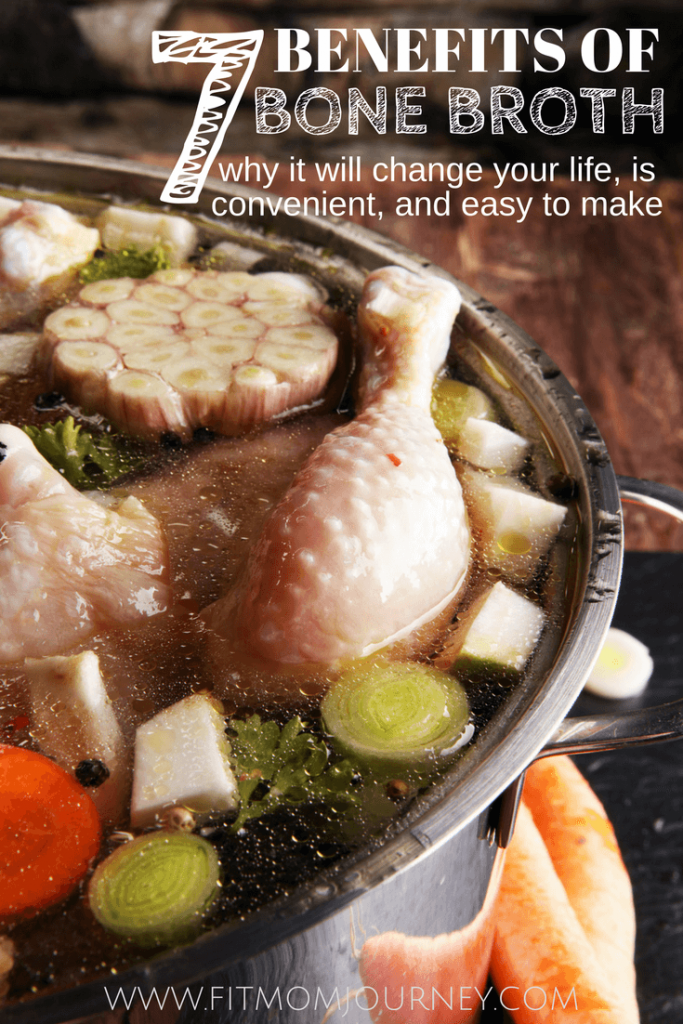 It will Heal Your Leaky Gut Syndrome
Gelatin, found in bone broth, has major health benefits.  Just drinking a cup or two of bone broth each day not only helps heal your leaky gut, and it can protect a non-leaky gut too.  
It works because the gelatin in bone broth literally seals up holes (the ones that cause leaky gut) in your intestines.
What's the result?
Better digestion, less constipation and diarrhea, and even help protect against food intolerance.
Will Help with Food Intolerances & Allergies
Gelatin, again, is the superhero in bone broth for fighting against food intolerances and allergies.
What can gelatin do?
Restore gut lining

Fight food sensitivities (such as dairy or wheat)

Restore good bacteria (probiotics)

Reduce inflammation in the digestive tract
Make Your Joints Feel Better
One of the main nutrients found in bone broth is collagen.
Collagen has so many benefits, it would be hard to list them all, the most important of all is that it is a pure source of protein!
Other benefits include:
Healthier Bones: Taking collagen just once per day (1.5 T) for 4-24 weeks results in better bone density.
Osteoporosis Prevention: Taking just 10g daily has shown to help fight against osteoporosis.
Arthritis Pain Relief: Suffering from arthritis?  Collagen reduces inflammation in joints, and taking just 1.5T daily has been shown to make a measurable impact on pain.
Better Skin: Collagen strengthens hair, nails, and skin!
Aids Gut Health: Your immunity, digestion, skin, and many other conditions stem from your gut health, and collagen not only helps health your gut, it also helps your body absorb more nutrients from your food.
Healthier Stomach and GI Track: Collagen will help heal a leaky gut, inflamed and agitated digestive system, and can also help settle a stomach.
Fills You Up: Because collagen is made up of pure protein, it makes you fuller, faster.  Research has shown that taking collagen at breakfast time make you 40% more satisfied than other proteins (such as eggs, for example)
Revs your Metabolism: Collagen tells your body to release glucagon, which then tells your body to burn fat.  
Fights Cancer: Glycine, found in large amounts in collagen, has been shown in research to protect the body against liver cancers and melanomas.
Prevents Against Heart Disease: Lysine, another ingredient found in large amounts in collagen, is the most important amino acid when protecting against heart disease.  Lysine literally helps your body melt plaque and keep arteries open.
Get more information about the wonders of collagen here.
Collagen is found in the ligaments, tendons, cartiledge, bone, skin, and marrow of animals.  
Sounds weird, right?
Think about it from a human perspective…
As we age, our joints tend to experience inflammation and get weaker.  This is because our cartilage is weakening as it is attacked by our own antibodies.  
When bone broth is made, those pieces of cartilage, bone, marrow, skin and others are simmered, breaking them down, letting the collagen make it's way into the bone broth, ready for our body to use when we drink it.
Collagen has such huge benefits, that researchers at Penn State University did a study on it, where they supplemented athletes diets with collagen for 24 weeks.  At the end of the study, the researchers found that the athletes reported improvement in joint comfort as well as other factors that impacted their athletic performance. (source)
Improve Your Skin and Reduce Cellulite
Bone broth has lots and lots of collagen, as I've already said.  But one benefit of collagen that really needs it's own section is how much it can help your skin and cellulite.
Studies have shown that collagen has a positive impact on fine lines and wrinkles.  And cellulite is often reduced when regularly consuming the collagen in bone broth because cellulite is formed as a result of a lack of connective tissue.
What else can the bone broth do for your skin?
It can:
Increase skin elasticity

Give better skin moisture

Make noticeable differences in signs of aging.
Isn't that amazing?!?
Gives a Boost To Your Immune System
Bone broth contains a high concentration of easily digestible minerals and nutrients.  
And, since we now know that most of our immunity is found in the gut, bone broth is able to increase immunity by giving us a punch of gelatin, collagen, and amino acids right where we need it: In the gut.
You'll Sleep Better
Glycine, found in bone broth can help sleep quality and ward off fatigue during waking hours.
What's more, the nutrients found in bone broth can support a healthy mood during the day!
Supplement Your Diet with Protein
Bone Broth shouldn't be your main source of protein, fats, or nutrients, but if you don't eat meat or struggle to get enough amino acids through your diet alone, Bone Broth could be the perfect supplement to your diet.  
The amino acids you need to eat each day are provided in complete, easy to digest amounts, from the animal proteins found in the bones that were simmered the make the bone broth.
Amino acids are also beneficial if you're an athlete, since they're key to muscle performance and recovery.
And, bone broth provides a punch of protein that helps the entire body run better.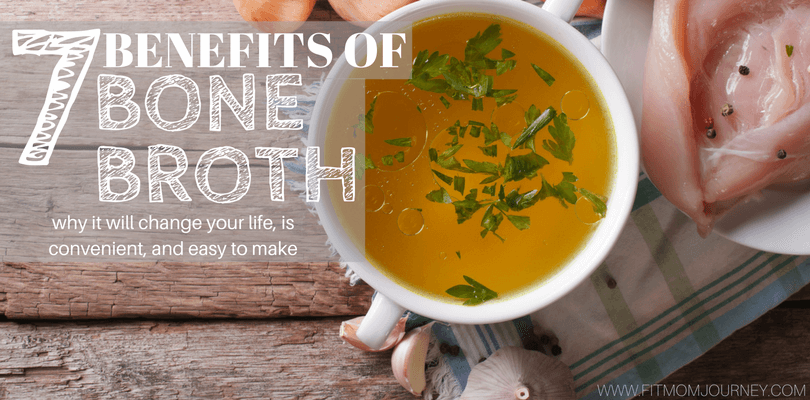 How To Eat Bone Broth
There are tons of ways to eat bone broth, and none are really wrong or right.  Whatever makes sense to you and tastes good is a great way to eat/drink it:
Drink It!  Just make a cup of bone broth and drink it from a mug.  This is a great way to wind down at the end of the day or to start your day by priming your body with essential nutrients and minerals.
Make Soup: Most of our favorite soups contain bone broth.  Any soup that uses broth, though, can use bone broth in place or regular broth.  Here are some you'll love.
Use the powder as seasoning on meats: Bone broth now comes in high-quality powdered form, which you can use to make a liquid bone broth, or that can be added to meats, sauces, grains, and more – almost like you would a seasoning!
The Big Picture on Bone Broth
There are tons of nutrients in bone broth, and I've broken down some of the most important ones and their benefits above, I think it's important that you know everything found in bone broth.
Because, let's face it, they're all important.
1. Proline: helps the body break down proteins into collagen, which improve skin quality and cellulite.  It even helps clear the arteries of plaque, making your heart healthier.
2. Glycine: enables DNA and RNA synthesis and digestion.  It is used to produce glutathione, regulate blood sugar and digestion, and enhances muscle growth and and repair.
3. Arginine: necessary for proper and efficient kidney function, healing, keeping the arteries healthy.  We are still learning all of the many functions of arganine.
4. Glutamine: L-Glutamine is so necessary for digestion function it has been studied extensively.  (source)  Glutamine is so powerful it has been known to reverse lactose intolerance and other digestive issues.
5. Glucosamine: Found in pricey joint supplements, the Glucosamine found in bone broth maintains and supports cartilage, joint healthy, and flexibility.
6. Hyaluronic Acid: Found in every single skin cell, Hyaluronic Acid helps cells multiply, age well, rejuvenate, and ultimately keeps your skin firm.

Where To Get Bone Broth
The most inexpensive way to get bone broth is to make it yourself.
However, if you're as busy as I am, you don't have time to source all of the grass-fed ingredients you'll need.
In that case, you have two options: Powdered Bone Broth or Liquid (Boxed) Bone Broth.
Powdered Bone Broth
Sounds weird, no?
I promise, it's delicious, and Ketologie's Bone Broth (my favorite) is of the best quality, providing you with all of the nutrients and benefits I talked about above, and more.
Ketologie Bone broth ships anywhere in the continental United States, and you can order it online!
Find Ketologie Powdered Bone Broth at their site: Ketologie.com
Liquid Bone Broth
Kettle and Fire is the standard for boxed bone broth.  It can be ordered online and also ships throughout the Continental United States.  
I recommend consuming 1-2 cups a day to get the most benefits from bone broth.
It's a wonderful addition to your healthy diet.
Do you drink bone broth?  What benefits have you seen?



xoxo,
Gretchen
---
Want to better your health? Join the FMJ family (it's free!) to stay up on the latest news!
---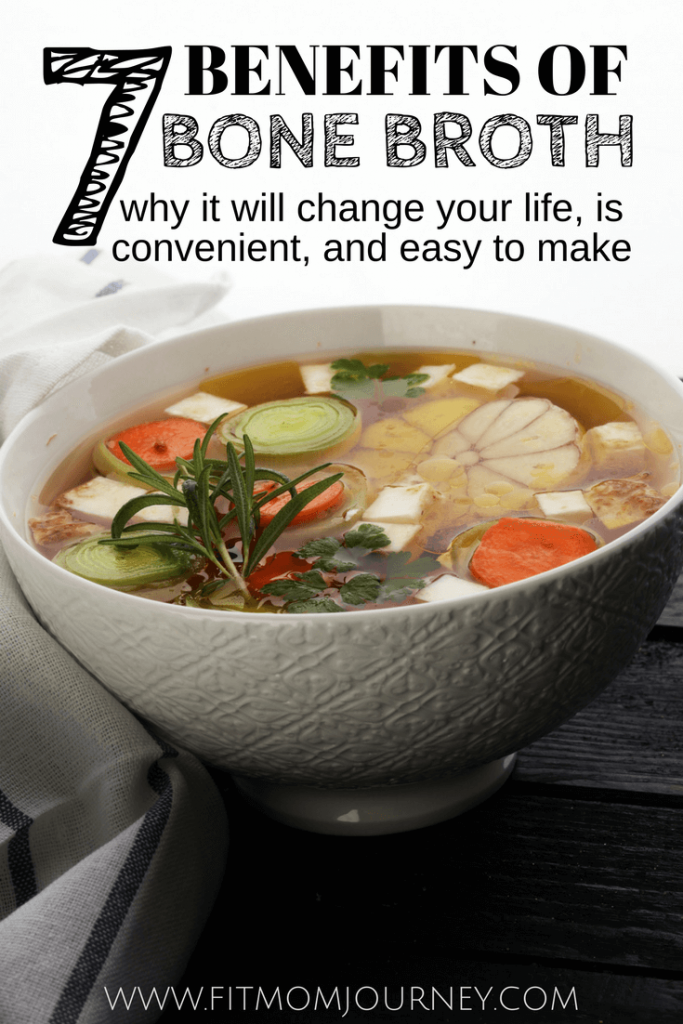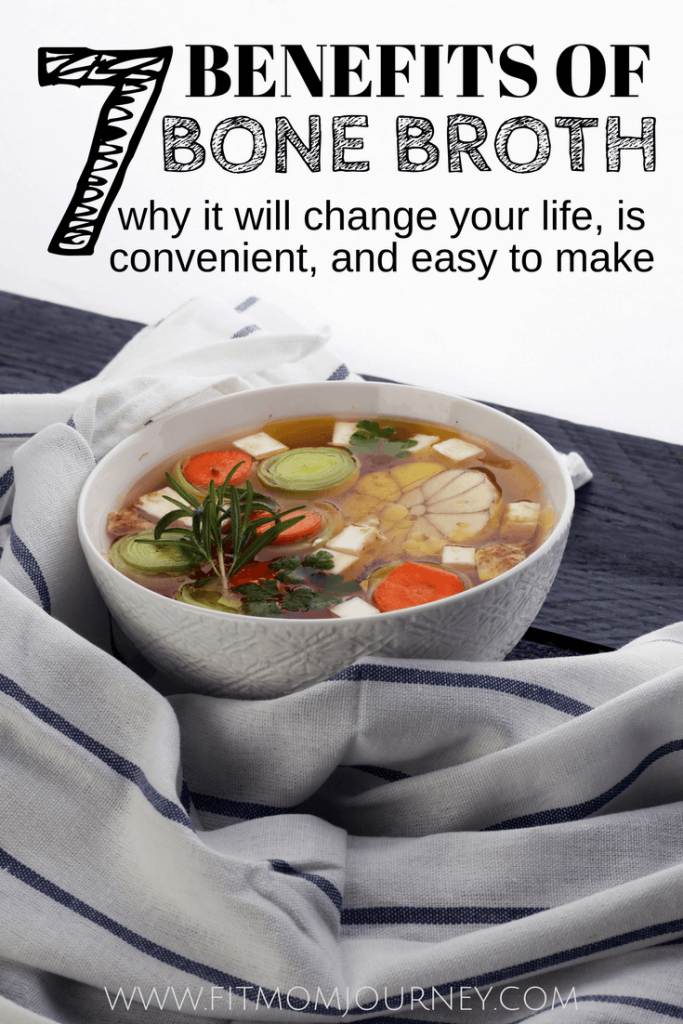 This post may contain affiliate links.  See my disclosures for more information.