Bulletproof coffee was first.
Then came Gelatin Coffee.
Now, there's a new super ingredient in town: Integral Collagen.
While on my Trim Healthy Mama journey I started buying Vital Protein's Amazon Integral Collagen rather than the Trim Healthy Mama Integral Collagen because it was the same quality but cheaper and shipped faster.
Before, when I was buying it from the Trim Healthy Mama Store I loved using it in recipes, desserts and drinks, but I hoarded it like gold since it was so expensive.
Now that I've found a less expensive source of quality Integral Collagen I've been experimenting with it even more in my version of Collagen Bulletproof Coffee, My 30g of Protein Iced Coffee, plus new desserts, candies, and more!
What I've run into, that has been so surprising, is that many Trim Healthy Mama's haven't jumped on the Collagen train, because is seriously an amazing, powerhouse ingredient that can radically change your life!
Here's Why: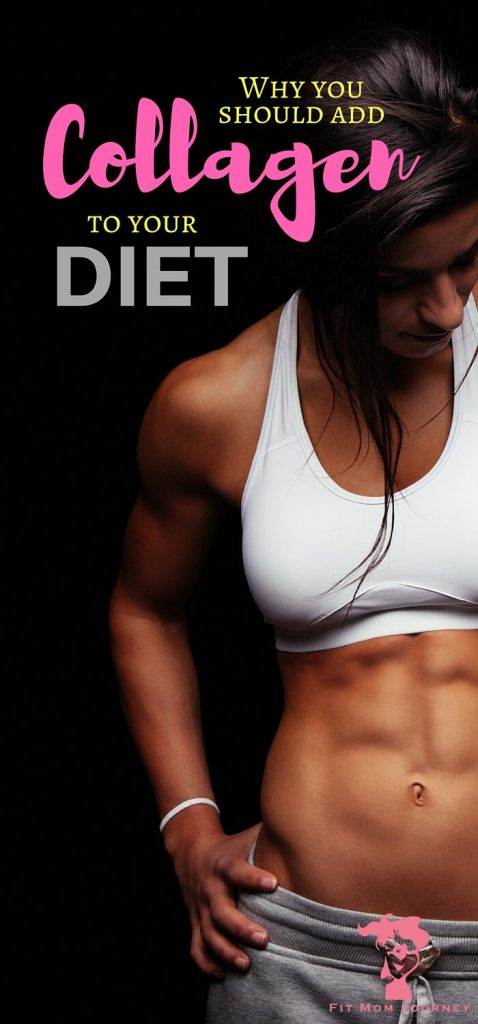 What Is Collagen?
Collagen is a nice word for a certain type of long-chain amino acids, which are the most common types of proteins found in the body.  Collagen specifically is formed from Glycine, Proline, Hydroxyproline, and Arginine.  These 4 amino acids help your body function correctly, but are found most commonly in animal tissue like bones, ligaments, and tendons.  (Yep, they're found in human connective tissue too!)
Collagen is so essential to keeping your body looking and running smoothly it makes up 30% of the protein in your body, and 70% of protein found in your skin!
The Difference Between Gelatin and Collagen?
Lately, gelatin has been having a moment in health and fitness circles, and you may have heard it touted for it's collagen benefits, which can be really confusing.
After all, they share many of the same great benefits, and are often made by the same company!
So here's the difference: Gelatin is collagen that has been cooked, dried, and then ground into powder.  It gels when mixed with water, whereas collagen will not gel.  Both have basically no odor and no taste, and contain the 4 amino acids that I mentioned above.
With Vital Protein's Amazon Integral Collagen, Gelatin is the one in the green container, and Collagen is the one in the blue container:
Your Skin, Hair, and Nails Will Look Great
Collagen is the building blocks of  your skin, hair and nails.
Ever take a hair, skin, and nails pill?
Chances are, its main ingredient was collagen.
Some doctors are even calling collagen the anti-aging products of the century because it promotes elasticity, cohesion, and regeneration of hair, skin, and nails.  Because collagen is composed of the 4 amino acids that have been proven to reduce the signs of aging it's a great ingredient to add to your everyday routine.
It Packs A Powerful Punch of Protein
Each 20g serving (usually 2 scoops) of Integral Collagen contains 18g of pure protein, and when you consume collagen peptides at breakfast, scientists have shown that you'll be 40% more satiated during the day.
Basically, putting collagen in your coffee will jump start you metabolism and set you up for success during the day.
Want to start you day off right without a full meal?  Try my 30g Iced Coffee Protein Drink.  It will help you fill up, lose weight, and contain at least 30g of collagen + whey protein!
Your Joints Will Benefit
I don't struggle with joint problems, but my husband does.  When I started feeding him Collagen Iced Coffee every morning, within a week he had noticed that his appetite started to subside, and what's more, his bad joints were already feeling better!
Even if your joint problems are more mild than my husband's, you can benefit from Vital Protein's Amazon Integral Collagen.
The glycine and proline in collagen repair tissues, decrease inflammation, and provide pain relief that is similar to taking and ibuprofen.  It's truly amazing stuff.  And, while the studies being conducted aren't quite conclusive, they are beginning to show that consuming collagen daily helps to rebuild bone density – a bonus for women and men!
Your Recovery Time From Exercise Will Decrease
We all know how it feel to be sore for DAYS after a good workout, but what if you could decrease that time you need to recover?
Integral Collagen can do just that.
The glycine and proline in collagen helps to repair damaged muscle tissues, decrease inflammation, and helps to prevents sports injuries.  The arganine and glycine in collagen help to maintain and restore muscle mass, and stimluates growth hormone from the pituitary gland.
An easy protein shake with collagen is a great after-workout snack!
Better Sleep
Having trouble sleeping at night?
Collagen can help with that too!
Glycine helps to facilitate the synapses in the brain's neurotransmitters, meaning better sleep for you.  On the other side of sleeplessness, collagen stimulates memory and improves alertness during the day so you can sleep better at night.
Try mixing collagen with Sleepytime tea for the foundation for great sleep.
Digestion Will Improve
Collagen will soothe your digestive track, help repair the mucous lining within the digestive track, and even help break down the proteins and fats from foot so that they pass through in a way that allows your body to absorb the maximum amount of nutrients.
Practical Ways To Eat More Collagen
Now that you know just how much eating collagen can benefit you, what are some ways that you can get more of it – without changing your diet too much?
If you like coffee:
Iced Protein Coffee: 30g of Protein!
Hot Bulletproof Collagen Coffee
Collagen + Sleepytime Tea
If you like sweets:
Make a fruit smoothies with 2 scoops of Collagen
Throw 2 scoops into your Secret Agent Brownies
Put 2 scoops in nearly every THM Dessert
I cannot wait for you to give collagen a try!
My husband and I LOVE it – and he's the furthest thing from a health food nut!
Give it a try today and let me know how you love it!
Gretchen

This post may contain affiliate links.  See my disclosures for more information.