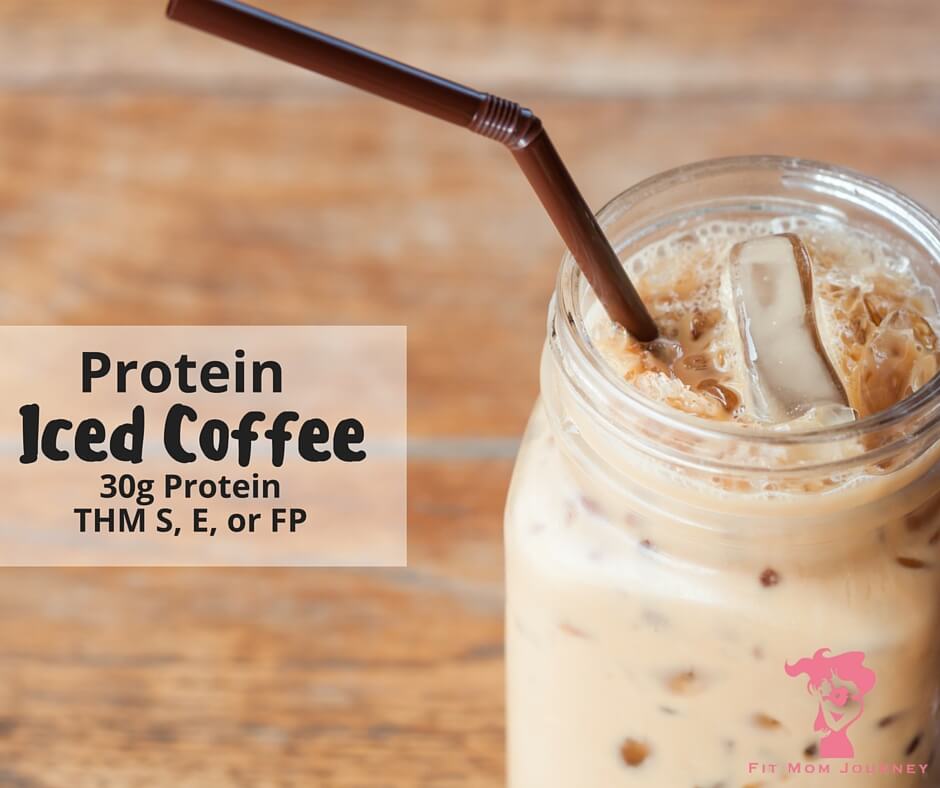 30g Iced Protein Coffee (THM:S, E or FP)
As I write this, summer is here in full swing.  Overnight, it went from 75 to 95 here in St. Louis and my poor body is still adjusting.
While it is super hot here, one of the things that I've noticed is that it still gets pretty cool here at night, and at 5:00 am when I wake up every morning, so hot cup of coffee sounds pretty darn good, and does a great job of waking me up.
Until it hits about 85.
Then, a warm cup of coffee sounds like the worst thing in the world, but I still need the jolt of caffeine to wake me up if I want to get anything productive done for the day.
Any other caffeine addicts out there?
So naturally, I've turned to things like cold-brewed coffee.  It's delicious, and if you haven't tried cold brewing your coffee yet, I highly suggest you try it.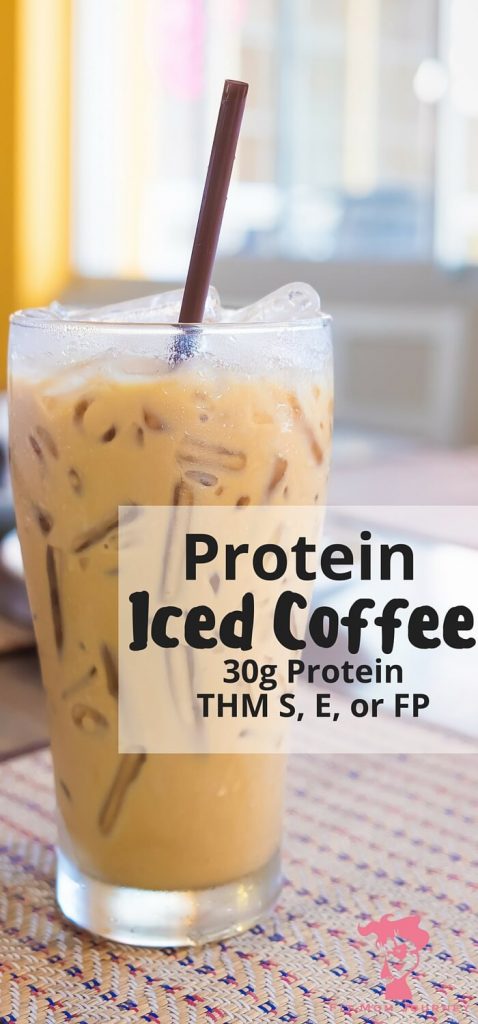 There's just one little problem left: during the summer I really don't feel like eating breakfast.  On a normal winter day, breakfast is a 5:30, and I'm ravenous.  I think my system needs to food to warm up, and if I haven't eaten I get super hangry and get a killer headache.
During the summer, not so much.
I can go without eating until 10 or 11am, and even then I'm still not hungry, I just start getting a headache.
So naturally, I've been trying to find the most convenient way to get some protein, at the very least, into my system early in the morning, when I don't feel like eating at all.  When the thought of food turns my stomach.
After quite a bit of experimenting, I've landed on the perfect drink.  It combines the power of a bulletproof coffee with the coldness you need to begin a hot summer day, and boasts 30+ grams of protein.  It's a rockstar of a coffee drink, tastes like a dream, and now that I've landed on the perfect mixture,  I just have to share it with you!
What Makes Iced Protein Coffee So Great
Besides the caffeine ( a given) there are a few powerhouse ingredients that make this drink one of the best ways to start your morning.
Integral Collagen
Heralded as a wonder food by Trim Healthy Mamas everywhere, not only does collagen pack the power to restore hair, skin, and nails, it it made up almost purely of protein, and it's one of the best types of protein for you.
Whey Protein
Undenatured, of course.  To start your digestive system off with something to work with.
Almond/Cashew/Regular Milk
You can, of course do a plain iced coffee, but a bit of milk, as fits your dietary needs, really rounds out the drinks and makes it whole, as well as providing a nice dose of calcium and vitamins.
Making It Perfect
Now, I'm going to include these instructions in the printable recipe below, but I want to go into them in more detail with you here, because even though the process to make this drink isn't at all complicated, it is important that you follow the instructions, or it will not be good.
Like, chunks of collagen and protein in your straw not good.
Really, truly, not good.
But don't let that scare you – you'll soon get the hang of it!
First, you'll need to start with hot coffee. I know, I promised cold coffee, and it will be in the finished product, but for now, start the drink with hot coffee.  8oz will do the trick.
I like to use instant coffee, simply because everything else will mask the cheap coffee taste, but you can brew better coffee if you wish.
Put the 8oz of hot, brewed coffee in a large (24 – 32oz) hot/cold tumbler.  Stir in 1 scoop of collagen slowly until it is dissolved in the hot coffee.
Now, add ice cubes until the tumbler is about 2/3 full, and stir until the coffee is cold.  Now, mix in either 2 doonks of pure stevia, or 1 T Super Sweet, whatever you taste preference + 1 scoop BioChem unflavored Whey Protein.  Stir thoroughly, or shake to combine completely so there are no lumps.  Fill with your choice of milk to the top and enjoy!
Why do we add the ingredients this way?
The most important steps to this drink are adding the collagen when the coffee is hot, and the protein powder when it is cold.
If you add the protein powder when the coffee is warm, it will clump up, and there will be no saving it.
And if you add the collagen when the drink is cold, it's really, really hard to dissolve.
Trust me on this.
Don't waste your collagen or protein powder by adding them to the wrong temperature coffee – please!
Where To Get The Ingredients
Chances are, you'll have things like milk and coffee on hand, but for the other ingredients, I have some favorite places to find them:
Integral Collagen: Amazon.com or Trim Health Mama Store
BioChem Natural Whey Protein: Thrive Market or Amazon.com
Gentle Sweet: Trim Healthy Mama Store

30g Iced Protein Coffee: THM:S, E, or FB
Ingredients
8 oz hot coffee, brewed or instant
1 scoop Integral Collagen
1 T Super Sweet Blend
1 cup Ice Cubes
1 Scoop BioChem natural Protein
Almond Milk, to fill to top
Instructions
Stir the collagen into the hot coffee until dissolved.
Add in the ice cubes and stir until coffee is cold. Then, add the Super Sweet Blend and Protein powder, stir until combined.
Fill with almond milk to the top, and enjoy!
I would love to have you a part of the FMJ mailing list!
Enjoy!
Gretchen Lindow
This post may contain affiliate links.  See my disclosures for more information.