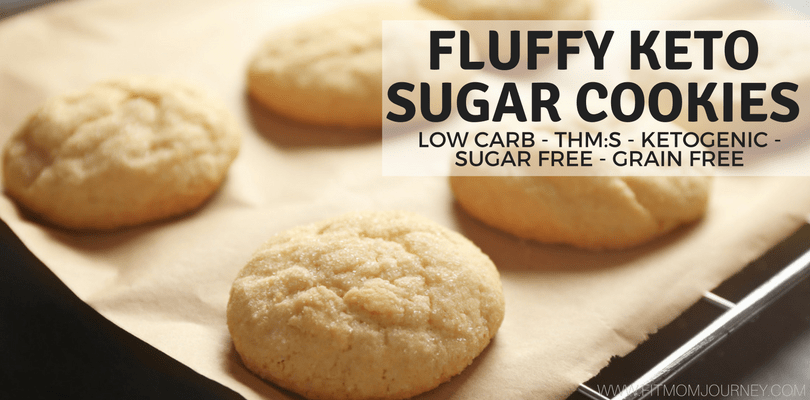 ---
Fluffy Keto Sugar Cookies
Hey there!
When you go Keto/Low Carb/Trim Healthy Mama, there are a few things you have to get used to:
The Sweeteners: Whether you're using Stevia on Trim Healthy Mama, or any number of other sweeteners like Erythritol, Malitol, Sucralose, etc on Keto or Low Carb, you'll have to get used to the taste.  Even though sugar-free sweeteners have come a long way, their taste is different from sugar, and requires a bit of an adjustment. (Want to make the transition easier?  Try these fan-favorite desserts)
The Convenience:  Carbs are easy, which is one of the reasons why like them so much.  Burgers and hot dogs come with buns, sandwiches are made on bread, and pasta is an easy, quick meal to make.  Without those convenience carbs, we have to rethink how we eat – and why we eat it.
Personal Favorites:  For me, I miss mac 'n cheese and cookies.  Like, real mac 'n cheese (not the cauliflower stuff) and cookies with toll house chocolate chips.  You may have other favorites.
I've come to terms with the fact that Mac 'n Cheese will have to be saved for cheat meals.
But cookies?
Well, there's hope for them!
You know those Lofthouse sugar cookies you can buy in the grocery store that come with a layer of colorful frosting as thick as the cookies, and topped with sprinkles?
Well these Keto Sugar Cookies are just like them.
---
Coming Soon:
A Very Keto Christmas e-Recipe Book
Be the first to snag it:
---
Soft, pillowy, buttery sugar cookies that live up to what I've been missing since going Keto!
These are made from Fathead dough, which if you're not familiar is basically dough made from melted mozzarella and cream cheese combined with Almond flour and other assorted ingredients.  I've used it to make Pizza Crust, Bagels, and Pizza Pockets – all for less than 2 net carbs per serving.  Fathead dough sounds like a crazy concept,  but whomever came up with the idea was a genius because it is a crazy good substitute for so many of our carb-loaded favorites.
Since I've had so much luck with Fathead dough in bagel and pizza crust applications, I decided to see what other uses I could find for it.
The result?
A whole slew of new recipes, from dessert bars and pizza pockets, and now these truly awesome sugar cookies!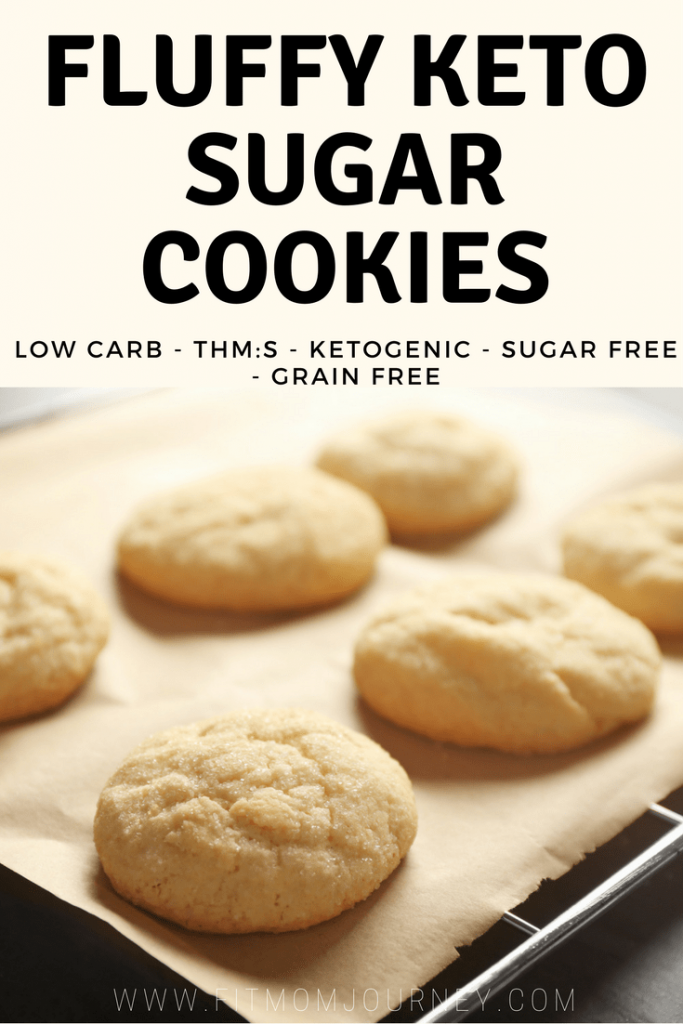 Affiliate Links: The following links are affiliate links for some of the products used in this recipe.  When you buy something through my link, I get a small commission.  That means that at no extra cost to you,  you can help me pay the costs of running this site.  This means more FREE recipes, trips, tricks and resources!
You May Also Like:
Pumpkin Cake Roll with Cream Cheese (THM:S, Ketogenic, Low Carb, Sugar Free)
Maple Waffles (THM:S, Ketogenic, Low Carb, Sugar Free)
Cinnamon Roll in a Mug with Cream Cheese Frosting and Browned Butter Sauce (THM:S, Low Carb, Ketogenic Fat Bomb)
Chocolate Chip Pound Cake (THM:S, Ketogenic, Low Carb, Sugar Free)
Dreamy Caramel Turtle Bites (THM:S, Ketogenic, Low Carb, Sugar Free)

Fluffy Keto Sugar Cookies
Prep time:
Cook time:
Total time:
Ingredients
3oz Full-Fat Cream Cheese
1 cup Shredded Mozzarella Cheese
2T Butter
½ cup Sweetener (sugar equivalent)
2 Egg Whites
2 tsp Vanilla Extract
1 cup Almond Flour
1 tsp Baking Powder
Instructions
Make the dough as you would a regular Fathead dough: Melt the cream cheese and mozzarella cheese in a microwave-safe bowl, in 30-second intervals. Mix well until thoroughly combined.
Working quickly, add the butter, sweetener, egg whites, vanilla, almond flour and baking powder to the melted cheeses.
Work the dough with your hands, combining the dry and wet ingredients until they are completely combined, with no pockets of cheese or almond flour.
Turn the dough out onto a silicone mat and roll into a cylinder. Wrap the dough in parchment paper and place it in the refrigerator overnight to chill.
Preheat the oven to 350. Cut the cylinder of dough into slices, place on a parchment lined baking sheet, and bake for 15-17 minutes.
Enjoy!
Make them tonight, then drop me a line and let me know how you like them!
xoxo,
Gretchen
---
Want to learn more about the Ketogenic Lifestyle?  Sign up for the free FMJ Keto Intro email series:
---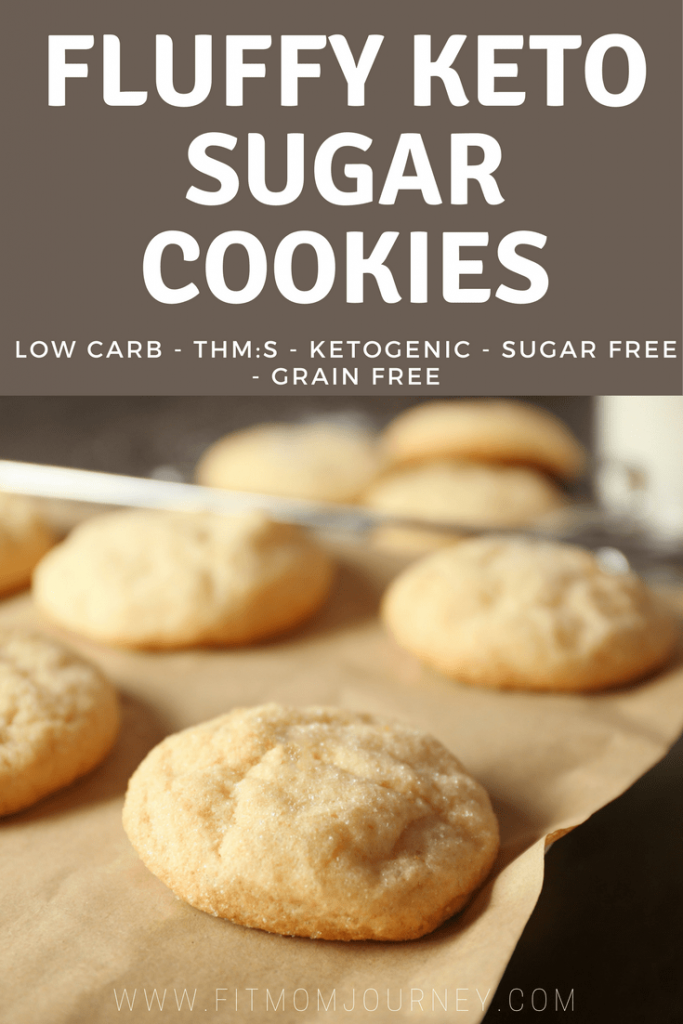 This post may contain affiliate links.  See my disclosures for more information.