---
The Keto Box Review October 2017
It's time to talk about the low carb/keto products featured in October 2017's The Keto Box.  I've been an avid Keto Box fan for 5 months now, so I'm excited to share these products with you!
Finding keto-compliant foods and snacks can be difficult, as we all know.  Through The Keto Box I've been introduced to many keto-friendly foods that I now use every day.
This is what's so great about getting a subscription box every month.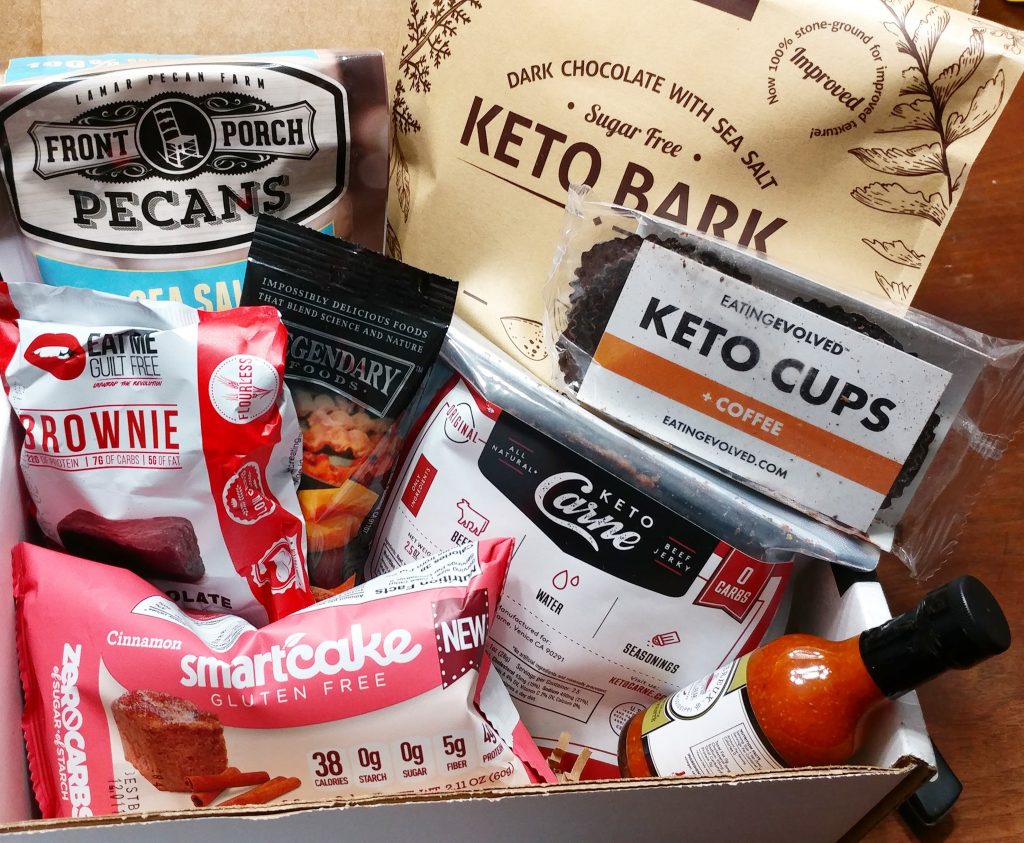 You can try a bunch of different products, without hunting them down at different stores or online, and you get to try things that you may never have before that become favorites!
All you pay is the low monthly fee for The Keto Box, which is often less than you would pay to buy all these products separately.  
Then the goodies are delivered right to your doorstep each month.  Don't like your Keto Box?  It comes with a 100% money-back guarantee, so nothing to worry about.
And as a bonus, each of the products comes with a promo code for a discount off your future purchase!  
At the end of the day, The Keto Box actually saves me money on ketogenic foods, which my frugal self loves.
Let's check out the products….
ChocZero Dark Chocolate Keto Almond Bark
120 calories, 10g fat, 2g net carbs, 1g protein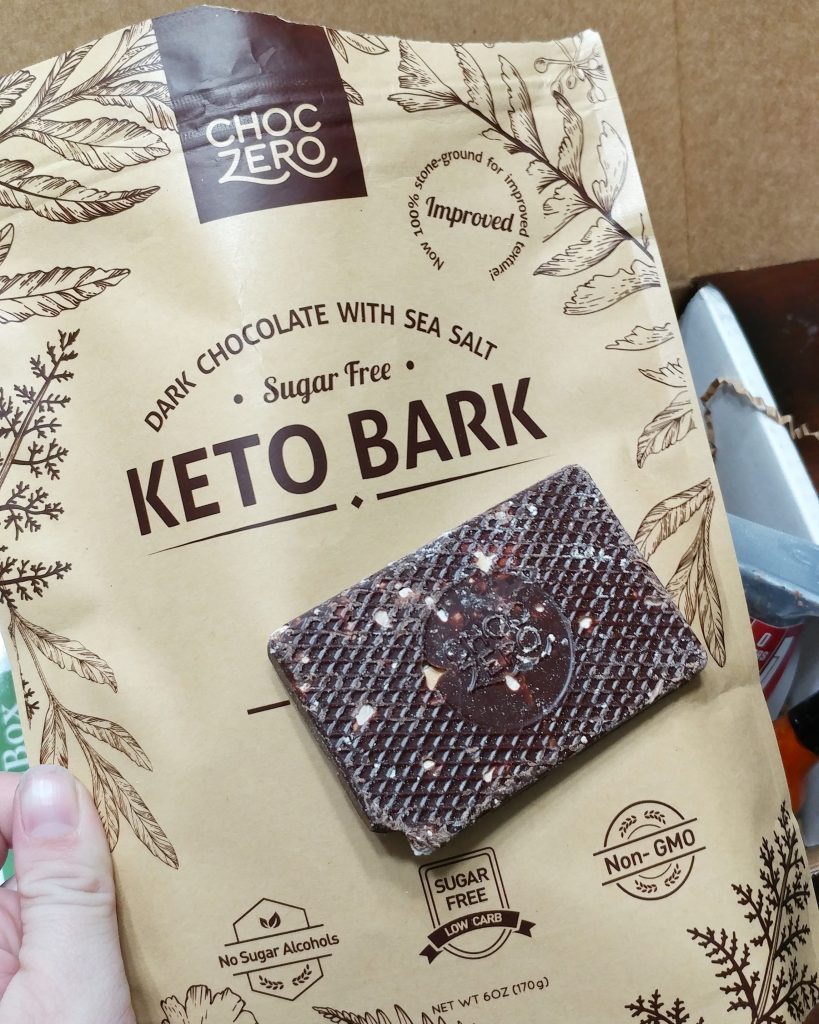 What can I say about ChocZero's Keto Bark that tells you how much I loved it?
Let's just say they hit the nail on the head with this combination of dark chocolate – which is free so sugar and sugar alcohols, by the way – and almonds in nice, neat, 10z portions.  
The bag that came in the box had 10 servings, which thrilled me.
I took one for dessert after lunch each day, and then had one after dinner, so needless to say these didn't last long around our house.  
This is a real treat, one that I've already ordered more of, using the 10% off code from The Keto Box.
You can buy ChocZero on Amazon.
Front Porch Roasted Pecans
4 servings/bag, 210 calories, 22g fat, 1g net carbs, 3g protein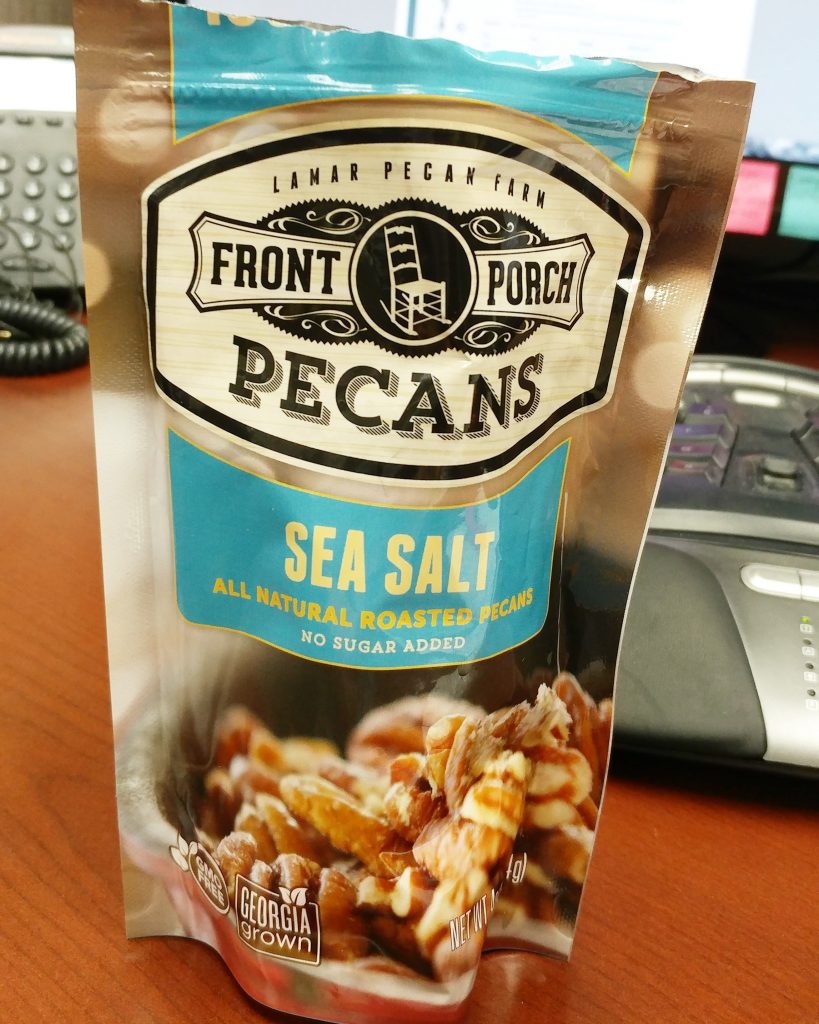 I had never heard of Front Porch Pecans before finding them in my Keto Box, but these were also a hit.
They're freshly picked Georgia pecans, roasted with a light coating of sea salt.  The sea salt was the perfect compliment to the slight sweeteness of the pecans.
And these pecans melted in my mouth.
Seriously.
(Just as an FYI, these can only be bought on Amazon, if you're shopping online for them)
The October Keto Box came with a 5% off code for Front Porch Pecans on Amazon.
SmartCake
2 servings, 2.5g fat, 0g net carbs, 4g protein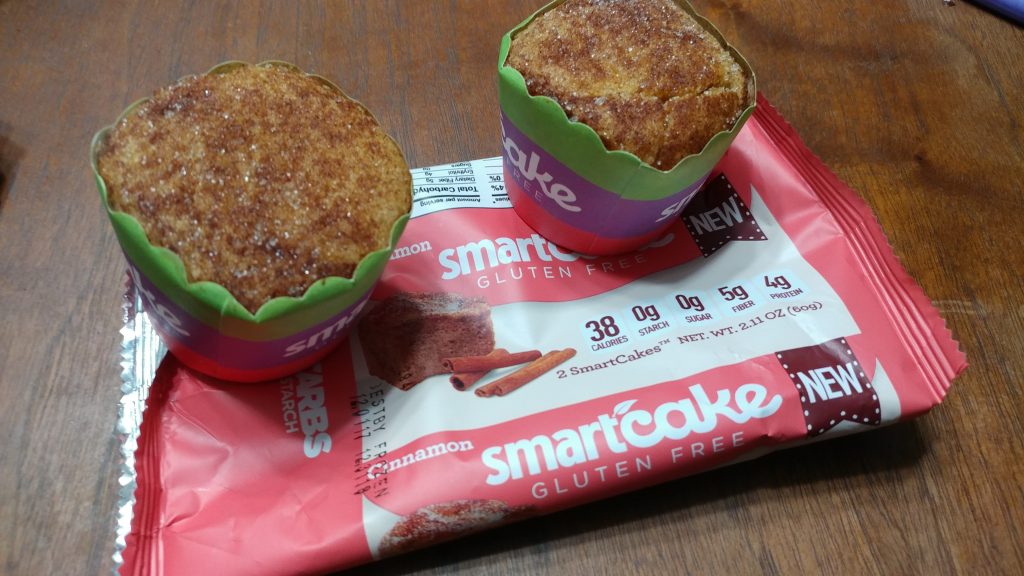 The next product I tried was the Cinnamon SmartCake.
This is a gluten-free, zero-carb, pre-portioned cake that comes in the cutest little portion cups.
The cakes are not huge, but they also don't have a whole lot of calories, and pack a whopping 4 grams of protein into each one.  
I've had a LOT of dry keto cakes, but the SmartCake was definitely not one.  It was moist, the taste was spot on, and I devoured them.
The Keto Box came with a 10% off code from Smart Baking Company.
Legendary Foods Bacon Cheddar Almonds
1 servings, 20g fat, 3g net carbs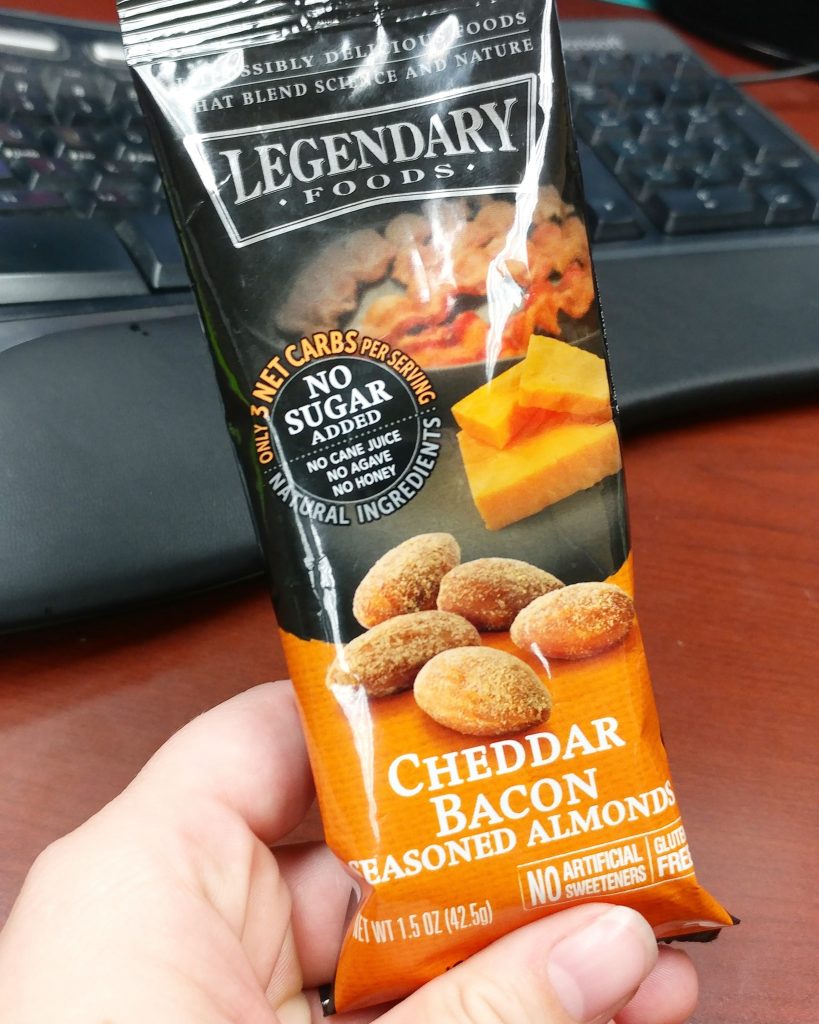 Flavored nuts are a keto staple and for good reason: they're portable, tasty, low in carbs, and often come in convenient, single-serve packs.
These were the Cheddar Bacon flavor, which was right up my alley!
If you aren't a cheddar bacon fan, don't worry.  Legendary Foods has other flavors such as:
Buffalo Blue Wing

Rangy Ranch

Wasabi Soy Sauce

And of course Cheddar Bacon.
Their nuts come in single-serve packs (like what came in The Keto Box) as well as in larger 4-servings packages.
Legendary Foods Pecan Pie Butter
1 serving, 180 calories, 16g fat, 2g net carbs, 6g protein
I saved this treat for a few days after the box came, but when I finally tried it I was blown away.
It tasted like a decadent Pecan Pie, just in Almond butter form.  
The butter did require a little bit of mixing, since natural nut butters often separate, but it was super easy to mix in.
Even better, I received a 10% off code for Legendary Foods.  
I haven't purchased any more of the Almonds or Almond Butter, but I plan to.  You can find them at LegendaryFoods.com
Eat Me Guilt Free Brownie
1 servings, 160 calories, 5g fat, 5g net carbs, 22g protein.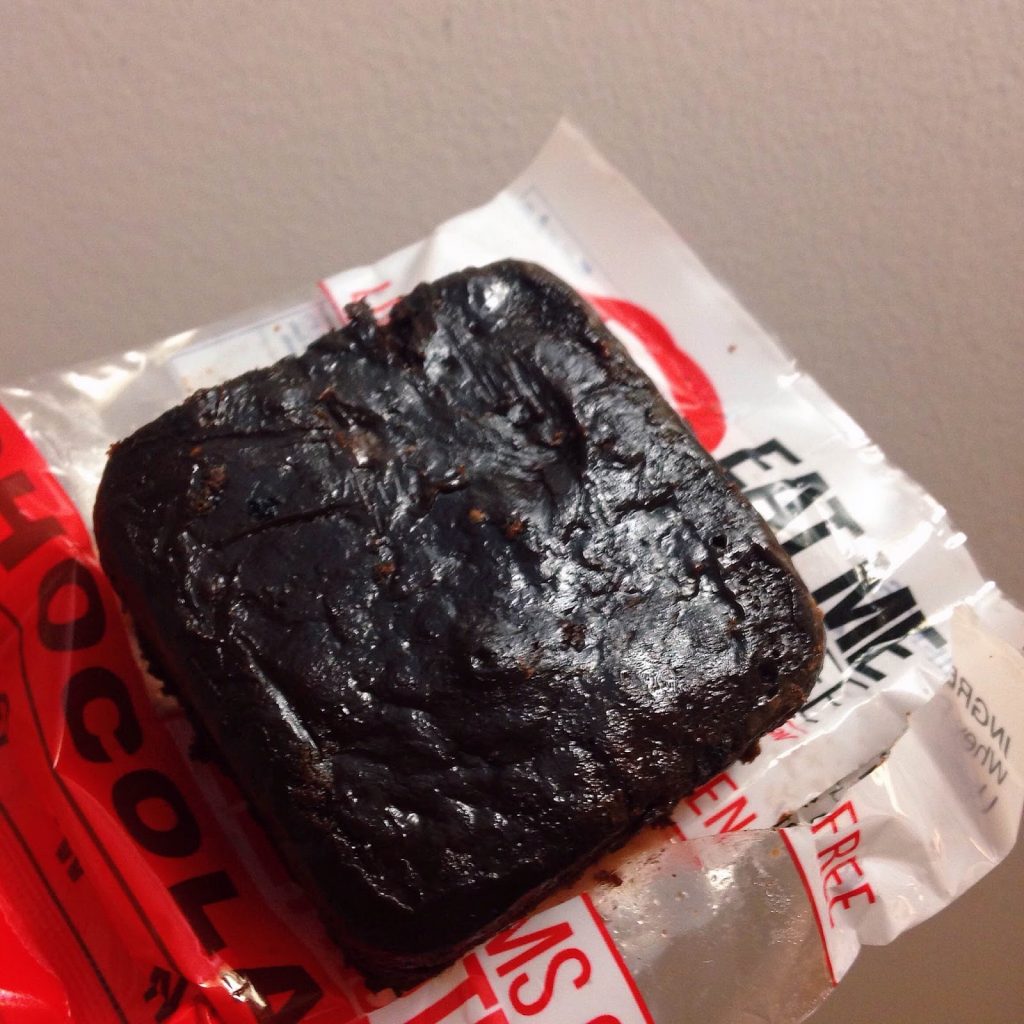 Ok, so I wasn't as thrilled with this brownie as I was with some of the other products.
It smelled and looked great, but when it came time to eat it, the brownie was pretty darn dry.
However, it sort of redeemed itself when I saw it packed a whopping 22g of PROTEIN.  Pretty good for a brownie!
After 2 bites I tried warming it up a bit in the microwave, but that didn't seem to help, so I dipped it into my MIlkadamia (another Keto Box discovery from a few months ago) and that helped.
Taste-wise, though, it was pretty good.  I would call it just average, not great.
The Keto Box came with a 10% off code for Eat Me Guilt Free products as well.
Keto Carne Beef Jerky
2.5 servings, 90 calories, 2.5g fat, 0g carbs, 16g protein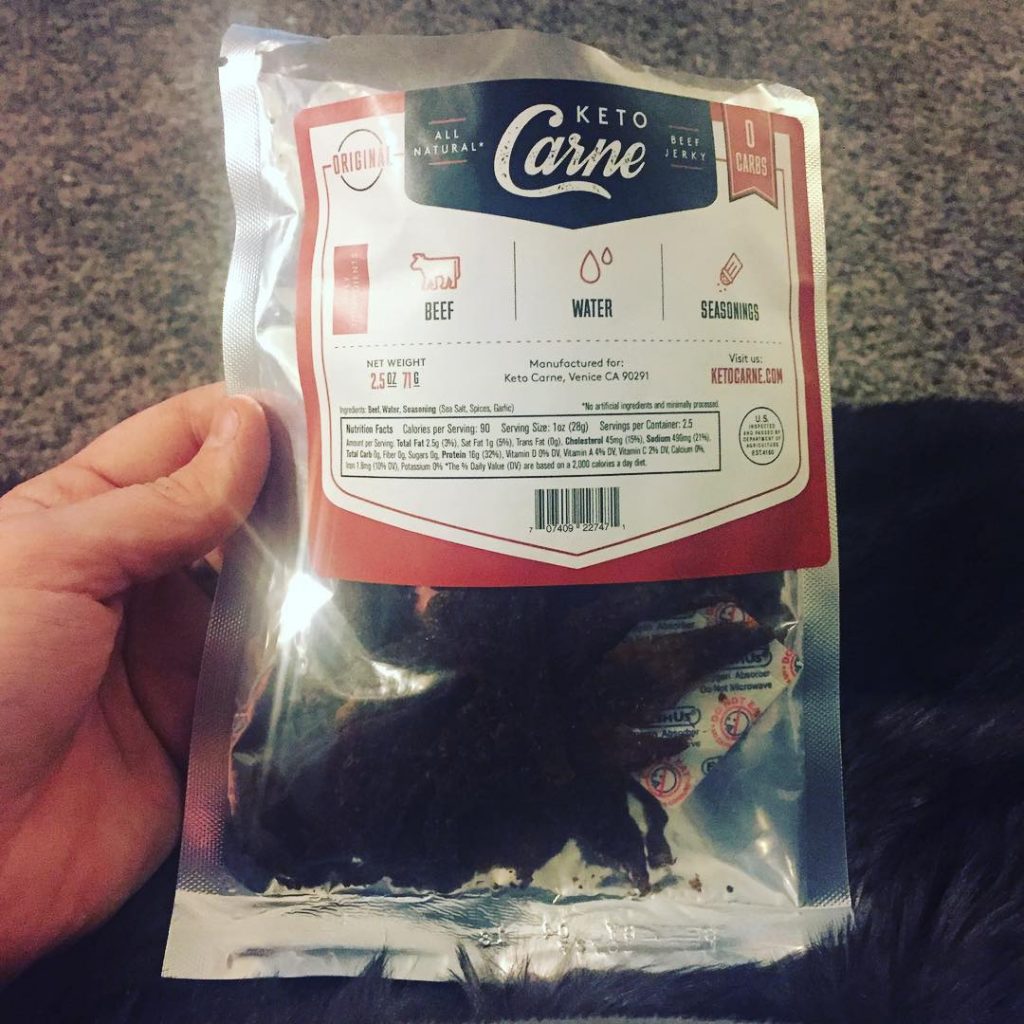 This beef jerky surprised me.  I was expecting a Jack Links sort of dried jerky, but this almost tastes like it's been freeze dried.
That's not a bad thing, just different.
The seasonings on it were great, and the hubs and I split this package and were very happy with it.
We did find that it was kind of hard right out of the package – harder than regular jerky – but we found it we just held it in our mouths for a few seconds before chewing it got much easier to chew.
Oh, and we got a 15% off promo code in The Keto Box for a future purchase from Keto Carne.
EatingEvolved Keto Cups
2 servings, 137 calories, 15g fat, 1g net carb, 1g protein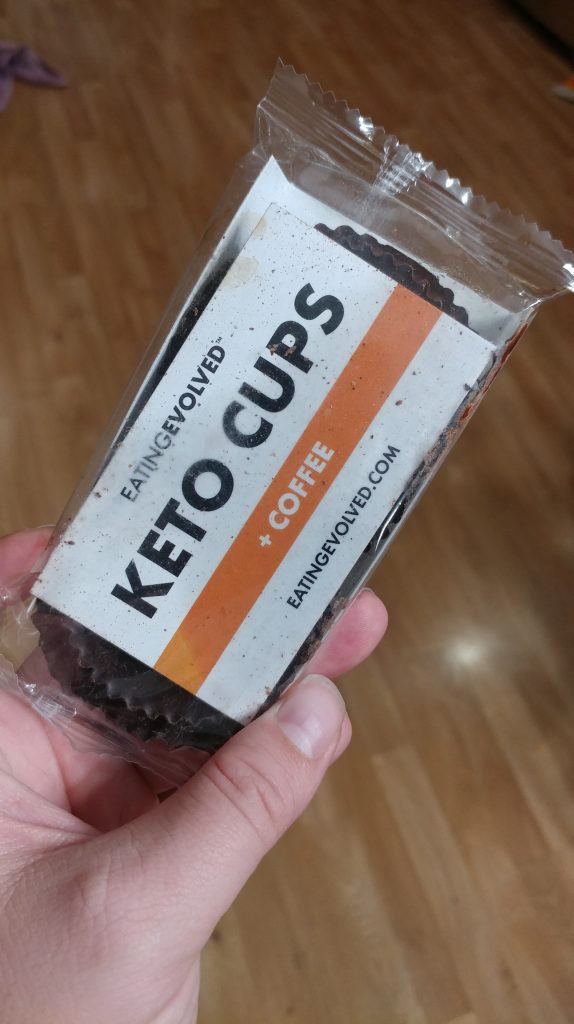 I'm going to be brutally honest here:
I HATED these.
There is no added sugar or sugar substitute in these, just plain (and I mean PLAIN) dark chocolate and nut butter.  
They were not good at all.
The hubs and I both spit them out after the first bite.
Even I, not one to waste stuff, threw them away after each took a bite.
They were that bad.
We didn't get a promo code for these, which was just as well because there's no way I'm every ordering them.
Ever.
Devereaux Pepper Sauce
I don't have a review for this stuff, unfortunately, because it got knocked off my counter, and the glass bottle it was in shattered.
What I can tell you is that it smelled really good!
---
The Keto Box crew managed to pull off another really amazing box – with the exception of those Keto Cups.
I found a new favorite snacks – ChocZero – as well as some other products that I loved and am planning to order more of in the future.  
Ready to sign up?
Visit The Keto Box website and save $5 by signing up here.
xoxo,
Gretchen
---
---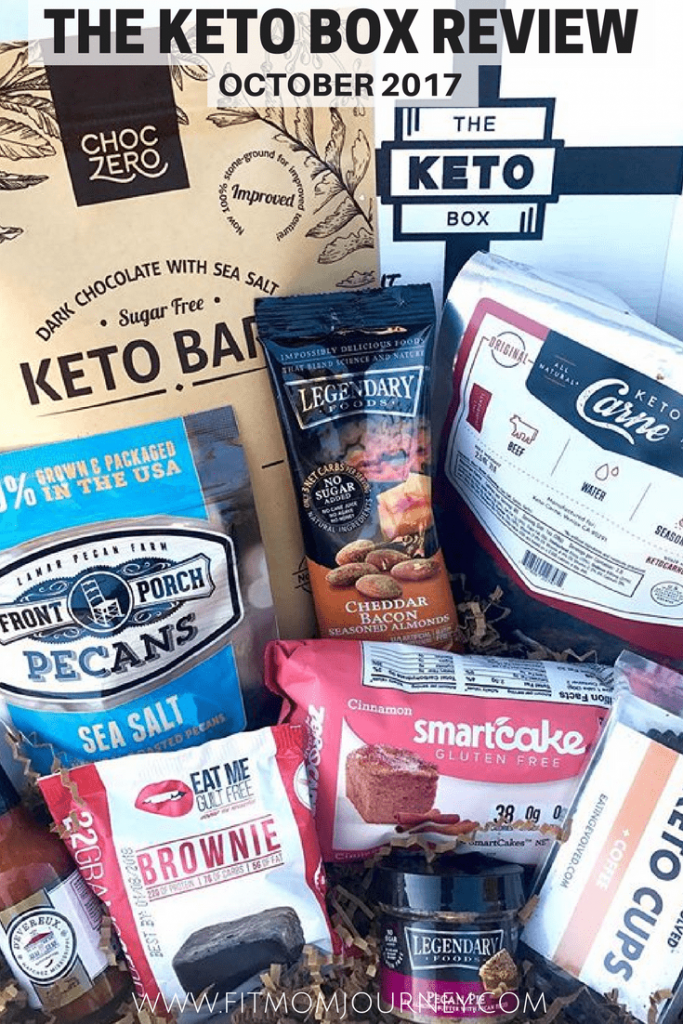 This post may contain affiliate links. See my disclosures for more information.