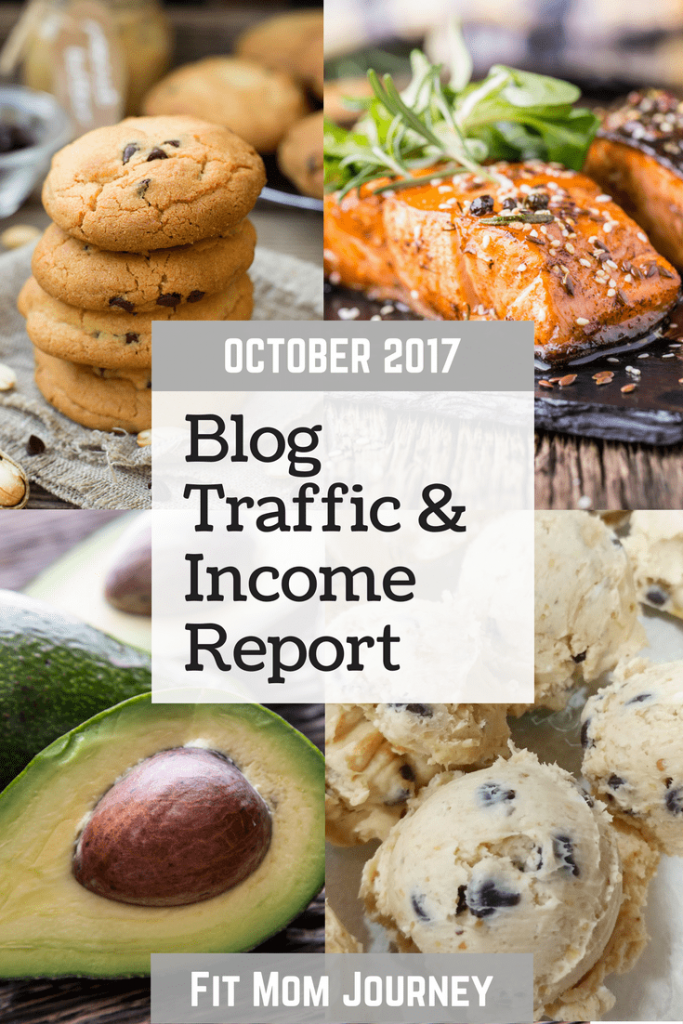 Hey there!
Gretchen here, checking in with the monthly Fit Mom's Journey blog traffic and income report.  
I've started crafting these reports each month to give you a little "peek behind the curtain" here at Fit Mom Journey, and if you're interested in starting your own food blog to make extra money, to show you that it can be done, and to give you all the resources you need to make it happen.
We'll look at four things in this month's income report:
November Traffic Breakdown

November Income Breakdown

November lessons & takeaways

Plans for 2018!
While I love fitness, food, and family, I also love talking financ-ey, business-ey stuff too.  My background is actually in accounting, so I appreciate the chance to share this side of myself with you.
If this is super interesting to you, or you want tools and tips to help grow your own blog, feel free to sign up here to make sure you get all of these Traffic & Income Reports:
My hope is that you'll be able to take away from this report some lessons, tips, and tricks that you can apply to your own business, whether it's a blog, a career, volunteer work, or anything in between.  In any case, I hope that you learn something that helps you or teaches you.
Or if you just want to take a look at the income and traffic and then leave, that's ok too.
Whatever it is you find within this report, I hope that you find it helpful, motivating, and open and honest.
Fit Mom Journey is just over a year old now, and throughout all that time I've been working towards slow, steady growth with a heavy emphasis on SEO (Search Engine Optimization) and Social Media. (Feel free to follow me on Pinterest, Facebook, and Instagram!)  All of the numbers you see here need to be viewed with the understanding that they did not happen over night.  They took long nights of staying up late and putting in the work when I wasn't seeing traffic and wasn't making any money.  That's just how it is when you fall in love with sharing your recipes with the world.
In short, it's taken lots of time, pateience, dedication, and creativity to make this happen.  
While "overnight success" stories make for a great headline, that's all they are.  Overnight successes happen with a good bit of luck, quite a bit of funding and some really crazy personalities working to make it happen.  
I have gotten to this point using none of those things.
My budget has been nonexistent, I'm pretty sure I have absolutely no luck, and my personality is pretty average.
Even my time has serious constraints on it.
The reality is that slow-and-steady growth stories are the norm, not overnight successes, but you don't see those in the news.  
We (the slow-and-steady ones) are the quiet ones, who rarely  make headlines, but who achieve a good bit of success thought good old fashioned hard work.  
Just don't think that slow-and-steady means not working.  
Showing up means is having the daily discipline to move forward with deliberate, impact actions.
If starting a blog is something you are interested in doing, I created a tutorial that will help you start one cheaply, for as little as $3.95/month.  In addition to the low price, you will get your free website domain name (a $15 value) through my link, if you purchase at least 12 months of hosting.  Asking yourself "Can I make money with my blog?" – the best way to do that is to start with a self-hosted blog.  Not only will you appear more professional, you will have more opportunities for monetization and growth.  It was only after I switched to a self-hosted blog that I was able to explode my growth and income.
Let's hop into November's numbers….

Note: Some of the below links are affiliate links.  All of the products listed below are products and services we've used before and/or are currently using.  If you have any questions about our income or expense, feel free to leave a comment or contact us via email and we'll be happy to reply.
TRAFFIC BREAKDOWN
Below are some screenshots from my Google Analytics from the month of November:
Fit Mom Journey's November Page Views

Top 10 traffic sources

Mobile vs. Desktop

INCOME BREAKDOWN
INCOME
Google Adsense: $356.37

Sovrn: $43.22

Media.net: $38.42

Amazon Associates: $447.59

Total Income: $885.60
EXPENSES
Tool of the month: AppSumo
Did you notice the full-page signup form that greeted you when you came to Fit Mom Journey?
That's from AppSumo, and it's called the Welcome Mat.
And it's a free way to boost your email subscribers.
AppSumo has more than 20 tools to help with your email subscribers, interact with them, and make their experience on your website an even better one.  I am currently experimenting with using the Welcome Mat, a top subscribe bar, and customized sidebar subscribe forms.
AppSumo has many tools that are completely free – no credit card required – which is why they're one of the leaders in creating innovative tools for bloggers.
Want to see how AppSumo can help your blog?  
Check them out at AppSumo.com
---
---

October begins the 4th quarter, which I admit I never really thought about, until I realized that the 4th quarter is the BEST quarter for food blogs.  
Interestingly, the 1st quarter is best for health & fitness blogs, so I have 2 quarters of the year covered.  
As a reminder, Fit Mom's Journey is monitized in several different ways:
Display ads

Affiliate products

Sponsored content
October is a great month for all sources of income (and November should be as well) because:
People start preparing for holiday foods

High 4th Quarter advertising budgets
HIGH TRAFFIC FOR FOOD BLOGS
If you have a food blog, or any blog, you know that traffic tends to ebb and flow throughout the year.   This variation is based on seasons, which is why October is when traffic for food blogs pick up: because people are starting to think about planning several holiday meals in the near future.
If you have a food blog, what sorts of ups and downs to you see?  Does your traffic look similar, with the 4th Quarter being the highest traffic months, or is your pattern different?  Also, what is your niche?
What does the 4th Quarter budget mean for blog income?
From an advertising perspective, more budget is saved for the 4th quarter than any other quarter because holiday spending all occurs there.  
Why?
Two reasons, really:
Marketing departments don't want a bunch of money left over in their budget.  If the budget committee sees a bunch of leftover money, they will cut the market department's budget, and no department head wants that.

Spending money on advertising during Q4 gets advertisers the most "bang for their buck" because people are already in the mindset to buy more.  It's just that simple.
The combination of increased traffic + high ad budgets is a match made in heaven for this food blogger!
The purchasing mindset is also beneficial for affiliate sales, which is one reason why you'll notice I have gift guides on this site.  I enjoy putting these together, scouring the internet for the coolest kitchen gadgets, the most innovative workout gear, kitchen must-haves, and splurges worth going for – as well as other types of "buy this thing because it's cool" posts.  
Here's what happens: Thanksgiving, Black Friday, and Cyber Monday are all happening in a very short period of time, very soon.  
And those 5 days are my favorites days of the year for blog income.
LOOKING TO 2018
I am still formulating my plan for 2018 but I can tell you for certain that it contains these things already:
More creativity in my recipes

Finding a balance between working, blogging, and being present for my family
This mindset shift has been happening for quite a while, since leaving my work-from-home-position, going to a part-time position to focus on blogging, and then being offered a full-time position I just could't pass up.
Time management has been a struggle, to say the least.
But Fit Mom Journey is one of my passions, and I have no intention of leaving it in the dust.
I've just found ways to better manage my time.
Because of that, here are some things that will be happening at FMJ in 2018:
A focus on helping YOU: I love sharing recipes, but I also have tons of great methods for managing time, organizing my ktichen, and making my life more efficient – and I'm so excited to share them with you!  I'll still share new recipes every single week, but there will be a couple "life' posts mixed in every week too.
Practical Guides: Need a Thanksgiving or Christmas meal plan?  I'm going to have a free one for you to download.  Need a crazy-busy workweek meal plan?  Yep, that's also gonna be free!  I have so many practical, helpful things planned, I just don't want to let too much out of the bag yet.
Scheduling in advance: Be it holiday or regular posts, I've worked my way up to being at least 1 month ahead on posts, and 1-2 weeks ahead on social media.  This not only helps me maintain my sanity and be present with my family at the drop of a hat, it helps me plan ahead for recipes and posts based on seasons.  I'm going to get even better about this in 2018.
More fitness incorporation: I've been working on my fitness hard, and I want to share it with you.  This may not be your thing – and that's totally ok – but if it is I've lost a more than 20% body fat in the last year, and want to help you see the success I have.  (see my before and after on Instagram)
More affiliate partnerships: If you're here to just get a peek, then let me tell you this is a good thing!  I have fallen in love with certain products, and as a result have negotiated some pretty awesome discounts on those products that I'm excited to share with you!  Don't worry, it won't be obtrusive, but my affiliate marketing plan will be very well thought out and executed. I highly recommend Making Sense of Affiliate Marketing if you're interested in giving your affiliate earnings a BIG boost.
It's because of you that I can call Fit Mom's Journey what it is today, and because of you that I we can keep growing together!
Reading your comments and email make my day, and I love seeing your social media posts with my recipes too!
My goal is to bring you healthy meals and treats your whole family can eat, and if there's any way I can do that better, please let me know!
Visit my other Blog Income & Traffic Reports:
September 2017 Blog Traffic & Income Report
Xoxo,
Gretchen

Enjoying these Blog Income & Traffic Reports?  Make sure you don't miss a single one by signing up here:
---
This post may contain affiliate links.  See my disclosures for more information.