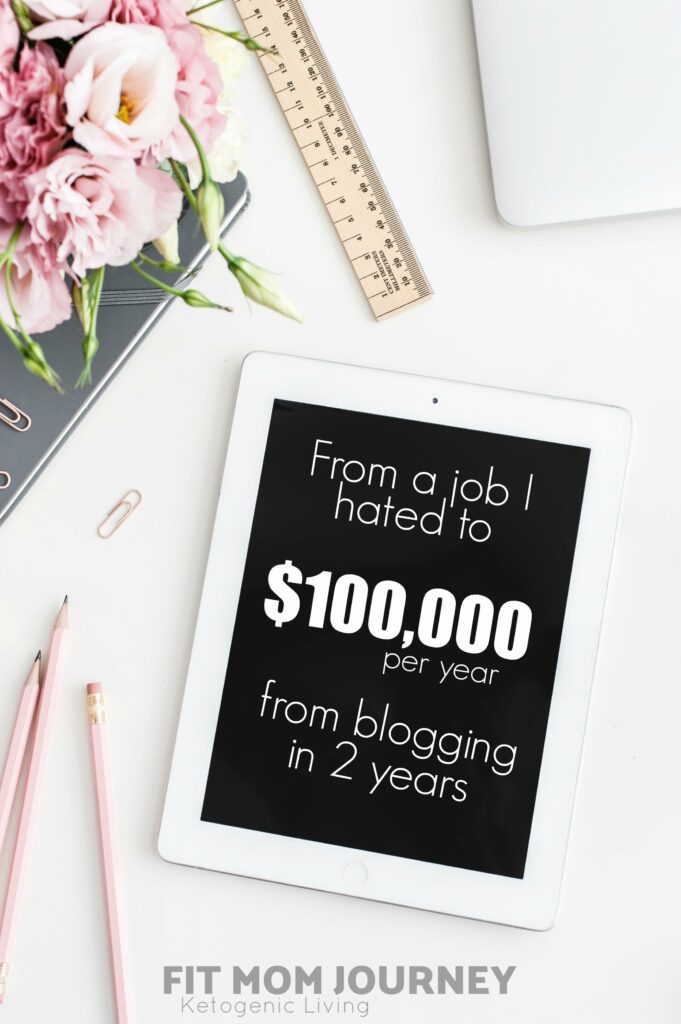 ---
My Blogging Story:
From A Job I Hated To $100,000 a Year in 2 Years
2 Years ago, I started Fit Mom Journey, which now makes more than $100,000 per year – most of which is profit.
But to be honest, my blogging story goes back a little bit farther.
6 years ago I was fresh out of college with a degree in Accounting, an office job that I worked 10 hours a day without even a window to see the sun from.
And I had just found out I was pregnant.
My husband I were blindsided by the pregnancy, and I was incredibly scared. I didn't qualify for FMLA (I would only have been at my job for 10 month when my daughter was born) and we were barely making ends meet as it was.
To make matters worse I had $15,000 in student loan debt, $30,000 in car debt, and we wanted to buy a house.
So I guess scared would be an understatement.
We were terrified.
I kept seeing pins on Pinterest about how to make money on the side, whether it was a side hustle, transcription work, taking surveys, and yep – blogging! I exhausted nearly every side hustle before biting the bullet and starting a blog in hopes that by the time the baby came I could at least be making $100/month.
We were so incredibly broke that $100/month was a complete lifesaver.
I started my first blog, a personal finance blog, where I documented our debt, savings, and side hustle journey with the expectation that if I was struggling with something, my story would resonate with someone else out there who was struggling with the same thing.
And it did!
Within 1 year, I was averaging 25,000 page views per month, making about $100 per month. This small income was a huge blessing to our family, but the reality was that I knew very little about blogging. And what I did know I learned from free resources, Pinterest, or other bloggers.
Little did I know that 5 years later I would have 3 websites, a newfound love for Ketogenic Cooking, and a thriving business that now makes me more than $100,00 per year, from the comfort of my home, working 10-20 hours per week.
I absolutely love what I do, and I hope that by sharing my story I can help someone else, anyone else – maybe even you! – take control of their lives and finances by starting a profitable blog.
My Blogging Story
The first year of blogging I was all over the place. My writing wasn't great, my blog didn't have structure, and I changed my logo about 7 times, I think.
The hardest part though, was staying true to myself, my story, my voice, and not selling out just to make a buck.
During the next 2 years (right up until starting Fit Mom Journey) I realized that I while I enjoyed personal finance, my goals were shifting. I build my personal finance blog up to about 200,000 page views per month, and about $5,000 a moth in income.
But I was starting to enjoy blogging about finances less and less, moving toward blogging about homeschooling, home management, and our life on the road!
During year 3 of my blogging journey, I started Fit Mom Journey, which was originally a recipe blog for Trim Healthy Mama, and as I transition to (and had a lot of success with) the Ketogenic Diet, I realized I had a huge passion for Ketogenic Cooking, and I transitioned this website to Ketogenic Recipes.
As it turns out, I am awesome at creating Ketogenic Recipes!
A quick note about my personal finance blog: although I am actively blogging there, and it makes me about $1,000/month, this site is low on my priority list. The Ketogenic space has taken off, and until it slows down my priority is here, at Fit Mom Journey.
So, to give you a picture of my crazy journey, let's break down this timeline very quickly:
2012: start my personal finance blog. Build it to 25,000 pageviews per month
2013:

Take Elite Blog Academy(EBA)

, spending everything my blog had ever made
2014: Use the tactics in

EBA

to build my blog to 200,000 monthly pageviews, and $5,000/mo in income
2015: Start Fit Mom Journey as a Trim Healthy Mama Recipe Blog and did not apply EBA tactics
2017: Start applying

EBA

to Fit Mom Journey and cap out the year with $30,000 in income!
2018: My first 6-figure year!
2019: My first 6-Figure PLUS year!
Hows that for a wild ride!
Along the way I also started a camping blog, but I don't want to muddy the waters here by adding in that timeline!
You'll notice something significant about my blogging timeline:
When I took Elite Blog Academy by Ruth Soukup and applied all of that knowledge, my pageviews and income started skyrocketing.
First, in 2014 with my personal finance blog,
And then in 2017 with Fit Mom Journey, which ended 2018 with more than 400,000 monthly pageviews, and I'm now averaging $10,000 per month in income!
If you're already blogging, you can grab EBA's FREE Blog Structure Blueprint to make sure that your blog is set up like it should be. This freebie helped me restructure Fit Mom Journey into a Ketogenic Recipe blog, and as you can see, the rest is history!
During my second year of blogging, after apply Elite Blog Academy to my entire blogging strategy, my page views went from 25,000/month to more than 200,000/month. My income also went way up, to averaging $5,000/month.
In my third year of blogging, my attention toward personal finance began to wane, although I was still earning about the same amount of money – and I started Fit Mom Journey. Initially, I didn't not apply the principles I learned in Elite Blog Academy and found it tough to balance a full-time job, a child, husband, and 2 blogs.
In 2017, I re-took Elite Blog Academy and applied it to Fit Mom Journey just after I transitioned to writing about the Ketogenic Diet, I solidified my brand, my writing became better as I stayed true to myself and my voice, my page views went up, my viewer loyalty went up, and my income went up too!
In 2017, besides working really hard on making Fit Mom Journey a wonderful resource, I also took Pinning Perfect and enrolled in Food Blogger Pro. Pinning Perfect really helped me refine my pinning strategy, and quite frankly, spend less time on Pinterest. Food Blogger Pro has been invaluable for helping with things specific to food blogging, such as food photograpy, video, props, and even social media strategies specific to being a food blogger.
I blog full-time now.
Well, it is our family's primary income, but truth be told I spend only 10-20 hours a week working on it. When I'm not blogging I get to do things like take our family on the road for 2-week camping trips, homeschool our daughter, make the gym a regular part of my routine, and more.
I blog because I love it. I have always loved food, family, and our home, and now I get to write about all of those things and help other people with my writing. So while I am very grateful for the income that blogging has given our family, I also really enjoy blogging – much more than 10-hour days in a windowless office, missing my newborn baby.
How I Make Money Blogging
When I first started blogging, it was honestly in hopes that I could make just $100/month from it. I knew that other bloggers were making money – some making six figures per MONTH – and I just wanted a tiny little piece of that pie to help my new family out.
As I started to build an audience, I started to get a taste of a good income from blogging when I was making $5,000/month with my personal finance blog.
But I cannot understate the value of getting good, solid blogging information. This was exactly why I decided to take Elite Blog Academy – I was in the first class to ever enroll. Ruth Sukoup, the author of the course has been making MILLIONS from her blog for years, and the knowledge that she shares in EBA is the gold standard when it comes to blogging.
Taking EBA was the thing that skyrocketed my page views and income:
My first year blogging I made about $1,200
My second and third years blogging I made about $60,000
My 4th year blogging I started making income from 2 blogs (but I was letting one dwindle due to lack of interest) which was about $75,000
My 5th year blogging I made just shy of $100,000
And I am currently in my 6th year of blogging, expecting to make $120,000
These numbers are Gross, which means that I still have to pay expenses and taxes out of them. Thankfully, blogging has very little expenses associated with it, and aside from a few larger purchases like a computer and camera, I average about $700/month in expenses. Those expenses include hosting, ConvertKit (for sending emails), Tailwind, Groceries, Props, and various programs/software that make blogging easier.
Having a Profitable Blog has allowed me to quit my office job, homeschool my daughter, travel extensively, and give back in ways that I would have never dreamed were possible in high school and college. It has been wonderful!
That being said, one important part of making money from a blog is diversifying the places that I make money from. Here are the different ways that I make money:
Advertisements
The first way I make money with my blog is by allowing advertisements to take up space in my sidebar and within articles and recipes. I use Mediavine to handle these ad placements for me and with them I make 10x what I made just using Google Adsense. This ad agency makes the ad experience on my website much better than if I were doing it myself, they make my site faster, and they have really cool features like ads on pictures, and ads within videos that I upload.
If you are new to blogging, it is still great to start having ads on your site with Google Adsense, but you can apply for Mediavine as soon as you reach 25,000 monthly sessions.
Affiliates
The second way I make money with my blog is by earning commissions on products that my reader buys. For example, let's say I have a brand of coffee that I like. Within a recipe of post, I place a link to that coffee, that has a tracking code attached which tells the retailer that when someone clicks that link on my website, that click came from me. It also let's the retailer know if they make a purchase to give me a commission. This sounds way more complicated than it is, and I am thankful that affiliate marketing has been made much easier over the years that I've been blogging.
Some of the places I find affiliate links are:
CJ by Conversant
Share A Sale
Individual product's sites
Sponsored Posts/Sponsored Social Media
I don't do a lot of these, but everyone once in a while a product or company specific to the Ketogenic/Low Carb space comes along and asks if I will work with them on a sponsored post or social media campaign. To be honest, I say NO to 95% of offers that come my way, but when an offer fits me, my voice, and my audience, I jump on it!
The Power of Investing in Myself
On thing you'll notice is that most of the growth in my blogs has been when I invested in educating myself. From Elite Blog Academy, to more advance courses like Pinning Perfect and Food Blogger Pro, investing in myself has been some of the best money I've spend in 6 years of blogging.
In the beginning this was HARD.
We were facing piles of debt, a new baby, and terrible careers, with no end in sight.
And I put everything my blog had EVER made into purchasing Elite Blog Academy – but I'm so glad that I did. That one course has paid for itself more than 1,0000 times over.
We unfortunately did not finish paying off our debt back in the day, but instead made some questionable financial choices and are now back on the Dave Ramsey train, paying off $96,000 in consumer debt in what looks to be about 18 months. We're not done yet, but we are hustling to make that happen!
I would be lying if I said blogging didn't have a part in our getting out of debt though. My husband has been working incredibly hard on his career, and is not making enough money to completely support our family, so everything I make from blogging (after expenses and taxes) goes straight toward debt, unless some unexpected emergency happens – like a transmission on our car going out. That actually happened! And when it did, I am so grateful that the income I made from blogging was there to pay for that new transmission in cash.
How You Can Make Money Blogging
If you are reading this and wondering if you too can make money blogging, the answer is yes. You can!
Here are the ways most bloggers make their money:
Advertisements: displaying ads on your site – income depends on the season and your traffic.
Affiliate Marketing: promoting other people's products in exchange for a percentage of the sale price.
Sponsored Posts: promoting a product or service on your website or social media in exchange for a flat fee.
Selling Your Own Products: ebooks, courses, masterminds, and and more can all be sold on your site.
Freelance Writing: writing for other website and getting paid for it
Virtual Assistant Work: doing blogging tasks for other website and getting paid for it.
Tip #1 for Making Money with a Blog: Treat Your Blog Like a Business
Any business requires some sort of investment to get it started – and a blog is no different. I have a 5-Day Start a Profitable Blog Course that is absolutely free and will teach the foundations of starting and setting up your profitable blog. You should also plan on investing in a good course such as Elite Blog Academy. This course builds on my free email course and will take you through the nitty-gritty of finding your voice, structuring your blog, making serious money and into getting blog posts to go viral
Get the 5 day email crash course now. Just tell me where to send it below!
Tip #2 for Making Money with a Blog: Stay True To The Big Picture
When you start your blog, it is important to have an end goal in mind. If you want to make money from your blog with advertisements, affiliates, and selling your own products, you need to create content around a topic that will eventually lead to selling products or marketing affiliate products.
Create an editorial calendar to publish posts regularly, plan launches, and take seasons into account when planning content.
People want to know how your content relates to their life, so stick to your voice and your story as is relates to them in order to sell to them later on.
Tip #3 for Making Money with a Blog: Give Away Tons of Value
You absolutely have to be the best in whatever field your blog is in. You blog not only has to host your unique voice and style, it must be better than the competition. Don't let this intimidate you or keep you from starting. Instead, start where you are and commit to constantly learning getting better.
Focus on creating content that your ideal reader wants.
Don't create content that appeals to men when your target audience is women, and don't create content for career women when you really want to talk to stay-at-home moms.
If you always provide value this way, then your readers will want to come back over and over again. As they continue to come back, you will build trust, and they will want to buy things that you recommend.
Tip #4 for Making Money with a Blog: Stay True To Your Voice
I cannot stress this point enough. In the beginning you will want to imitate other bloggers as you struggle to find your voice. Just keep writing, and pretty soon you'll notice you have a unique style and voice.
Carry this voice and style throughout your entire website, and your audience will keep coming back for your personality. And if they don't, they weren't your tribe anyway.
Share personal stories that relate to your audience and the topic your blog about, but share selectively to avoid oversharing. Make sure to drive the point home for your readers so they can take something away from your stories besides just a laugh.
Tip #5 for Making Money with a Blog: Invest In Yourself
One of the most valuable things I have learned is the power of education. I've learned to invest in myself, because the results have made me so much more money than courses have cost me. By investing in myself I have been able to make far more money blogging than I would have without investing in myself. That is why I recommend starting very inexpensively, running some ads from Google Adsense, and then using that money to investing in better resources.
Here are the courses I recommend:
These courses are all amazing, and if you are ready to start, grow, and make a serious income with your blog, I suggest investing in all 3, starting with Elite Blog Academy.

Elite Blog Academy only opens for enrollment once per year. In 2019, it will open In March, but spaces will fill up fast! Be sure to join the waitlist if you're at all interested in enrolling.
I am so thankful that I am able to make money blogging. It has allowed me to come home and homeschool our daughter, to make my health a priority, and travel to some amazing places. It is almost solely getting our family out of $96,000 of debt, and we can't wait until were free of debt so we can give generously!
Through this whole blogging journey though, I have also learned so much about myself and the type of business that I like to run!
Happy Blogging!
For more blogging resources, visit my Blogging page and my Blog Income Reports.
Here's are some of my favorite (free) blogging resources:
xoxo,
Gretchen
---
---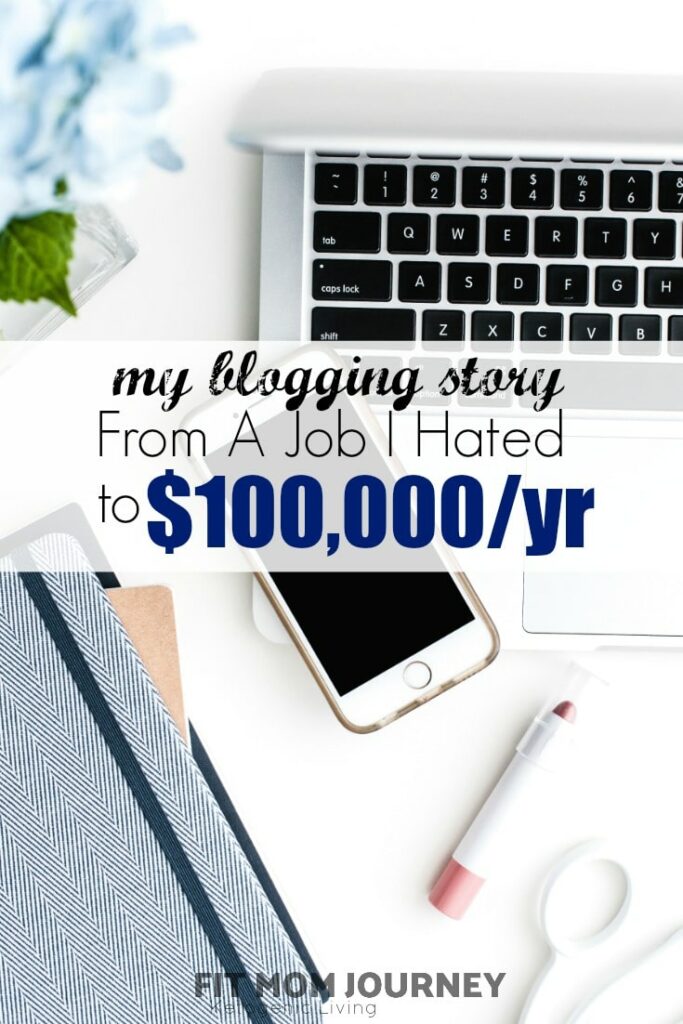 This post may contain affiliate links. See my disclosures for more information.