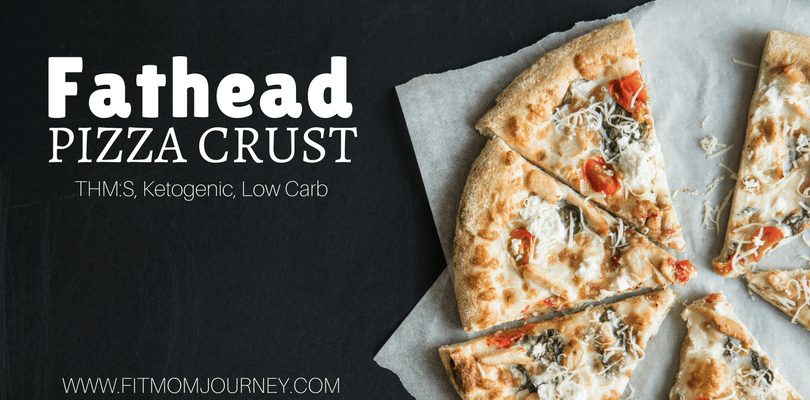 If you haven't made my Fathead Bagels yet because you're intimidated (I was!) I have a MUCH easier Fathead recipe that doesn't require a lot of rise, and honestly, would be fine even if it came out crunchy:
Fathead Pizza Crust.
Honestly, whoever came up with the idea of melting mozzarella and turning it into dough is a genius!  An absolute genius.
After making my Fathead bagels, this recipe is a piece of cake, and great to use for my Keto BBQ Chicken Pizza, or whatever your favorite pizza is.
Because it's made from Fathead dough, it's best suited in a Keto, THM:S, or Low Carb setting.
And can I give you a piece of advice?
If you're making several batches, borrow your husband's hands.  Seriously, enlist his help with kneading the dough and your hands will thank you later, because you have a very short window between when the dough is too hot to work with and too cold to knead properly, so you'll need his strong hands.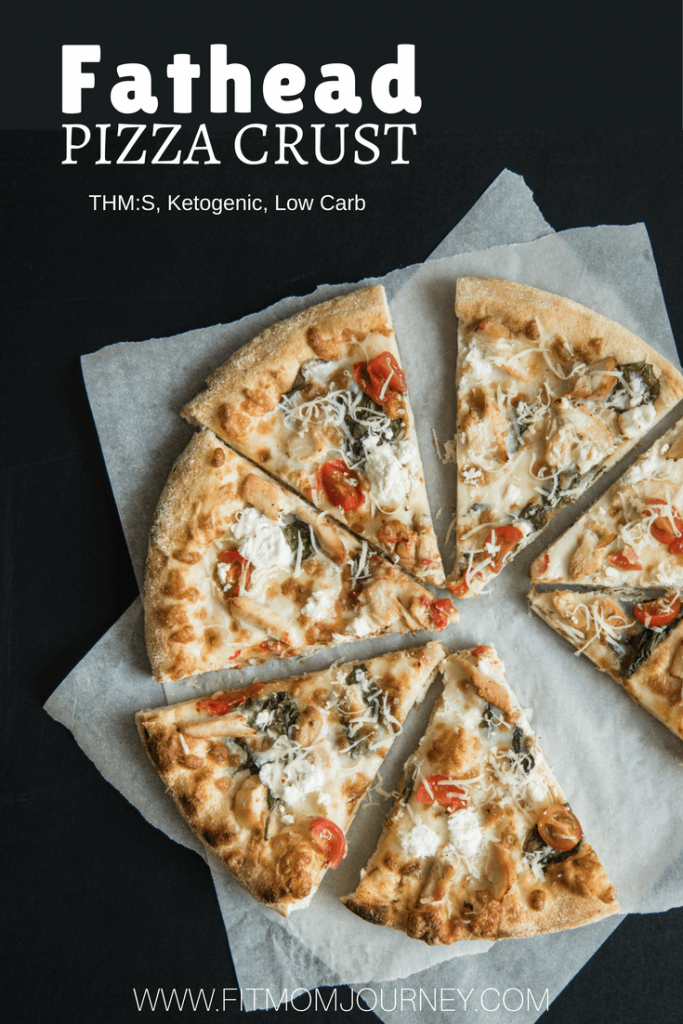 If you're new here, please be sure to check out Trim Healthy Mama 101 as well as my Recipe Index.
I try to create recipes with no special ingredients, but by nature cooking without sugar, and in this case without carbohydrates requires some special ingredients.  Here are the ones I used in this Fathead Bagel Recipe:
You may also enjoy:
Give Fathead Pizza Crust a try today and let me know how you like!  (You're gonna fall in love)

Fathead Pizza Crust (Ketogenic, THM:S, Grain Free, Low Carb)
Prep time:
Cook time:
Total time:
Ingredients
0.75 cups Almond Flour
2 t Baking Soda
1.25 cup Shredded Mozzarella Cheese
1 oz Cream Cheese
1 lg. Egg
Instructions
Preheat oven to 400 and line 2 pizza crusts baking sheets (or large, regular baking sheets) with parchment paper. Mix the almond flour and baking soda in a bowl and set aside.
Place the Mozzarella Cheese and cream cheese in a bowl and microwave for 2 minutes, stirring halfway through, until the cheese is completely melted.
Add the almond flour mixture and egg to the melted cheese and use your hands to combine all the ingredients until thoroughly combined. The dough will be very sticky and warm (be careful) but it's important to mix it quickly while still hot. Be sure the dough is mixed really well.
Divide the dough into 2 even parts, and roll each part out into a pizza crust on your parchment paper.
Baked at 400 for 10-14 minutes, until the crust is brown. Then, store in the refrigerator for up to a week, or in the freezer, wrapped in press 'n seal, for several months. When you're ready to make the pizza, defrost a crust, top with your favorite pizza toppings, and then bake for 7-8 minutes at 400 & enjoy!
xoxo,
Gretchen
This post may contain affiliate links.  See my disclosures for more information.