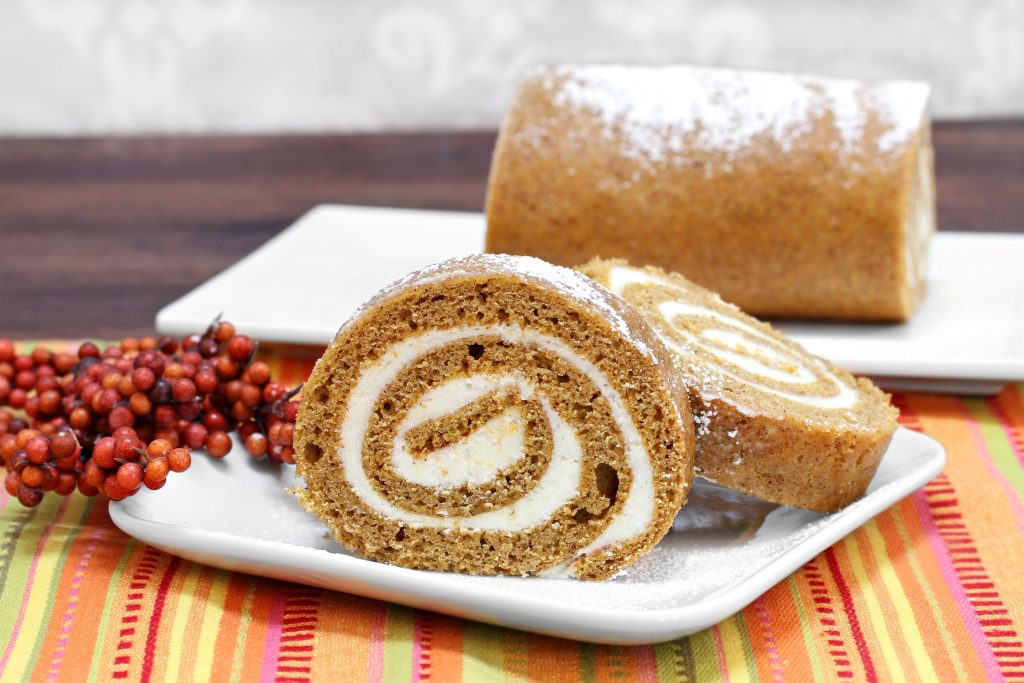 Pumpkin Cake Roll – Cream Cheese Filling
Ya'll!  This is my first new pumpkin recipe of the season, which is weird, because it's 85 outside as I'm writing this, I can't help but think "Whatever, it's #pumpkinspice season and I am Here. For. It."
I've done a couple of cute pumpkin recipes in the past because I like working with the ingredient, like my Pumpkin Spice Creamer (THM:S) but I'm getting serious with this Pumpkin Cake roll with Cream Cheese Filling.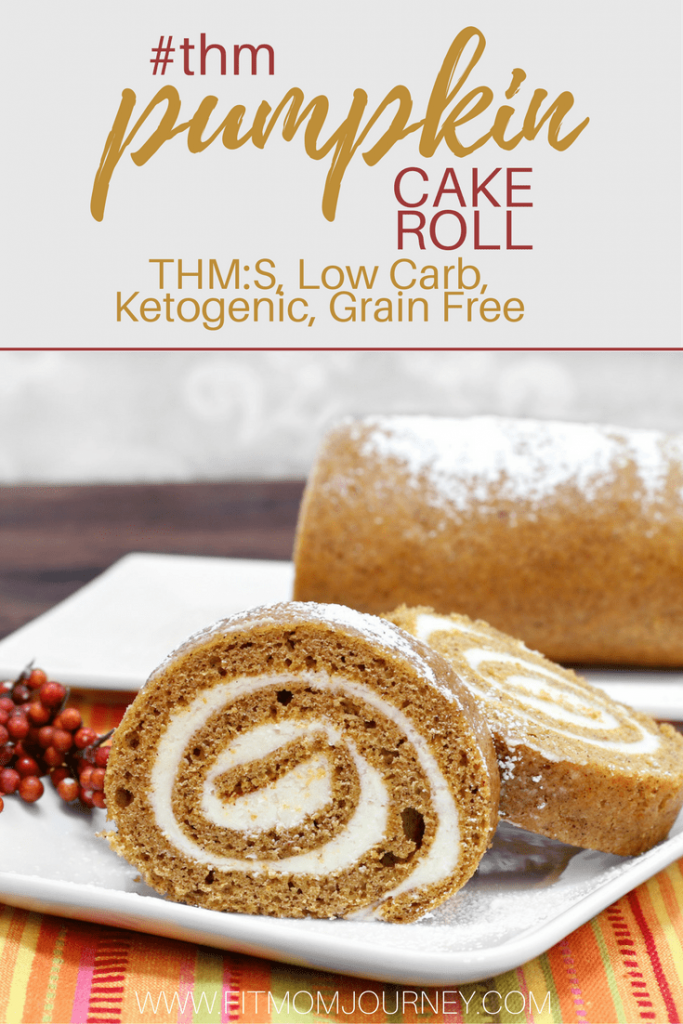 Are you ready?
I am so excited to share with you today!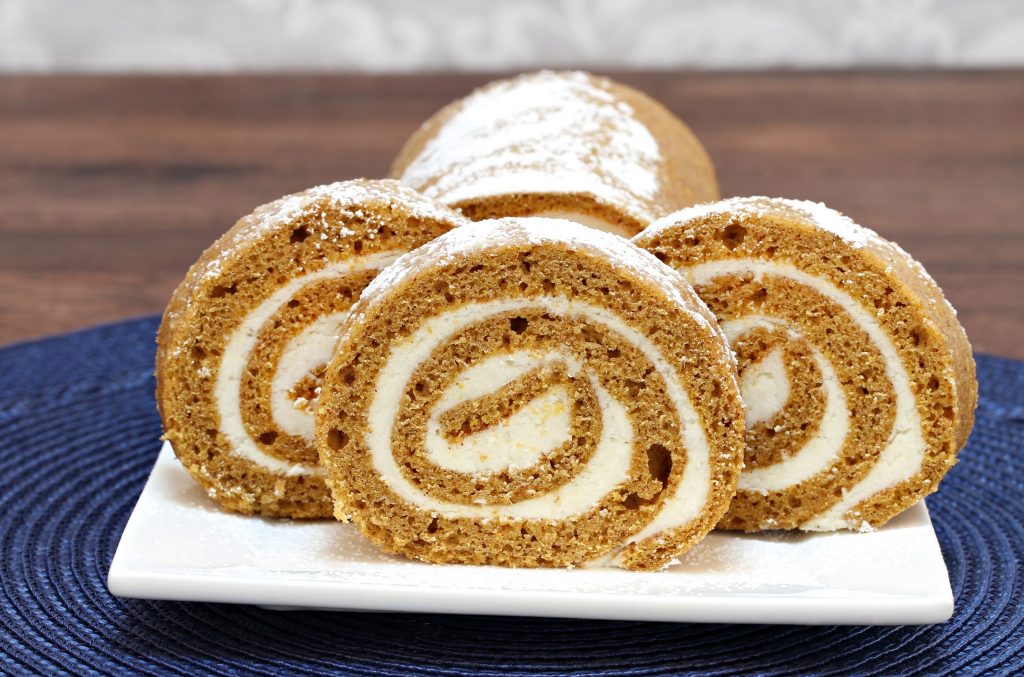 I LOVE pumpkin season, and having a 3-almost-4 year old to share the excitement with makes us almost like giddy schoolgirls together.  The hubby doesn't share my enthusiasm for all things fall, winter, and the holidays, but my little blonde sidekick sure does!
I try not to jump into fall recipes too early, but the leaves around here are turning and it just feels like it's time.  It is after labor day, after all, which means I can't wear white, but I CAN start putting pumpkin in everything.
You may also enjoy:
Pumpkin Spice Creamer
Chocolate Chip Pound Cake (THM:S, Low Carb, Ketogenic)
90-Second Keto Cinnamon Roll in a Mug (Ketogenic Fat Bomb, Low Carb, High Fat)
Basic Chocolate Ice Cream (THM:S, Low Carb, Ketogenic)
Chocolate Peanut Butter Bars (THM:S, Low Carb, Ketogenic,)
Trim Healthy Mama 101
Trim Healthy Mama Pantry Staples
Affiliate Links: the following links will take you to some of the tools I used to create this recipe.  When you purchase through my link, I get a small commission, at no cost to you, which helps to support the cost of running this site.  This means more FREE recipes and resources for you.
Let's get our #PumpkinSpice on!

Trim Healthy Mama Pumpkin Cake Roll with Cream Cheese Filling
Prep time:
Cook time:
Total time:
Ingredients
For the Cake:
2 cups Almond Flour
¾ cup Coconut Flour
½ cup Vanilla Protein Powder
1 T Baking Powder
1 tsp Cinnamon
½ tsp Salt
1 tsp Ginger
¼ tsp Cloves
¼ tsp Allspice
1½ cup Pureed Pumpkin
4 Eggs
½ cup Melted Butter
½ cup Milk or Almond Milk
1 tsp Vanilla Extract
For the Filling
16 oz Cream Cheese, Softened
½ cup Truvia
Instructions
Preheat your oven to 325 and line your jelly roll pan with parchment paper. Set aside.
Using your largest KitchenAid bowl (or a large bowl if mixing by hand) combine the dry ingredients: Almond Flour, Coconut Flour, Protein Powder, Baking Powder, Cinnamon, Salt, Ginger, Cloves, Allspice. Mix well.
Add the Pureed Pumpkin, Eggs, melted Butter, Milk and Vanilla Extra to the dry ingredients and mix well. The batter should be easy to spread but not runny. It it's runny, add ¼ cup more almond flour and mix well. If it is thick, add ¼ cup milk and mix well.
Spread the batter evenly in the jelly roll pan (lined with parchment paper) and bake for 35-40 minutes or until the cake is set and cooked through.
Remove from the oven and let sit for about 7 minutes, or until the cake is still warm but not cooled.
While the cake is cooling, mix up the filling:
Warm the cream cheese up so it spreads very easily, then thoroughly combine it with the truvia.
Using the parchment paper, remove the pumpkin cake from the pan and set it on the counter. Spread the warm filling evenly over it, then start rolling the cake from one end. Pull the parchment paper off of the cake as you roll so that non is trapped inside the roll.
Refrigerate the cake roll (covered) for 3-4 hours, or until it's fully cooled and set up, then slice and enjoy!
xoxo,
Gretchen
---
I would love for you to subscribe to my newsletter – you'll stay current on all my newest THM:S, Low Carb, Ketogenic recipes!
---
This post may contain affiliate links.  See my disclosures for more information.