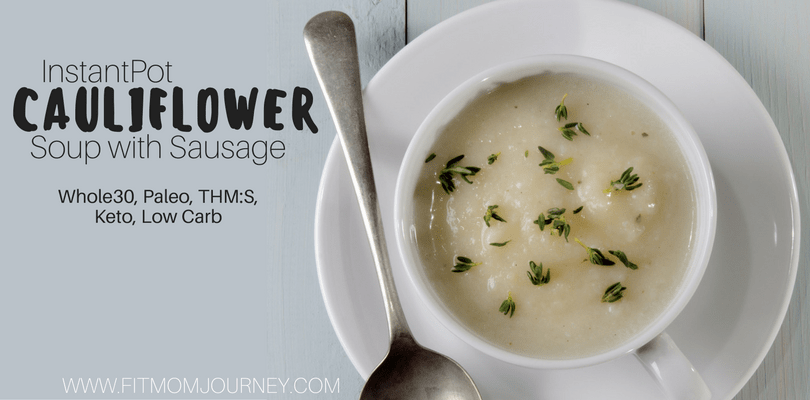 Whole30 Cauliflower Soup with Sausage
I often experiment with recipes (hello, I'm a food/fitness blogger).
Often those recipes don't turn out.
They end up dumped in the trash, caked onto my pans, and I'm sent back to the drawing board to create the recipe I have in my head.
But sometimes, those recipes turn out on the first try, and when they do, I share them with you right here.
This Whole30 Cauliflower Soup with Sausage soup was so good on try #1 that my husband even went back for seconds!  It's Whole30, Paleo, THM:S, Keto, Low Carb, and Dairy Free.  How's that for good-for-you soup?
Not only is this soup yummy, mimicking a potato sausage soup (yes, it's that good!) I made it in the InstantPot in less than 20 minutes, it's packed with vitamins and minerals, and will fill you up like crazy!
Related: Why The InstantPot Is The Best Kitchen Appliance I Own
Since I'm currently on my Whole30 journey, I have to give you a few notes about the ingredients in this Whole30 Cauliflower Soup with Sausage.
Finding complaint ingredients for Whole30 at the grocery store can be, well….a challenge.  And since I'm not the type to run around to 4 different stores to find ingredients,  I tend to improvise rather than rigidly stick to the recipe I had planned.
But I do stick to the Whole30 guidelines.
In this recipe, the cauliflower and green onions are easy, albeit expensive because produce is very easy to be compliant.  Just make sure you wash it before use.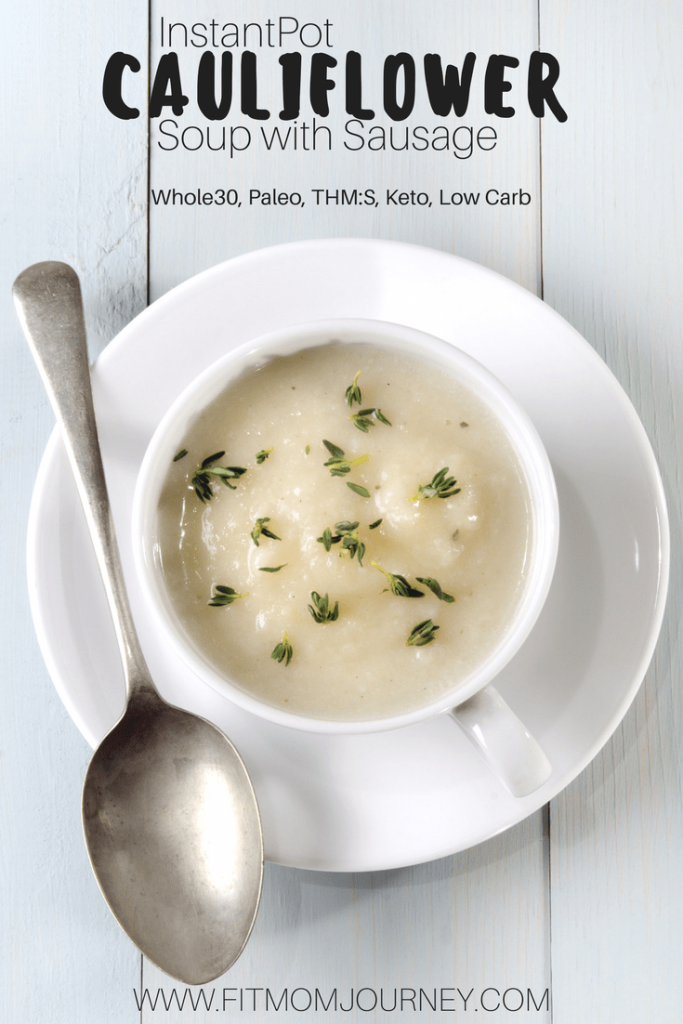 Then you'll also use chopped garlic in olive oil, Thyme, salt and Pepper for seasonings. Also fairly easy to find in Whole30 compliant forms.  I found my at Aldi with absolutely no trouble.
But when it comes to the Sausage and Beef Stock, it gets a bit harder.  Your best option for beef broth is to make your own stock, or hit up the natural/organic section of your grocer.  I also like Thrive Market for their low prices, transparent nutrition/ingredient information, and because they give back to the community (get 25% off your first order + a free bottle of Coconut Aminos through my link).
The same goes for Sausage.
Finding sausage that is Whole30 compliant is tricky, but not impossible.  Currently, the most commonly available brands are Trader Joe's, Whole Foods 365 Everyday, and Applegate Farms.  Your grocery store may have other compliant brands, just make sure to read your labels!
For our soup, I used sausage that came from pigs we raised, and that we took to the butcher.  I was able to completely control the processing and additive process so I know exactly what is in them: a spice blend I picked out and nothing else.
Soooo thankful for that!
By the way, if you can go the route or raising your own pigs, or even just purchasing a fully grown pig and having it butchered out, that is the way to go!  Not only is the meat fresher and better for you, you can control how it is process and what is added.
This means tons of bacon with NO ADDED SUGAR!
But, back to this soup…..
I use bone broth is this soup – and you should too! – because it is so good for you! 
Bone broth is SO good for you.  Here are a few of the benefits:
Healing Leaky Gut Syndrome

Help with food intolerances and allergies

Improve Joint Health

Reduce Cellulite's Appearance & Improve Your Skin

Boost Your Immune System

Sleep Better

Prevent Osteoporosis and Strengthen Bones

Supplement Your Diet with Protein
Ketologie Bone Broth comes in powdered form, which is super convenient.
If you've been looking to add the health benefits of bone broth to your diet, and need a convenient product, then Ketologie Bone Broth is worth having around.
There are zero net carbs in each serving of this delicious bone broth, and it sells for a price that even my frugal self can get on board with.
You can find Ketologie Bone Broth on their website: Ketologie.com
Like I said, my husband went back for seconds and even took some in his lunch the next day, so I just HAD to share it with you.  Make it tonight and enjoy!
InstantPot Whole30 Cauliflower Soup with Sausage (Whole30, Paleo, THM:S, Keto, Low Carb)
Prep time:
Cook time:
Total time:
Ingredients
1.5 heads Cauliflower, chopped
⅓ cup Chopped Green Onions
8 scoop Ketologie Beef Bone Broth + 4 cups Water
1 T Chopped Garlic in Olive Oil
1 tsp Thyme
4 Sausage Links
Salt and Pepper, to taste
Instructions
Chop 1 head of Cauliflower, removing the leaves. In your InstsantPot, place the rack in the bottom, then add 1 cup of water, and the chopped head of Cauliflower. Set your InstantPot to Manual High Pressure for 5 Minutes to cook the cauliflower.
While the cauliflower is cooking, place the green onions, bone broth, garlic, and thyme in your blender.
Next, cut each sausage link in half lengthwise, then chop into small pieces. Place them in a skillet with hot olive or avocado oil to cook the sausage through with crispy outsides.
When your cauliflower is done cooking, do a quick release, and place it in the blender with the broth mixture and pulse until smooth.
Put the other ½ head of chopped cauliflower in the InstantPot and cook for 3 minutes on High Pressure. Continue crisping your sausage, as this will take a few minutes, even on high heat.
When the Instant pot is done, do another quick release, and add the soup from the blender and the sausage from the skillet and stir to combine. Serve immediately and enjoy!
xoxo,
Gretchen