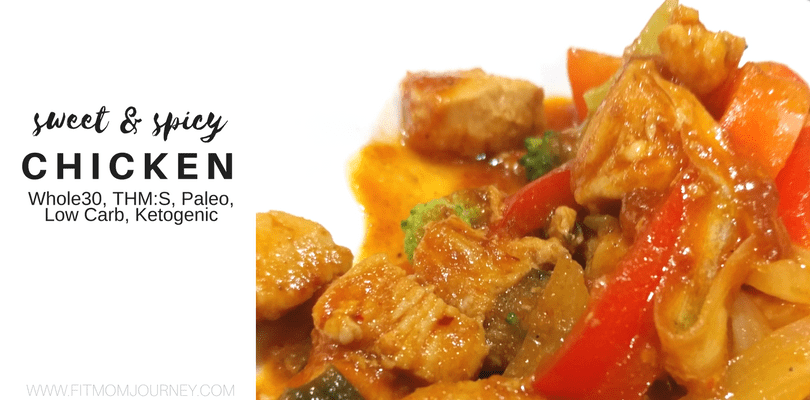 Sweet & Spicy Chicken Recipe
(whole30, THM:S, Low Carb)
Ya know what's been high on my cravings list lately?
Chinese food.
Like, all of it.
Thanks, #whole30….
Sure, its day 13 of Whole30 and I feel amazing, but it's a lazy Sunday and I really, really miss the ease and taste of ordering in Chinese food, laying around the house and watching movies.
Mostly, though, it's the spices and the big, bold flavors of some of my favorite dishes like Kung Pao Chicken and General Tso's chicken that I miss.
This Sweet & Spicy Chicken recipe is so clean, it's Whole30 Compliant.  It's also Paleo, a THM:S, Low Carb, Sugar Free, and packed with protein and taste that will satisfy all your Chinese takeout cravings.
Enjoy the Sweet & Spicy Chicken over a variety of Whole30 and Ketogenic Compliant Veggies:
Spiralized Zucchini or Yellow Squash
Spaghetti Squash
Cauliflower Rice
Steamed Broccoli
And the sauce?
You guys, I could make a whole post on just the sauce because it's That.  Good.
I could use it over stir-fry, as a marinade, and I even save the leftover sauce (this recipe has plenty on it) to put over spiralized veggies, salads, or just over meat and veggies.  It's one of those delicious workhorse sauces that is embedded in my brain because I make it and love it so much!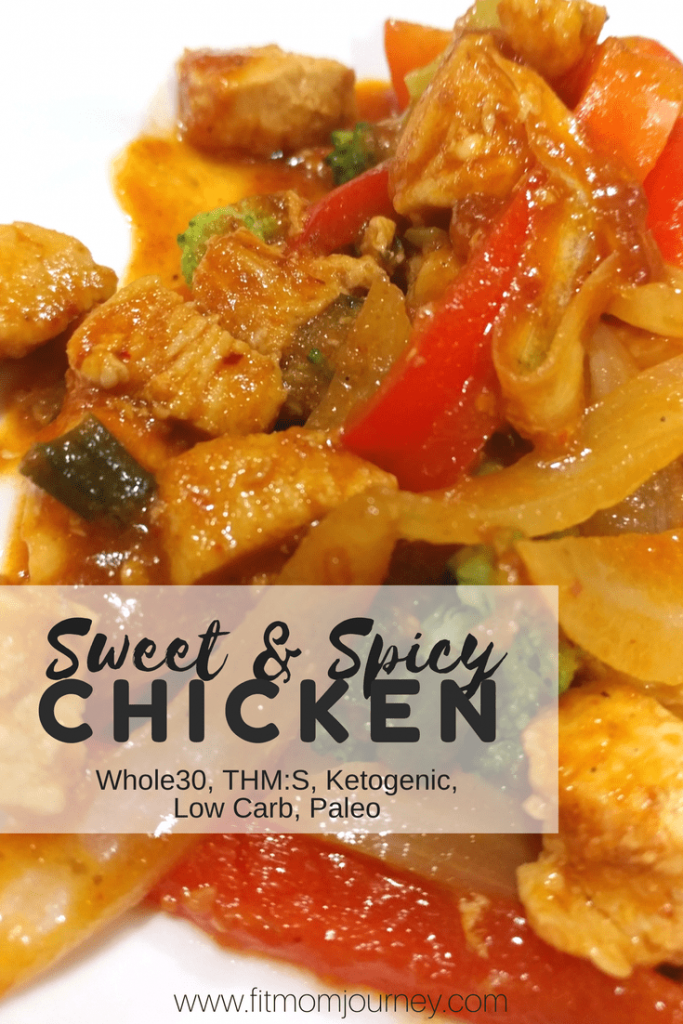 You may also enjoy:
Slow Cooker Chicken Broccoli Soup – THM:S
11 Vegetables You Can Spiralize: Tips, Tricks & Recipes
Slow Cooker Pork Carnitas
Whole30 InstantPot Carnitas
Whole30 Pantry Staples + Price List
Trim Healthy Mama Crockpot Taco Soup
THM:S Chicken Chili
Affiliate Links: the following links will take you to some of the tools I used to create this recipe.  When you purchase through my link, I get a small commission, at no cost to you, which helps to support the cost of running this site.  This means more FREE recipes and resources for you.
You ready for the explosion of flavor that's about to happen?
Enjoy!

Whole30 Sweet & Spicy Chicken
Prep time:
Cook time:
Total time:
Ingredients
2 lbs of chicken breasts, thawed
¼ cup oil
Salt and Pepper
For the sauce:
4 pitted dates
½ cup water
¼ cup Coconut Aminos
1 tsp Garlic Powder
½ tsp Ginger Powder
1 tsp Apple Cider Vinegar
¼ tsp Salt
1 T Red Curry Paste
1 tsp Red Pepper Flakes (optional)
Saute Vegetables:
1 Red Bell Pepper, sliced
1 Yellow Onion, sliced
2 Green Onion stalks, diced
1 tsp Xanthan Gum
Instructions
Heat up the skillet with olive oil in it. While it heats, cut the chicken breasts into chunks, salt and pepper the chicken chunks, then set aside.
Slice the Red Bell Pepper, Yellow Onion, and Green Pepper.
Add the chicken and vegetables to the hot skillet and sear on each side.
While the chicken cooks, place the Pitted Dates, water, Coconut Aminos, Garlic Powder, Ginger Powder, Apple Cider Vinegar, Red Curry Paste and Red Pepper Flakes (if desired) into your single-cup blender (or regular blender) and blend on high speed for 1-2 minutes, or until the sauce is well combined and the dates have been integrated into the sauce.
By now, your chicken should be almost cooked through, so remove it from the pan and set aside.
Add the sauce to the pan and whisk in the Xanthan Gum.
Add the chicken and vegetables back into the pan, stirring to coat everything with the sauce. Cover the pan and let it simmer for 5 minutes, or until the sauce has reduced.
Serve over your choice of vegetable, and enjoy!
xoxo,
Gretchen
---
Satisfy ALL your cravings – the healthy way – by joining my newsletter:
---
This post may contain affiliate links.  See my disclosures for more information.