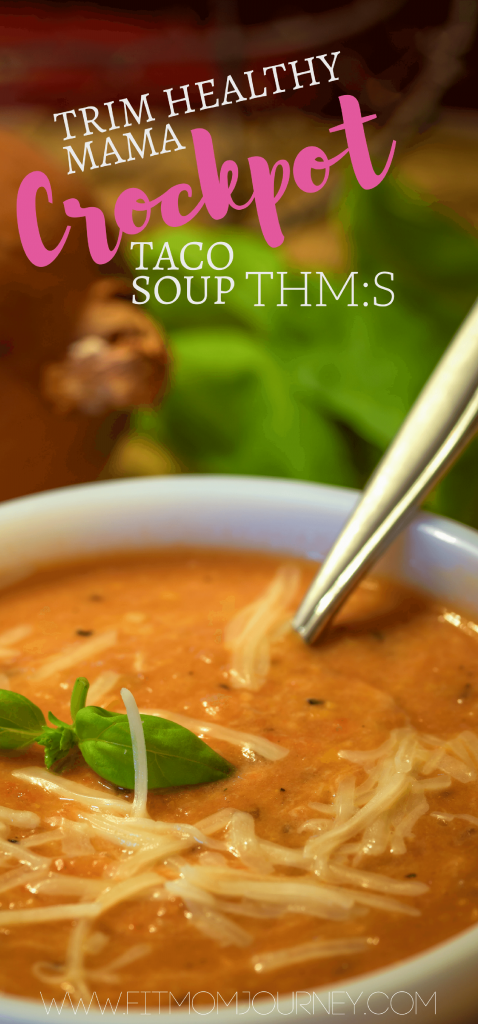 For me, cold weather = soup weather!
Here in southern Illinois, the weather turned pretty darn cold last week and so naturally I wanted creamy, warm, comfort food – AKA, soup!
Now, at the time I'm actually publishing this recipe for you, the weather is back in the 90's (from 40's last week!) so it seems weird, but it is what it is!
One of our favorite soups is Crockpot Taco Soup (S).  It's cheesy, packed with protein, full of fat, and it's delicious!
Plus, as a busy mom it's one of my favorite because of how stinking easy it is!
I put all the ingredients in the crockpot first thing in the morning, set the slow cooker to low, and by dinner time it's ready to go after a quick whisk!
Because my whole family isn't as "on" Trim Healthy Mama as I am, I serve it with rice, black beans, cilantro, salsa, cheese, and sour cream on the side, and then let everyone build their own soup bowl with their favorite toppings.
Plus, I use bone broth for it's health benefits:
Bone broth is SO good for you.  Here are a few of the benefits:
Healing Leaky Gut Syndrome

Help with food intolerances and allergies

Improve Joint Health

Reduce Cellulite's Appearance & Improve Your Skin

Boost Your Immune System

Sleep Better

Prevent Osteoporosis and Strengthen Bones

Supplement Your Diet with Protein
Ketologie Bone Broth comes in powdered form, which is super convenient.
If you've been looking to add the health benefits of bone broth to your diet, and need a convenient product, then Ketologie Bone Broth is worth having around.
There are zero net carbs in each serving of this delicious bone broth, and it sells for a price that even my frugal self can get on board with.
You can find Ketologie Bone Broth on their website: Ketologie.com

Crockpot Taco Soup (THM:S)
Prep time:
Cook time:
Total time:
Ingredients
2 pounds Ground Beef
4 scoops Ketologie Chicken Bone Broth + 2 cups Water
1 package ⅓ Less Fat Cream Cheese
1 small can Rotel
1 Onion, diced
3 T Chopped Garlic (I use pre-chopped in oil from Aldi)
1 T Cumin
1 T Chili Powder (or to taste)
1 tsp Onion Powder
2 tsp Salt (or to taste)
Instructions
Place all ingredients in the crockpot. Cook on low for 6-8 hours. Whisk once or twice before serving.
Serve with black beans, cilantro, rice, salsa, sour cream and/or cheese on the side and let everyone build their own soup bowls - enjoy!
Enjoy this on a cold day – or on a day when you don't want to cook!
Talk soon,
Gretchen
---
Become a part of the FMJ family – join the newsletter:
---