Pumpkin spice season is upon us!
Are you running to or from this trend?
If you're loving everything about #psl season, then today I've got something awesome in store for you: the ultimate THM Pumpkin Roundup!
The best recipes, indulgences, and bloggers all in once place, so you can get your pumpkin spice on and still stay on plan!
Ready?
Here we go—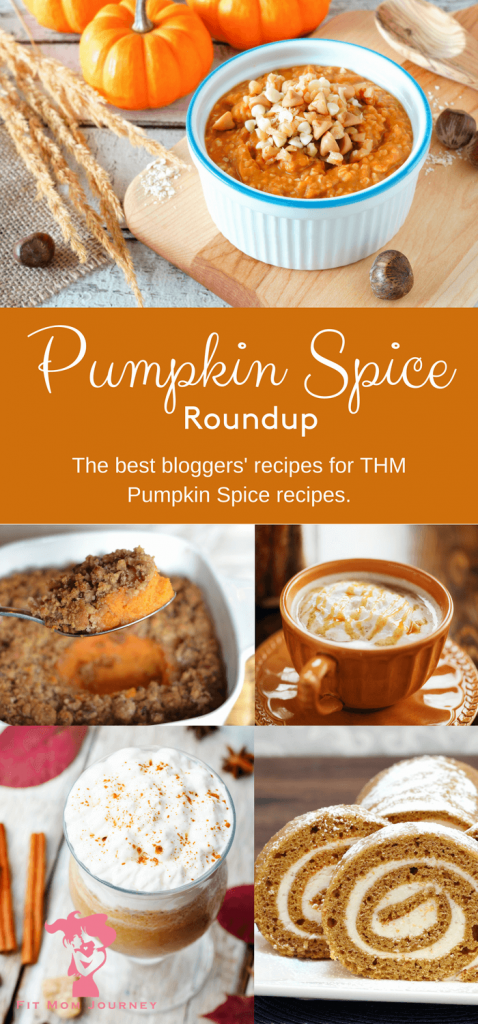 Baked Pumpkin Pie Oatmeal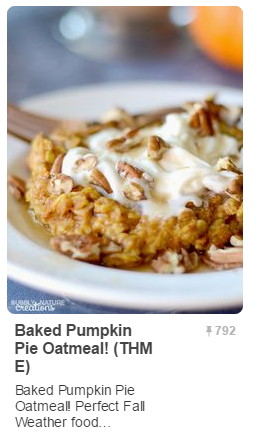 Can you say "yum?"
Breakfast just got better by combining the power of pumpkin spice and oatmeal into one powerhouse food! Sprinkles of Fun created this awesome recipe (and took amazing pictures of it, too!) but I think the best thing about it is that the recipe is a baked oatmeal – meaning you can prep it in advance!
Pumpkin Roll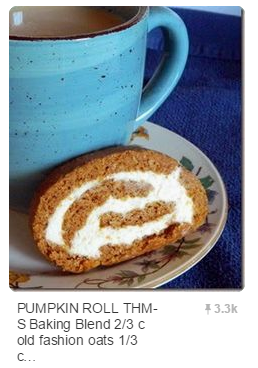 Pumpkin spice + cream cheese = heaven!
I used to make a traditional pumpkin cream cheese roll for my husband in the morning, but was struggling with the perfect THM-friendly version. Well, here it is, and this recipe by Homeschooling Adventures doesn't disappoint!
Pumpkin Delight

You've heard of dessert lasagna, right?
If you haven't, go search it on Pinterest, then try this recipe to calm the crazy cravings you're having. This recipe by Briana Thomas fits perfectly with the pumpkin spice theme, and is THM:S, low carb, sugar-free and even gluten and peanut free!
Pumpkin Spice Creamer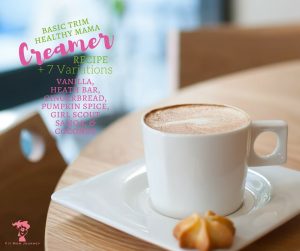 Mornings were made for pumpkin spice.
And loads of caffeine, of course!
Check out this fun Pumpkin Spice Creamer recipe by yours truly (oh, and grab a copy of the winter drink recipe collection. It's free!)
Pumpkin Spice Latte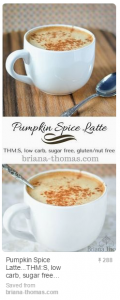 Have a little more time on your hands? Skip the creamer and just make yourself a #psl infused latte. It's almost as if it came straight from the coffee shop, but instead is from your own kitchen and THM friendly to boot!
By the way, this recipe is also by Briana Thomas, a fantastic THM blogger!
Pumpkin/Sweet Potato Casserole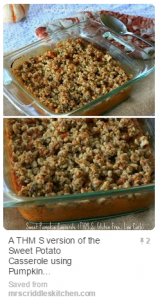 Mrs. Criddles Kitchen, another great THM blog came up with this recipe for a THM-friendly version of a Thanksgiving staple. It's basically a dessert, but an on-plan dessert that I now I crave!
Just don't want until Thanksgiving to make this – it's good any time of the year!
Low Carb Pumpkin Cheesecake Mousse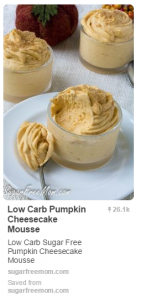 It's sugar-free, it comes in individual servings, and it's pumpkin spice.
Does it get any better?
Nope, this recipe by Sugar Free Mom is tops – you're going to want to pin it for later!
Pumpkin Shrinker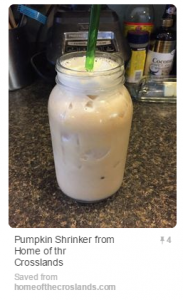 Would any THM roundup be complete with a shrinker or moonshine?
Honestly, what is better than shrinking while you drink a yummy pumpkin drink? This recipe from Home of the Croslands is awesome and on-plan!
I'm all in with this season of pumpkin spice, but I've got to stay on plan!
Thankfully, some amazing bloggers have gotten in the spirit, too, so we can enjoy their amazing creations!
What other THM pumpkin spice recipes would you add to the collection?
Have an awesome day,
Gretchen
This post may contain affiliate links. See my disclosures for more information.