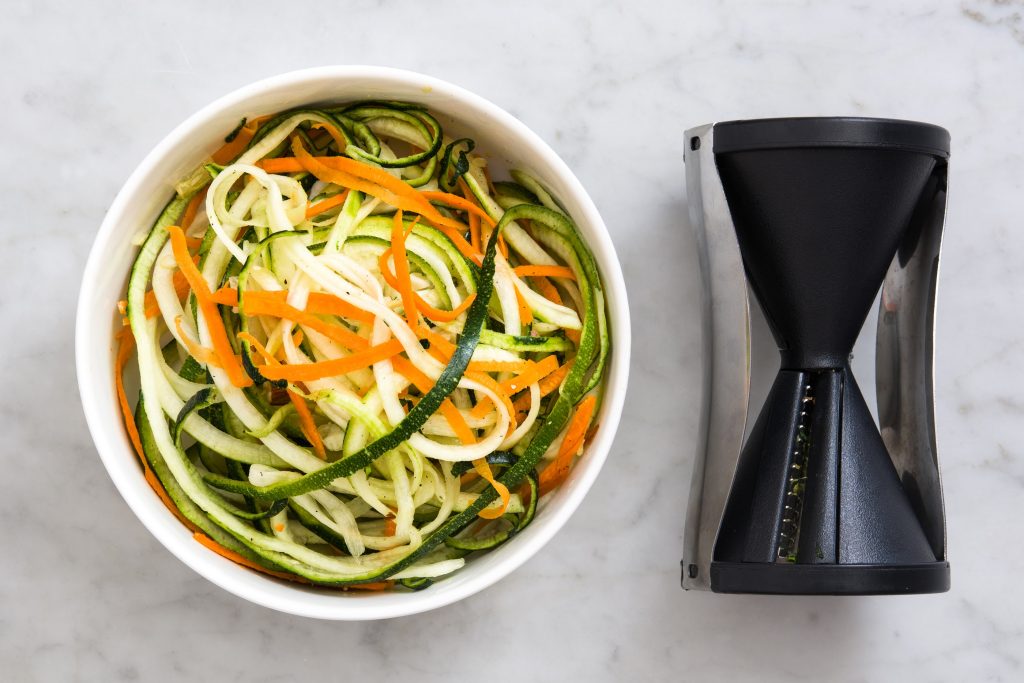 Last summer, I discovered spiralizing, this amazing technique where you take vegetables and turn them into noodles.
Seriously.
Noodles made out of vegetables, but still….how amazing!
Even better, there are so many vegetables you can spiralize, it's super easy to do, and spiralizing vegetables elevates them to a whole 'nother level that I didn't even think was possible.
Hate vegetables?
Love pasta?
You need to start spiralizing!
What Is Spiralizing?
Spiralizing is a way to turn fruits and vegetables into noodles.  It's so simple, but a complete game-changer.  Because spiralized noodles are made from vegetables and fruits, they are naturally gluten-free, grain-free, paleo, vegan, and vegetarian and many are low carb.  In short, spiralzing is a cleaner, more wholesome, natural way to eat – and spiralized noodles make excellent substitutions in Trim Healthy Mama, Paleo, Whole30, Keto recipes and more!
Plus, you won't break the bank making and eating spiralized vegetables.
How to Spiralize Vegetables
1. Pick a Spiralizer that works for you
There are tons of spiralizers available on Amazon – and at your local kitchen store.
Direct readers to the other spiralizations articles, tools, and tips.  However, we can break them down into 3 distinct types: Electric, Heavy-Duty, and Manual
Electric: Made for harder vegetables such as turnips, butternut squash, and kohlrabi, an electric spiralizer is best if you plan spiralizing harder vegetables are spiralizing often.  These will give your hands a rest, and will power through every vegetable you throw at it.  These tend to be the most expensive types of spiralizers, but you'll easily get your money back in both health benefits and food costs.
My Pick: Veggie Bullet Electric Spiralizer and Food Processor
Heavy-Duty: Not all manual spiralizers are made for harder vegetables, but heavy-duty spiralizers like the 5-Blade Spiralizer or the KitchenAid Spiralizer Attachment can do the same job as an Electric Spiralizer, but at less than half the price.  If your hands are up for the task, a heavy-duty spiralizer is a great value for the money.
My Pick: The 5-Blade Spiralizer
My Pick: KitchenAid Spiralizer Attachment
Manual: The most inexpensive type of spiralizer, this kind cannot spiralize harder vegetables like sweet potatoes and turnips.  However, it can handles zucchini and other softer veggies just fine.  These can be picked up for under $10 on Amazon.  Here are my picks:
My Pick: I have this spiralizer and it works great!
My Pick: The OXO Good Grips Spiralizer is sturdy and easy to use
Related: 12 Fruits You Can Spiralize (coming soon!)
11 Vegetables You Can Spiralize
1. Spiralize Zucchini
Why Spiralize Zucchini?  
Zucchini's texture and high-fiber nature make it the perfect vegetable to spiralize.  It has about 20 calories per cup, about 1/4th of the 80 calories in one cup of cooked pasta.  If you're doing Trim Healthy Mama, zucchini works well in an S, E, or FP setting.
Try Spiralized Zucchini This Way:
Sauteed in a pan with onion powder and garlic for a few minutes, before topping with your favorite turkey meatballs (THM:FP)
Sauteed gently, then topped with chicken and no sugar added Marinara (THM:E)
Roasted on a sheet pan, then topped with a fried egg (THM:S)
Sauteed and topped with homemade alfredo and chicken (THM:S)
Related: Trim & Healthy Snacks For When You're Craving Chips
2. Spiralize Yellow Squash
Why Spiralize Yellow Squash?
Yellow Squash's texture is very similar to Zucchini, but has 5 grams of fiber per 2 cups, which helps keep you full and aid digestion.  It's low in carbs and fat free, making it the perfect addition to all Trim Healthy  meals, whether they're S, E, or FP.  We like to spiralize them together for some added color in our meals.
Try Spiralized Yellow Squash This Way:
Saute in 1 T of Olive Oil, then top with your favorite on-plan Bolganese sauce.
Saute, then add Parmesan and ghee
Top with an easy homemade alfredo sauce
3. Spiralize Carrots
Why Spiralize Carrots?
Dish need a sweet element without being too overpowering?  Spiralized carrots are just the right addition.  They are sweet and starch without being as high in calories and carbs like regular cooked pasta would be, making them ideal in a THM:E setting.  Their vibrant color also makes them a visually pleasing addition to your dish – and stunning to serve to guests!
Try Spiralized Carrots This Way:
Saute gently in 1 tsp of whipped butter (ok in a THM:E) setting, then add a dash of Gentle Sweet and Cinnamon for a wonderful side dish or light dessert
Carrot noodles are delicious mixed with other squashes for a medley of sweet zoodles
Or, saute in butter and let the natural carrot flavor come out.
4. Spiralize Beets
Why Spiralize Beets?
Well for one, their color!  Beets, like the carrots above have such vibrant color that they can turn a blah dish into something absolutely stunning – and that's not even without considering the amazing nutritional powerhouse that beets are.  Beets are high in fiber and taste great, making them ideal for a THM:S, E, or FP.  Personally, I like them best in an E or FP setting.
Try Spiralized Beets This Way:
Spread beet noodles evenly on a sheet pan covered with parchment paper.  Roast them at 400 for 25-30 minutes  until tender.  Let them cool, then top with cooled goat cheese, walnuts, a bit of olive oil and salt and pepper.  (THM:S)
5. Spiralize Sweet Potatoes
Why Spiralize Sweet Potatoes?
Sweet potatoes have long been known to be packed with nutrients and are naturally sweet.  They also pack a punch of fiber, but are fairly high in carbs, so make sure to keep them in a THM:S setting.
Try Spiralized Sweet Potatoes This Way:
Spread the sweet potato noodles on a pan covered in parchment paper.  Roast at 400 degrees for 25 minutes.  Toss them(while still warm) in 1 tsp of Whipped Butter, then top with Cinnamon and a bit of gentle sweet for a lovely THM:E dessert of side dish.
Related:
6. Spiralize Cabbage and Red Cabbage
Why Spiralize Cabbage?
Red cabbage especially, has an unbelievable amount of antioxidants (as seen in it's vibrant color) which are said to help reduce inflammation in the body and even possibly help prevent cancer (say some).  Cabbage might sound like a weird vegetable to spiralize, but it's actually quite easy!
Try Spiralized Cabbage This Way:
Mix cold, spiralized cabbage with my Thai Peanut Dressing (THM:S) slivered almonds, diced cilantro, and grilled chicken for a delicious THM:S Thai Chicken Salad
Mix up a coleslaw vinaigrette and serve spiralized cabbage as a stunning side dish (or an entree with chicken, says the local coleslaw addict)
Another simple coleslaw recipe: Mix the spiralized cabbage, greek yogurt, apple cider vinegar, dijon mustard, and green onions for a very light THM:E coleslaw alternative.
Stir fry with sausage and seasonings for Egg Roll in a Bowl (found in the Trim Healthy Mama Cookbook)
Related: Spicy, Crunch Thai Chicken Salad (recipe coming soon!)
7. Spiralize Cucumbers
Why Spiralize Cucumbers?
First of all, during warm summer months, cucumbers are one of the most refreshing vegetables on the planet, in my opinion.  This is because they are 95% water, and have only 40 calories per entire cucumber.  Cucumbers are fat free, and super low in carbs, so you can put them into a THM:S, E, or FP setting, although I recommend the FP and E recipes the most!
Try Spiralized Cucumbers This Way:
Cucumber Tomato Salad
Toss cold spiralized cucumber with sliced onions, fresh chopped dill, a bit of white wine vinegar, and salt and pepper to taste
Related: Cooling Cucumber Salad (THM:E)
8. Spiralize Butternut Squash
Why Spiralize Butternut Squash?
If you haven't tried Butternut Squash yet, now is the time!  This vegetable contains more nutrients than I can name right here, and it's flavor is that of, well, butter root vegetable.    Because it's a root vegetable, Butternut Squash is high enough in carbohydrates that it belongs in a THM:E setting, but don't let that scare you away.
9. Spiralize Kohlrabi
Why Spirarlize Kohlrabi?
Have you heard of Kohlrabi?  If not,  you've probably seen it (avoided it) in the grocery store.  This Asian staple lands somewhere between cabbage and broccoli, meaning that it will leave you full.  Kohlrabi is super low in calories and high in fiber, and works well in a THM:S, E, or FP setting.
10. Spiralize Broccoli Stalks
Why Spiralize Broccoli Stalks?
As Trim Healthy Mamas, we know that Broccoli is a powerhouse and works in almost any S, E, or FP setting.  The key to spiralizing these is to leave the heads alone (chop those up and thrown them in my Broccoli Cheese Soup!) and only spiralize the stalks.  The fiber found in them aids in digestive health and tastes pretty darn good!
Try Spiralized Broccoli Stalks This Way:
After sauteeing the noodles  (steaming them works well too!) toss with pesto and chicken.
Or, top with your favorite white sauce and protein of choice
These also work well with a nice marinara and meatballs.
Related: Knock-Your-Socks-Off Homemade Alfredo Sauce (THM:S)
11. Spiralize Turnips
Why Spiralize Turnips?
This easy-to-grow garden staple never had much of a place in my kitchen until  I discovered spiralizing, and I'm never going back!  To prepare, peel the turnips and cut the ends off, then spiralize away!
Try Spiralized Turnips This Way:
Chimicurri Steak with Spiralized Turnip Pasta
Tomato Turnip Noodles with roasted green beans
Turnip noodles roasted in oil, topped with toasted pine nuts and goat cheese
xoxo,
Gretchen