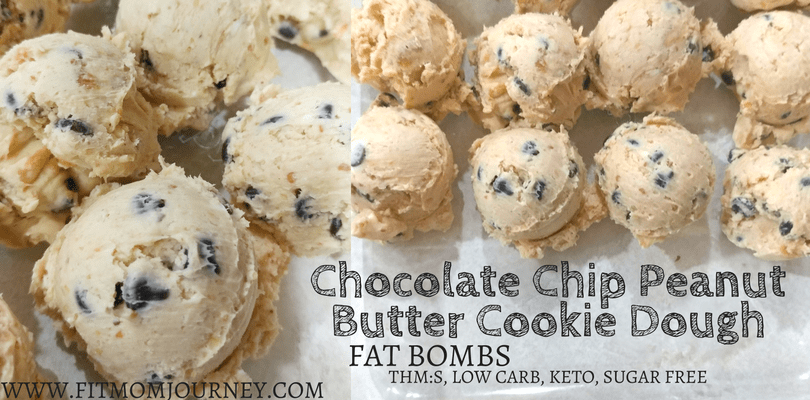 ---
Chocolate Chip Peanut Butter Cookie Dough Fat Bombs
Looking for a quick and tasty recipe to help you get more fat in your diet? With our family's busy schedule, I've started to prefer InstantPot, Slow Cooker, and No cook foods.
Related: Want more recipes? Visit my Recipe Index for tons of recipe inspiration!
My husband and I both work, and so we just don't have time to make complicated recipes all the time. Sure, on the weekends I enjoy creating gourmet meals (and sharing them with you!), but the vast majority of recipes you find here will be quick, easy, and nutritious.
Maybe one of these days I'll have time to hone some of my finer chef skills, but right now it's just not in the cards.
I love Chocolate Chip Cookie Dough with a swirl of Peanut Butter.
And really, "love" isn't the correct word. "Adore" would probably be better.
Just because I'm not eating carbs (or because you're needing a THM:S snack) that doesn't mean I have to miss out on the goodness that is Cookie Dough.
I created these Chocolate Chip Peanut Butter Cookie Dough Fat Bombs to be made easily with ingredients that are probably already in your kitchen if you're a Trim Healthy Mama or Low Carb-er. In addition, they're made from high-quality fats, not just heavy cream and stevia.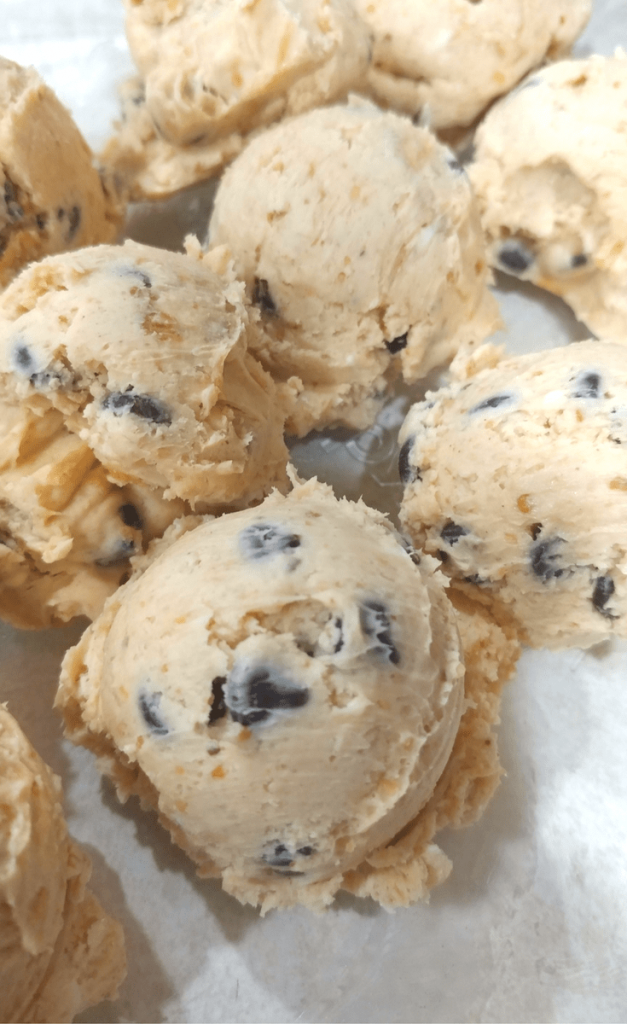 A Quick Note About Nut Butters: I created this recipe with Peanut Butter, because that is my personal preference. However, peanut butter tends to be higher in carbs than other nut butters, and I know many of you out there either have a peanut allergy yourself, or are feeding a family where peanuts are not an option.
So for you, I also made a batch with almond butter and sunbutter. The consistency works just as well, and the carbs are actually lower. Just sub out the peanut butter in the recipe for the butter of your choice. I've included the nutritional data for fat bombs made with almond butter, as well as peanut butter below.
For the butter in these, I used KerryGold, because that's what is usually in my fridge, and because you can get it for $2.89 at most Aldi's. At other grocers this will probably run you more, so feel free to use whatever fits yours nutritional goals and budget. While grass-fed butter is best, it's not always in our budget, and I completely understand if it's not in yours. Just work with what you have.
I've also included MCT Oil Powder in these. I recently discovered Powdered MCT Oil and have since completely quit liquid MCT Oil.
Why?
Because MCT Oil Powder is MUCH easier on your digestive system, packed with exact same nutrients as liquid MCT, is about the price, and can used in cold or hot liquid and foods! I've been using Perfect Keto Powdered MCT's (affiliate link) in this recipe and so many others.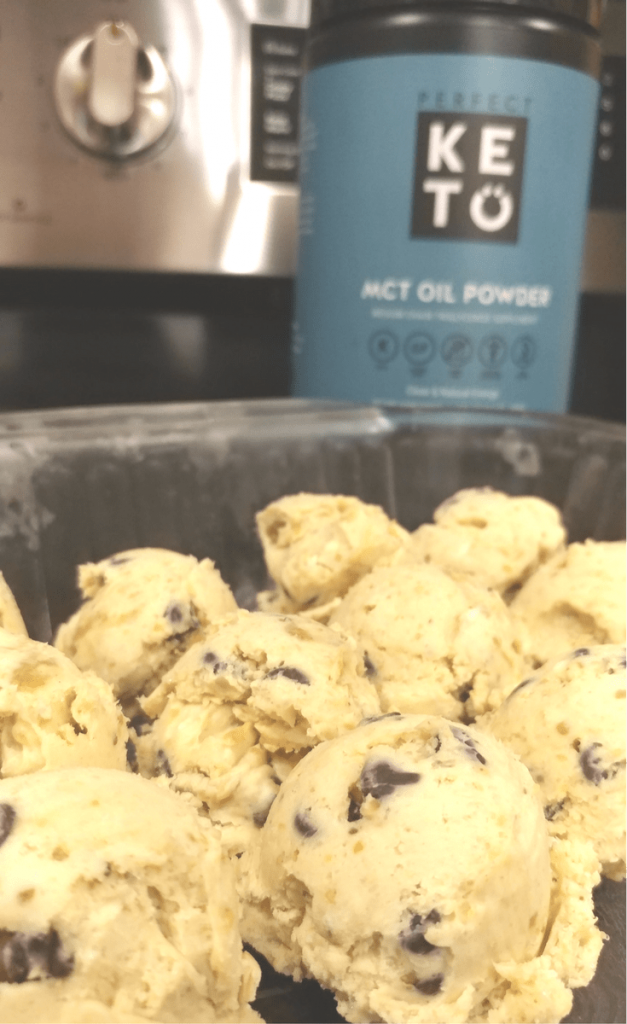 Finally, these fat bombs take Lily's Chocolate Chips because I absolutely love them. They are made with high quality dark chocolate and stevia, which fits perfectly into a low-carb setting. They can be expensive, but I've found the more affordable place to get them is through Thrive Market. (I get most of my staples from Thrive Market. Want to try them out? Get 25% off your first 3 orders through my link + free shipping, no membership obligation required!)
Or, if you like Amazon Prime, you can get them for about $1 more a bag there.
Nutrition Facts: I've included 2 sets of nutrition facts for you here, because I made one version with peanut butter, and the other with almond butter. I don't like the taste of almond butter as well as peanut butter, but using it does lower the carbs a bit, and I know many of you out there have peanut allergies, so I wanted to give you both versions.
You May Also Like:
Pumpkin Cake Roll with Cream Cheese (THM:S, Ketogenic, Low Carb, Sugar Free)
Maple Waffles (THM:S, Ketogenic, Low Carb, Sugar Free)
Cinnamon Roll in a Mug with Cream Cheese Frosting and Browned Butter Sauce (THM:S, Low Carb, Ketogenic Fat Bomb)
Chocolate Chip Pound Cake (THM:S, Ketogenic, Low Carb, Sugar Free)
Dreamy Caramel Turtle Bites (THM:S, Ketogenic, Low Carb, Sugar Free)
Affiliate Links: the following links will take you to some of the tools I used to create this recipe. When you purchase through my link, I get a small commission, at no cost to you, which helps to support the cost of running this site. This means more FREE recipes and resources for you.
Chocolate Chip Peanut Butter Cookie Dough Fat Bombs are a THM:S, Low Carb, Ketogenic, Sugar Free, and Gluten Free.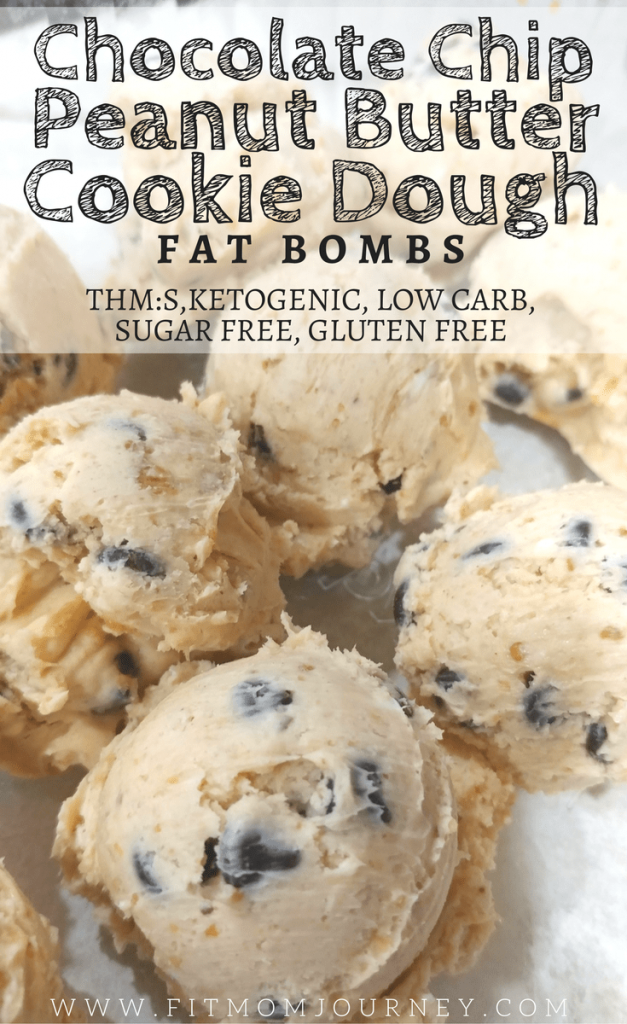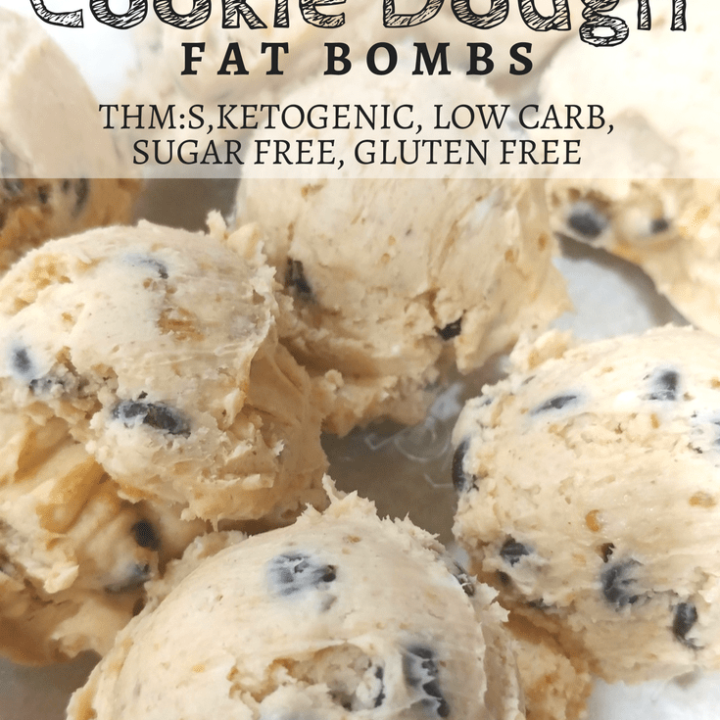 Chocolate Chip Cookie Dough Peanut Butter Fat Bombs
Looking for a quick and tasty recipe to help you get more fat in your diet? Make these no-cook Chocolate Chip Peanut Butter Cookie Dough Fat Bombs that are THM:S, Low Carb, Ketogenic, and Sugar Free!
Ingredients
6 T Butter, softened (I prefer grass-fed, such as KerryGold)
6 oz softened Cream Cheese
3 T Gentle Sweet (or the equivalent of 1/4 c sugar)
6 scoops Powdered MCT Oil
1 tsp Vanilla Extract
1/2 c Peanut Butter (sub almond butter for lower carbs)
1/4 c Lily's Chocolate Chips
Instructions
Combine the butter, cream cheese, sweetener, vanilla extract and peanut butter in a bowl using a hand mixer or kitchen aid. Mix them really well, until completely combined.
Stir in the Lily's Chocolate Chips, then cover and freezer for about 10 minutes.
Remove the bowl from the freezer and use a cookie scoop to scoop cookie dough onto a wax-paper lined dish Place the cookie dough balls back in the freezer for 20-30 minutes, until firm.
When they're completely frozen, remove the fat bombs from the freezer and place in a ziploc bag or container. Store them in the freezer until you're ready to eat them!
Nutrition Information:
Yield:

12
Serving Size:

1
Amount Per Serving:
Calories:

243
Total Fat:

24g
Saturated Fat:

14g
Trans Fat:

0g
Unsaturated Fat:

8g
Cholesterol:

30mg
Sodium:

142mg
Carbohydrates:

6g
Net Carbohydrates:

5g
Fiber:

1g
Sugar:

3g
Protein:

3g
xoxo,
Gretchen
---
Ready for more THM:S and Ketogenic recipes? Subscribe (it's free!) for exclusive recipes:
---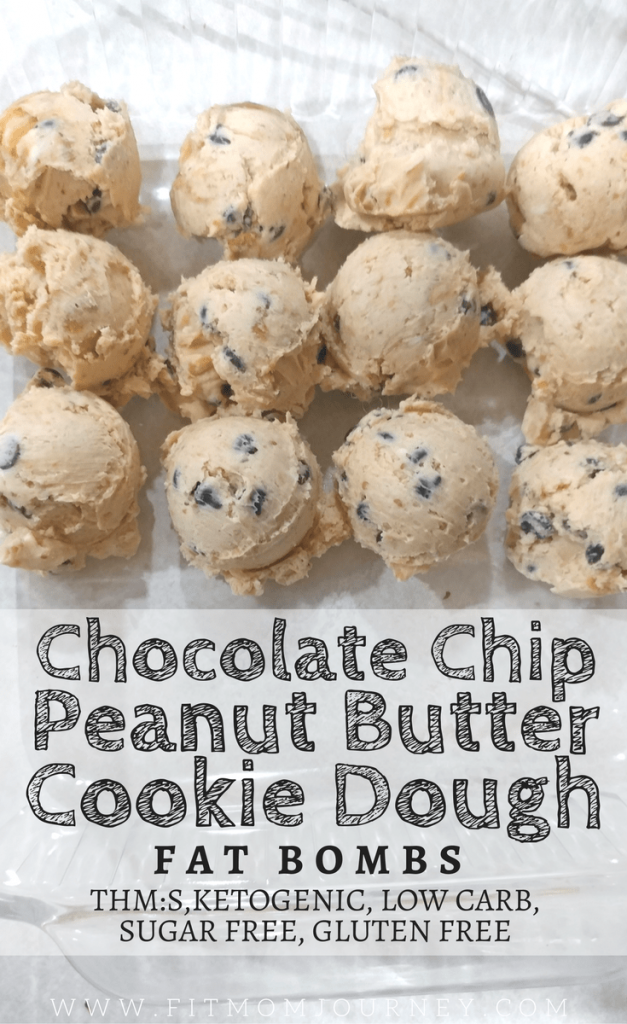 This post may contain affiliate links. See my disclosures for more information.