I've been tinkering in the  kitchen!
A few month ago, this would have been the norm, but these last couple of months have been challenging, to say the least.
In August, we bought a new house – our dream house, really! – but we weren't able to really move in, unpack, and enjoy it because our old house needed a lot of paint, touch-ups, and about 1,000 other things to get it ready for tenants.  We had planned from the time we bought our first house to put tenants in it when we were done as a source of income, but 3 years of learning what we were doing as homeowner's definitely left a TON of small things that needed to be done.
So we packed up, moved out, and then spent every single night at the old house, getting it ready.
But its finally done – thank goodness! – and I have my kitchen almost completely unpacked.
I have to tell you, I was SO excited to be able to work on some recipes I've had stewing around in my brain!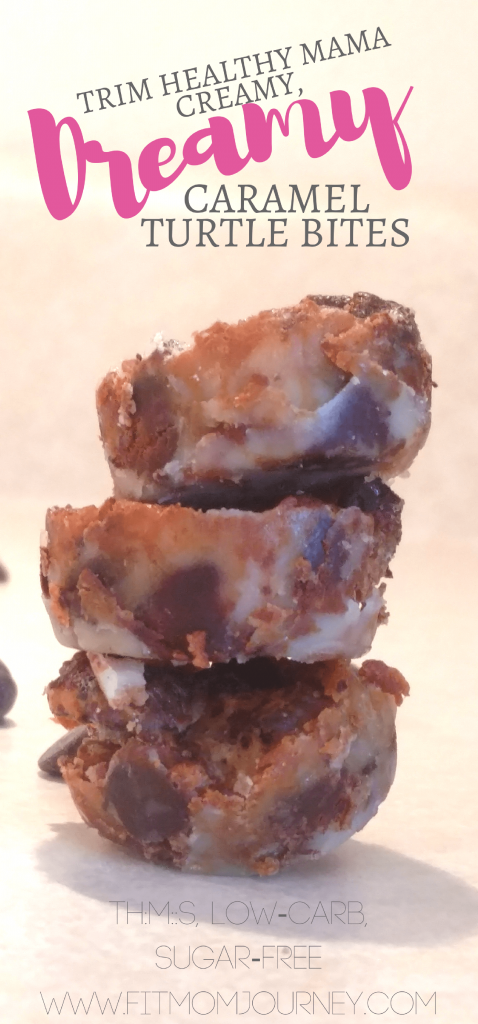 This recipe is the result of some serious chewy caramel cravings, the discovery of some leftover pecans at at the bottom of a box (yes, they were in a bag 🙂 and FINALLY unearthing my Lily's Stevia Sweetened Chocolate Chips.
The original intent was to create a chewy caramel, but I decided to take it one step further and stretch the caramel by turning it in to turtles!
First, I made the caramel, but then realizing that it would not "stay put" (AKA, be as sticky and dense) like regular caramel, I improvised and whipped out my mini muffin pan, which proved to be just perfect!
Each muffin hole got 2-3 pecan halves, a sprinkling of Lily's chips, and then I put a large spoonful of caramel over the top of each one, which filled them up just perfectly!
The result is the perfect Turtle Bite.
They're not traditional turtles, but they're just the right size and the taste….well, it's Dreamy!  Hence the name, Creamy Dreamy Turtle Bites!
Here are the links where you can buy some of the speciality items (and my personal favorites!) in this recipe.  If you buy through these links, I may make a small commission, which helps support my blog and keeps these recipes free.  There is no cost to you, so thank you in advance!
One more thing: My THM FAll Drink Collection is coming out soon – and it's free!  Sign up below to get it on October 31st:

Creamy Caramel Turtle Bites THM:S
Prep time:
Cook time:
Total time:
Ingredients
For the caramel sauce:
½ cup Organic Butter
½ cup Whipping Cream
2 tsp Super Sweet
½ tsp Organic Vanilla Extract
1 tsp Xanthan Gum
For the turtles:
60 Organic Pecan halves
½ cup Lily's Stevia Sweetened Chocolate Chips
Instructions
First, preheat the oven to 400.
Then, make the caramel: Melt the butter on medium heat, then add the cream, whisk in the Super Sweet, Vanilla, and slowly whisk in the Xanthan Gum, making sure it doesn't clump.
Bring the caramel sauce to a low boil, then cover and let it simmer for 8-9 minutes, stirring occasionally so it doesn't burn. You can boil it on the lowest heat possible to help prevent scorching, just make sure it's still gently boiling.
While the caramel sauce is simmering, spray bottom of each mini muffin hole with coconut oil cooking spray, put 2-3 pecan halves + a few Lily's chips in the bottom.
Once the caramel sauce has simmered for 8-9 minutes, take a large spoon (one size up from a regular dinner-sized eating spoon) and put approximately 1 spoonful over reach turtle.
Finally, put in the oven for 10 minutes at 400 to solidify the caramel and melt the chocolate chips.
After baking, cool in the refrigerator for an hour, then use a spoon the gently pop the turtles out of the muffin tin. They will come out fairly easy as long as you go around the whole edge.
Store in the fridge for up to 2 weeks, but trust me, you'll have them all eaten by then!