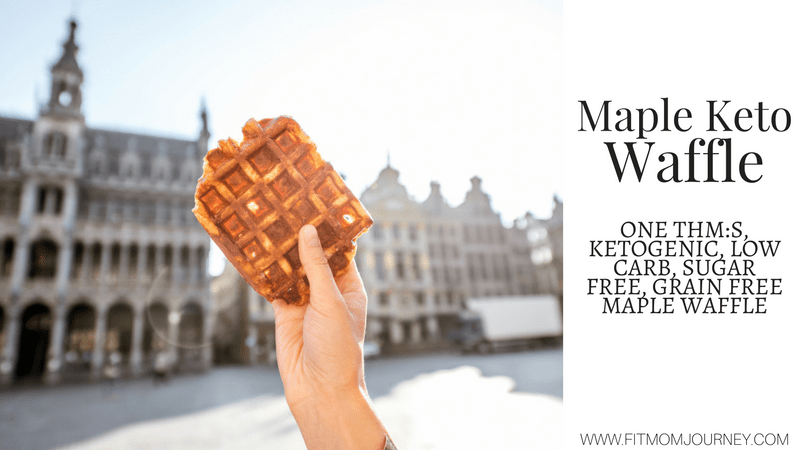 ---
Maple Keto Waffle Recipe
I have tried SO MANY Keto and THM:S Waffle recipes in the last couple of months.
I thought that because there were SO MANY low carb waffle recipes on Pinterest, surely I didn't need to create one of my own.
But as it turns out, I was kind of disappointed.
Not really in the recipes themselves, but in the macros of those ratios.  In other words, I didn't like the percentage of Fats, Carbs, and Protein in the waffles, or they had so many calories that I couldn't eat the whole thing!
And where's the fun in that?
No one wants to eat half a waffle.
Related: Trim Healthy Mama Pound Cake (THM:S, Ketogenic, Low Carb)
So I created my own, and it was good, but not great, until one day when I decided to add some maple extract to it.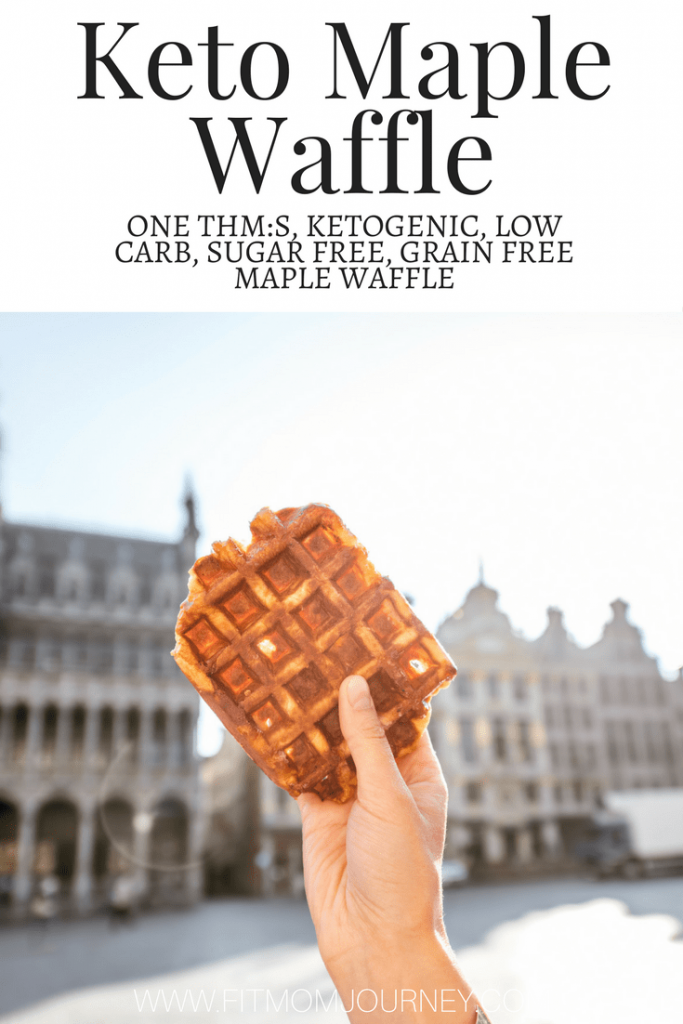 Obviously syrup is out when you're low-carb, (yes there are sugar free syrups, but I'm not very impressed with any of them yet) but adding in the maple extract to whipped egg whites, and a bit of low carb flour completely transforms this already good waffle into something GREAT.
You'll start by whipping a couple of egg whites almost like you're making a meringue.  They should form stiff peaks.  If you're still needing your workout today, you can do this by hand, or if you're like me just use a hand mixer or KitchenAid.  It's your call.
Then add in every other ingredient, mix it all up, grease your waffle iron, and cook the waffle until browned.
Related: Low Carb Peanut Butter Fudge (THM:S, Ketogenic, Low Carb, Sugar Free)
In this recipe, I used a combination of Truvia + Maple Extract.
However, it's just as delicious to substitute this Maple Flavored Stevia Liquid (2 tsp) and the waffle will turn out just as great!
There are a few special ingredients in this recipe.  The links below are affiliate links, which means that if you purchase something by clicking and buying through my link I earn a small commission, at no extra cost to you:
You May Also Like
Maple Keto Waffle (Ketogenic, THM:S, Low Carb, Grain Free, Sugar Free)
Prep time:
Cook time:
Total time:
Ingredients
2 Egg Whites + 1 Whole Egg
2 T Coconut Flour
2 T Whole Milk
½ tsp Baking Powder
2 tsp Truvia
½ tsp Maple Extract
Coconut Oil Cooking spray
Instructions
Whip the egg whites until they're fluffy and form stiff peaks, like you are making meringue. Then stir in the additional egg, coconut flour, milk, baking powder, sweetener and maple extract.
Heat your waffle iron up to it's maximum temperature, grease it with coconut oil cooking spray and pour in the batter. This recipe should make 1 FULL waffle, but if your waffle iron is small, you may need to split it into two waffles.
Cook in the waffle iron until browned, or 3-4 minutes, then remove and serve.
Enjoy you waffle!
xoxo,
Gretchen
This post may contain affiliate links.  See my disclosures for more information.