My ebook, THM-Inspired Fall Beverage Collection, is available now – it's free!  Get it here.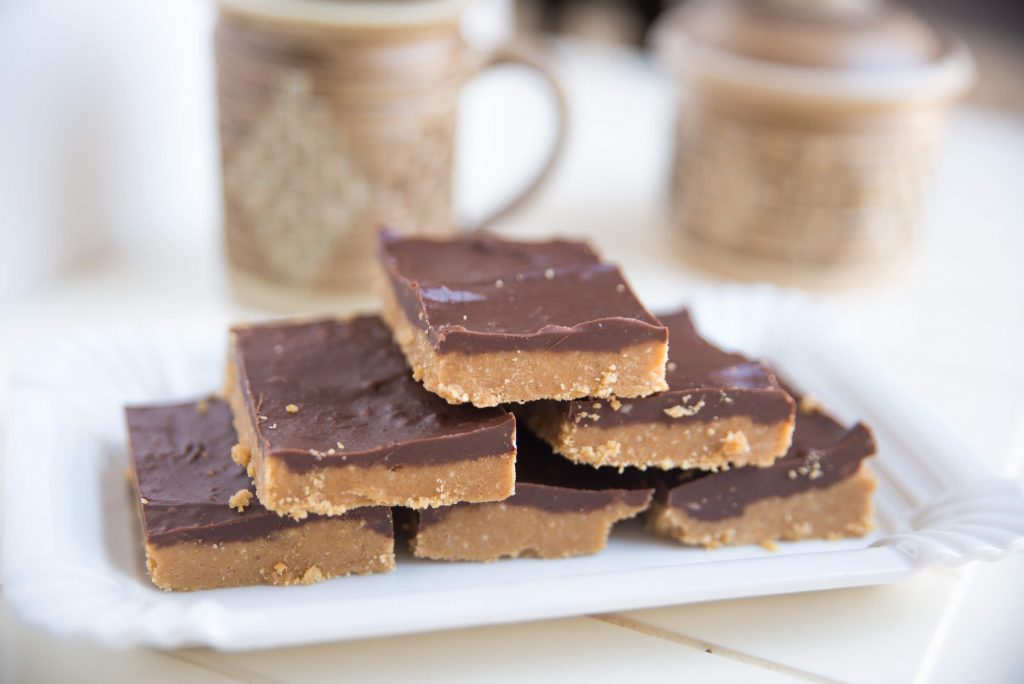 Trim Healthy Mama Chocolate Peanut Butter Bars (THM:S)
I have to tell you, this recipes took way to long for me to put together because of some craziness with our rental property.
Thank goodness, we have a signed contract, and tenants moving in in 10 days.  But first, the floors needed to be sanded down and refinished, since they were pretty rough.
It wasn't a big deal at first.  We hired a contractor to do the job, but then the contractor didn't show.  Then showed up.  Then didn't show again.
So we had to take the partially-sanded floors, finish sanding, clean thoroughly, and then put down the Poly coating.  My amazing father-in-law and two of my brothers-in-law came over the help, and tonight the final layers of finish are going down.
Then tomorrow the trim goes in!
Those poor guys are so tired, and my stress levels have been nuts!
A chocolate/peanut butter fix is exactly what I needed, and these Trim Healthy Mama Chocolate Peanut Butter Bars fit the bill perfectly!
These bars are the perfect combination of chewy, chocolatey, and peanut-buttery goodness that remind me of those Sunbelt Chocolate Peanut Butter granola bars.
They're an S, with a fairly high fat content, which could cause confusion because they also have Instant Oats in them.  I've done the math to keep each bar below 10g of carbs and within THM:S guidelines.  Just make sure to cut the pan into 15 bars.  They're pretty good size, and theire richness will leave you very satisfied!
A couple of notes about the recipe & method:
I used THM Baking Blend in this recipe because I happened to have it on hand, but honestly I don't usually buy it.  Instead, I purchase Organic Coconut Flour, Organic Almond Flour, and Whole Husk Psyllium Fibers and combine them in equal parts for a quick and cost-effective baking blend!
Also, in this recipe, you can absolutely sub out the 1/2 cup of Coconut Oil + 1 cup of De-Fatted Peanut Flour for 1.5 cups of natural peanut butter.  I did have some on hand, but since it tends to be more expensive, I decided to basically make my own peanut butter an it worked great!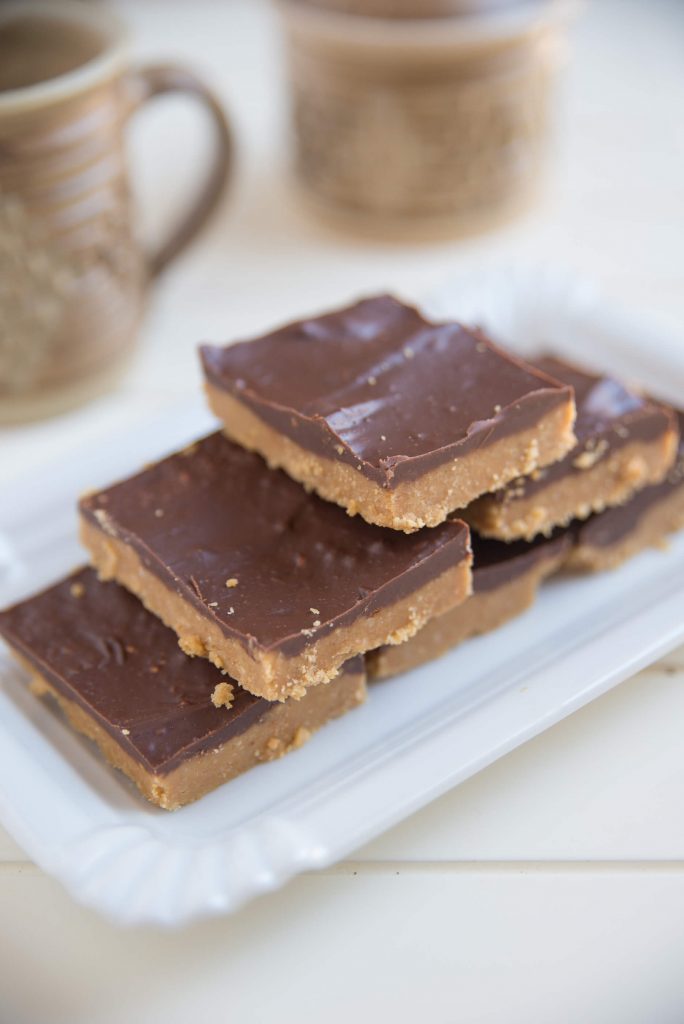 Finally, after these bars are set up in the fridge, they'll sort of be stuck to the pan – even a buttered pan.  So, to make them easy to get out, you can either line with aluminum foil or parchment paper, or you can do like I did and leave them out on the counter for about 5 minutes, then cut and remove them from the pan.  Just a few minutes of them being out of the fridge really helps them release from the pan.
Mix a batch up – it's delicious!!
I do have some serious favorites when it comes to ingredients and products that I cook with, so to give you an idea, here are some quick links of the foods and items I use.  These are affiliate links, so if you click on them and buy something, I may make a small commission.  This helps these recipes stay free, and there is no cost to you!
Where to buy supplies:
Chocolate Peanut Butter Bars THM:S
Prep time:
Cook time:
Total time:
Ingredients
For the bars:
3 cups Organic Finely Shredded Coconut
2 cups Instant Oats
1 cup Baking Blend
2 T Super Sweet
2 cups Organic Unsalted Butter, melted
1 cup De-Fatted Peanut Flour
½ cup Coconut Oil
For the topping:
1½ cup Coconut Oil
⅔ cup Cocoa Powder
3 T Super Sweet Blend
Instructions
To make the peanut butter bars, mix together all ingredients for the bars and press into a buttered 9x13 pan. Bake at 350 for 15 minutes, then set aside to cool.
While the peanut butter bars are cooling, make the topping by melting the coconut oil over low heat, then whisking in the cocoa powder and super sweet.
Pour over the peanut butter bars, then put the entire pan into the fridge to set up.
When you're ready to cut the bars, remove from the fridge for 5 minutes, then cut and remove from the pan.
Talk Soon,
Gretchen
---
If you liked my THM Chocolate Peanut Butter Bars, please consider joining the FMJ newsletter:
---