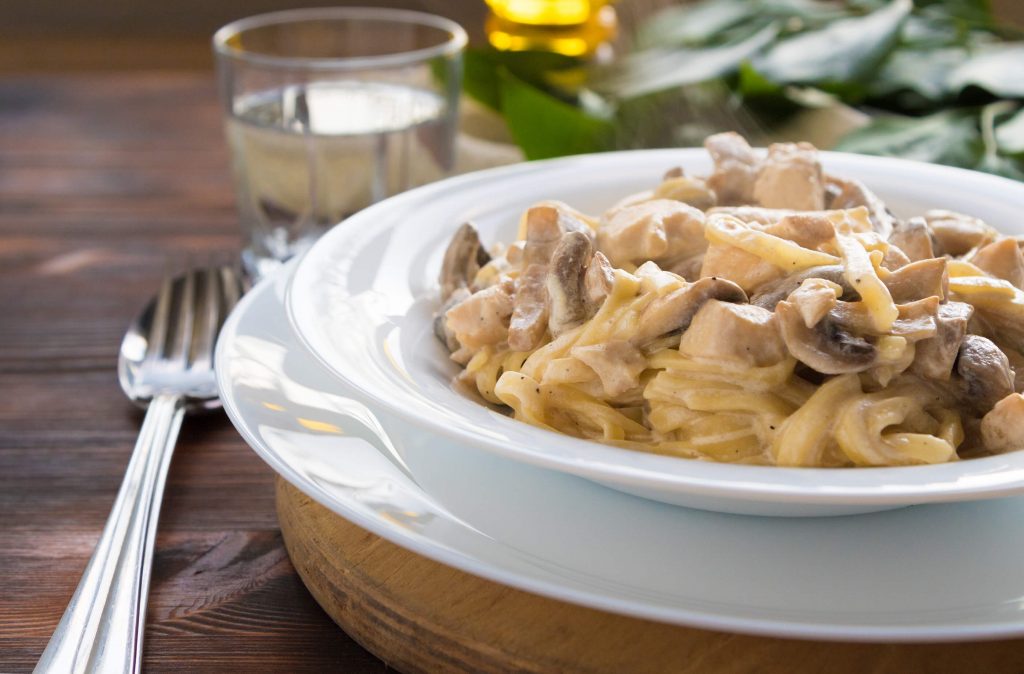 Around our house, we love a good, quick, slow cooker meal.
Using budget-friendly chicken, flavor-packed mushrooms, and cream of chicken soup creates a tender, hearty meal that's fancy enough to serve if you have company coming over, but literally takes 5 minutes to throw together.  Plus, if you think ahead and put together an extra meal, you can throw it in the freezer for a quick meal in a week or two.
Personally, I always have the ingredients for this on hand, in my pantry, because it's made up of ingredients that we use all the time!
We purchase chicken breasts in bulk from Zaycon Foods.  We usually pay $1.49/lb for fresh, never frozen, all natural chicken breasts in 40 pound cases.  If you're interested in checking out Zaycon foods for yourself, you can check them out here.
Other than that, I purchase everything else at Aldi – literally my favorite store!

Chicken Mushroom Stroganoff (Slow Cooker, THM:S)
Prep time:
Cook time:
Total time:
Ingredients
2 large Boneless, Skinless, Chicken Breasts (about 3 lbs)
2 cans Cream of Chicken Soup
½ container Sour Cream (8oz)
1 package Portobello Mushrooms, sliced
2 tsp Parsley
Salt & Pepper, to taste
Shirataki Noodles, if desired
Instructions
in the slow cooker, whisk together the cream of chicken soup, sour cream, parsley, salt and pepper. Add in the mushroom and stir.
Place chicken in the slow cooker with the cream of chicken soup mixture, covering the chicken with liquid, then cook on low for 8 hours.
To serve, spoon some of the chicken, plus the sauce over a bed or Shirataki noodles & enjoy!
Oh, and whenever I do a slow cooker recipe, I make things easier on myself by purchasing slow cooker liners in bulk from Amazon.  
These are my favorite.
One last thing: to keep this meal an S Meal, I serve the chicken + sauce over a bed of Shirataki noodles, also known as Magic Noodles.  If I'm running short on time, I'll purchase them from Walmart (they're located near the tofu in the produce coolers).  Or if I'm thinking ahead Amazon has pretty good prices on them.
Or if Shirataki noodles aren't for you, the Mushroom Chicken Stroganoff can totally be served over zucchini, eggplant, cauliflower, broccoli, or any other green!
Talk soon,
Gretchen
This post may contain affiliate links.  See my disclosures for more information.