Anyone can lose weight on Trim Healthy Mama.
Whether you are a true Drive Thru Sue and love convenience foods, or you don't dare let any processed foods cross your lips, true to Purist form, Trim Healthy Mama can work for you.
One of the things I like about the plan was that anyone could do it, regardless of budget, expertise, or feelings on processed foods.
But Serene and Pearl do recommend several speciality foods to make your Trim Healthy Mama experience easier and more fruitful – and when they recommend a product, whether of their own or in general, they do so because they know just how much that product can help you.
But buying those products, such as Integral Collagen, Pristine Protein, THM Baking Blend, Stevia, and more and be quite a shock to your grocery budget if you're buying them in addition to your regular families' favorites.
I don't want THM to be a financial burden, which is why I'm letting you in on how to afford Trim Healthy Mama foods with 10 of my favorite tips!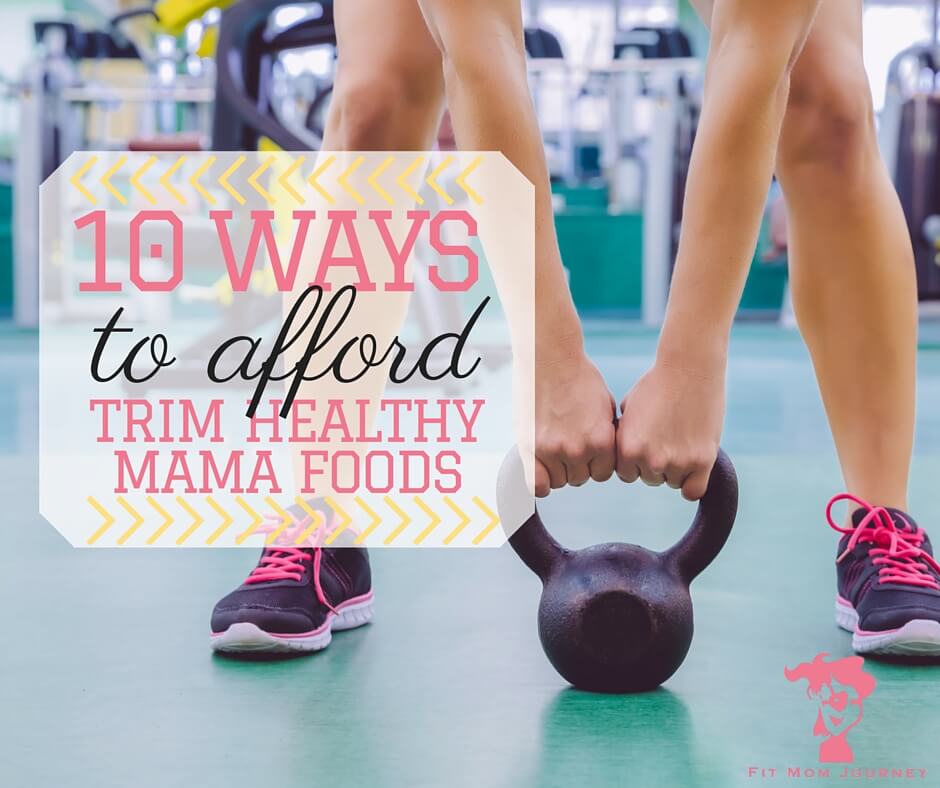 Check Amazon First
Nope, Amazon isn't a phsyical grocery store, and you can't touch the products with your hands before you buy them, but their prices can't be beat on many "staples" of THM, such as Pressed Peanut Flour
, Organic Coconut Oil, Himalayan Salt, Integral Collagen, and even Stevia.
Amazon has far more high-quality, affordable THM-friendly products that I could list, here, but if the prices in the grocery store are giving you a bit of sticker shock, then take your phone (and the Amazon.com) app into the store with you.
The Amazon app has a really cool feature, where you can search by image. Simply take a picture of the item you're looking for and Amazon will bring up the item (if they have it, which 99% of the time they do) and within 5 seconds you can compare prices right there in your grocery store.
Pro Tip: Save items that you've found to have a better price on Amazon to your cart or wishlist to save them for later if you want to wait a bit before purchasing, or if you want to quickly recall the products to compare them with other stores.
Aldi (or Off Brand) is Your Friend
Nearly every chain grocery store now has their own organic (or at least natural) line, including my personal favorite, Aldi.
This German grocery chain not only has prices that are drastically lower than those found at almost any other grocery store, I've found their products to be exactly the same or superior in quality when compared with the name brands.
Serene and Pearl (the Trim Healthy Mamas) agree.
My local Aldi carries organic cheese, yogurt, greek yogurt, milk, chicken, beef, pork, and more, but my personal favorite is their Stevia. Aldi's version is Erythritol and stevia extract, and besides not being organic, it meets THM standards for purity.
In recipes, it acts like Trim Healthy Mama's Gentle Sweet, and in most stores comes in both single serve packets and in bulk – and the price is about that of every brand I've found.
Pro Tip: Sign up for Swagbuks and use it as your search engine to earn points that you can them redeem for Amazon gift cards, offsetting the price of THM foods even more.
Ask For Gift Cards
Asking for gift cards to certain stores has become much less of a faux pas in recent years, and what do you know? The Trim Healthy Mama store has gift cards!
But, you don't have to only ask for THM gift cards, even gift cards to Walmart, Target, Amazon, Aldi, or your favorite local grocer can be an a great way to stretch your grocery budget on THM even further.
Warehouse Clubs Are Getting In The Game
If your relatives aren't in the gift-card giving mood, then look no further than your local warehouse clubs. Sam's Club and Costco are the most popular, but each have their pros and cons.
Sam's Club has lower prices, but less of a selection. For example, a 5-lb bag of organic coconut flour is less than $9, and huge tub of organic extra virgin coconut oil is less than $10. They have other products, but do not carry organic vegetables or meats, but the prices on the items that they do carry are pretty great.
Costco, on the other hand, has a greater selection of THM friendly and organic foods, but the prices tend to be about 10% higher (as a general rule). I've also found that their products tend to be of higher quality.
Consider Less Than Organic
The chemicals in some products are worse than others. Ever heard of the "dirty dozen" list and the "clean fifteen?"
Not all products, including organic ones, are created equal. For example, we are very careful to only consume organic dairy, and organic non-gmo grains, but other things we don't worry about as much.
Do the research and do what makes sense for your family, but don't think that everything you buy has to be organic.
Don't Discount Your Local Health Food Grocer
Usually smaller stores have higher prices, but don't discount them on that assumption alone.
Venture into your local health food store and scope out the prices and take a peek at product selection.
Often, these stores run pretty great sales and have items that are hard to find anywhere else, and even though they can be more expensive, they usually run some pretty great sales!
Keep a Price Book
Lucky for you, THM has greatly reduce the number of physical items you need to buy at the grocery store, so keeping a price book won't be as much of a pain as it sounds like.
Over time, that list will narrow even further as you develop favorites and go-to meals.
Buy Strategically
I strongly advise that you pick and choose the products that are right for you on Trim Healthy Mama – not only to save money but to make the lifestyle change simpler.
What do I mean by this?
I mean that if you've picked up a 5-b bag of organic coconut flour for $9 from your local warehouse club, and you really like it, then you can probably forgo the THM baking blend for most things.  If you've bought coconut oil from you local grocer and you don't mind the taste of coconut in most thing, you probably don't need to buy MCT oil.
Pick and choose the products that will make your life easier, and that will fir your dietary needs, and forget the rest.  Don't think that  you have to build your "arsenal" of THM foods and products.
Stock Up When You Can
Is your grocery store running a sale on organic almond flour (and you can't live without your almond flour) buy a few packages to hold you over until the next sale rolls around.
If you find a product on sale that you love, buy 3-6 months worth when it's at its lowest price.  Yes, it will be more money up front, but not having to buy that product each month at a higher price will ultimately save you money!
Use Substitutes
There are tons of Trim Healthy Mama recipes out there, but don't feel like you have to adhere to them 100%..  Make substitutions with similar but cheaper products, your own preferences, or whatever was on sale that week – and don't you date feel bad about it!
Learning to substitute and creating your own recipes is all part of the THM journey: your journey will be unique to you, and it absolutely should be!
xoxo,
Gretchen

*This post contains affiliate links.  See my disclosures for more information.