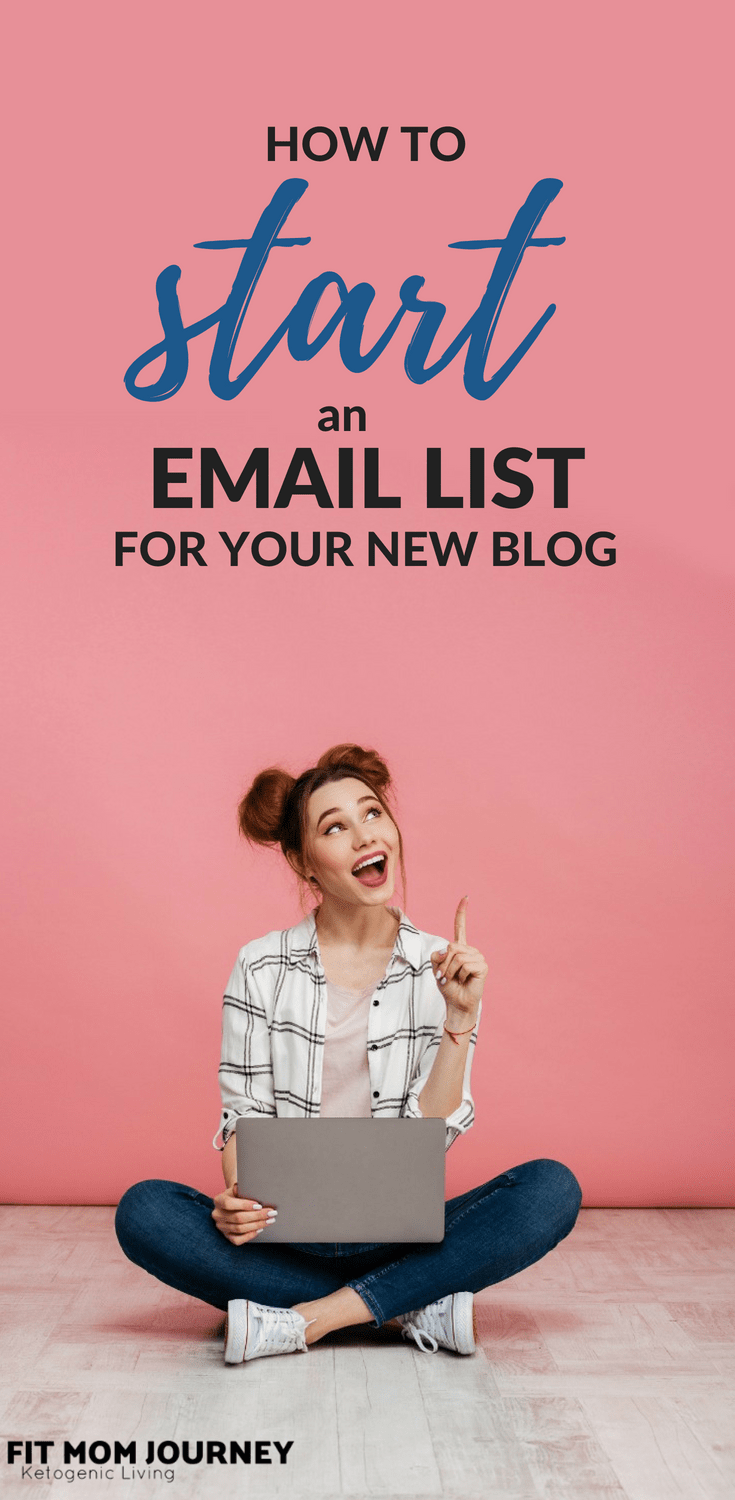 ---
How To Start an Email List
As A New Blogger
They say an effective way to start an article is to use a scare tactic, so here's one:
Did you know that your traffic from Facebook, Pinterest, Instagram, Twitter, and even search engines such as Google could end completely one day?
It can happen.
Search Engine algorithms have changed before, making bloggers lose 2/3 of their traffic.
StumbleUpon shut it's doors recently, and it was sending me a few hundred views each day.
And with all of Facebook's troubles, they could definitely shut their doors – or at the very least tank your traffic from it.
Are you scared yet?
While blogging is amazing we, as bloggers, have to be aware that things could change at the drop of a hat, leaving us with no traffic, and no money.
This is why your email list is so important.
Once someone subscribes to you list, their information is yours.
Ok, that's a bit dramatic. You cannot sell their information or do whatever you want, but you CAN point them to your website with every email – and it's totally ethical and ok to do so!
Why You Should Start a Mailing List as a New Blogger
Find Your People
"Your People" are your followers. They are the people who like you, your writing, and your content so much they decided to hand over their email address to get more from you.
They want to get to know you more.
Bloggers can share more personal things with their email list. it is exclusive, and as such you can share exclusive information, tips, and even coupon codes with them.
I know some of the blogger's lists that I'm on I absolutely LOVE. They share details of their personal lives, more content than you can find on their blog, and I feel as if I get to know them on a personal level.
So an email list not only shows you the readers who absolutely adore you, it allows you to get to know them better, and vice versa.
This builds a connection between you and your mailing list, which creates raving fans and loyal followers.
Your Email List is YOURS
Remember the scare tactic I used above?
Most of your sources of traffic could fail without any notice. It's unfortunate, and a bit scary, but it's our reality as bloggers, so we have to prepare for it.
The best way to do this is through a mailing list.
Your followers on Pinterest, Facebook, Twitter, and Instagram, while they may bring you tons of traffic and engagement, they do not necessarily translate into income.
The individuals on your mailing list are the only thing you will invest time into that you can GUARANTEE will result in income.
You Learn Your Readers
An email list can help you understand the wants & needs of your reader. By tracking which links they click, which incentive gets the most downloads, and what you can help you with, you get a crystal clear picture of who your typical reader is – and then you can meet their needs even better.
How can you get to know your subscribers better?
Ask an open-ended question to start a discussion
Create a survey to ask them about their greatest challenges within your blog's niche
Tailor your content to their needs and wants
When you learn your audience and serve them better this helps you.
For example, my audience struggles with on-the-go solutions for Keto Foods. So, when I find an awesome company that makes a Paleo, Keto, nutrition bar, I ask that company to give my audience an exclusive discount as well as an affiliate commission for me, and then I share that with my mailing list.
Because I solved a problem for them, they will buy the bars, resulting in a discount for them, and an affiliate commission for me.
See how helping your mailing list helps you?
Ok, so no you know why having a mailing list is so important, but how do you go about starting and building your list?
1. Declare Your Purpose
Beyond getting to know your audience and building a list of readers that are yours, you need to know some details about your list:
How many emails will you send per week?
Do you eventually want to sell your own product or service (not affiliate products)?
What is your end goal?
How Many Emails Per Week: You need to find the sweet spot between sending too many emails and sending too few. Too many emails and people will unsubscribe because they view it as spam. Too few, and they don't get to know you or forget about you.
I email 1-2x per week. Once per week is my new recipe for the week, but if a brand I work with is running a sale and/or I happened to publish a second recipe, I'll send a second email. I REALLY hesitate to send a 3rd email, but I believe I have done it 1 or 2 times in the entire lifetime of this website.
When you start your list, you also need to have some idea of whether you eventually want to offer your own product or service. Do you want to promote affiliate products, your own, or both? If you do want to sell to you list, you can start from your very first email keeping your audience "warm" to a sales pitch.
This way, when you go in for the hard sale, they will be much more receptive to it.
Knowing exactly what you want to get out of your email list list, be it connection, income, traffic, or something else, will help you understand what kind of time you will need to dedicate to growing and nourishing your list.
2. Decide on Your Email Service Provider (ESP)
There are TONS of email service providers out there, and I'm pretty sure I've used most of them: GetResponse, AWeber, Infusionsoft, MailChimp, and Convertkit.
Today, though, I only one: ConvertKit – for 2 very specific purposes.
If you are just starting your blog, not making any money, or you don't want to invest too much money into your blog at this time, ConvertKit is the way to go.
It is afordable, easy-to-use, and even better, I've worked out an AMAZING deal with the team over there: A Free Trial of ConvertKit!
This is the best, easiest to use mailing list out there.
Plus, the features allow you to set up forms, incentive emails, downloads, and automated sequences quickly and easily so you can focus on the more important things in your business.
3. Set Up a Basic Opt-In Form
Here's a helpful video showing you how to create a basic email subscribe form in ConvertKit.
Then, add the form to your blog:
It's THAT simple! ConvertKit really is the best Email provider around because of how easy it is to use! No more confusion or complicated processes!
4. Create an Opt-In Freebie
How do you get people to subscribe to your list when you're a new blogger?
Sure, some may opt-in by reading a really good article your wrote and signing up without being incentivized, but most will not.
To learn who wants you to help them, you can offer an opt-in incentive.
This technique is called a lead magnet or Optin Freebie. An incentive usually solves a problem for your reader. For example, I offer a Keto Quickstart Guide, which includes everything you need to know to get started on Keto + a complete meal plan and shopping lists for your first 30 days of Keto.
I also have a separate Optin Freebie, called The Complete Keto Holiday Cookbook, which follows the same thorough preparation as Keto Quickstart, but with a bent toward the holidays.
This is something they can download immediately after they subscribe and start using it right away.
My Keto Quickstart Guide as an optin freebie is excellent because it's the type of information you would normally pay for – and I'm giving it away for free!
So how do you come up with an amazing freebie idea?
Look at your most popular posts. What do they all have in common? Do they center around one topic? Is there further information or an interactive printable you could provide on the topic?
Look at other blogs in the same topic as yours. What do they offer as their optin freebie?
Look at Facebook gropus to see what questions your freebie can answer or what problems your freebie can solve.
On my Facebook page, I simply asked my audience which of their favorite foods they were still searching for a low-carb alternative to:
Based on the sheer amount of feedback I got, I created the Keto Holiday Cookbook, and am planning to create a Keto recipe swaps ebook. The focus will be on comfort foods, and should meet a need my audience has.
Once you've figure out what information you want to deliver, you need to decide on the most helpful, interactive way to give it to your audience:
Checklist
Workbook
Cheatsheet
Video (or series)
eBook
For your first optin freebie, I would suggest going with something simple and quick, such as a checklist.
Using Google Slides may not seem like your first choice to create your freebie, but it's settings are very easy to navigate. You'll be able to quickly develop checklists, workbooks, PDF guides, eBooks, and cheatsheets with minimal formatting required.
5. Grow Your List!
Now that you've created your freebie, it's time to use it to grow your list!
You've already placed your form in your sidebar and other areas of your blog, so now we're going to do 2 things:
Set up your freebie to automatically send when someone subscribes to your list.
Edit the wording of your subscribe form to advertise your optin freebie.
First, you'll need to set up your freebie in MailChimp to automatically send to new subscribers:
6. Promote Your Freebie
Once you've developed your freebie, you can also promote it on your social channels:
Create pinnable graphics for your freebie and promote them regularly
Tell people about them on your Facebook page
Let your Twitter followers know about your freebie
7. Send Regular Emails
You already decided how often you want to send a newsletter to your list, but what type of content will you send?
It's really up to you, but here are some ideas:
Share your latest blog post
Give them exclusive tips for daily life
A welcome email
Lessons you're learning, that they can apply to their lives
Share Behind the Scenes material
Let them know about new or discounted products that will meet their needs
Congrats – you did it!
You created your very first mailing list! You're well on your way to developing a personal relationship with each and every person who gives you their email address!
If you would like more blogging tutorials, I have an entire library dedicated to teaching you how to blog located right here. From just starting your blog, to making 6-figures a year, I have resources for everyone!
Access the Blogging Resources Library – it's free!
xoxo,
Gretchen
---
Interested in blogging helps + tips? Sign up for the Fit Mom Journey Blogging newsletter to stay up on the latest blogging info:
---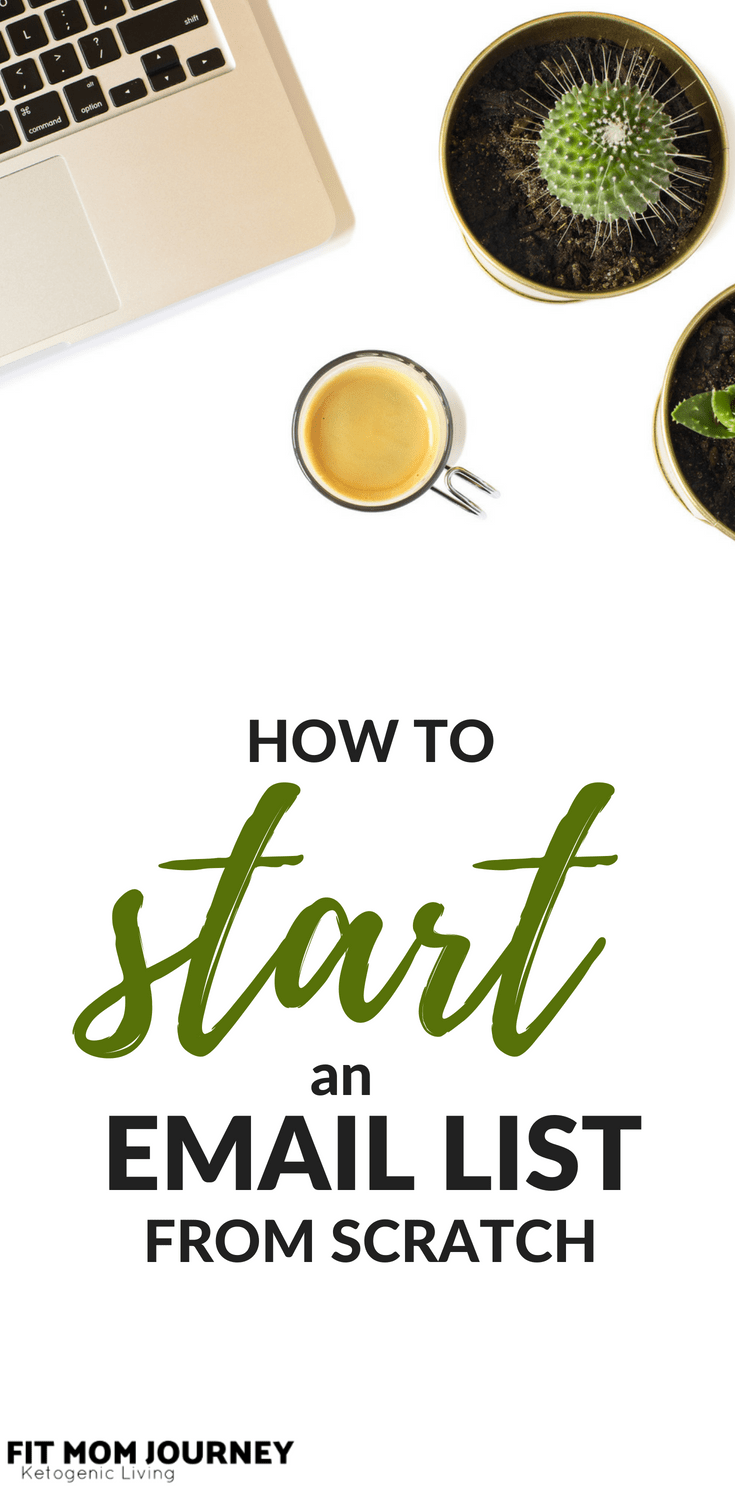 This post may contain affiliate links. See my disclosures for more information.