I have some sad news:
I am the only one in my family who loves Indian food.
My husband hates it, my daughter hates it, and even the dog won't touch it.
Of course, maybe its my cooking……..
Back to the point: I love Indian food, but there are two things stopping me from eating it more often: time and dietary restrictions.
Indian food doesn't naturally fit neatly into an E or S Trim Healthy Mama Meal, it usually takes quite a bit of time and effort to prepare, so it's only natural that I don't get to eat it very often.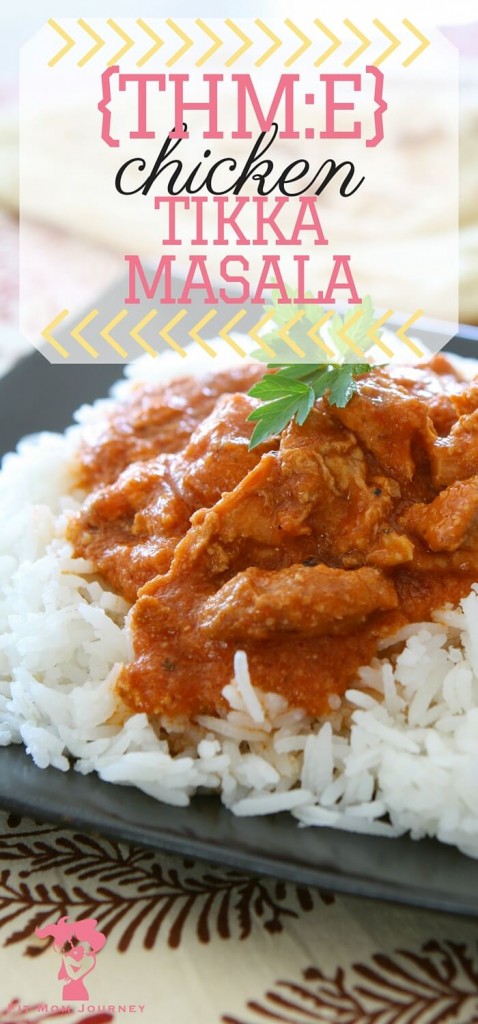 Recently, though, I've had this craving for Chicken Tikka Masala that I just couldn't shake, and so I set down, did some research, and combined a few recipes to make an indisputable THM E Chicken Tikka Masala recipe that is too good to be true!
Taking it one step further, this recipe can very easily be adapted to an S meal: Simply use heavy cream instead of greek yogurt, cook the chicken in a bit of oil, and skip the rice.  If i'm eating this Chicken Tikka Masala as an S meal, I'll eat it over broccoli to break up the richness of it and add some additional nutrients!

THM E Chicken Tikka Masala
Prep time:
Cook time:
Total time:
Ingredients
2 Boneless, Skinless, Chicken Breasts
1 tbsp Olive Oil (or coconut oil)
1 minced Clove of Garlic
2 t. Ginger
1 medium Onion, chopped
2 canned Tomatoes
½ tsp Cumin Seeds
½ tsp Ground Coriander
1 tsp Paprika
½ tsp Cayenne Pepper
¼ tsp Himalayan Salt
½ tsp Ground Black Pepper
1 tsp Gentle Sweet
1 Cinnamon Stick
Juice of ½ lime
6 oz 0% Plain Greek Yogurt
water, as needed
Instructions
Cut the chicken breast into chunks and cook in a skillet over medium heat with the olive oil. One cooked, set chicken aside.
In the skillet with the leftover oil and chicken juices, add the garlic, ginger, and onion and saute gently. This should only take 3-4 minutes
Reduce the heat to low, add the tomatoes, and let simmer 5 minutes, stirring each minute. When finished, the tomato should have broken down and combined with the onion to form a thick paste.
Add the cumin seeds, coriander, paprika, cayenne pepper, salt, pepper, and gentle sweet. Stir and cook for 5 minutes. This is the spice mixture for the masala.
Transfer the mixture to a blender and pulse until smooth.
Return the paste to the skillet and add the lime juice, cinnamon stick and yogurt. Add water as need to create the correct consistency. Bring it to a rolling boil and then immediately reduce the heat add the cooked chicken, and let simmer for 5 minutes.
Serve immediately over rice, broccoli or both, depending on whether you're having an E or S meal.
xoxo,
Gretchen