Typically, the holidays are a dieter's heaven & hell:
The thrill of indulging in fattening foods and heavenly desserts that you've been denying yourself for so long can send you spiraling into a pit of self loathing and sugar that can be hard to just up and quit when the new year – and it's accompanying New Year's Resolution – rolls around.
For years, I've been on that cycle: dieting like crazy and getting results, then indulging over the holidays and hating myself for it.
But this year, I found food freedom, and I have to share with you my victory:
I actually lost weight over Thanksgiving week!
I didn't deny myself treats, practice portion control or count calories.
I was so busy I didn't even visit the gym once during the week of Thanksgiving, and I certainly didn't work out at him.
Yet, I still lost 1 1/2 pounds during Thanksgiving week.
Sounds too goo to be true, doesn't it?
I firmly believe that if something sounds too good to be true it probably is, so let me explain to you why and how I lost weight over Thanksgiving, so that you can do the same!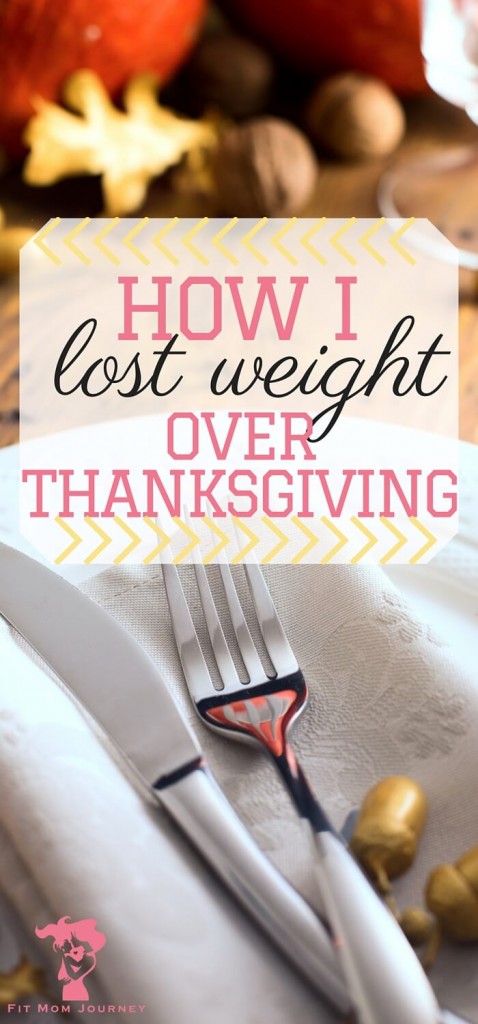 A little background: If you haven't been following along, I'm on a journey to lose about 70 pounds.  I've done it before, when I was in high school, and did it through portion control and exercise, but after having a baby, starting my own business, getting married, and all of the other hundreds of things on my plate, the portion control & exercise method wasn't working for me anymore.
I tried tons of fad diets and none of them even budged the number on the scale until I stumbled across Trim Healthy Mama.  The basic premise is that you can eat whatever you want (except sugar….we use Stevia instead of sugar), and you don't count calories.  When you eat, there are two basic rules:
Eat Protein Every 3 hours: pair it with either a fat or a carbohydrates
Leave 2.5 – 3 Hours Between Eating Fat & Carbohydrates
Of course, you can delve deeper into some of the methodologies, but those are the basic principles.
And it works really well!  Something about keeping our bodies guessing, and not letting it store fat or carbohydrates as fat, but instead using food to make our body pull from fat stores!
So, with that in mind, here is the game plan to lose weight over Thanksgiving, or any holiday!
Start Planning/Researching Early
I love hosting holidays at our house, and Thanksgiving was no exception.
Hosting may seem like a lot of work, but in reality it saves me.  Not only can I get my 2-year old down for her nap when its time, I can control most of the food and the time that dinner is served.
I don't mind cooking, and cleaning, but cooking food that complies with THM standards – either an S (fat) or E (carbohydrate) meals – can be tricky.
To combat this, start planning early.  Create a meal  and serving plan, and then determine which dishes you need to find THM alternatives for.  Creating this list about 2 weeks before the holiday will give you ample time to find delicious alternatives, shop, and even try out recipes so you're not surprised the day before the meal.
Also, remember that you don't have to eat every side.  If one doesn't comply with the type of meal you're having, just let it pass on by!  Your place and belly will still be satisfied, stuffed even!
Shop Before The Stores Get Busy
Once you've decided which ingredients you need to shop for, make it a point to shop the week before the holiday, on a week day if you possibly can.  The stores will be less busy, have a greater selection of foods, the staff will be less preoccupied, and you will be less likely to buy impulse items that don't match up with your THM and weight loss goals.
A little pre-planning in the shopping department will make your life much easier!
Don't Cook Double
Are you having an S meal that mashed potatoes don't fit into?
Or maybe you've got the meal under control, but don't want to cook both Stevia-sweetened desserts and regular?
No matter what scenario applies to you, don't stress about cooking double to please your family – don't do it at all!
Instead, cook cauliflower mashed potatoes that fit with your meal plans and ask another family member to bring regular potatoes.  Or, if desserts are your problem, cook your stevia-sweetened baked goods, and then ask each family to bring their favorite holiday dessert.
Don't feel guilty about this – everyone wants to help out with a holiday meal, even if it is in a small way, such as bringing a dessert.
Listen To Your Body
Once the cooking and cleaning are done, and its time to actually sit down to  the holiday meal, listen to your body.
Don't count calories or stress out about how full your plate is.
Instead, load your plate up and indulge, but when your body tells you to stop eating, do it!  You can also munch on leftovers in 2-3 hours when you're hungry again!
Send Off-Plan Leftovers Home With Guests
Obviously, not everything that is a part of a holiday meal will fit with your THM goals.
When you have leftovers in your house that will tempt you, you'll most likely deviate from on-plan meals, so don't let them stay in your house!
Make up doggy bags for everyone to take home and don't take "no" for an answer!
Thanksgiving – and every holiday, really – can post big problems if you want to lose weight.
But with a little strategy, planning, and creativity, you can lose weight over Thanksgiving, like I did!
xoxo, 
Gretchen
*This post may contain affiliate links