Is anyone else missing noodles while on Trim Healthy Mama?
Getting creative with my noodles is one thing that I struggle with.  For those of you that are new to Trim Healthy Mama, I highly recommend that you read the Introduction to Trim Healthy Mama, or grab the book for your Kindle, because I don't want you to think that you have to give up pasta to be a Trim Healthy Mama – you don't!  That is the beauty of this plan, and to me, it's pure genius.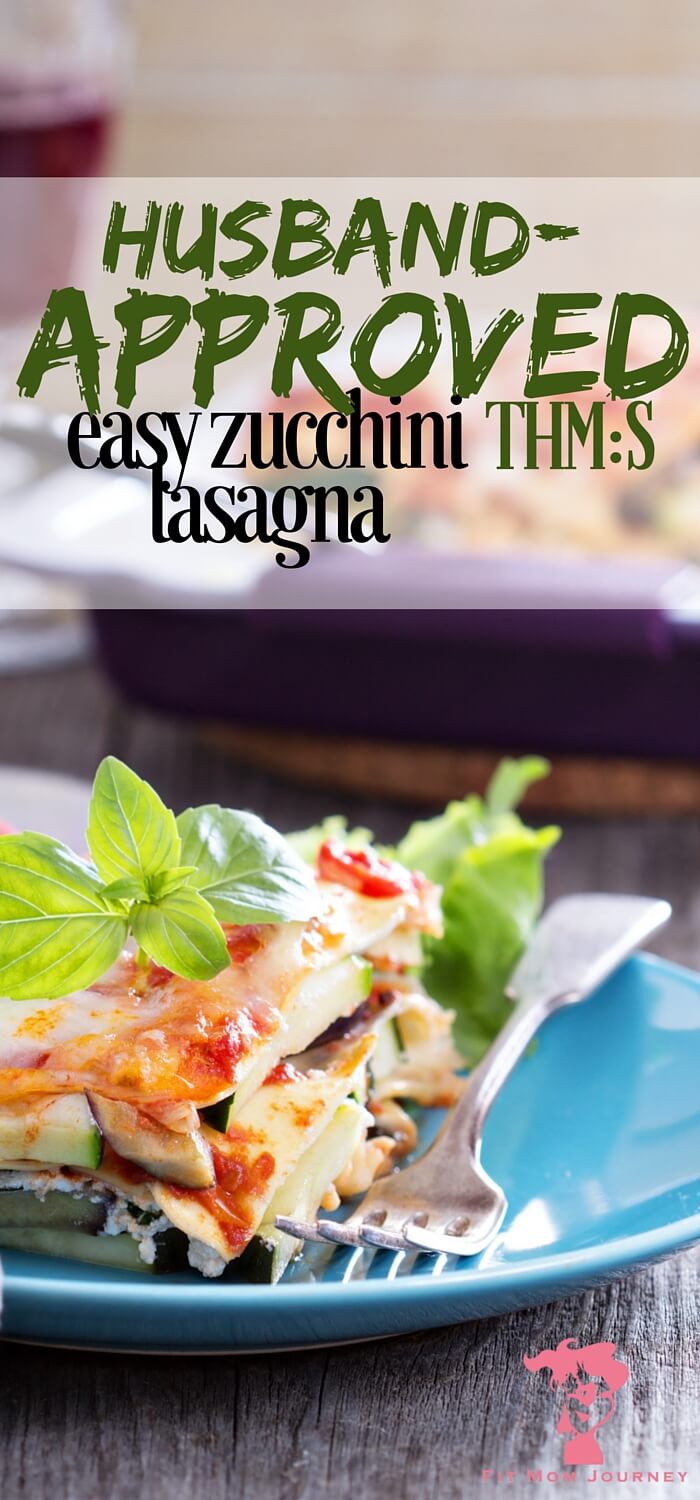 You can enjoy a bowl of pasta with tomato sauce, and even a bit of parmesan cheese as an E meal, or a bowl of Konjac noodles with alfredo sauce and sausage as an S meal, but unfortunately, alfredo sauce + regular pasta noodles would be a crossover.  Not the end of the world, but that meal won't necessarily help you lose weight.
Lasagna is one of those dishes that I crave, especially when it's cold out, but I was struggling with it.  The original recipes, from the Trim Healthy Mama cookbook, for Lazy Lasagna, called for frozen spinach in place of noodles.
I have frozen spinach (fresh is ok) and so does the hubs, so that was out.  And Konjac noodles, while they're good, just wouldn't do it in place of lasagna noodles.  The taste and texture don't quite do it for my taste buds.
Of course, I could have tried to make an E lasagna, using noodles but lean meat and no cheese, but that option didn't sound great either.
Looking for advice, I turned to my husband, who sometimes see the obvious solution that I don't, and asked him what he thought. His solution: zucchini!
Now, you have to understand that we're big zucchini fans in the Lindow household.  We eat it voluntarily, and in far greater quantities than most people, I think, because when it's in season it's plentiful and cheap!
I admit I didn't know how it was going to work.  Would the zucchini get too soggy?  Would it be too hard?  And what about taste?  Would it truly satisfy my lasagna craving?
Spoiler alert: it was awesome!
The zucchini "noodles" were just right.  They added flavor, but didn't take away from the genuine lasagna taste, and the texture was just right too!  In fact, this lasagna is husband approved, in that he's been begging me to make more of it!
Thankfully, I thought ahead and split the recipe into two square pans, freezing one for later and baking the other the next night.  This will make my life easier the next time we have a hectic night!
So, if you're in the mood for a delightful S lasagna, or have been struggling to get your family on board with "no noodle" noodles, give this a try!  Trust me, you won't be disappointed!

Husband Approved Easy Zucchini Lasagna (THM: S)
Prep time:
Cook time:
Total time:
Ingredients
2 Pounds Ground Beef or Venison
2, 12 oz Jars No-Sugar Added Tomato Sauce
1½ Tablespoon Dried Oregano
½ Teaspoon Mineral Salt
1 Teaspoon Onion Powder
1 Teaspoon Garlic Powder
⅛ Teaspoon Cayenne Pepper
1-2 Doonks Pure Stevia Extract (options)
3 Fresh Zucchini, sliced long ways into ¼-inch flat strips
1, 8 oz Package ⅓ Less Fat Cream Cheese
1, 14oz Container Cottage Cheese (1% or full fat is fine)
2 Eggs
8 oz Mozzarella Cheese, Shredded
¼ Cup Parmesan Cheese
Instructions
Preheat oven to 350 degrees.
Brown the meat, drain off fat, then add seasonings and tomato sauce. Simmer for a few minutes, and stir to make sure everything is combined.
Cut the zucchini into ¼ inch-thick strips, long ways. These will make them roughly the size of lasagna noodles, albeit thicker.
Combine the cottage cheese and cream cheese in a separate bowl.
In a 9/13 baking dish (or 2, 9x9 pans, if your family is smaller) place half of the meat sauce on the bottom. Spread it around so it covers the bottom of the dish evenly. Top that with half of the cheese, then half of the zucchini noodles. Repeat once more. Top with a hefty sprinkle of parmesan cheese.
Bake for 40 minutes, or until the cheese bubbles. If you split the recipe into 2 square pans, wrap one in foil and freeze. It will keep for up to a month in your freezer.
Note: You can absolutely prepare this dish the night before, and then pop it in the oven before dinnertime. It tastes even better after a night in the fridge, and reheats well too!