I've always wanted abs.
Killer, sculpted, sexy abs.
Like JLo's, Jessica Alba's, or even Britney Spears' abs (either before her mental break, or now that she's back in shape).
In high school, I first discovered my love of ab workouts (and fitness in general) when I was forced to do Pilates in an 8th grade gym class.  I wasn't good at sports, I couldn't act, sing, or dance, but I could do abs.
And for a while, I did abs.  I watched what I ate, shed 50 lbs, and practiced pilates like a fiend until I had a mini 6-pack.  It was heavenly, but then college came.  I got married my freshman year of college, and while I could blame those circumstances for losing the little bit of a 6-pack that I had, the reality was that it was my fault.
Literally a month after college I got pregnant, and carrying out the extra weight did not do good things for my 6-pack aspirations.  I was lazy in college, and I'm lazy now, with a 2 year old little tornado running around.
And sure, I've tried to into the swing of doing regular ab workouts, either at home or at the gym, but it's tough to find a workout I'm interested in and that still works.
So, I spent some time digging through the annals of YouTube, Pinterest, and other really cool fitness website to find the best, free, actually interest ab workouts for after baby.
For after your skin gets crazy stretched.
For when it seems impossible to concentrate on anything for 20 minutes.
For a stomach that seems beyond repair.
I want to look good, and I know you do too, so I've compiled them here for you, so that you can feel good about your abs too!
Make sure to bookmark, pin, or share this page so you can reference it again and again 🙂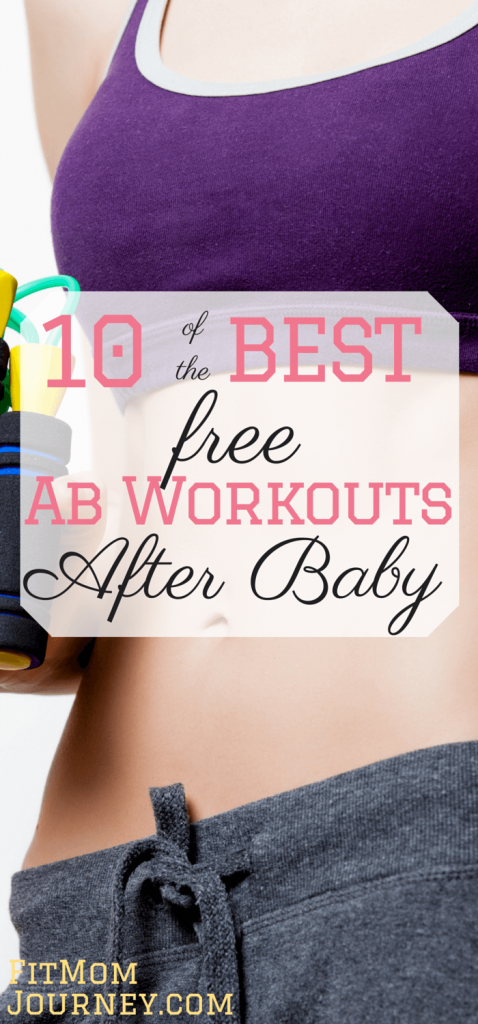 Fitness Blender 8 Minute Ab Workout
Fitness Blender is a great, free YouTube fitness channel that honestly, I've come to love. Their 8 minute ab workout, in particular, does some crazy kinds of crunches that are far less boring than the classic kind.  Plus, it's super cute to watch my daughter try to imitate me doing them.
10 Minute Ab Workout By XHIT Daily
Level 1 8 Minute Ab Workout by Passiona4Profession
Fitness Blender Standing Ab Workout
Sometimes, I'm just sick and tired of being on the floor.  Whether that's because it hasn't been vacuumed, or because I've been on the floor with the kiddo all day, this workout is a lifesaver.
7 Tips To A Flat Stomach by Cassandra Bankson
Total Ab Workout: No More Muffin Top by XHIT Daily
Fitness Blender Crunchless Ab Workout
Not a single crunch in sight!  Although, those are pretty fun to do with the kiddos….but still.  Spare yourself the crunches and rock this workout.
TV Workout Routine by Cassandra Bankson
Intense Ab Workout by XHIT Daily
8 Minute Abs Workout by Passion4Profession
If you're looking for more great workout tips, tricks and ideas, then you'll love my All Things Fitness Board on Pinterest