I am SUCH a sucker for Mexican food.
If I had it my way, I could enjoy all the extra fat, calories, sodium, and chemicals that typically come with Mexican food, without any repercussions.  But you and I both know thats not how it works.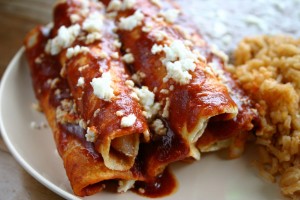 My version is not only clean, its delicious and healthy and will have you coming back for more because it's both tasty and nourishes your body – not because it fuels food addiction. There is a lot of carbs and cheese, so I don't suggest eating this recipe every day, but once a month certainly won't hurt.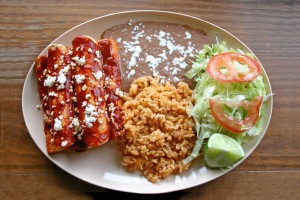 Clean Eating Enchiladas
Prep time:
Cook time:
Total time:
Ingredients
1 pound extra lean ground turkey, beef or chicken, your choice
Whole Wheat Tortillas
¾ cup shredded cheddar cheese
1 sweet yellow onion, chopped
1 can Rotal, drained
1 red bell pepper
½ c. black beans
½ cup fresh chopped cilantro
Salt & Pepper
1 cup plain, nonfat greek yogurt
½ tsp. of southwest chipolte, and chili lime seasoning (I used Mrs. Dash's)
1 can organic enchilada sauce (red or green, your choice)
Instructions
Preheat your oven to 350
Cook the turkey/beef/chicken in a skillet on the stove, once the meat is cook about halfway through, add the diced pepper and onion.
Combine the greek yogurt, seasonings, rotel, and black beans. Add in the turkey mixture.
Spray a medium casserole dish with non stick spray, and assemble your tortillas with the filling inside of the int the pan. Pour a generous amount of enchilada sauce over them. Sprinkle the shredded cheese on top.
Bake at 350 for 30 minutes with foil cover the pan, then an additional 15 minute with the foil removed.
Enjoy – and know that you're doing something good for yourself!
Welcome to my Fit Mom Journey