---
The Keto Box Review February 2018
It's time to let in you in on the products that came in the February 2018 Keto Box!  I've been an avid Keto Box fan for 9 months now, and their boxes never disappoint!
Finding Keto-compliant snacks can be difficult, as we all know.  Through The Keto Box, I've been introduced to many of the keto staples that I use in my kitchen everyday now.
This is what's so great about getting a subscription box every month.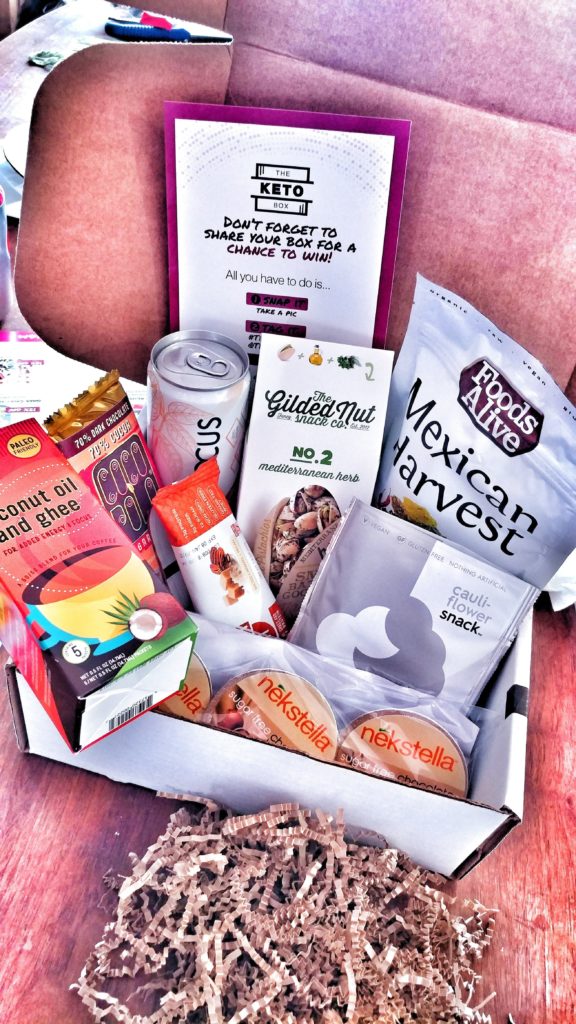 You can try a bunch of different products, without hunting them all down at different stores or online, and you get to try things that you may never have before that become favorites!
All you pay is the low monthly fee for The Keto Box, which is often less than you would pay to buy all these products separately.
Then the goodies are delivered right to your doorstep each month.  Don't like your Keto Box? It comes with a 100% money-back guarantee, so you have nothing to worry about.
And as a bonus, many (or all) of the products comes with a promo code for a discount off your future purchase!
At the end of the day, The Keto Box actually saves me money on Ketogenic foods, which my frugal self loves!
Let's check out the box….
Phocus Blood Orange Energy Drink
1 serving – 0 Calories – 0g Fat – 0g Net Carbs – 0g Protein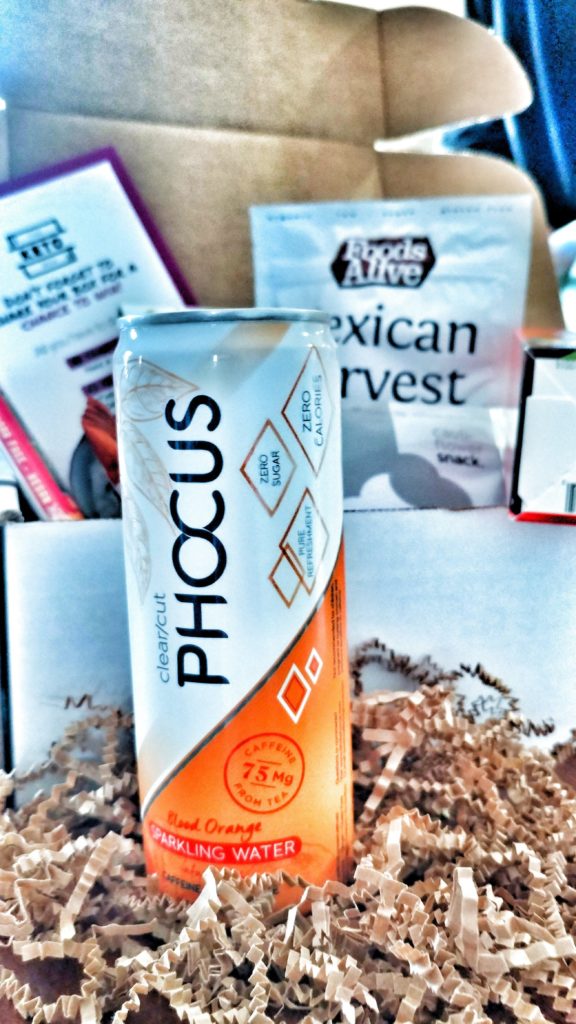 I really liked the Phocus Energy drink.  It's similar to a sparkling flavored water, and if I'm being honest tastes like a grapefruit White Claw (a low-carb alcoholic drink).  Not sweet enough for my taste, but the flavor was very nice. The fact that it contains caffeine is definitely an added bonus!
You can find Phocus Energy Drinks at their website: www.drinkphocus.com or on Amazon.com
Kelapo Coconut Oil & Ghee Individual Packets
1 serving/packet – 120 Calories – 14g Fat – 0g Net Carbs – 0g protein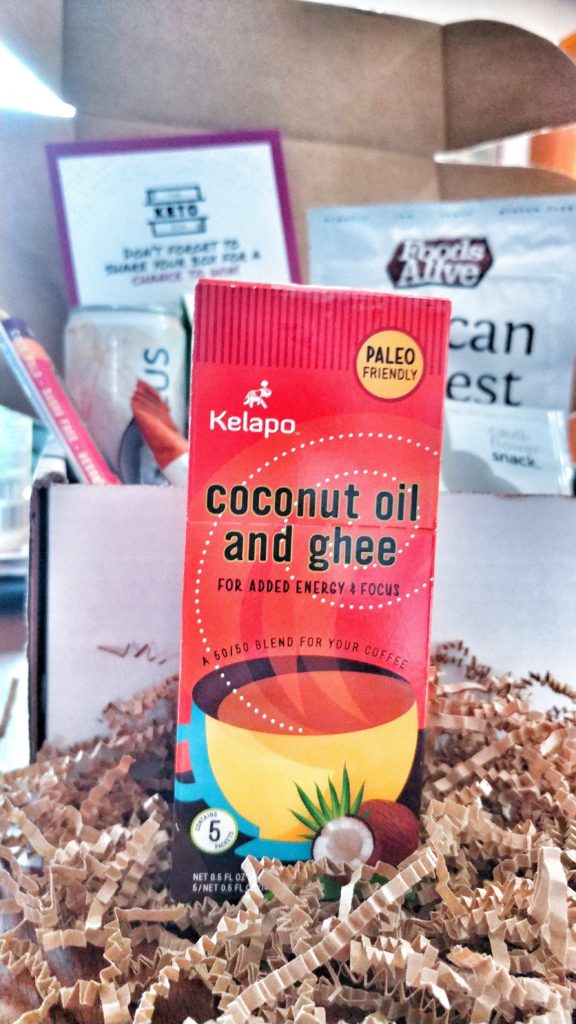 These. Were. Delicious.  
I'm a big fan of fat in my coffee, and when you take that fat, put it in individual packets, and make it taste delicious, then I'm all in!
There were 5 of these packets in the box that came in The Keto Box and I enjoyed every single one.  
You can find the Kelapo Coconut OIl & Ghee Individual Packets on Amazon
Nekstella Sugar Free Chocolate Hazelnut Spread
1 serving/cup – 130 Calories – 10g Fat – 4g Net Carbs – 2g protein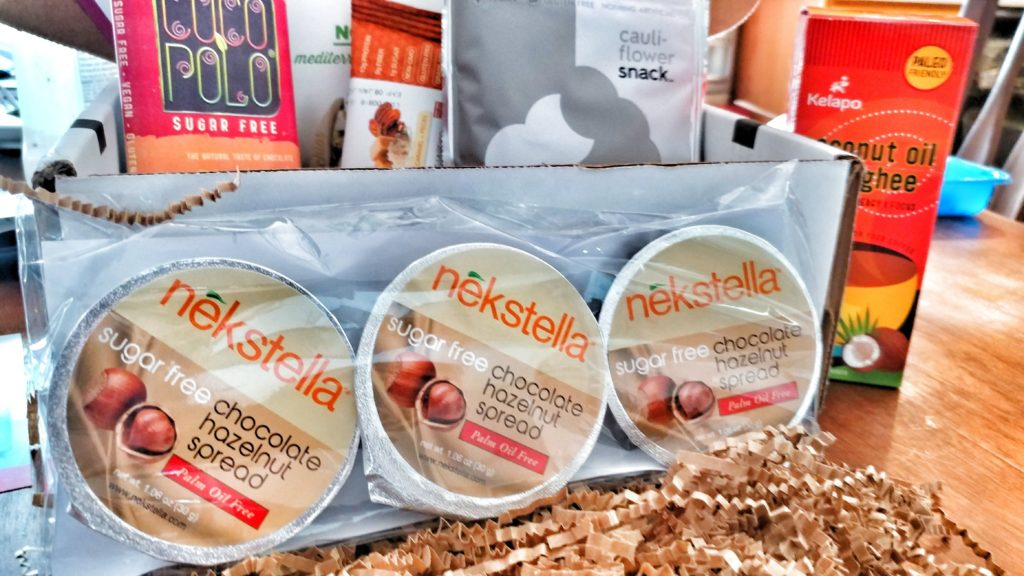 I LOVE Nutella, so discovering this keto-friendly alternative to the sugar-laden versions you find in every grocery store was a game changer!  This Nekstella did not disappoint. It was smooth, silky, and just sweet enough.
It spread perfectly on my fathead bagel and after microwaving for a few seconds, drizzled nicely over my sugar-free ice cream.
I'll definitely be buying this again from Amazon.com or from their website: www.nekstella.com
BHU Fit Salted Caramel Pecan Bar
1 serving – 220 Calories – 17g Fat – 1g Net Carbs – 13g Protein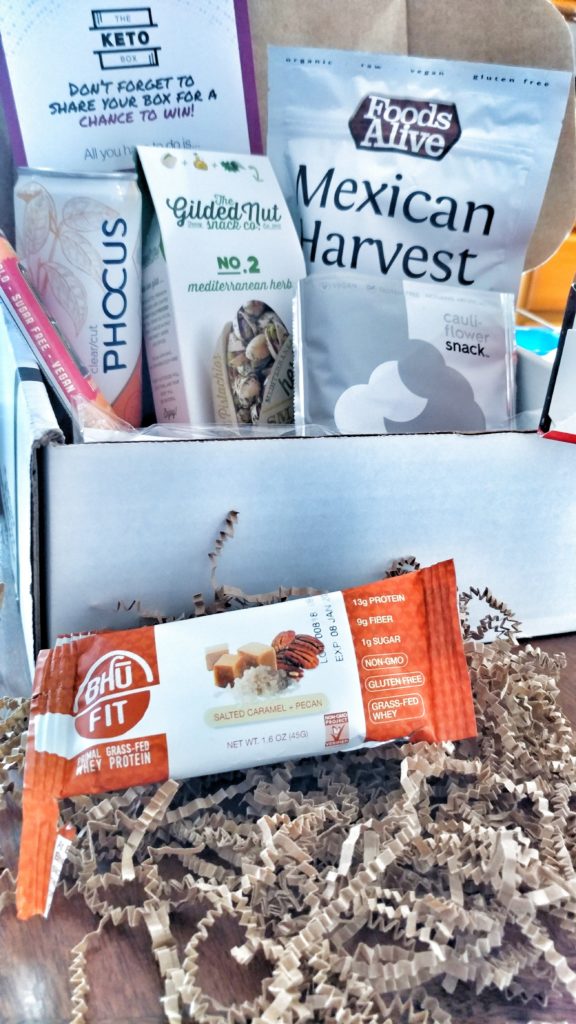 I've received these bars before in previous Keto Boxes, and liked them every time.  This one did not disappoint either. My husband even liked the Caramel Pecan taste, commenting on how good it was.
I stashed the bar in my bag for a busy workday when I didn't have time to stop and eat, and the BHU Fit Bar filled me up until I could eat dinner.
You can find BHU Fit Bars on Amazon.com
Coco Polo 70% Dark Chocolate Sugar Free
2 servings/bar – 180 calories – 18g Fat – 1g Net carbs – 3g Protein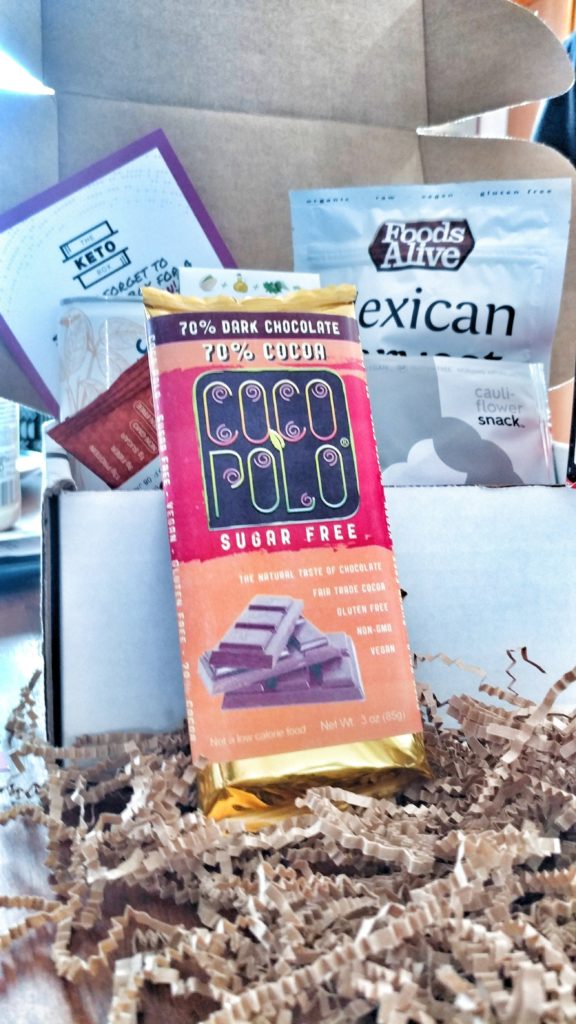 What can I say to describe to you how much I liked this chocolate bar?  The best thing I can compare it to is Lily's Chocolate chips in bar form.  A lovely dark chocolate with super low carbs.
I order these regularly from Amazon.com or locate a store at www.cocopolo.com
GAEA Cauliflower Snack
1 serving – 10 Calories – 0g Fat – 2g Net Carbs – 1g Protein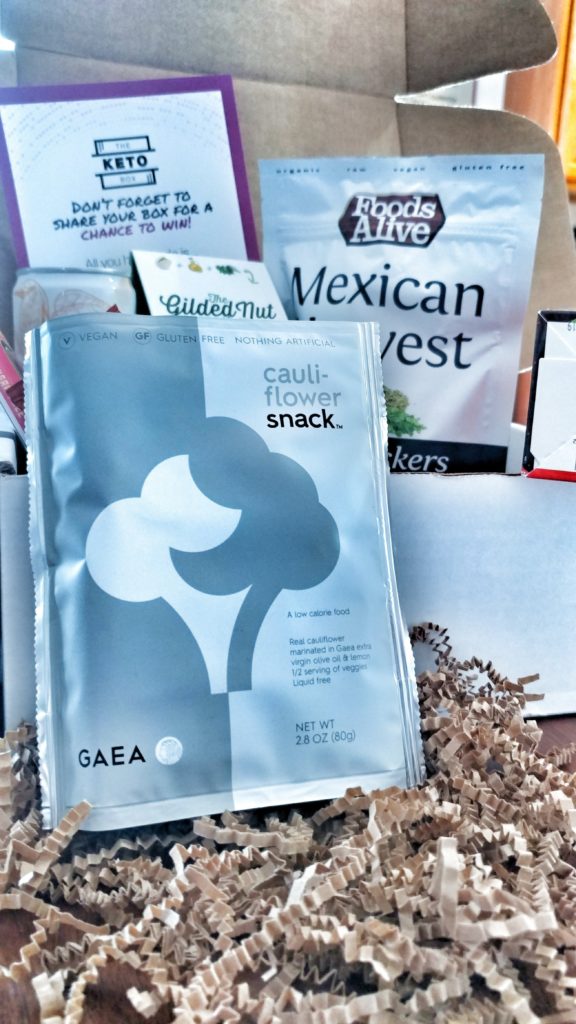 This snack piqued my interest, since it's literally a piece of cauliflower, marinated in olive oil and lemon.
Sounds interesting, no?
Find them for yourself on Amazon.com or on their website: www.gaeaus.com
The Keto Box crew managed to pull off another really amazing box – again!
I found a new favorite snack – Nekstella – as well as some other products that I loved and am planning to order more of in the future.  
Visit The Keto Box website and save $5 by signing up here.
xoxo,
Gretchen
---
---
This post may contain affiliate links.  See my disclosures for more information.