Ya'll, I am a Drive-Thru Sue.
No doubt about it.
I love to cook, truly I do, but we're just so darn busy (and eating out is easy) that I've resolved to embrace being a Drive-Thru Sue  and find THM-compliant options at all my favorite and convenient restaurants to keep the trim train going while my family is too!
I am sharing these with you in hopes that they will help you too, whether you're a Drive-Thru Sue like me, or your a purist who occasionally finds yourself in a pinch and needs a resource like this to eat out on-plan.
The good news is that THM truly is all about food freedom.  While other diets may restrict eating out, THM does not.  In fact, I find it incredibly easy to eat out on this plan and hope you will too!
Before I being, if you're new here, or new to Trim Healthy Mama, please take a moment to check out my THM 101 Guide.
Or, if you would like more information the Trim Healthy Mama book that explains the plan,  please consider using my affiliate link  – Trim Healthy Mama – to purchase the book on Amazon.  And if you do…thank you!  You are helping to support my family and this blog!
So without further ado, here is my general game plan when dining out as a Trim Healthy Mama, and if you scroll down a little further I'll give you specific dishes and examples from McDonald's in this edition of  Trim  Healthy Mama on the Go!
My plan for healthy eating at McDonald's:
Protein:
The foundation of any THM meal.  Start by assessing the protein options on the menu to see how they appeal to you.  Remember, any dish can be customized to your needs, provided you use kind words with your server or cashier.  Whatever protein option you decide sounds the best, go with this!
Decide Between S, E, or FP:
Once you've landed on your protein option, decide of it lends itself to an S, E, or FP meal.  I'll give you a spoiler: Eating S meals while out is usually easiest, so when in doubt, lean towards and S and cut the refined carbs!
Remember, and S meal is protein + fat (no carbohydrates), an E meal is protein + complex carbohydrates (no fat) and a FP is protein only (no fat or carbohydrates).
For example, if you choose to make your meal an S, it is best to cut as out as many carbohydrates as possible: buns, ketchup, tomatoes, breading, french fries, etc.  The exception to this is leafy green with very few carbohydrates.
Veggies:
If you can, add in vegetables.  For an E meal, you can add in vegetables with a higher carbohydrate count such as carrots, or starchy components such as potatoes, sweet potatoes, beans, corn, rice, and quinoa (provided the restaurant leaves them relatively free of fat).
Or, if you've chosen an S meal, a side salad with leafy greens, cheese, and an oil-based dressing is a great option to get in some healthy fats and nutrient-packed leafy greens.
This is how I build my meals while eating out on THM, and I hope this guide helps you!
Now, on to specific examples of healthy eating at McDonald's the Trim and Healthy Way: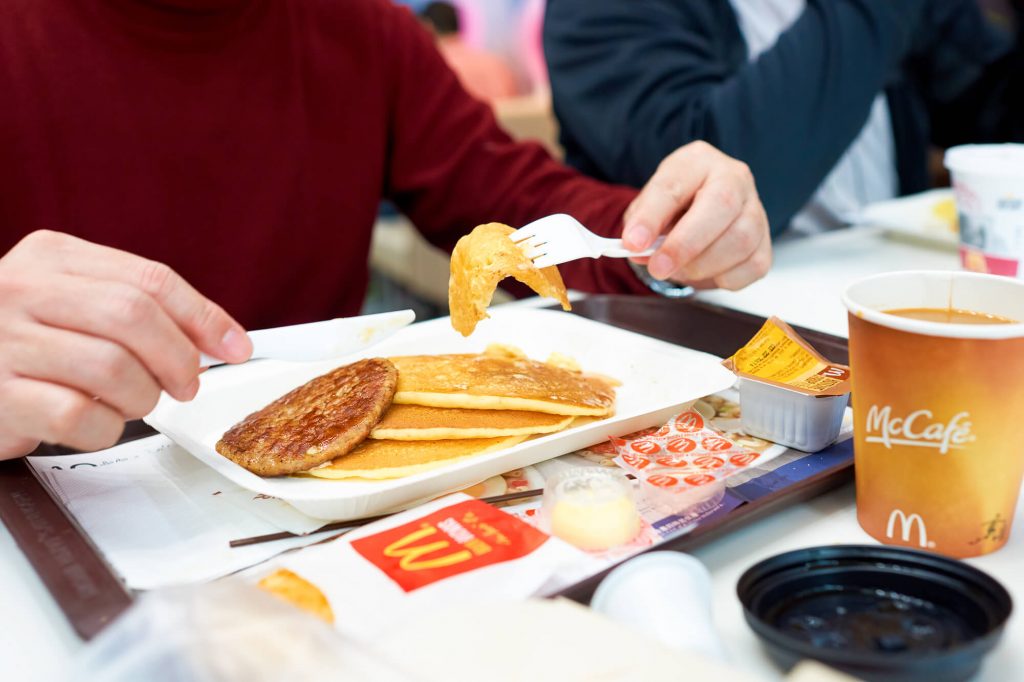 Breakfast:
Eggs and sausage are about the only choice for breakfast at McDonald's as an S meal.  I personally have not found too many options for an E breakfast, except for an Egg White Delight, hold the cheese.
Big Breakfast (no biscuit or hash browns) (THM:S):  340 Calories, 29 g Fat, 2 g Carbs, 19 g Protein
Egg White Delight (no cheese) (THM:E): 210 calories, 4.5 g Fat, 27 g Carbs, 14 g Protein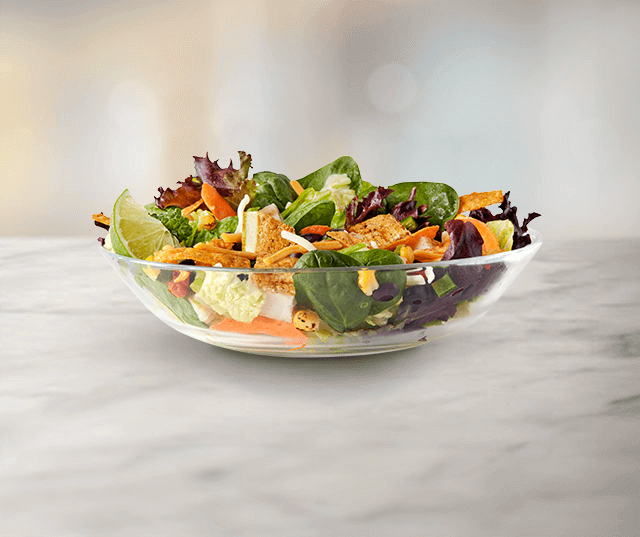 Salads:
Side salad with grilled chicken and dressing for an S, or the Bacon Ranch Grilled chicken salad (no grape tomatoes) is also a great option for an S meal.  If you really want the Southwest salad, get it with grilled chicken, skip the tortilla strips, and bring your own low-fat dressing.
Bacon Ranch Grilled Chicken Salad (no tomatoes) (THM:S): 310 Calories, 14 g Fat, 7 g Carbs, 42 g Protein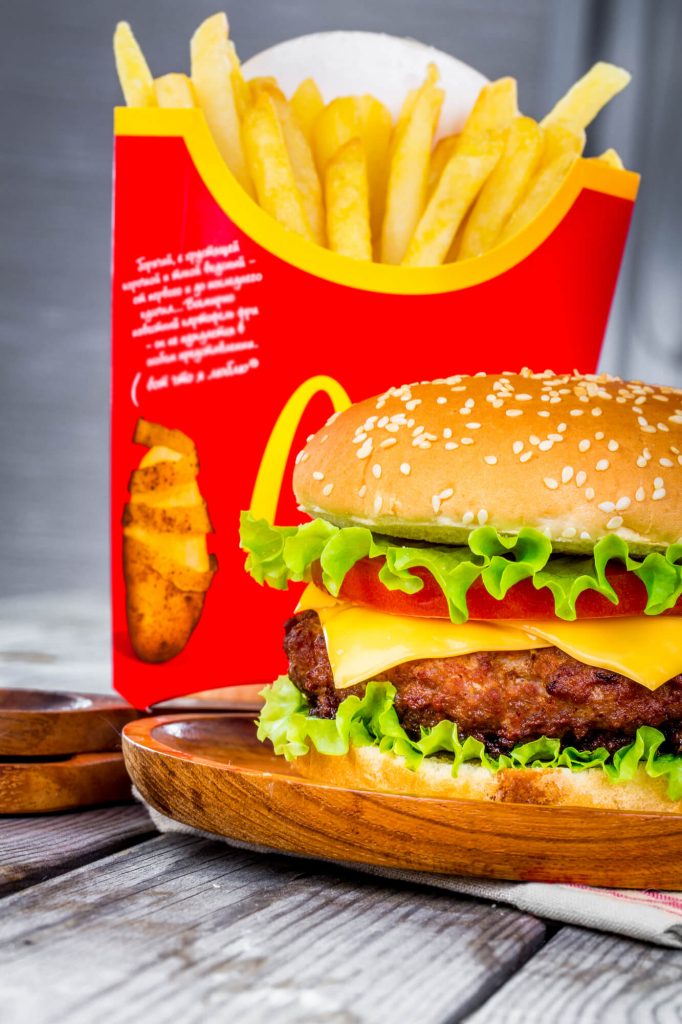 Sandwiches:
Burgers: Any burger you prefer, skip the bun and ketchup, and add mayo if you wish. Eat with a fork  or over a side salad.
Chicken sandwiches: skip the breaded and fried stuff.  Instead go for grilled, it's fine to eat the bun, lettuce or tomato, but skip the mayo and cheese for an E meal.
Quarter Pounder with Cheese (no bun or ketchup) (THM:S): 340 Calories, 25 g Fat, 5 g Carbs, 25 g Protein
Maple Bacon Dijon Grilled Chicken Sandwich (no bun) (THM:S): 360 Calories, 19 g Fat, 8 g Carbs, 40 g Protein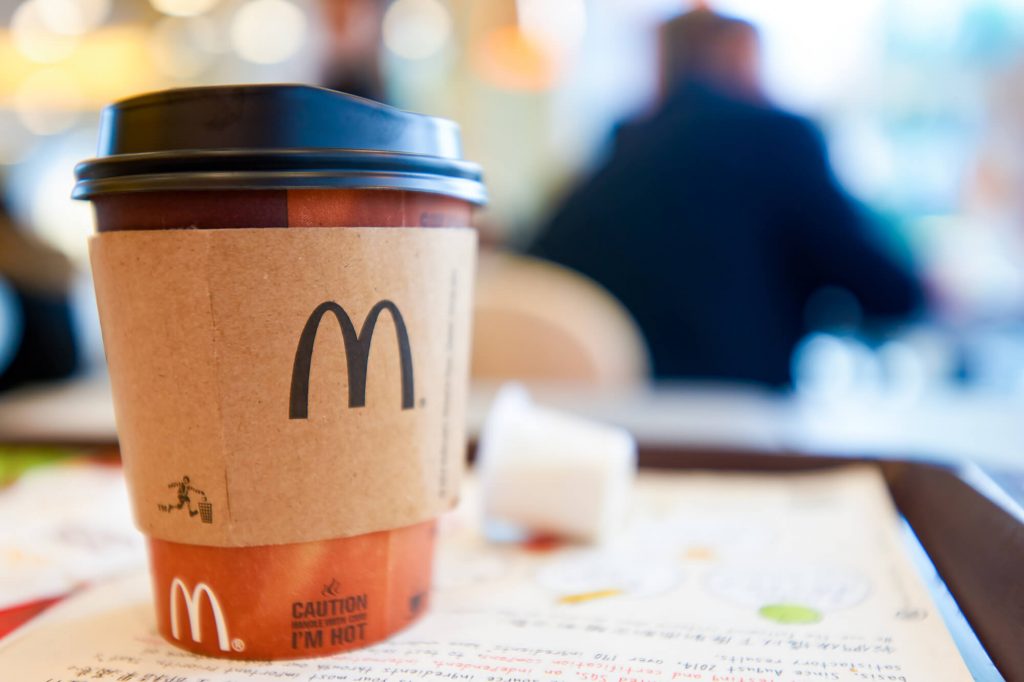 Beverages:
Black Coffee with Heavy Cream only and/or sugar-free vanilla syrup for an S drink.  Luckily, we can have coffee on Trim Healthy Mama so when we're out and about, and on-plan iced coffee is one of my favorite treats!
Unsweetened Iced Tea (THM:FP) no calories, fat or carbs
Iced or Hot Coffee with Light Cream only (THM:S): 50 Calories, 4 g Fat, 1 g Carbs, 1 g Protein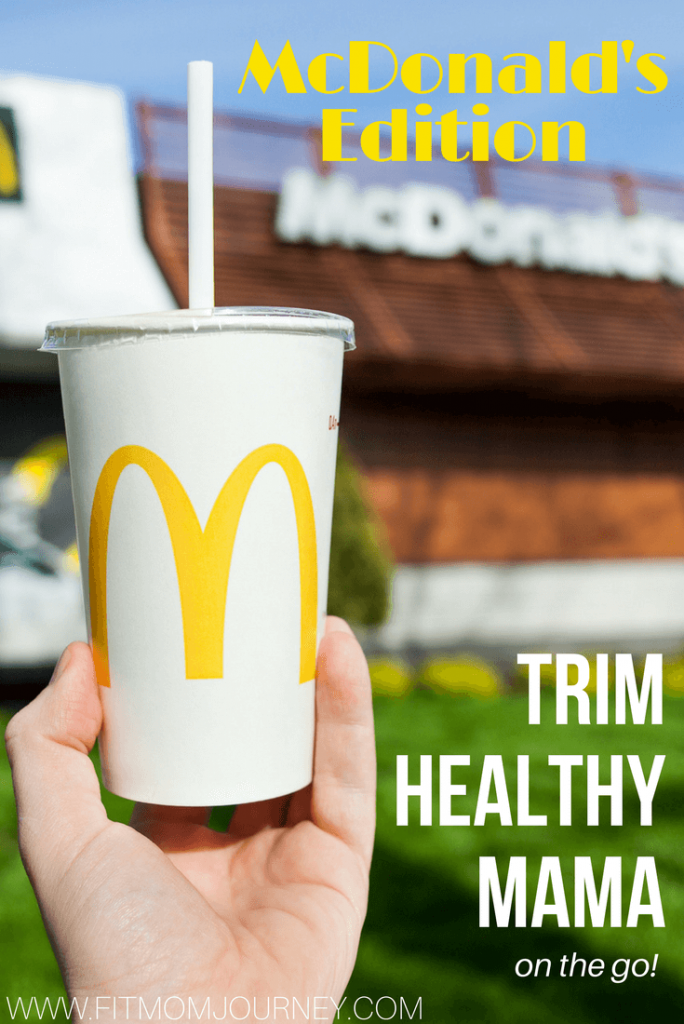 While I can't go through every item on McDonald's menu, these examples plus the framework I showed you above should give you a pretty good idea of how to build a THM meal at this popular fast food joint!  Don't be afraid to ask the cashier to accommodate your special requests, and even if they don't (this has happened to me multiple times) you can always pull off the bun yourself, or take the cherry tomatoes out of your salad.  Remember to always be very nice to the employees, and you will be more likely to have your special requests fulfilled.
I hope I've given you some hope for eating out at McDonalds on Trim Healthy Mama today!
Talk Soon,
Gretchen
This post may contain affiliate links.  See my disclosures for more information.