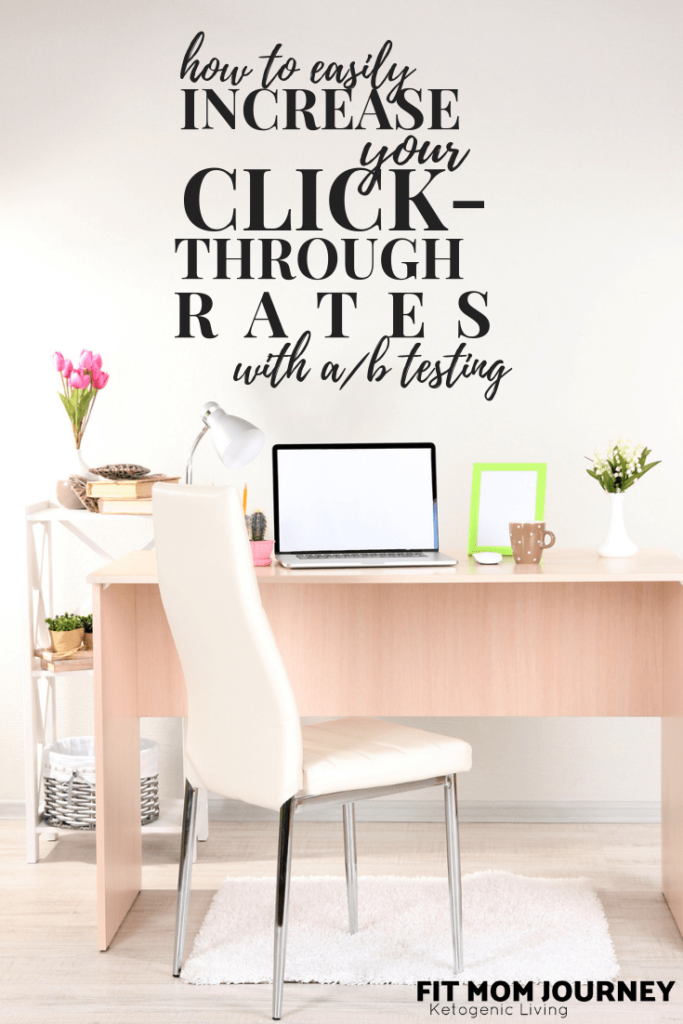 ---
How To {Easily} Increase Click Through Rates
with A/B Testing
Everything can always be made better.
The words "everything" and "always" are words I "never" use (did you get that?) BUT here I am, because I believe there is always room for improvement.
Photos, recipes, layout, and newsletters, even when readers are responding well to them can always be made better.
But why would you put that much more effort into those things, when they're already doing well?
Put simply, to make more money.
When you boil it down, there are 4 ways to make more money with your blog:
Higher Prices

More Ads

Better/More Traffic

Increase Conversion Rates
If you've didn't quite figure it out from the title, today I'm going to be talking about #3: Better/More Traffic.
Specifically, getting more people to click through your images on Pinterest and Facebook.  This is called increasing your Click-Through rate.
One of the easiest ways to increase click-through rates is to use something called A/B Testing.
What Is A/B Testing?
In this case, A/B testing is a system which tests two different images for the same recipe or post to see which one gets more people to click through from the image to the article.
Hence the name click-through.
This method of A/B testing is something called "split testing."
Here's what you'll need to get started:
A verified Pinterest account with access to Pinterest Ads

A Facebook page with access to Facebook Ads

An original image for your recipe or article

A second image for your recipe or article
Let's walk through how this works.
How To A/B Test an Image: A Pinterest Case Study
The article: Keto Caramel Hazelnut Shortbread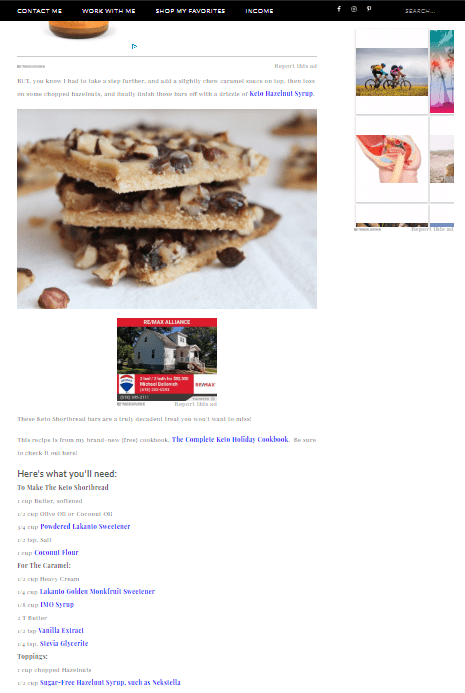 An Original Image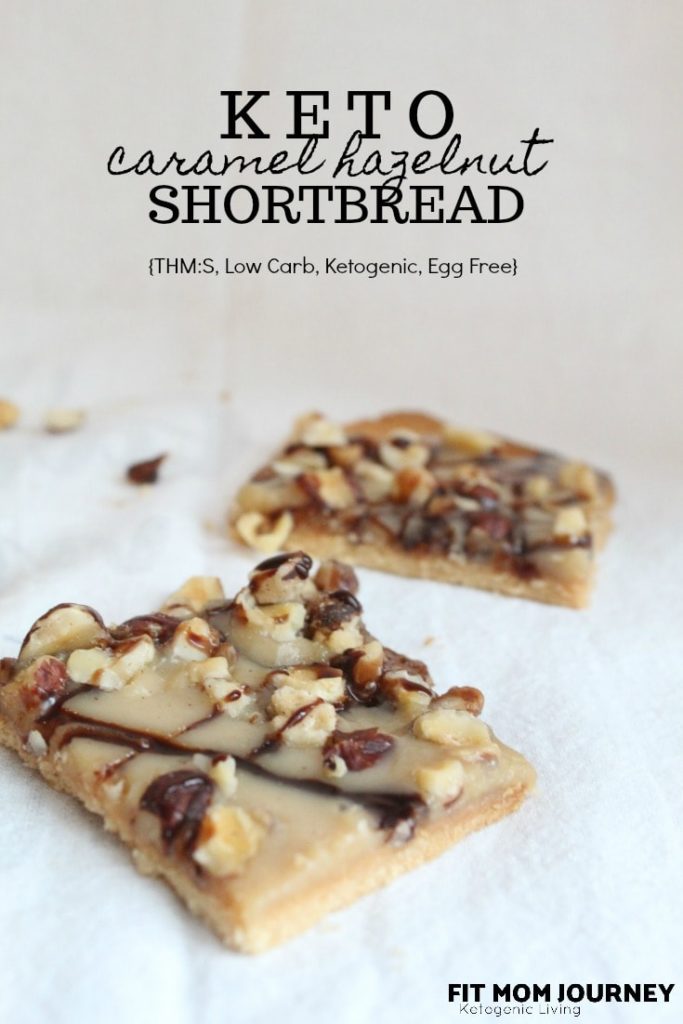 A Second Image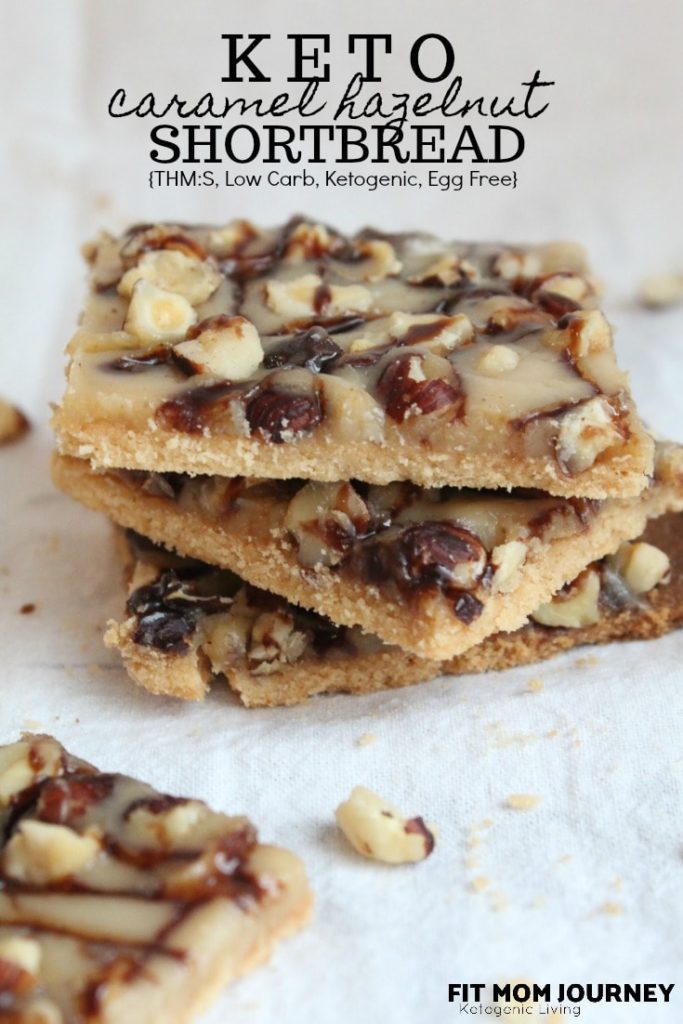 I promoted both of these images within my Pinterest account, targeted towards my "Keto" audience, with the exact same Duration, Budget, and CPC Minimum.
How To Set Up Promoted Pins for an A/B Test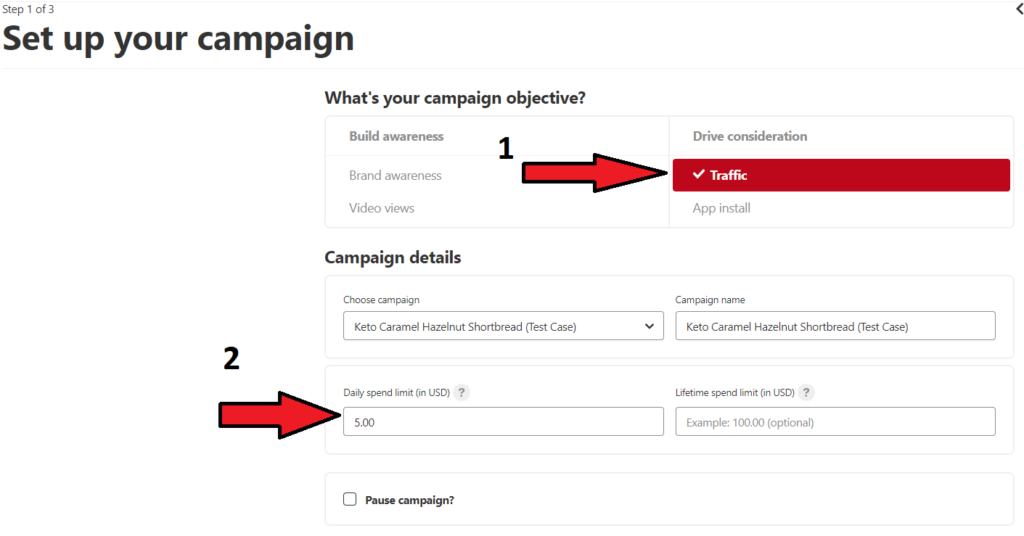 Arrow #1: I chose "Traffic" as the Campaign Objective
Arrow #2: I set the Daily Spend Limit at $5.00
On the next screen, I set my audience to a custom "Keto Audience" that I created earlier.  Your audience will be very different mine.  The important thing is that you use the exact same interests and keywords for targeting both A & B.
Then, you'll move to the next screen where you will choose the Pins to promote.
In my case, for Group A, I chose 2 pins with words on them.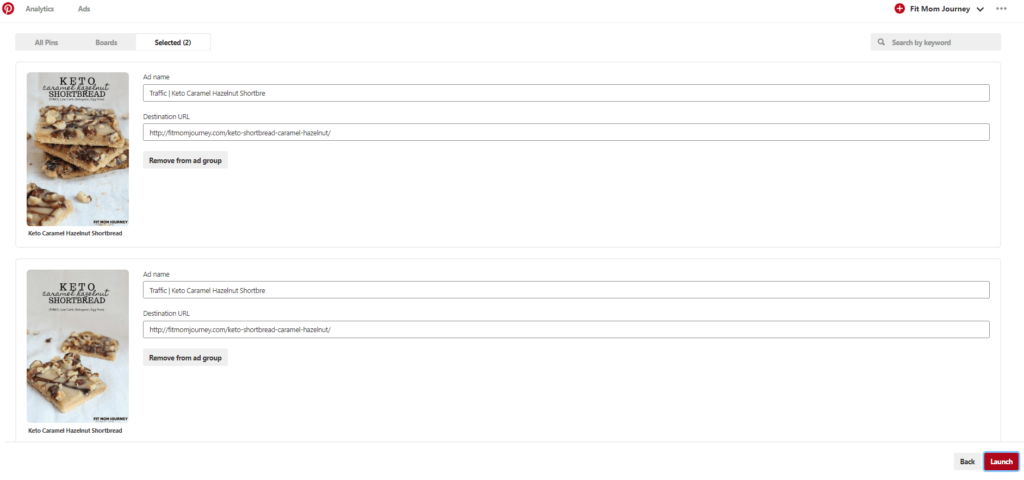 For Group B, I chose the exact same Pins, but without words on them.
To create Group B, I simply checked the box beside the first campaign, and hit the duplicate button.  Everything remained the same except for the pin images, which I switched out for the plain photographs (without words)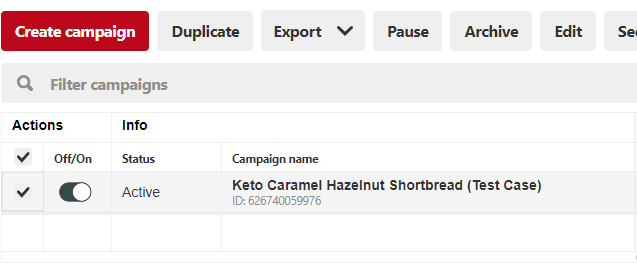 Promoted Pins A/B Test Results
As you can see, the campaigns has vastly different results from the other:


Now, let's dig into the differences. 
From one campaigns to the other, there was a $0.04 cost-per-click (CPC) difference.
Test case 2, in addition to have a lower CPC, received almost 2x the impressions of Test Case 1, and at about half the CPM (Cost Per Thousand Impressions).
When it came to Engagements, the cost and rate of engagement were pretty close to the same, with a small $0.02 cost difference and 33 more engagements for Test Case 1.
Finally, moving over to clicks, Test Case 2 has only 8 more clicks than Test Case 1, and a $0.04 difference in the CPC.
One additional metric that Pinterest gives on a Promoted Pin, that I find really interesting is the number of Saves and Closeups.  To me, these metrics really tell how many people were interested in each one.
In this case Test Case 2 had 8 more saves and 17 more closeups than Test Case 1.
Obviously, this was only a 2-day Promoted Pin test case, which I set up completely so I could show you how all of this works.
However, combine let's take the different metrics and scale them up into a bigger campaign.
Say, for example we let this campaign run for an entire year, exactly the same as it has run for the 2 days I showed you here.
This would scale up to:
6,022 more Engagements
432,525 MORE Impressions
1,456 more Clicks
$58.40 LESS MONEY SPENT
Just on a VERY small campaign.
And that small campaign would have only had 1 A/B Test, not 10 different variations to nail down the absolute best variation and keywords to use.
Basically what you would do to scale this up is:
Test Version 1 against Version 2
Take the winner and test it against Version 3
Take the winner and test it against Version 4
Always honing, always testing, making small incremental changes to make your campaigns better and better.
I've detailed exactly how to do this in How I Increased My Open Rates by 521%.  This article details exactly how to keep improving with Email subject lines, but I've left detailed instructions how to do this with other marketing and advertising tests.
This is the perfect example of how A/B Testing can not only increase your Click-Throughs, it can save you money.
In addition, it's the perfect example of a small win, that, put together with lots of other small wins, can add up to BIG wins.
How To A/B Test a Subscribe Form: A Case Study
Another example of this is the Welcome Mat I use on my homepage here at Fit Mom Journey.
I changed my welcome mat so that the headline emphasized different words: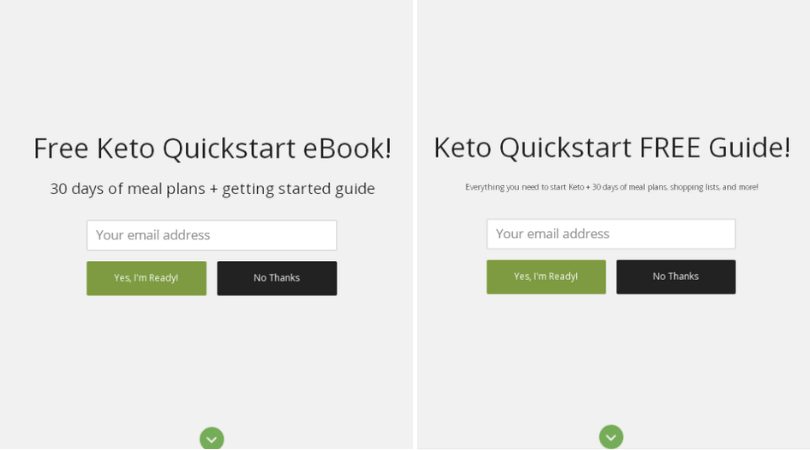 I'm still testing wording, but so far mat #2 is a 5.28% improvement over Mat #1.

To make this even better, I'll change Mat #1 (now that it's losing) to see if I can beat Mat #2, and so on, and so on, continually tweaking, learning, and honing bit by bit.  
It's not an overwhelming process, but a very small, slow one that doesn't take much time or energy.
HERE'S HOW TO SET UP AND RUN YOUR OWN A/B TEST
In this article, I've used Pinterest Ads, and a Welcome Mat to encourage subscribers, but you can A/B test almost anywhere: Facebook, Newsletters, Landing Page Conversions, etc.  Anything you can dream up, you can A/B test.
Here's exactly how to do this:
Determine a high value page and a goal for that page.

Set up an A/B test for that page.

Let the test run for a set amount of time until a winner becomes clear.

Update the page with the winning headline/graphic/design.

Repeat to test again.
DETERMINE A HIGH VALUE PAGE AND IT'S GOAL
In my case, my high value page for the Pinterest Test is a recipe on my website.  This recipe converts very well, but I wanted to see if I could do better.
For my Email Subscriber Test, the goal was to get people to subscriber in order to download Keto Quickstart.
In order for my brain to work on these objectively, here's how I wrote them down in my notebook:
Keto Caramel Hazelnut Shortbread: Increase click-throughs from Pinterest

Keto Quickstart: Sign up for mailing list & receive Keto Quickstart
When I put it very simply like that, the method for A/B testing becomes very clear.
SET UP AN A/B TEST FOR EACH PAGE
Caramel Hazelnut Shortbread: I changed up the images from having a text overlay to NOT having a text overlay.
Keto Quickstart Subscriber List: I changed the headline showing on the Welcome Mat to see which converted better.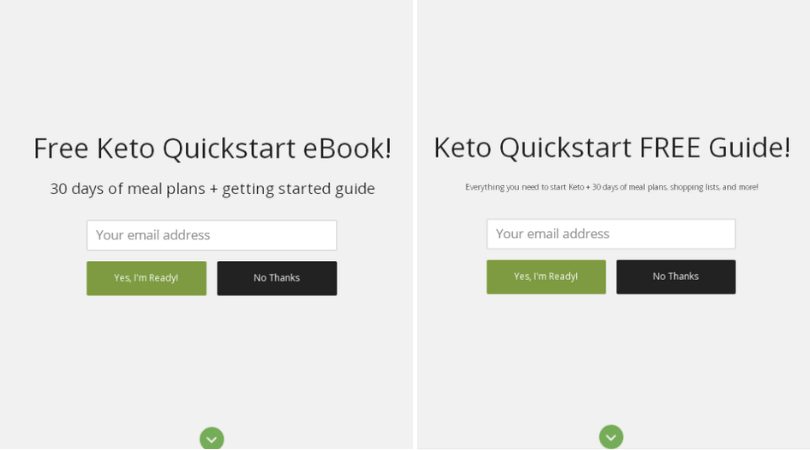 You need to make dramatic changes to find out which method/image/wording performs better in the test.
LET THE TEST RUN UNTIL A WINNER BECOMES CLEAR
For the most part, I'll let tests run for anywhere from 1 week to 1 month before declaring a winning variation.
When determining a winner, it's important to note how far & away the winner was.
In other words, the winner needs to be so far ahead of the loser that you're confident it won because it was better, not just because of chance.
IF THE NEW DESIGN WINS, UPDATE THE PAGE AND START AGAIN
It's really that simple.  
When I first started blogging, A/B testing was this big, scary, thing in the back of my mind that I knew I needed to be doing, but had no idea how.
But when you boil it down, all an A/B test is, is holding a contest between two Headlines, Images, or Designs to see which one your readers like more.
Really.
And YOU can do it!
xoxo,
Gretchen
---
New to blogging? Let me help you! Get helpful blogging tips, tricks, and tutorials delivered straight to your inbox:

---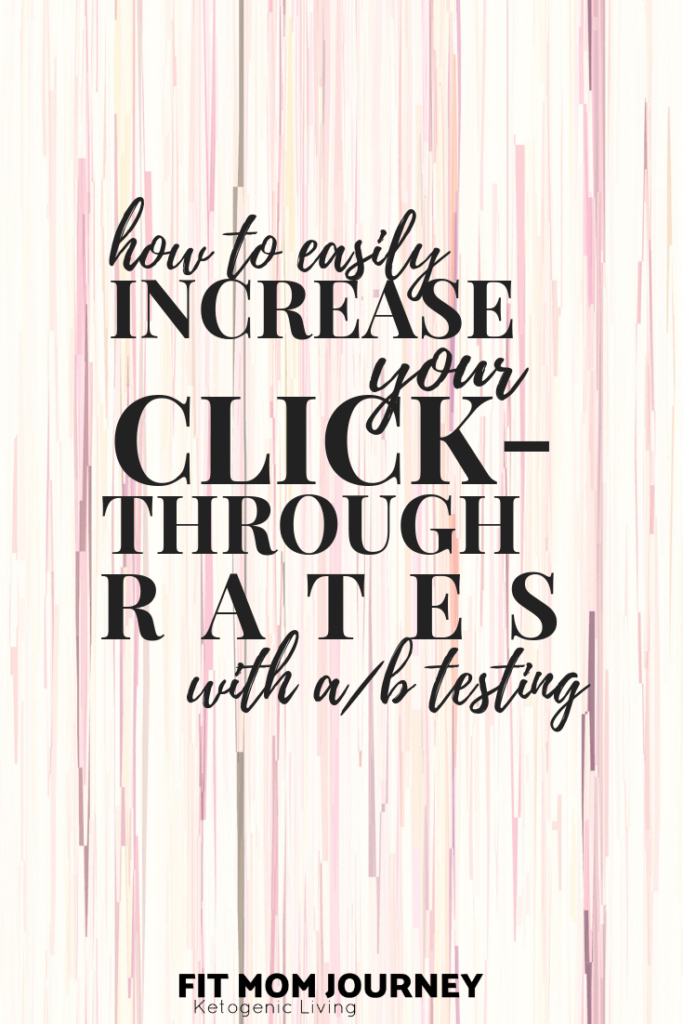 This post may contain affiliate links. See my disclosures for more information.