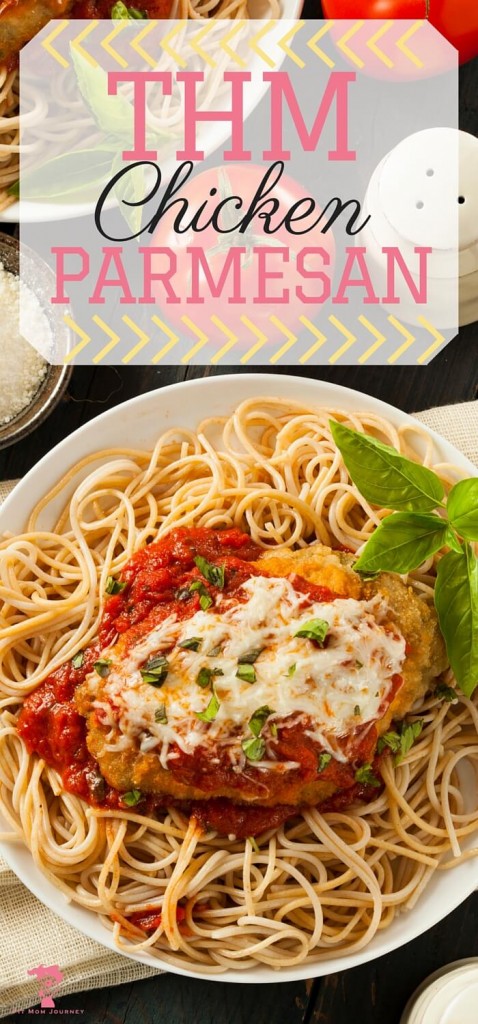 Italian food isn't the easiest to make when you're a Trim Healthy Mama.
After all, most dishes have enormous helpings of carbohydrates, copious amounts of cheese, and protein plays second fiddle to the carbohydrates in the meal.  It's a recipe for a THM disaster.  So what is a girl to do when she gets a craving for italian food on an E day?
Make E-friendly Trim Healthy Mama Chicken Parmesan.
Even the hubs liked this meal, that's how hearty and filling it was, and it came together in about 30 minutes – start to finish!  At the rate at which the hubs and even our two year old wolfed it down, you would have thought it was their last meal.
Traditional chicken parm has protein (the chicken breast), carbohydrates (the breading), and unhealthy fats (frying the breaded chicken breast).  Then, it's usually served with melted cheese and marinara sauce (loaded with sugar, of course) on top, and pasta with more marinara on the side.  Vegetables (besides tomatoes) are few and far between, which makes a meal of chicken parmesan deliciously sinful.
I decided to take this traditional meal and make it far less sinful, as well as nearly gluten-free, and surprisingly easy to make.
Enjoy!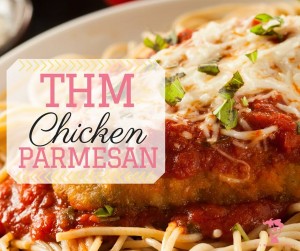 THM Chicken Parmesan
Prep time:
Cook time:
Total time:
Ingredients
2 Chicken Breasts
1 cup Panko Crumbs, Italian Style
1 Egg White
¼ cup Plain Almond Milk
½ cup Flour (can use almond flour or wheat)
1 can Diced Organic Tomatoes
1 small can Tomato Sauce
½ cup Plain Greek Yogurt
2 tablespoons Diced Garlic
¼ cup Parmesan Cheese, if desired
Instructions
Separate the egg white from the yolk and place in a bowl. Add the almond milk and beat with a fork. Set aside. Place the flour in another bowl and set aside. Finally, put the panko crumbs in another bowl and set aside as well.
Cut each chicken breast in half thickness-wise so you have thinner chicken breasts and you don't have to pound them out. Then, heat a skillet on medium-low heat.
Coat each half chicken breast first in flour, then dredge through the egg white mixture, and finally coat it with the panko crumbs.
Place the breaded chicken breasts in the skillet (no oil!) and let them cook for 10 minutes, or until they appear to be cooked about halfway through. Then, flip them over to cook the other side, placing a lid over the skillet to help them cook faster. If your skillet temperature is right, the panko will be lightly browned, but not burned on each side.
After you flip the chicken breasts over, pour the diced tomatoes, tomato sauce, greek yogurt, and garlic into a separate saucepan and heat through. If you choose to add the Parmesan cheese, add it now.
When the chicken breasts are cook through, pour the sauce over the chicken breasts, and service with a side of brown rice pasta and vegetables.