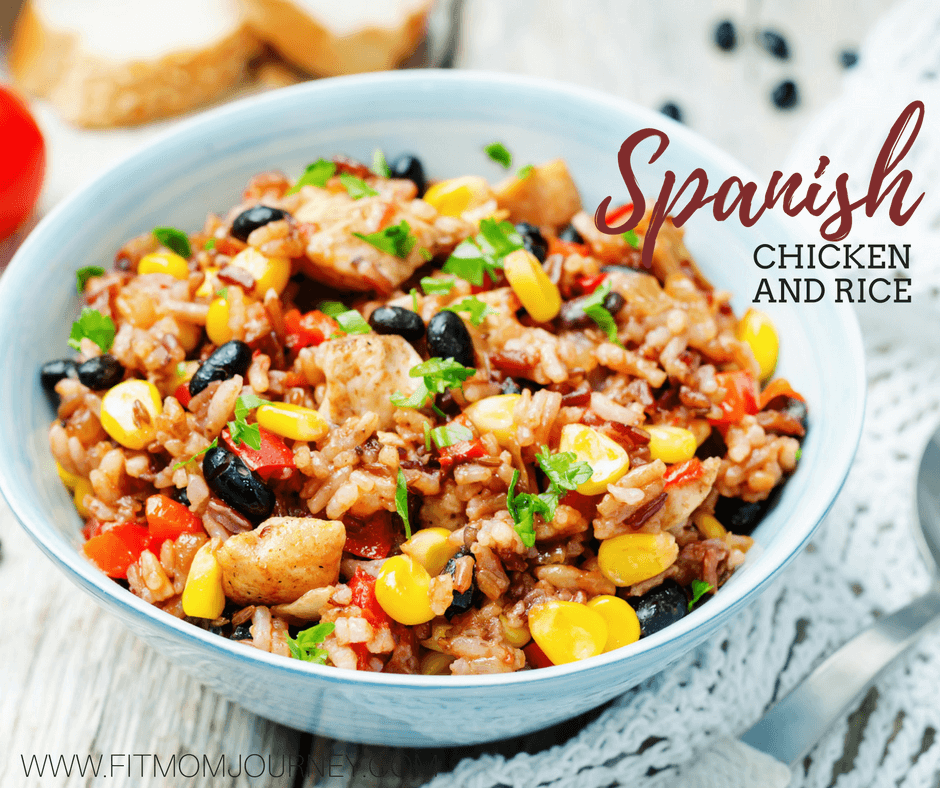 This dish has a backstory, and while I'm not going to promise that it's super exciting, the truth is that I struggle with what to put ahead of these recipes.
Do you want to hear about family life?
Talk about current events?
Or just talk about the recipe itself?
But anyway, when I was a kid, my mom would make something called Spanish Rice, and although I didn't hate it, I didn't look forward to it either.
Basically, it consisted of chicken, rice, beans, and some sort of tomato sauce with spices and seasonings.
A filling and frugal meal, for sure, but not my favorite (sorry, mom!)
This was partially because I had a huge aversion to beans and tomatoes, and my family wasn't exactly open to trying new dishes.
Thankfully, as I've gotten older, my tastes have developed to LOVE spicy food, beans and I could practically eat a salad made entirely out of Cilantro.
I've sort of developed a love affair with flavor, you could say.
And that's why I've put together this spin on Spanish Rice, and called it Spanish Chicken & Rice.
You can make this in the slow cooker, spice it to your liking, and it's an E Meal that I actually look forward to!
New to Trim Healthy Mama?  Check out Trim Healthy mama 101
I should also mention that we get our fresh, never frozen, all natural chicken breasts for $1.49/lb or less from Zaycon Foods.  We buy them in 40 pound cases, then separate them into freezer bags, pack with marinades, and freeze.
This makes meal planning super simple and definitely cuts down on our meat costs + trips to the store!
If you're interested, you can sign up for Zaycon Foods through my link to see when chicken breasts will be available in your area.
A couple of food notes: If at all possible, use brown or wild rice.  White rice, while filling and cheap, is the equivalent of sugar because of how the carbohydrates in it digest.  So even though you can eat almost everything you ate pre-THM, white rice just isn't one of them!
Also, watch the sugar content of your diced tomatoes and tomato paste.  Organic isn't necessary, but check the label for added sugar (some sugar is normal in tomatoes) and buy a brand without any extra!
Now, on to the recipe!
Slow Cooker Spanish Chicken and Rice (THM:E)
Prep time:
Cook time:
Total time:
Ingredients
4 Boneless, Skinless, Chicken Breasts
4 Tablespoons Taco Seasoning
1 Chopped Red Bell Pepper
1 Chopped Green Bell Pepper
1 Chopped Yellow Bell Pepper
1 Yellow Onion, Chopped
4 T Chopped Garlic in Oil
2 cans Diced tomatoes, or 1 can Rotel and 1 can regular diced tomatoes
1 small Can Tomato Paste
1 can Chickpeas, drained and rinsed
1 can Corn
1 can Black Beans
½ cup Cilantro, finely chopped
4 cups cooked Wild Rice
Instructions
Place a slow cooker liner in the cooker's crock. Add chicken breasts to the bottom and sprinkle the taco seasoning over them.
Then, pour in the tomatoes, tomato paste, cilantro, onion, garlic, and chopped peppers.
Lock the lid on your slow cooker and cook on low for 6 hours, stirring a few times while it cooks.
After the 6 hours, pour in the corn, black beans, and chickpeas, then cook for 2 more hours on low.
About 30 minutes before dinner, cook 1.5 cups of wild rice + 3 cups of water in a rice cooker. Fluff it with a fork when cooked.
Shred the chicken with a fork in the sauce, then spoon over rice to serve.
Talk soon,
Gretchen
---
Like this recipe?  Join the FMJ newsletter for more recipes, tips, and tricks:
---
This post may contain affiliate links. See my disclosures for more information.