Even though I'm a self-proclaimed chocoholic, there are SOME healthy foods that I could live on for the rest of my life.
The Oriental Chicken Salad from Applebees is one of those foods – except it's not healthy.  The version from Applebees has 1,290 calories (and entire day's worth of calories for me!), 82 grams of fat and 2300 grams of sodium.  Way, way unhealthy for a salad.  Unfortunately, many salads found at restaurants actually have more calories than an entree, but the taste in this one is right on point.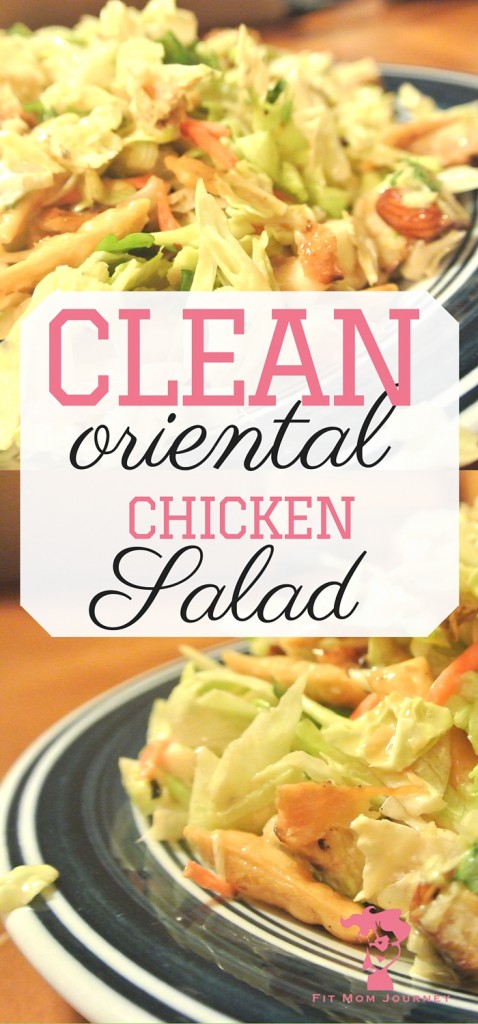 Plus, our budget doesn't always allow for eating out, so I found a delicious version of Applebees Oriental Chicken Salad nearly a year ago and I've been making it a few times a month ever since.  I've since tweaked it to make it more clean, lower the calories and up the protein.  It's time-tested, which means that it's high time I share it with you!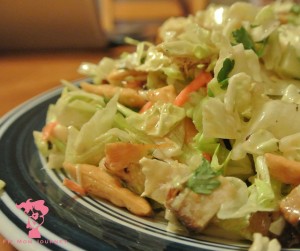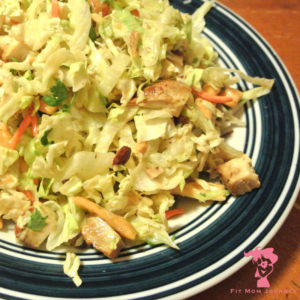 Chopped Clean Oriental Chicken Salad
Prep time:
Cook time:
Total time:
Ingredients
Dressing:
6 T Organic Honey
3 tsp Rice Vinegar
½ cup fat free mayo or plain greek yogurt
2 tsp. Dijon Mustard
¼ tsp. Sesame Oil
Salad:
6 oz. grilled chicken, chopped into cubes
1 head of Iceberg Lettuce, cut into thin strips
1 bag Oriental salad mix
1 T. sliced almonds
¼ c. fried wonton strips (optional, leave off to save calories and fat)
Instructions
Cut up the chicken into small cubes and toss it with the iceberg lettuce and oriental salad mix.
Mix up the dressing by whisking everything together well, and toss with the salad. Top the salad with the sliced almonds and fried wonton strips.