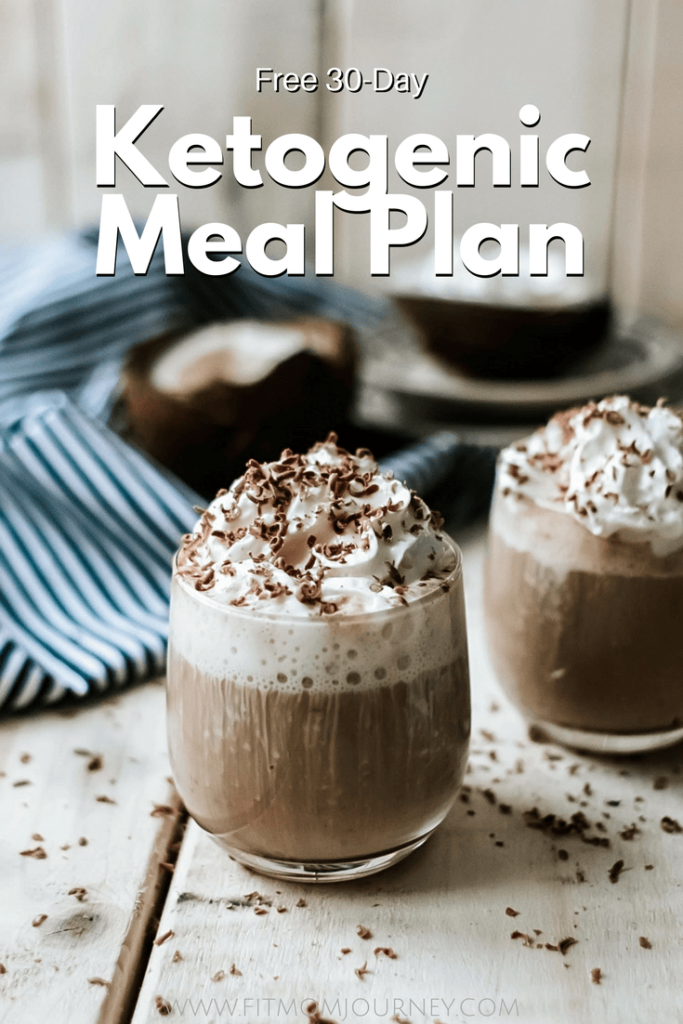 ---
30 Day Keto Meal Plan
You've read all about Keto, weighed the pros and cons, an are excited to jump in.  You're going to be keto.
First of all, congratulations and welcome!  You're in good company, both here and probably in your everyday life.  More and more people – athletes, normal people, and everyone in between – are embracing keto to help them feel better, get healthier, and achieve their goals.  They're using fat for fuel, keeping carbs low, and eating healthy amounts of protein – and they're gaining huge benefits from it!
But even after you've decided you're in, you might discover something really uncomfortable after a few days: you bail because you didn't have a plan.
Sure, eating meat and cheese is easy for 3 days, but after that you get bored and call it quits.
No shame, I did that too.
So when you are ready to make plan and stick with it, you can breathe easy, because I've done the planning for you.  At least for the first 30 days.
I'm not here to sell you on the Ketogenic Diet.  If you're here, you've already decided to give keto a go.  (If not, check out Intro to Keto, and my Ketogenic Index for more info)
Today, I'm going to give you a plan.
I've chosen to use ButcherBox here for all the proteins, and built the meal plan around a Custom Big Box.  I chose that box because we have a family of 3, my husband eats for 2, and being a weightlifter my protein needs are greater than your average woman.
If you eat less protein than we do, you could make do with a smaller box or even stick with the box I used and pack the leftovers for lunch the yesterday.  I actually prefer using dinner's leftovers for lunch the next day because I find that it's really hard to make time to cook an entire meal for lunch the next day.
I chose a variety of protein sources – beef, chicken, and pock – for this 30 day meal plan.  They were chosen both for affordability, and for the occasional splurge on a higher-priced protein like beef.
If you're not familiar with ButcherBox, here's how it works:
Each shipment contains a MONTH's worth of meat, which is flash-frozen and delivered in an eco-friendly reusable insulated bag, and then packed with insulation and dry ice.
You have two different options to choose from when ordering: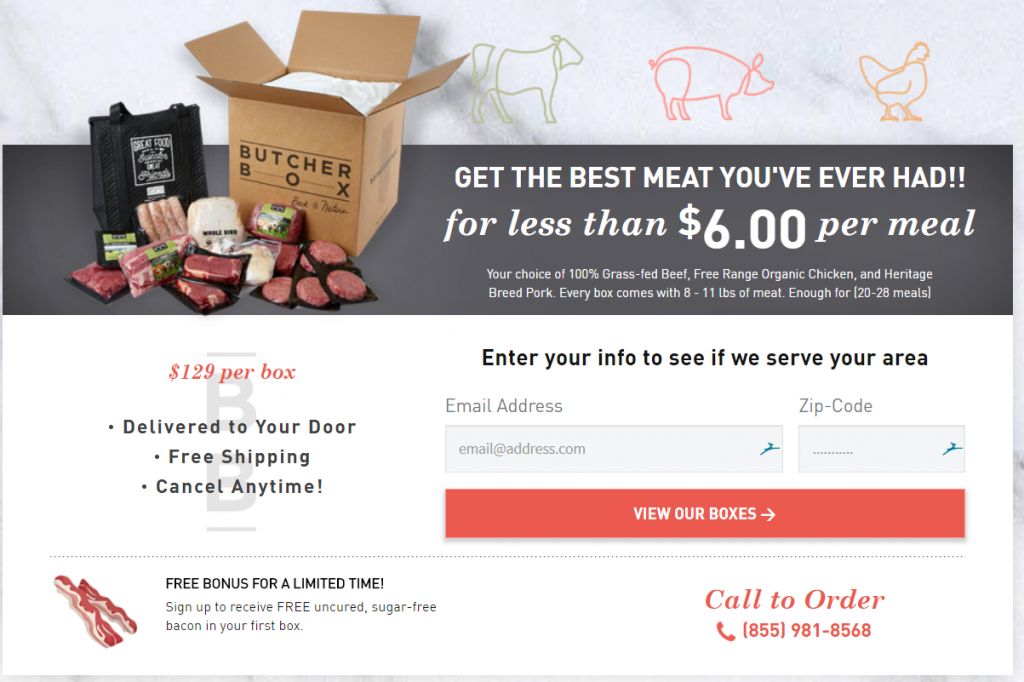 You can choose from different combination box options:
Mixed Box
Beef & Pork Box
Beef & Chicken Box
All Beef Box
Custom Box

From there, you have the option for different boxes, based on your family size or how much grass-fed meat your family needs each month, as well as as your delivery preferences.
The larger boxes are the best value here, when you figure price per pound.
You also have the option to choose delivery every month, or every other month.

I like to choose the Large Custom Box, because I base my meal plan off of what I know is coming in our Butcher Box.  When you choose a Custom Box, you get to choose which meats you receive.  In our Box, we got to choose 6 Everyday Cuts, and 6 Premium Cuts. (For a Classic Box, you would choose 3 Everyday Cuts and 3 Premium Cuts)
Everyday Cuts:
Ground Beef
Burgers
Beef Stew Meat
Steak Tips
Party Wings
Breakfast Sausage
Drumsticks
Bone-In Chicken Thighs
Boneless, Skinless, Chicken Thighs
Whole Chicken
Premium Cuts:
Whole TriTip
Top Sirloin Steaks
NY Strip Steaks
Ribeyes
Flat Iron Steaks
Bone-in Pork Chops
Boneless Pork Chops
Whole Pork Tenderloin
Baby Back Ribs
Chicken Tenders
Boneless, Skinless, Chicken Breasts
If you don't mind being surprised by what comes in your box every month (don't worry, it;s normal stuff, only the items listed above) you can choose any options besides the Custom Box.  When you choose these options, your box will come with :
Curated Recipe Cards for the meats in your box
Fast & Free Monthly Delivery
Cooking tips, tricks and videos
Here's how ButcherBox explains their ordering process:
How It Works:

Build your custom box with 6 of your favorite cuts for a Regular Box, or 12 for a Big Box. For a Regular Box, select 3 from Everyday category, and 3 from the Premium category. For a Big Box, choose 6 and 6 from each. At this time no substitutions are allowed. Choose your delivery frequency of monthly or every 2 months, and select any add-ons. You can change your box assortment, size, and delivery frequency at any time prior to your next invoice date in your ButcherBox account at butcherbox.com/login.
You can read my full ButcherBox review here.
Now that you've got your protein sorted, here are some of the staples you should keep around for your Ketogenic Diet:
Whole eggs
Avocados
Full-Fat Cheese
Butter
Ghee
Fatty nuts and seeds: macadamias, pecans, walnuts, cashews, pumpkin seeds
Beef: ground chuck, sirloin, ribeye, chuck roast
Chicken: thighs and legs
Olive Oil
Coconut Oil
Heavy Cream
Sour Cream
Cream Cheese
Fatty fish: salmon, sardines, mackerel
Pork Rinds
Vegetables: spinach, broccoli, cauliflower, asparagus, mushrooms, bell peppers, baby radishes, brussel sprouts, onions, cabbage, romaine lettuce
Pork: bacon, pork chops, pork steaks
Bone broth: chicken and beef
Of all the things on this last you should keep stocked, the last item, bone broth, is the most important.
Why?
Because it helps with Keto Flu.  Within the body, water is stored (among other places) in the muscles by binding to carbohydrates.  When we cut carbs, those carbs and water in our muscle are used up, and this can cause dehydration.
Bone broth helps prevent this dehydration – and drastically improves Keto Flu.
Also important: Keto Sweets.
Most of us have a sweet tooth, and although your hunger will naturally go down when you Keto, you're still going to want sweets.
One of the best ways to do this is by using fat bombs.  Fat bombs are great at satisfying your sweet tooth as well as getting and keeping you into ketosis by having high levels of fats and very low carbs.  Protein is kept pretty low in fat bombs as well.
If you want more information about the Ketogenic Diet before jumping into the Meal Plan, check out the following helpful resources:
Keto 101 (What The Heck is Keto?)
Keto Quickstart – Free Guide
#60daysketo: What 60 Days in Ketosis Did For More
7 Ways to Know You're In Ketosis
The Best Keto Supplements to Help You Get and Stay in Ketosis
How to Beat Keto Flu
How To Calculate Your Keto Macros
The Right Way to Use Exogenous Ketones
Common Ketosis Myths
Keto FAQ's
Ready to jump in?
This meal plan serves 4 people.
Here's what to order in your ButcherBox (and if you order through my link, you'll get free bacon!)
EVERYDAY CATEGORY
(2)2 x 1lb Grass-Fed Ground Beef (4 meals)
3 x 1lb Bone-In Chicken Thighs (3 meals)
Whole Chicken (4 meals)
2 x 1lb Beef Stew Meat (3-4 meals)
6 x 1/3lb Burgers (1-2 meals)
PREMIUM CATEGORY
1.5 lb Whole Tritip (2 meals)
4 x 6oz Top Sirloin Steaks (1 meal)
4 X 8oz Boneless Pork Chops (1 meal)
2-3lb Baby Back Ribs (2 meals)
3 x 1lb Chicken Tenders (3 meals)
3 x 1lb Boneless, Skinless Chicken Breasts (3 meals)
Total = 30 Meals or more!
Night #1: Keto Mozzarella Stuffed Meatballs (1lb Grass-Fed Ground Beef)
Night #2: Sweet Chili Chicken Thighs ( 1lb Chicken Thighs)
Night #3: Butt Rub Pork Chops with Keto Coleslaw (4 x 8 oz Boneless Pork Chops)
Night #4: Asian Chicken Salad (1lb Chicken Thighs)
Night #5: Keto Beef Stew (1lb Beef Stew Meat)
Night #6: Shredded BBQ Pork Sandwiches (leftover shredded pork chops, and slaw)
Night #7: Keto Chili (1 lb ground beef)
Night #8: Slow Cooker Crack Chicken (1lb Chicken Breasts)
Night #9: Sirloin Steaks
Night #10: Leftover Keto Beef Stew
Night #11: InstantPot Rotisserie Chicken (whole chicken)
Night #12: Buffalo/BBQ Chicken Tenders
Night #13: Easy InstantPot Roast (Tri-Tip)
Night #14: Verde Enchiladas (shredded chicken)
Night #15: Chicken Pot Pie Soup (1lb Chicken Breasts)
Night #16: Keto Beef Tips (1lb Beef Stew Meat)
Night #17: Leftover Easy InstantPot Roast
Night #18: Paleo Baby Back Ribs (Ribs)
Night #19: Keto Chicken Quesadillas (chicken)
Night #20: Cheeseburgers on Joseph's Lavash (Burgers)
Night #21: Sweet & Spicy Chicken (1lb Chicken Breasts)
Night #22: Keto Chicken Salad (1lb Chicken Tenders)
Night #23: Keto Chicken Enchiladas (whole chicken)
Night #24: Leftover Paleo Baby Back Ribs
Night #25: InstantPot Keto Shepherd's Pie
Night #26: Leftover Chicken Tenders turned into Cobb Salads (1lb Chicken Tenders)
Night #27: Leftover InstantPot Chicken Pot Pie Soup
Night #28: Leftover Keto Chicken Salad
Night #29: Leftover InstantPot Shepherd's Pie
Night #30: Cheeseburger Salads (1lb Ground Beef)
Download now:
YOUR MACROS ON KETO
Switching to a high fat diet is great, but you're not truly Keto until you get your macros right.  Getting your macros right is extremely important to Keto – and you'll see the best results when you do.
At least in the beginning, I highly encourage you to track your macros on an app. (macros are fat, carbs, and proteins)  Once you get the hang of it, you'll be able to lay off the tracking, but in the beginning it's helpful.
Here's how keto macros break down:
70% Fat
5% Carbohydrates
25% Protein
However, you macros may vary based on your goals, lean body mass, and activity level – and so will your macros.
I recommend using the Perfect Keto Macros Calculator.  This calculator is very easy to use, and customizable to your goals.
For example, here are my macros from the Perfect Keto Macros Calculator: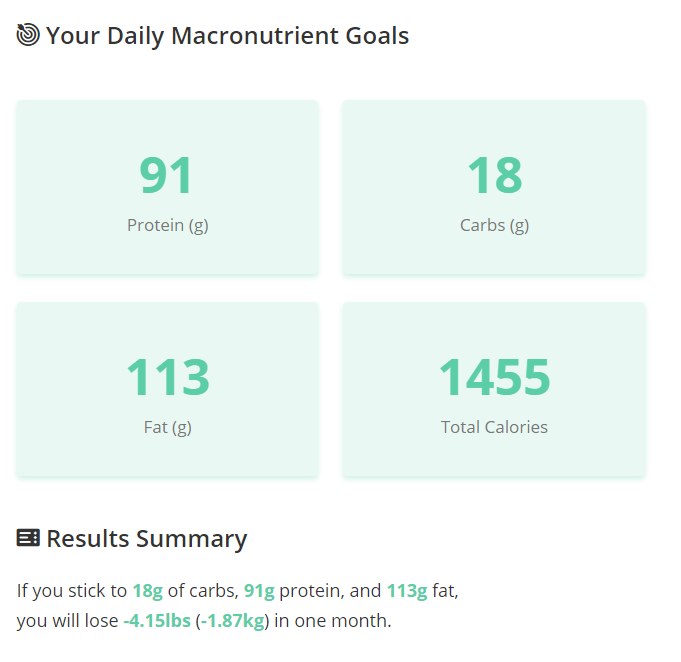 If you don't know your keto macros or are unsure, check out my post How To Calculate Your Keto Macros and the Perfect Keto Macro Calculator to find out the perfect macros for you.
When you're ready, download the 30-Day Keto Meal Plan to start living the Keto Life!
Download The Meal Plan
And don't forget to visit ButcherBox to order your box and claim your free bacon!
xoxo,
Gretchen
---
Ready to start keto?  Download Keto Quickstart, the free guide that will jumpstart your Ketogenic lifestyle:
---
This post may contain affiliate links.  See my disclosures for more information.