Let's see a show of hands:  whose family isn't totally on the Trim & Healthy Train yet?
Admittedly, it's easier to get used to separating your carbs and fats while eating regular food, than it is to get used to stevia and funky low-carb flours in desserts.  Even so, sometimes the family like to rebel.
Mozzarella Stuffed Meatballs are one of those dishes that my husband and daughter will both eat without complaint, and they're even normal enough to take to a church potluck, or even serve as an appetizer during Game Night, so they're on the meal rotation pretty regularly at our house.
Now, regular meatballs with marinara sauce are great, but the added step of stuffing them with mozzarella is an upgrade over the original.  It's such an expected surprise to find the middle stuffed with yummy melting cheese!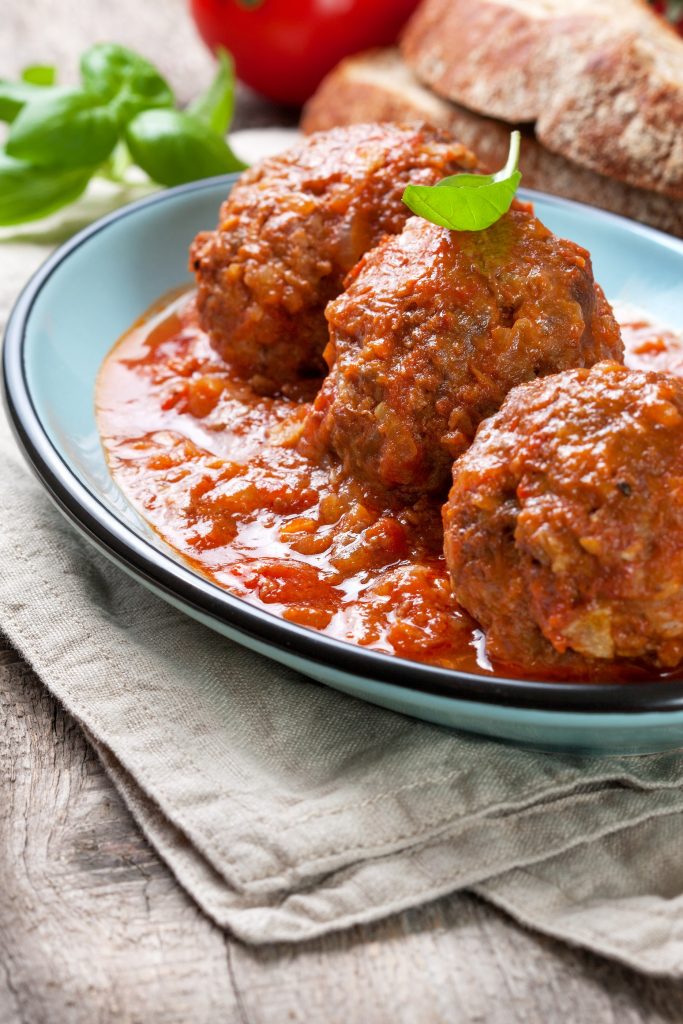 To make these meatballs, I use 90% lean ground beef, as I think it has a better flavor.  Since they're an S Meal, you don't have to limit the fat in them.  The meat is then combined with almond flour, egg, and seasonings, then wrapped around cubes of mozzarella cheese.
Their nature makes them bigger meatballs, up to 2 inches in diameter.  You can go smaller on the meatballs by cubing your mozzarella smaller, but I like a really good amount of mozzarella in the middle, so I choose to make the cubes and meatballs larger.
As far as cooking them, my favorite way is to place them in a pan, pour marinara sauce over them, top with cheese, and then cook in the oven.  Usually in our house, I make these in triple or quadruple batches, freezing them for later use.  If I'm cooking them from raw, they usually take 30 minutes at 350.  Or if I'm cooking them from frozen, they take about an hour at 350, half of the time covered in foil.
Pro Tip: If you're freezing the meatballs for later use, lay them on a foil-covered cookie pan so they're not touching.  Freeze overnight, then put into freezer bags for use later.  When you're ready to cook them, pop them straight in a pan, cover with marinara, and follow the cooking directions for frozen meatballs above!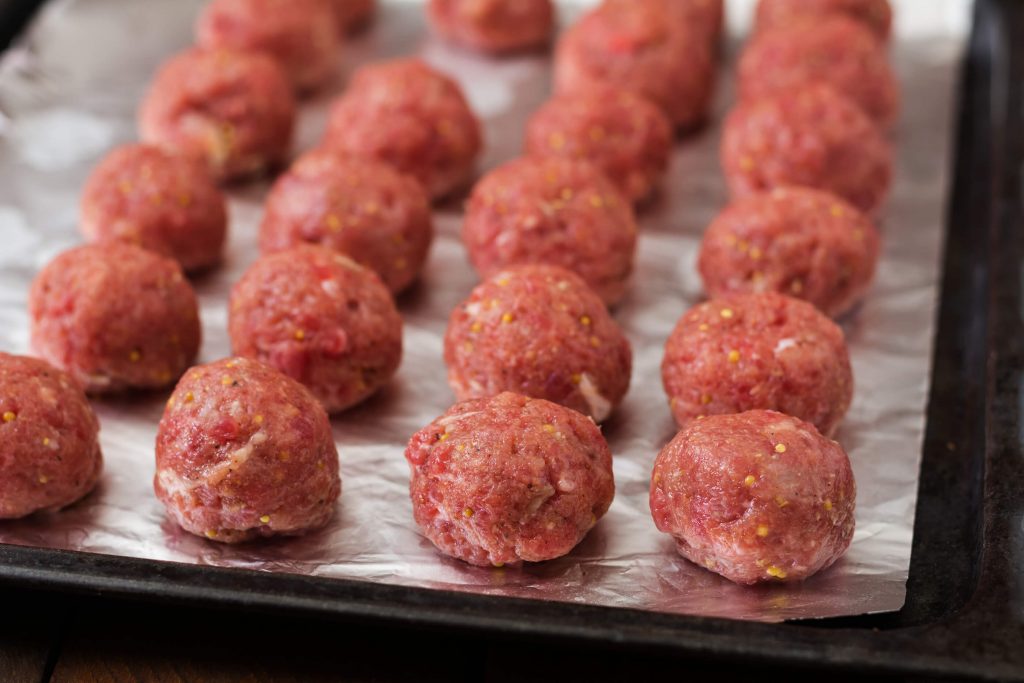 Now, with an S meal, we have to be really careful to carbs, and marinara sauce has carbs.  So to keep them in check, I choose high-quality jarred tomato sauce without added sugar.  Tomatoes do have natural sugar in them, though, so I scoop the meatballs out, trying to avoid putting a lot of sauce on my plate.  For reference, though, 1/2 cup of the sauce I use has 8 grams of net carbs, so as long as I'm not scooping it out of the pan, and just enjoying the bit that coats the meatballs, I'm within carb limits.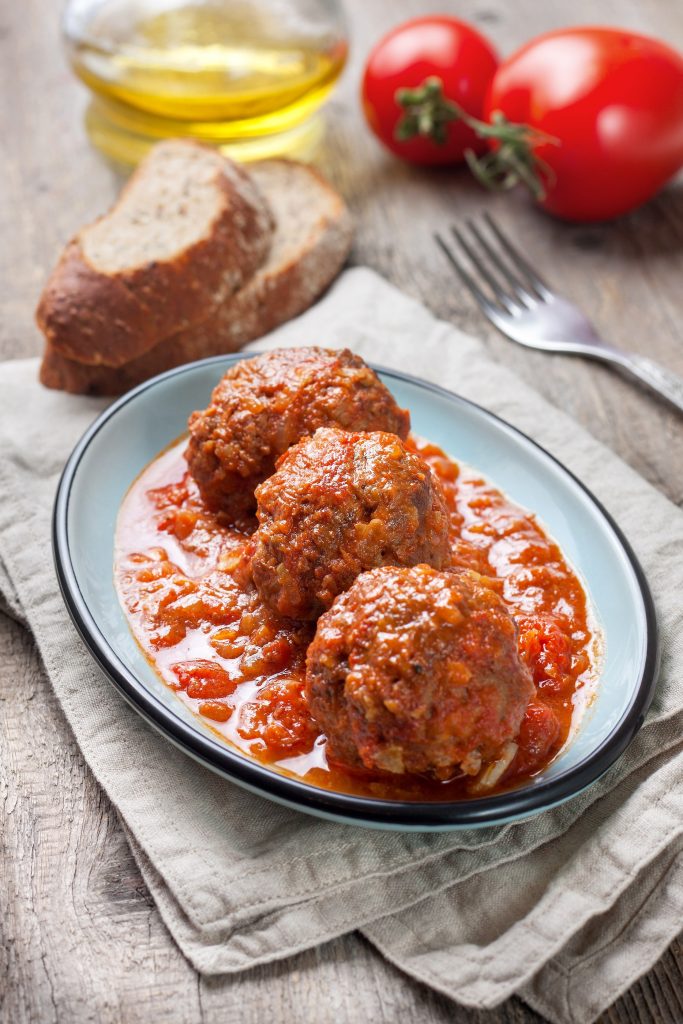 My husband and daughter eat this with spaghetti, which is a no-go for an S Meal.  Usually I just eat the meatballs without pasta – they're plenty good, believe me! – but if I really have a hankering for pasta, I'll use some Miracle Noodles.  Even better though, is serving these Mozzarella Stuffed Meatballs with steamed broccoli on the side!

Low Carb Mozzarella Stuffed Meatballs
Recipe type:
Entree Side Dish
Prep time:
Cook time:
Total time:
Ingredients
1.5 pounds Ground Beef
¼ cup Almond Flour
1 tsp Sea Salt
1 tsp Ground Black Pepper
1 tsp Garlic Powder
1 Tbsp Oregano
1 Egg
6 ounces Mozzarella Cheese, cut into ½ inch cubes
3 cups Marinara Sauce
1 cup shredded Mozzarella Cheese
Instructions
Preheat your oven to 350. In a large bowl, using your hands, combine the ground beef, almond flour, salt, pepper, garlic powder, oregano, and egg until mixed thoroughly.
Scoop out the meat using a cookie scoop (about 2 Tbsp of meatball mixture) and roll it into a ball. Press a cube of cheese into the center, rounding the beef around it.
Place the meatballs on a foil-covered pan as you make them. When you're finished, pour the marinara sauce over the top of the meatballs, followed by the shredded mozzarella cheese.
Bake, covered for 20 minutes, then uncover and cook for an additional 10 minutes.
Serve with broccoli and Miracle Noodles, or regular pasta if you're having a crossover.
This recipe is one of my family's favorites!  Let me know how yours likes them in the comments!
Talk Soon,
Gretchen
This post may contain affiliate links.  See my discloures for more information.