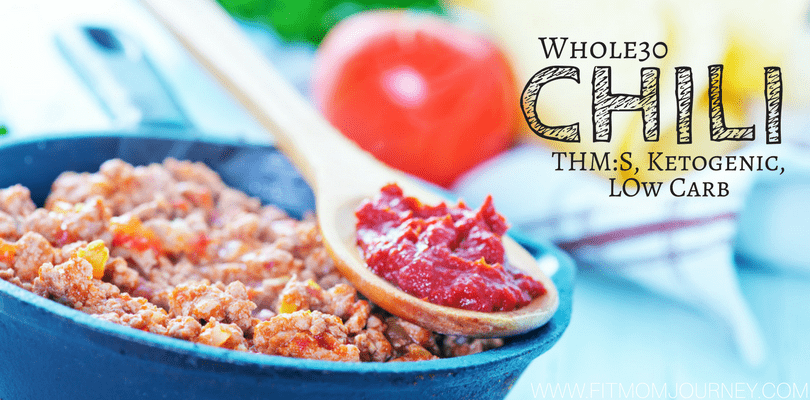 InstantPot Whole30 Chili Recipe
Hey ya'll!
Can we talk about how amazing fall weather is?
I am a summer girl, until summer turns too hot, and then I find myself wishing for the changing leaves, scarves, boots, and warm drinks!  Soups are a favorite of mine too!  Ever since getting my InstantPot I've been looking forward to soup weather.  Whether you make soups in the InstantPot, Slow Cooker, or on the stove, I'm sure you've been looking forward to cool weather so you can make soup again too.
Related: 7 Leggings Every Fit Girl Has on Her Christmas List
The best thing about this chili?  Even though it's Whole30 (read: lots of work….usually) it only takes 30 minutes start to finish.  You can start with completely frozen ground beef (I do!) and it only takes 1 pan.  The only pan you'll use is the one inside your InstantPot.
You don't want to cheat your Whole30, do you?
No more stopping for a pizza on the way home.
No more picking up carryout after a busy day.
No more giving into the kids' mac 'n cheese.
---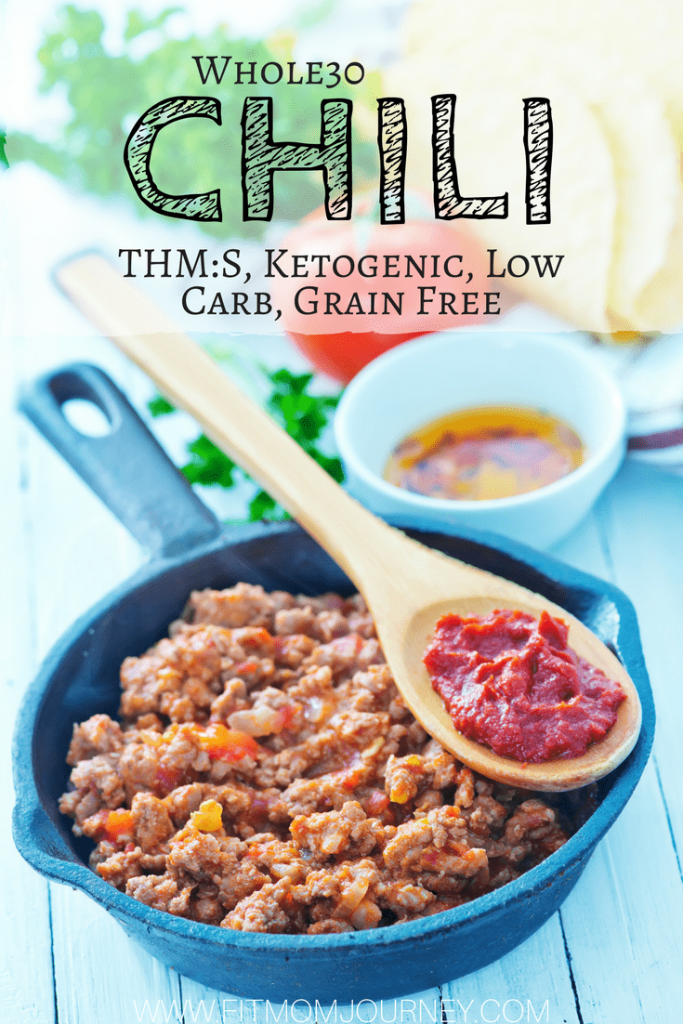 Hopefully, you already have or most all of these ingredients in your refrigerator.  For our family, no matter what I have on the meal plan for the week, I always pick up a bag of onions, tri-colored peppers, and tomato paste during my shopping trip.  Usually I pick up a family pack of ground beef  for good measure too – don't want to run out of that!
Related: Inexpensive Whole30 Pantry Staples + Price List
You're going to love this Paleo, Whole30 Chili Recipe.  It's simple to make, yet packed with flavor.  And the really great thing is that you can get creative with toppings (or bases!).  Here are some of my favorite toppings and bases:
Sweet Potatoes
White Potatoes
Zoodles
Onions
Bell Peppers
Guacamole
Avocado chunks
Chopped Carrots
Chopped Cilantro
Mushrooms
One more pro tip: This Whole30 Chili Recipe makes 4-6 servings, depending upon if you're feeding kids or adults, but if you want to save yourself a ton of work (who doesn't when you're on Whole30?) double it and put the leftovers in the fridge for lunches the next day or even to reheat for a busy night's dinner.  If you want to save it for a week or longer, it keeps great in the freezer, too.
You may also enjoy:
Slow Cooker Chicken Broccoli Soup – THM:S
11 Vegetables You Can Spiralize: Tips, Tricks & Recipes
Slow Cooker Pork Carnitas
Whole30 InstantPot Carnitas
Whole30 Pantry Staples + Price List
Trim Healthy Mama Crockpot Taco Soup
THM:S Chicken Chili
Affiliate Links: the following links will take you to some of the tools I used to create this recipe.  When you purchase through my link, I get a small commission, at no cost to you, which helps to support the cost of running this site.  This means more FREE recipes and resources for you.
Here's my Whole30 Chili Recipe, enjoy!

InstantPot Whole30 Chili Recipe
Prep time:
Cook time:
Total time:
Ingredients
2 lbs Ground Beef
1 Yellow Onion, chopped
1 Yellow Bell Pepper, chopped
1 Orange Bell Pepper, chopped
1 Red Bell Pepper, Chopped
1 small can Tomato Paste
3 T Chili Powder
1 T Garlic Powder
1 T Cumin
2 cups Water, divided
1 tsp Salt
1 tsp Pepper
Instructions
Place the steaming rack in the bottom of your InstantPot, followed by 1 cup of water. Remove 2 pounds of frozen ground beef from the freezer and stack on top of the steaming rack. Set your InstantPot to sealing, for 15 minutes on high pressure.
While the ground beef cooks, chop your onions and bell peppers. Mix up your spices in a separate bowl.
When the InstantPot is done, do a quick release, then lift the steaming rack out with the ground beef still stacked on top, and set aside while you drain the liquid in the bottom of the InstantPot bowl. Replace the bowl in the InstantPot and dump the ground beef back in, setting the steamer rack aside to be washed.
Chop the ground beef in the bottom of the InstantPot, then add in the spices, tomato paste, chopped onions, peppers, and water, mixing thoroughly to combine. Replace the lid, and cook for another 5 minutes on high pressure.
Do a quick release, then serve the chili while it's still warm with the topping of your choice.
xoxo,
Gretchen
---
If you like Whole30 recipes, I would love for you to subscribe to my newsletter!
---
This post may contain affiliate links.  See my disclosures for more information.