I completely and totally have a holiday baking supplies addiction.
Especially when they go on clearance AFTER Christmas.
I mean, what's not to love about 25-cent sugar decorations, 50-cent food gift bags, cupcake liners, cookie topper, sprinkles, and more??  That 75% off rack just calls to me!
My husband doesn't mind too much, since I'm pretty organized with my baking supplies.  In the case of Christmas baking, I throw all of my clearance finds in in a small plastic tote, and then store them in the downstairs pantry until the next Christmas.  This helps me stay organized and on budget.  (Down there I also have storage for Birthday Baking/Decorating, Halloween, Thanksgiving, and more.  Yes, I may have a problem….)
Last year, though I stumbled upon some super cute gift bags and even though I didn't have a use in mind for them then, I now know exactly what I'm going to do with them: use them to put sugared pecans in and give as gifts!
I mean YUM!
We're working with a fairly strict Christmas budget this year, but not only are these super easy to make in the slow cooker, they're the perfect gift to give to stay on budget!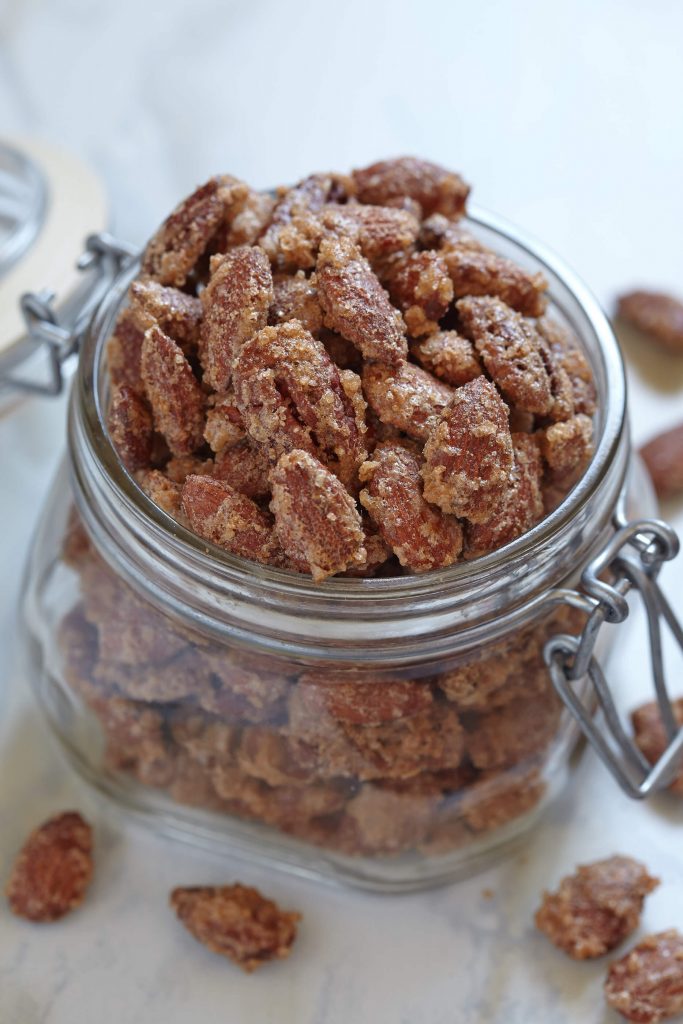 I do have some serious favorites when it comes to ingredients and products that I cook with, so to give you an idea, here are some quick links of the foods and items I use.  These are affiliate links, so if you click on them and buy something, I may make a small commission.  This helps these recipes stay free, and there is no cost to you!
Where to buy supplies
Crockpot Sugared Pecans THM:S
Prep time:
Cook time:
Total time:
Ingredients
1 lb Pecan Halves
½ cup Organic Butter, melted
½ cup Gentle Sweet (or like xylitol/stevia sweetener)
2 tsp Cinnamon
½ tsp Allspice
Instructions
Place a crockpot liner in the slow cooker. In the bottom, place the pecans, then drizzle with the melted butter and stir until every pecan is coated.
Add the Gentle Sweet and spices and stir thoroughly.
Set the crockpot to low and let it cook for 3 hours, uncovered, stirring every now and then.
Place parchment paper on the bottom of a jelly roll pan, then spread the nuts evenly on the pan and let them cool.
Store in an airtight container, or package in bags to give as gifts.