Easter is today, and to me, it's the unofficial start of spring.
Yep, I know the "real" start to spring was about a week ago, but that doesn't stop me from waiting until Easter to embrace all things spring.
By a long shot, Easter is my favorite holiday.  We celebrate at church with Easter breakfast and a special service, then head back to our house where the entire family (17 people in total!) descended upon our newly renovated kitchen for Easter dinner followed by an Easter egg hunt!
This was the first year that our daughter was old enough to actually participate in an enjoy an Easter egg hunt, possibly because I've been priming her for weeks.  It started 2 weekends ago at my husband's (National Guard) Unit's Family Easter Egg Hunt.
This was her first real exposure to Easter eggs, but once she figured out that candy was inside, she was all about it!
Then, for the last week, whenever she would go on the potty – we're deep into potty training mode – I would give her an Easter egg full of candy.  By the time the Easter egg hunt rolled around, on Easter, she was raring to go!
It probably also helped that she didn't have too much competition, seeing as her only cousin is a year old.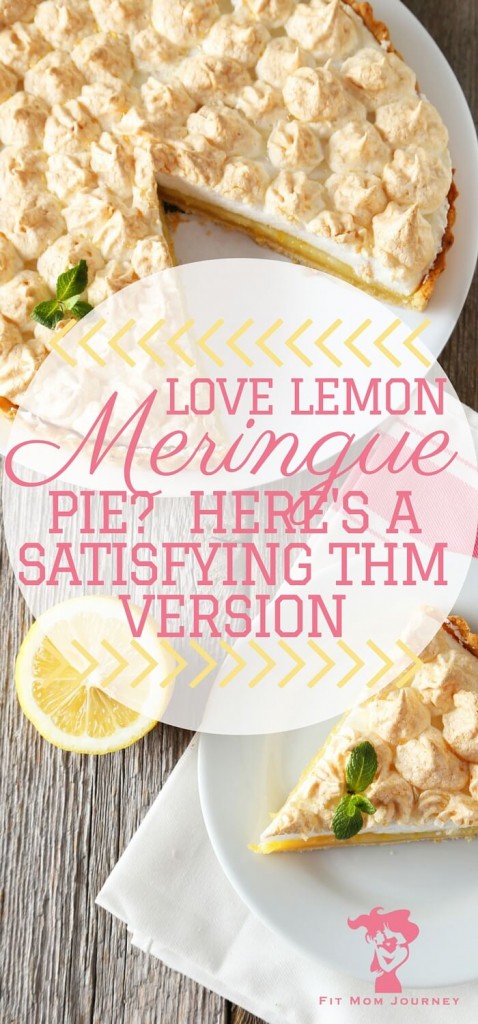 But back to the recipe…..
One of my favorite spring things is lemon….all the lemon.  Lemon bars, lemon cake, lemonade, and even cooking chicken and fish with liberal amounts of lemon.  Not only does lemon look pretty and yellow, it tastes fresh and bright like spring, no matter if the weather outside thinks its still winter!
Lemon Meringue Pie is a particular favorite of mine, especially for Easter dinner.
Tart lemon, pillowey meringue, and flaky crust all make this the highlight of Easter dinner, but it's not the easiest treat to make.
Let's talk about the meringue for a moment.  There are a couple of really important factors that go into making meringue a success: meringue to custard ratio and weeping.
I like LOTS of meringue.  It's totally a personal preference thing, but I like a little less than a 2:1 meringue to custard ratio.  With that ratio, I find that the lemon in the custard is balanced perfectly with the gentle sweetness of the meringue.  Some like more meringue, and some like less, but this recipe reflects my personal preference for the amount of meringue.
Weeping is the other issue that many people encounter when making lemon meringue pie, and it's a serious one.  What is weeping?  It's that liquid layer that sort of "melts" off of the meringue, and sits between the meringue and custard.  It's doesn't taste terrible, but it ruins the whole lemon meringue pie experience.
This meringue is just about foolproof.  If you make it correctly, it won't weep (thank goodness!) but there are quite a few ways to ruin meringue (I've ruined about 300 batches so far) so don't feel bad if it takes you a few tries!
Finally, I prefer to make this pie crustless, but if you like the crunch of a crust, check out my No-Fail THM Pie Crust.  It's quick and easy, but if you plan to make it, put it together a few hours before you plan to start the pie, since it needs to set for a few hours in the fridge.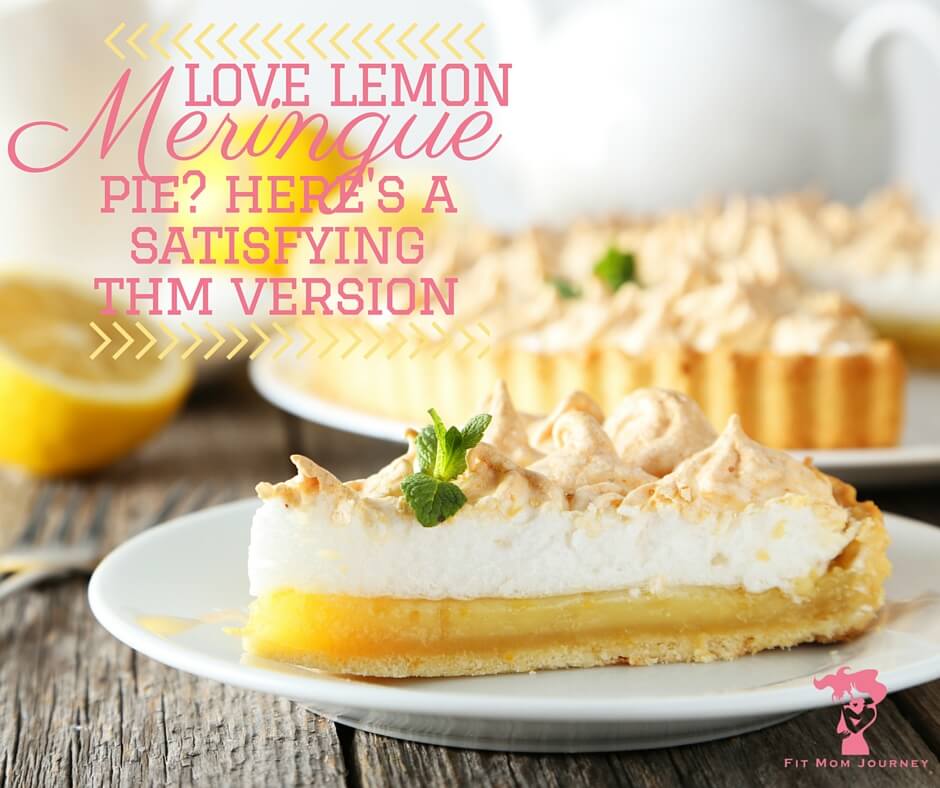 So without further ado, here's my recipe for no-fail, weep-less THM Lemon Meringue Pie:
Love Lemon Meringue Pie? Here's A Satisfying THM Version
Prep time:
Cook time:
Total time:
Ingredients
1 THM Pie Crust
¾ cup less 3 Tablespoon Gentle Sweet (or equivalent)
4 Tablespoon Xanthan Gum
⅔ Cup Milk
½ Cup Water
⅔ Cup Lemon Juice (refrigerated is fine)
5 Whole Egg Yolks (save whites for meringue)
2 Tablespoon Butter
½ Teaspoon Vanilla
¼ Teaspoon Xanthan Gum
1 Doonk Pure Stevia Extract
⅓ Cup Water
5 Whole Egg Whites
¼ Teaspoon Cream of Tartar
1 Teaspoon Organic Vanilla Extract
¼ Cup Gentle Sweet
Instructions
Prehead oven to 325 degrees while you prepare the custard.
For the custard, combine ¾ cup less 3 Tablespoon of Gentle sweet with 4 Tablespoons of Xanthan Gum in a medium saucepan. Once they are combined, slowly add the milk, lemon juice, and water, whisking to prevent lumps. Bring this mixture to a gentle boil, and stir until it just barely starts to thicken.
Next, separate the 5 egg yolks and whites into separate bowls. Beat the egg yolks and then slowly add them to the saucepan, stirring vigorously. The mixture will start to thicken rapidly, so only cook it for an additional 30 seconds to 1 minute before takikng it off the heat to beat in the 2 Tablespoons of butter and ½ Teaspoon of vanilla, then pouring it into the prepared THM crust, or into a glass pan without a crust.
Set the mixture aside to cool while you make the meringue.
Take out a small saucepan and in it combine the ¼ Teaspoon Xanthan Gum, 1 Doonk Pure Stevia Extract, and ⅓ cup water. Heat over medium heat until it comes to a boil and starts to thicken.
While this mixture is cooking, add ¼ Teaspoon Cream of Tartar and 1 Teaspoon Organic Vanilla Extract to the 5 whole egg whites, then beat on medium/high until soft peaks form.
Once soft peaks start to form, slowly beat in the ¼ cup Gentle Sweet, followed by adding 1 Tablespoon at a time of the xanthan gum/stevia/water mixture cooking in the small saucepan. Then, beat the meringue on high until stiff peaks form.
Use a spatula to scrape the meringue out of the mixing bowl and onto the lemon custard, anchoring the meringue to the pie crust, if applicable, and using the back of a spoon to create peaks.
Bake the pie in the preheated oven for 20 minutes, until gentle browning shows on the meringue peaks. This meringue, because of it's unique (THM) composition, will not brown quite as nicely as a traditional meringue, so don't be alarmed if it doesn't look quite done. Trust me, it is.
Allow the pie to cool for at least 4 hours before serving, or store int eh refrigerator overnight before serving.
In this recipe, I've listed several ingredients, all of which I get either from the Trim Healthy Mama Shop, or from Thrive Market.  The Trim Healthy Mama shop is pretty self-explanatory, and you can find it here, and I did a review of Thrive market + tell you how to get a 30-day trial of the Costco of healthy food for free here!
Need a few more THM indulgent treats?  Try these:
Until then, enjoy this guilt free Lemon Meringue Pie!
All The Best,
Gretchen
This post may contain affiliate links.  See my disclosures for more information.