When you're first introduced to Trim Healthy Mama, the sheer number of tasty recipes can be really overwhelming.
Honestly, that's one of the awesome things about THM: you don't have to deprive yourself of anything.
But the fact that there are millions of recipes to choose from makes it understandable that you may have skipped over a THM staple: Good Girl Moonshine.
Whether this is your first time hearing of it, or Good Girl Moonshine is as staple in your home, this recipe is one you don't want to miss!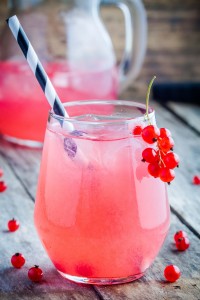 I've been experimenting with different variations of Good Girl Moonshine (see last week's Sunshine Lime Version) to help add some variety into my days as well as satisfy a serious sweets craving.  The drink also represents a chance to get a whole lot of feel-good ingredients (apple cider vinegar, essential oils, ginger, tea) into my day while satisfying some crazy strong cravings.
This recipes is the product of my brainstorming, and it's pleasantly sweet – very similar to the sugary Hawaiian punch that's a no-no as a Trim Healthy Mama!
I used TAZO Organic PassionFruit tea bags, but you could use any fruit flavored tea that you have laying around, or that looks good in the grocery store.  It also uses small amounts of essential oils to add flavor, as well as cherry extract. If you don't have those on hand but want to give this recipe a try, you can find the essential oils here, or the cherry extract here.
Next time a sweet drink craving arrives, or you're looking forward to a day at the pool with a fruity drink in your hand, give Tropical Punch Good Girl Moonshine a try!

Trim Healthy Mama Tropical Punch Good Girl Moonshine
Cuisine:
Trim Healthy Mama
Ingredients
1 Quart Glass (or larger)
2 Tea Bags TAZO PassionFruit Tea (or can use any fruity flavored tea)
2 Cups Boiling Water
2 Tablespoons Raw Apple Cider Vinegar with the mother
1 Doonk Trim Healthy Mama Pure Stevia
¼ Teaspoon Powdered Ginger
Ice
Lemon Essential Oil, 3 drops
Orange Essential Oil, 3 drops
Grapefruit Essential Oil, 3 drops
Cherry Extract, to taste
Straw
Instructions
Place the boiling water in a mug with the two tea bags and allow to steep.
While the tea is steeping, put the ginger powder, apple cider vinegar, pure stevia, essential oils, and cherry extract in the large glass or mason jar.
Before you pour in the tea, fill your glass or jar to the brim with ice cubes, the pour the tea over the top. Stir with a stirring stick or straw, and enjoy!