There was a time when I though I couldn't have ranch dressing.
This was way before I discovered Trim Healthy Mama, back when I was a runner, when I waitressed on roller blades for a living, and when I shed 50 pounds over the course of a year.  I did it by eating more salads, smaller portions and being super active.  Plus I was young, so my body responded readily and the weight came off.
But fast forward 7 years later, I'm married, have a child, and my metabolism isn't exactly raring to go anymore.  I was thirsty every single minute of every single day, and it was not pleasant.
Then I discovered Trim Healthy Mama and changed my life.  I have more energy, more muscle, and I eat way more than I ever did before.  Plus, my thirsty issue resolved itself, telling me that my throid was healing itself – a huge win in and of itself!
But I still love ranch dressing.
I've tried a bunch of different and version and non were perfectly on-plan.  Non had just fat, just carbs, or just protein, so I still couldn't have ranch dressing.
And after all, if I can enjoy good old hot wings on-plan, I should be able to enjoy a bunch of ranch dressing too, right?
Well, this is the beauty of Trim Healthy Mama, because there is a solution for everything, and today I'm going to share my Ranch Dressing solution with you.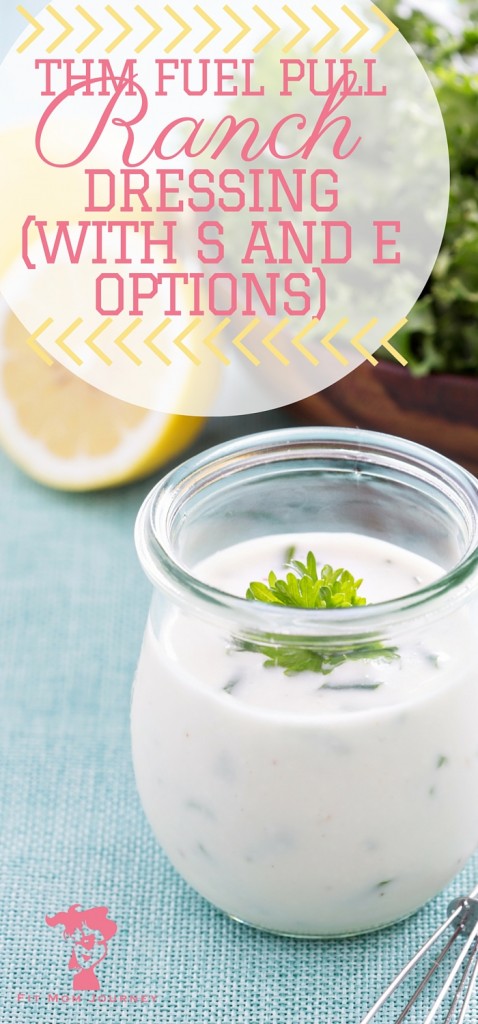 The beauty of Trim Healthy Mama Ranch Dressing
Not only is this dressing perfectly on-plan as a Fuel Pull, it takes 2 minutes to whip up and has a healthy dose of protein to boot!  In fact, I've been using this version of Ranch Dressing for so long, that the other day the hubs and I had store-bought ranch dressing and we hated it!
It tasted too sweet, was too boring, and didn't have enough flavor for us.  We've gotten used to the bright, fresh, flavor of this ranch dressing and we're never going back!

THM Fuel Pull Ranch Dressing (With S and E Options)
Ingredients
1 Cup Plain Greek Yogurt
½ Cup Skim Milk
1 Packet Ranch Dressing Seasoning
Instructions
Simply mix the above 3 ingredients together, pour into a glass jar, and let sit in the refrigerator for an hour before serving. Will stay fresh up to 2 weeks in the back of the fridge!
That's it, folks!  Recipes don't get much easier than this, nor are they much more guilt-free!
So cook up some on-plan hot wings tonight and enjoy them with some fresh, protein-rich ranch dressing!
Til Next Time,
Gretchen
This post may contain affiliate links.  See my disclosures for more information.