Strawberries have always had a special place in my heart.
As a child, I watched Strawberry Shortcake on TV and played with the doll.  I would pick them by the gallon from our garden, then eat as many as I could while they were fresh, freezing the rest to eat during the winter.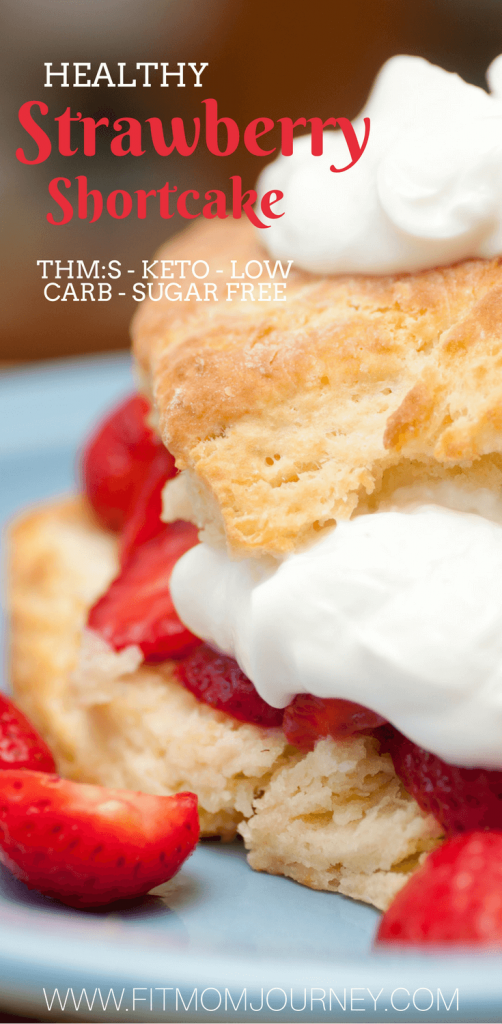 So for me, Strawberry Shortcake has always been a summer staple.  Pre-Trim Healthy Mama we would make it with those pre-made shortcakes you can buy in the grocery store, frozen Cool Whip, and frozen/fresh strawberries sweetened with copious amounts of sugar until it made a sort of strawberry sauce.
Delicious?  Sure.
On-plan?  Not so much.
With the weather getting warmer, we're clearing the weeds out of our garden and getting the strawberries ready, which has me majorly craving Strawberry Shortcake once again  – and with my new THM Pound Cake Recipe and Simple Whipped Cream, Trim Healthy Mama Strawberry Shortcake is a no-brainer.
It works as an S dessert, is ketogenic, sugar free, and low carb -not to mention a satisfying answer to my craving!
If you haven't yet experienced Food Freedom, please check out my Trim Healthy Mama 101 page for a quick-start guide, helpful downloads, and even meal plans!
If you like free Trim Healthy Mama recipes, I would love for you to sign up for my newsletter:

Healthy Strawberry Shortcake - THM:S, Ketogenic, Grain-Free, Sugar-Free,
Low Carb
Prep time:
Cook time:
Total time:
Ingredients
1 loaf THM Pound Cake
1 batch Simple Whipped Cream
4 cups Frozen Strawberries
4-5 doonks Pure Stevia Extract
Instructions
Prepare the pound cake and whipped cream as directed. In a bowl, place the frozen strawberries and stevia in a bowl, and let sit for 3-4 hours until thawed.
Stir to mix in the stevia extract.
Slice the pound cake into 8 slices, top each with ½ cup of sweetened strawberries, then a healthy dollop of whipped cream. Serve immediately.
Talk Soon,
Gretchen
This post may contain affiliate links.  See my disclosures for more information.