One of the best parts about being a Trim Healthy Mama is the Food Freedom.
Pearl and Serene introduced me to this amazing way of eating through their book, Trim Healthy Mama, and of course the Trim Healthy Mama Cookbook.
It's basically being able to eat all your favorite foods, and not worry about gaining weight – losing weight, even! – simply by learning what an S meal and an E meal was, and then separating the two of them.  It's as simple as that!
New To Trim Healthy Mama?  Read Trim Healthy Mama 101
This means that I can have an on-plan chocolate chip cookie, strawberry shortcake, and even ice cream!!!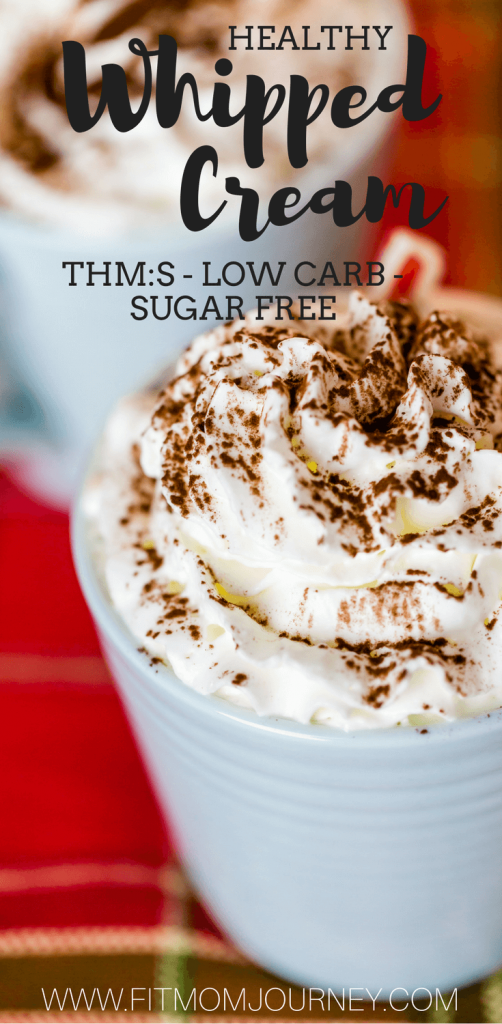 I've enjoyed Chocolate Chip Pound Cake with Caramel Sauce, Brownies, Lemon Meringue Pie, and more – and my journey is just beginning.
One of my favorites though, is Strawberry Shortcake.  It's delightfully healthy, on-plan when made with my THM Pound Cake, berries, and an on-plan whipped cream like this one.
And of course, it's the perfect light S dessert for warmer summer months!
In it's most basic form, Whipped Cream is super simple:
It's cream that has been stirred quickly just enough that it adds a lot of volume and air, but not so much that it turns into butter.
But even in it's simplicity, many of you are intimidated by making it – and you shouldn't be!
Of course, I like to make mine a bit more stable by adding Cream of Tartar, and since I have a sweet tooth Vanilla and Stevia are a must!
Oh, and it also helps if you have a KitchenAid Mixer.  This will save your arms a lot of soreness!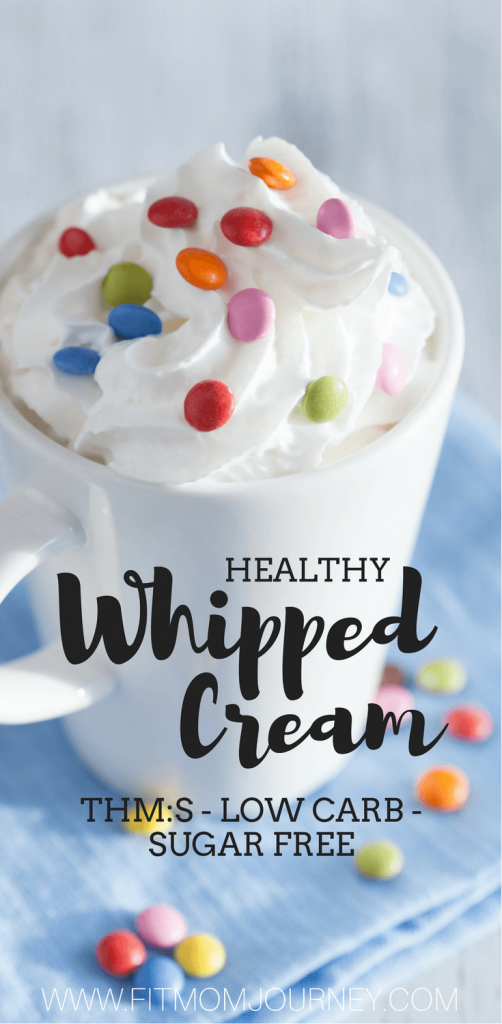 Simple Whipped Cream (THM:S)
Ingredients
1 cup Whipping Cream
3 doonks Pure Stevia Extract
¼ tsp Cream of Tartar
½ tsp Vanilla Extract
Instructions
In a bowl, with either your KitchenAid mixer or a hand mixer, start whipping the cream on medium speed.
As you start to see a bit of volume, slowly add in the Stevia, followed by the Cream of Tartar, and finally by the Vanilla.
Continue mixing until you start to see the whipped cream hold it's shape as you move the beaters around the bowl. When you think it's ready, stop the mixer, then look at how the whipped cream hangs off of the beaters. If it holds a soft peak, it's ready!
Note: be careful not to beat too much, or you'll have sweet butter on your hands!
 Talk Soon,
Gretchen Lindow
This post may contain affiliate links.  See my disclosures for more information.