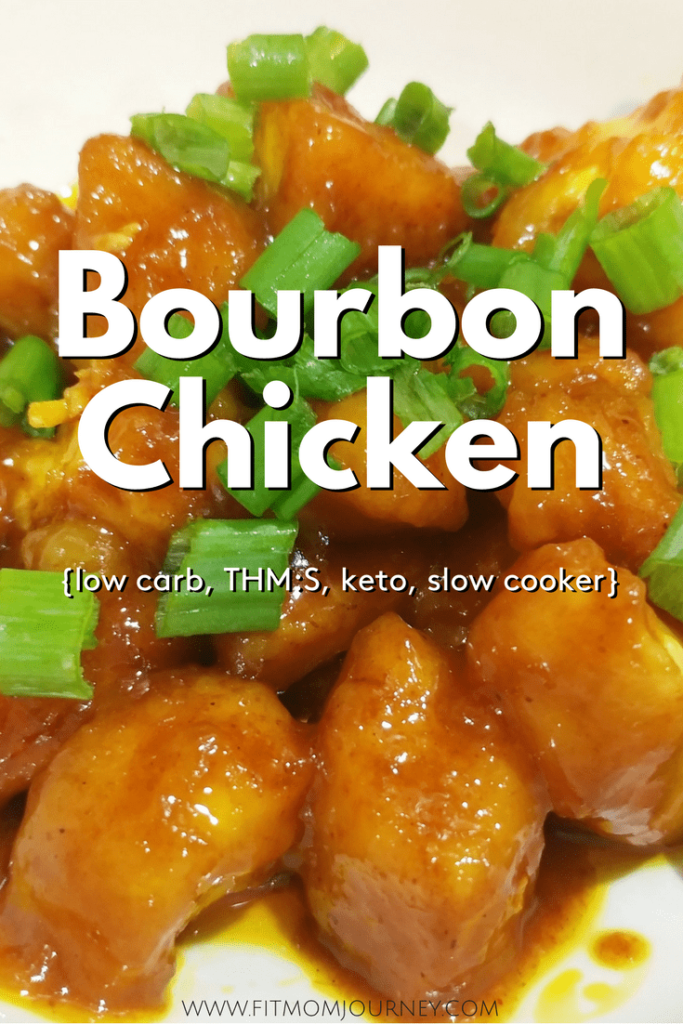 Pin this recipe for later.
---
Slow Cooker Keto Bourbon Chicken
I'll be honest, this recipe happened a little bit my accident.
I was trying to create a Keto General Tso's recipes for the slow cooker, but since I was cooking with my 4-year-old, I forgot the red curry paste, and doubled the sweetener!
To my surprise, it turned out awesome, but I didn't know what to call it!
So I served some to the hubs and he said it tasted like Bourbon Chicken, so here we are.
Since I am all about easy and healthful recipes – and the hubs was a fan – I'm adding this recipe to our regular meal rotation.
This is a great place to use some of the chicken breasts we got from Zaycon Foods for $0.99/lb – no more dry, boring chicken!
Allergy-Friendly, and WOE Friendly Options for Bourbon Chicken:
Bone Broth: In this recipe, I've used 2 scoops of Ketologie Bone Broth + 1 cup of water for my bone broth in the sauce.  Ketologie's powdered bone broth is my absolute favorite way of utilizing bone bone broth (and you can take 10% off of yours with the code "fmjketo18" ), but if you don't have any, simply sub your favorite bone broth.  Or if you're not a bone broth person, just use regular chicken stock.  (Not sure if you should be using bone broth?  Check out the 7 Benefits of Bone Broth to see if it's right for you)
Xanthan Gum – substitute with Arrowroot powder for Paleo/Whole30
Coconut Oil – you can also use Ghee or Avocado Oil, but 2 cups is a LOT. So I recommend purchasing 1 gallon of coconut oil here for about $18, then storing what's left after frying in the fridge to use next time, rather than wasting it.
Soy Sauce/Coconut Aminos: Use Coconut Aminos in place of the Soy Sauce for Paleo/Whole30.  Or, you can use Gluten Free Tamari for a great allergy-friendly option.
Ketchup gives the sauce great color, but is often loaded with sugar and preservatives.  I used Alternasweets Stevia-sweetened ketchup to make this Keto.  It's also gluten-free and sweetened with stevia, so not Whole30 or Paleo.  For those diets, you may need to make your own ketchup or use concentrated tomato paste.
Keto Bourbon Chicken is so easy to make in the slow cooker.  Simply brown the chicken in boil, toss it in the slow cooker, top it with sauce and you're good to go!
More Slow Cooker Recipes:
Keto Beef Stew (THM:S, Low Carb, Keto)
Slow Cooker Crack Chicken (THM:S, Low Carb, Keto)
Slow Cooker Pork Carnitas (THM:S, Low Carb, Keto)
Chicken Mushroom Stroganoff (THM:S, Low Carb, Keto)
Quick Crockpot Cheesy Broccoli Soup (THM:S, Low Carb, Keto)
Affiliate Links: the following links will take you to some of the tools I used to create this recipe.  When you purchase through my link, I get a small commission, at no cost to you, which helps to support the cost of running this site.  This means more FREE recipes and resources for you.
Keto Bourbon Chicken
Prep time:
Cook time:
Total time:
Ingredients
3 chicken breasts, cubed
¼ cup Xanthan Gum
1 tsp Salt
½ tsp Pepper
2 cups Coconut Oil for Browning
For the sauce:
1 T Soy Sauce or Coconut Aminos
1 cup Chicken Bone Broth
⅓ cup Swerve
½ tsp Ginger
1 tsp Garlic Powder
½ tsp Cayenne
2 T Toasted Sesame Oil
1 T Vinegar
2 T Paleo Ketchup
Instructions
Heat the coconut oil in a large pot on the stove.
Cube the chicken, then sprinkle it with the salt and pepper. In a large ziploc bag, sprinkle half of the Xanthan Gum in the bottom. Put the chicken in the bag and top it with the rest of the Xanthan Gum. Toss to Coat.
Cook the chicken in the coconut oil in batches, about 4 minutes per batch, until lightly browned. Transfer chicken to your slow cooker.
In a separate bowl, mix all of the sauce ingredients. Pour it over the browned chicken in the slow cooker.
Cover and cook on low for 2.5 - 4 hours.
Then, about 30 minutes before serving, gentle mix the chicken, then switch the slow cooker to high to thicken up the sauce.
Serve warm and enjoy!
xoxo,
Gretchen
---
Want more Keto recipes?  Join the Fit Mom Journey newsletter to have first access?

---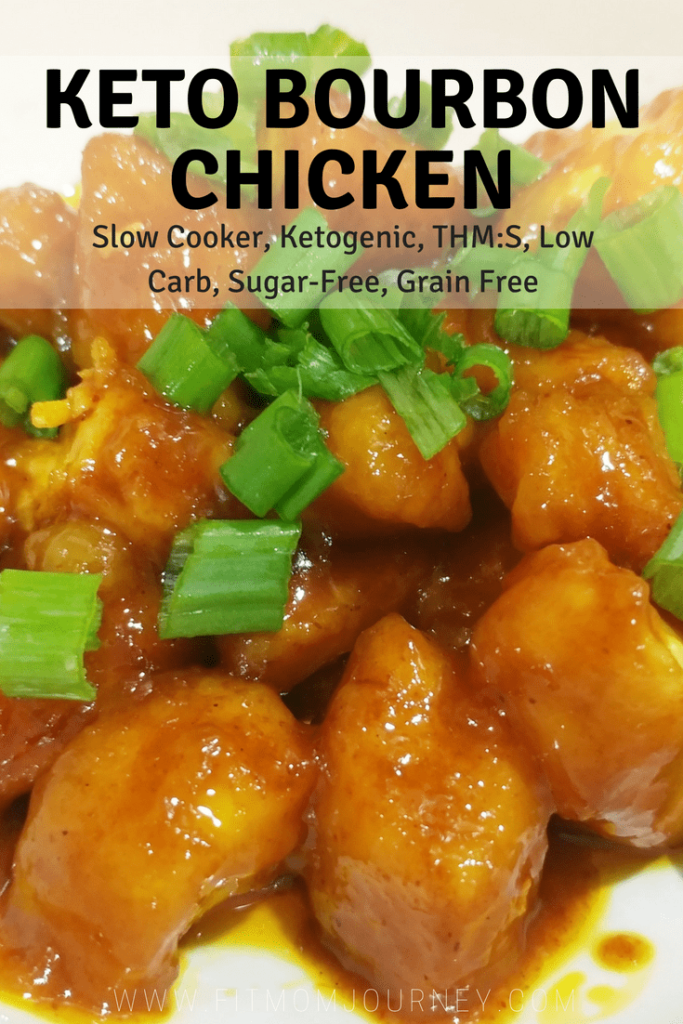 Pin it for later.
This post may contain affiliate links.  See my disclosures for more information.