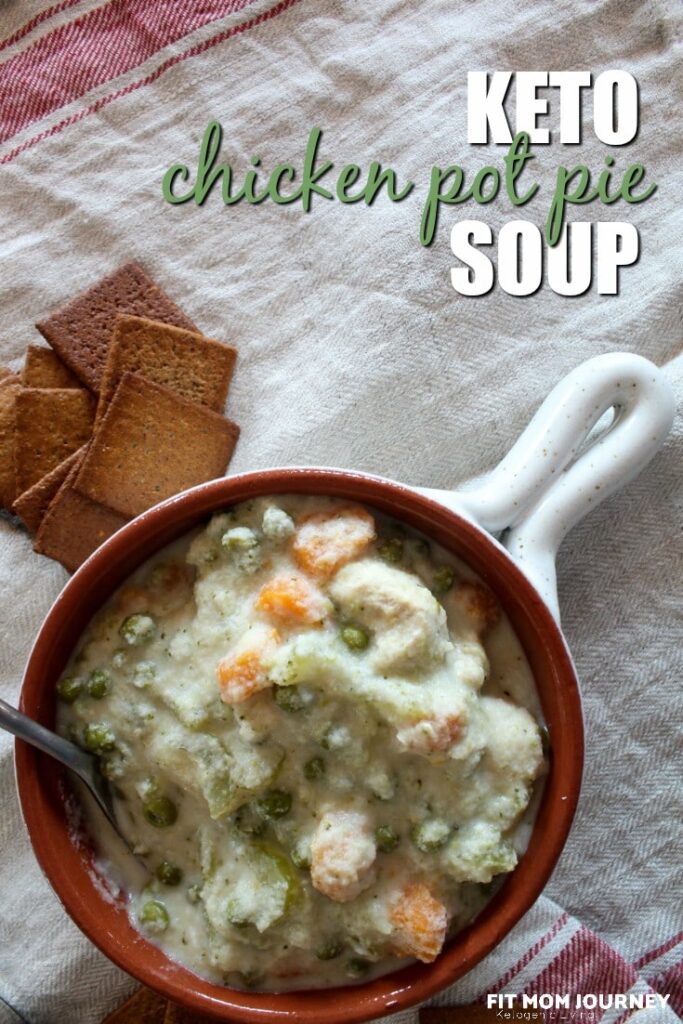 ---
Keto Chicken Pot Pie Soup
{Low Carb, Ketogenic, THM:S, Grain Free}
This Keto Chicken Pot Pie Soup is easy to make in the slow cooker or InstantPot. The new recipe is easy to make, yet still delicious and hearty.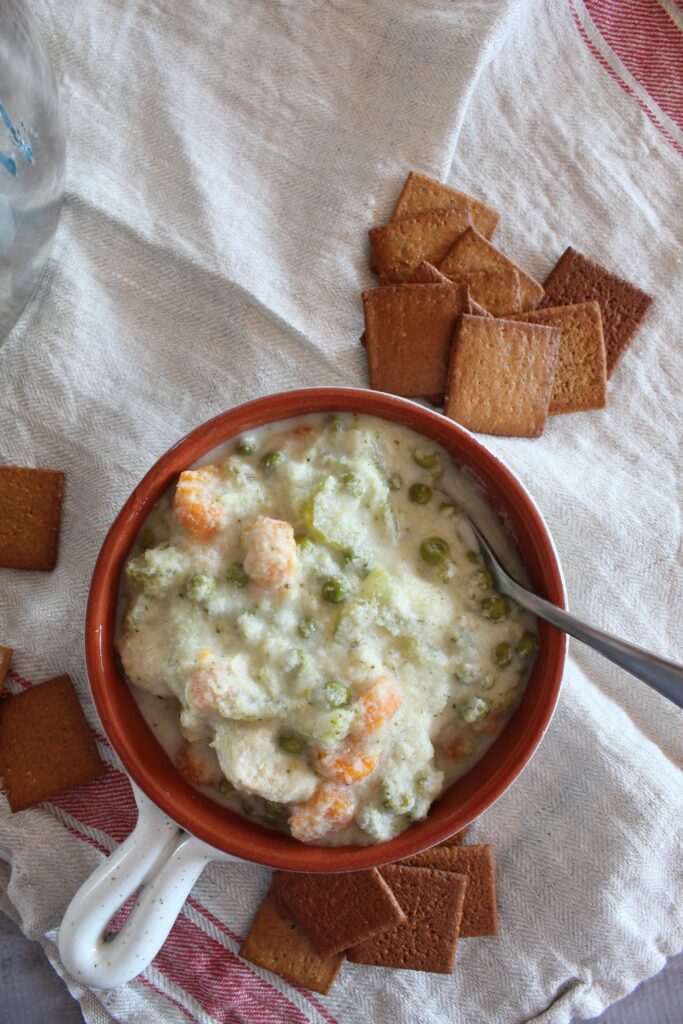 Do you have an InstantPot?
If not, you're going to want to run out and get one (I have this one) after you see this recipe, because it is my husband's absolute favorite when it's cold, he's not feeling well, or is stressed.
See to him, Chicken Soup means comfort. It's what his mom gave him when he was sick growing up, and he's kind of adopted it as his "I'm having a bad day" soup.
Related: Visit the Soup Recipe Index
Sometimes our men just need a little pick-me-up, don't they? Even if food is their pick-me up 🙂
Now for me personally, I'm not a big Chicken Soup eater.
But give me Chicken Pot Pie and I'm All. About. It.
So, I put together a Whole30 Chicken Soup that reminds me of Chicken Pot Pie Soup and also Chicken Noodle Soup to make both of us happy.
Sounds weird, no?
It's delicious, I promise.
First, you'll make a faux "cream of" base for the soup.
Throw in carrots, celery, chopped chicken, onion, cauliflower, and spices, then cook it in the InstantPot for just a few minute.
And out comes a delicious, creamy, hearty Whole30 Chicken Soup that will satisfy both Chicken Noodle Soup Lovers and Chicken Pot Pie Lovers.
Plus, I use bone broth for it's health benefits:
Bone broth is SO good for you. Here are a few of the benefits:
Healing Leaky Gut Syndrome

Help with food intolerances and allergies

Improve Joint Health

Reduce Cellulite's Appearance & Improve Your Skin

Boost Your Immune System

Sleep Better

Prevent Osteoporosis and Strengthen Bones

Supplement Your Diet with Protein
If you've been looking to add the health benefits of bone broth to your diet, and need a convenient product, then Kettle & Fire Bone Broth is worth having around.
There are zero net carbs in each serving of this delicious bone broth, and it sells for a price that even my frugal self can get on board with.
You can find Kettle & Fire Bone Broth on their website: KettleAndFire.com
Even better, this particular recipe has run the gamut of testing.
The week I perfected this recipe, we had 2 of my husband's Army buddies staying at our house. Not only did they eat firsts, seconds, and thirds, one of them even asked me for the recipe.
So, yeah, it's pretty much bomb.
Also, if you're eating carefully, my Whole30 Chicken Soup is a THM:S, Ketogenic, Whole30, and Low Carb.
But, enough tooting my horn! I want to get on to the actual recipe!
Ingredients in Keto Chicken Pot Pie Soup
1.5 heads Cauliflower
Carrots, peeled and sliced
Celery stalks, sliced
Onion, diced
Kettle & Fire Chicken Bone Broth
Almond Milk
Green Onion
Chicken Breast
Thyme
Garlic Powder
Salt
Pepper
You May Also Like
Crockpot Taco Soup (THM:S, Keto, Low Carb)
InstantPot Cauliflower Soup with Crispy Sa
age (Whole30, THM:S, Keto, Low Carb)
Low Carb Mozzarella-Stuffed Meatballs (THM:S, Keto , Low Carb)
Spinach, Tomato, and Feta Burgers (THM:S, Keto, Low Carb)
Slow Cooker Spanish Chicken & Rice (THM:E)
Quick Crockpot Cheesy Chicken & Broccoli Soup (THM:S, Keto, Low Carb)
Slow Cooker Chicken Mushroom Stroganoff (THM:S, Keto, Low Carb)
Did you know I have an Amazon Storefront? I've stocked it with all of my favorite clean, primal, products – products you'll actually find in my pantry every single day.
No more hunting for just the right product – you can find them all right HERE.
DID YOU MAKE THIS RECIPE?
If you try this recipe I would love to see it and share it! Tag me on IG @fitmomjourneythm, using the hashtag #fitmomjourney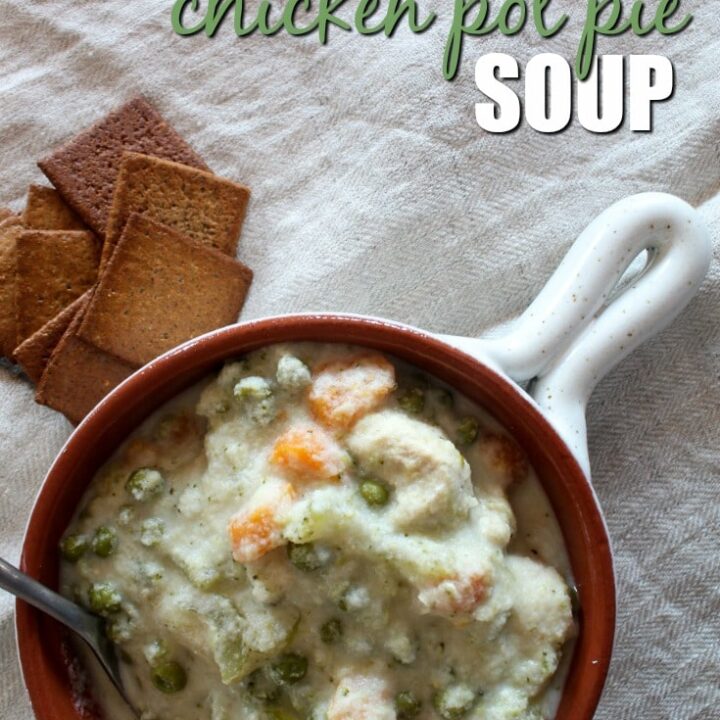 Keto Chicken Pot Pie Soup
This Keto Chicken Pot Pie Soup is easy to make in the slow cooker or InstantPot.  The new recipe is easy to make, yet still delicious and hearty.
Ingredients
1 head Cauliflower + 1/ 2 head Cauliflower
3 Carrots, peeled and sliced
4 Celery stalks, sliced
1/2 Onion, diced
1 cup Almond Milk
1/2 cup diced Green Onion
3 cups diced Chicken Breast
1 T Thyme
1 tsp Garlic Powder
1 tsp Salt
1/2 tsp Pepper
Instructions
Cook the whole head of cauliflower + the 1/2 head of cauliflower in your InstantPot on High Manual for 5 minutes.
Do a quick release, then place the whole head of cauliflower in your blender with the Almond milk. Blend until smooth.
Take the steamer rack out of your InstantPot, replace the 1/2 head of steamed cauliflower and pour in the pureed cauliflower mixture.
Add in the carrots, celery, onion, green onion, chicken, seasonings, and bone broth. Cook an additional 15 minutes on High Manual, then do a quick release and serve!

Nutrition Information:
Yield:

8
Serving Size:

1
Amount Per Serving:
Calories:

178
Total Fat:

3g
Saturated Fat:

1g
Trans Fat:

0g
Unsaturated Fat:

2g
Cholesterol:

46mg
Sodium:

634mg
Carbohydrates:

14g
Net Carbohydrates:

8g
Fiber:

6g
Sugar:

7g
Protein:

26g
xoxo,
Gretchen
---
Ready to start your Keto journey? Let me show you how:
---
This post may contain affiliate links. See my disclosures for more information.