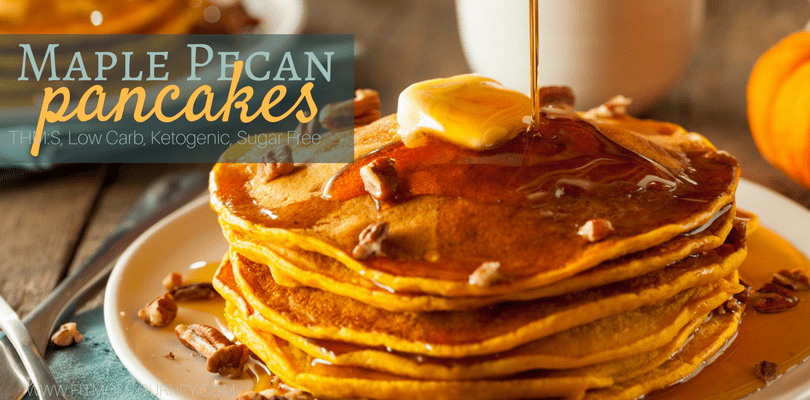 ---
Maple Pecan Almond Flour Pancakes – Keto, THM:S, Low Carb
We have been working really hard on our macros lately.
I'm talking tracking apps, measuring our food, and even keeping track of our heart rates during workouts to keep an accurate count of our calories in and out.
I agree, it's a bit excessive.
But, the hubs and I's weight and measurements have been stalled for a few weeks and we're tired of it.
Keto is different from Trim Healthy Mama, because instead of having high and low carb meals, you eat a very low (net) carb diet.  When you don't eat carbs, your body switches over to burning fat for fuel, which can have a LOT of dietary and lifestyle benefits such as increased energy, fat loss, better memory, and some studies have even linked it with preventing diseases like Alzheimer's.
Unfortunately. tracking our macros doesn't keep us from having cravings.  Thankfully, they're less than before we started caring about what types of food we put in our bodies, but they still happen.
Sort of inevitable, I guess.
They're saying (I have no idea who the "they" is) that maple is going to be the next big thing after the Pumpkin Spice Craze, and while I'll forever be a Pumpkin Spice devotee, I'm pretty excited to jump on the Maple bandwagon, especially with my latest craving:
Maple Pecan Almond Flour Pancakes.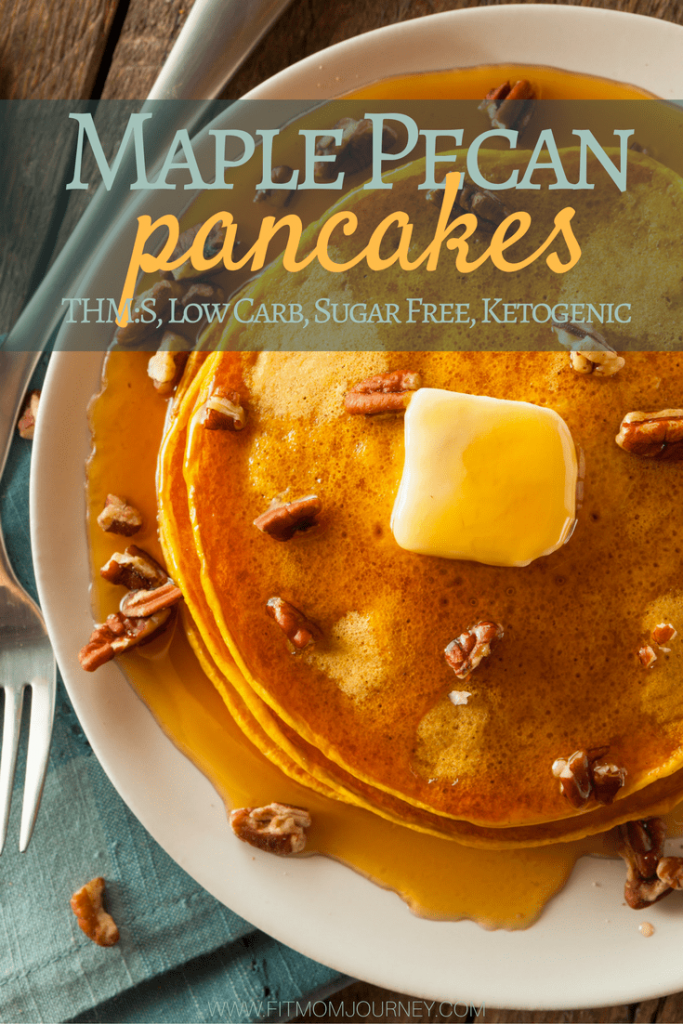 I literally threw these together one morning when I had the idea on my brain, using knowledge I already had of how to create THM:S panackes, and since my family – and some of the extended family – gobbled them up, I decided to just go ahead and publish the recipe.
So I would love for you to give these a try and let me know if there are any changes you would make, whether they're just changes because of preference, texture, or any other suggestions you might have!
These Maple Pecan Pancakes are grain-free, low carb, ketogenic, a THM:S, and sugar free.
Even better, their macros fit perfectly into Keto and THM:S. Here's how they stack up:
110 calories
8g fat
1 net carb
6 g protein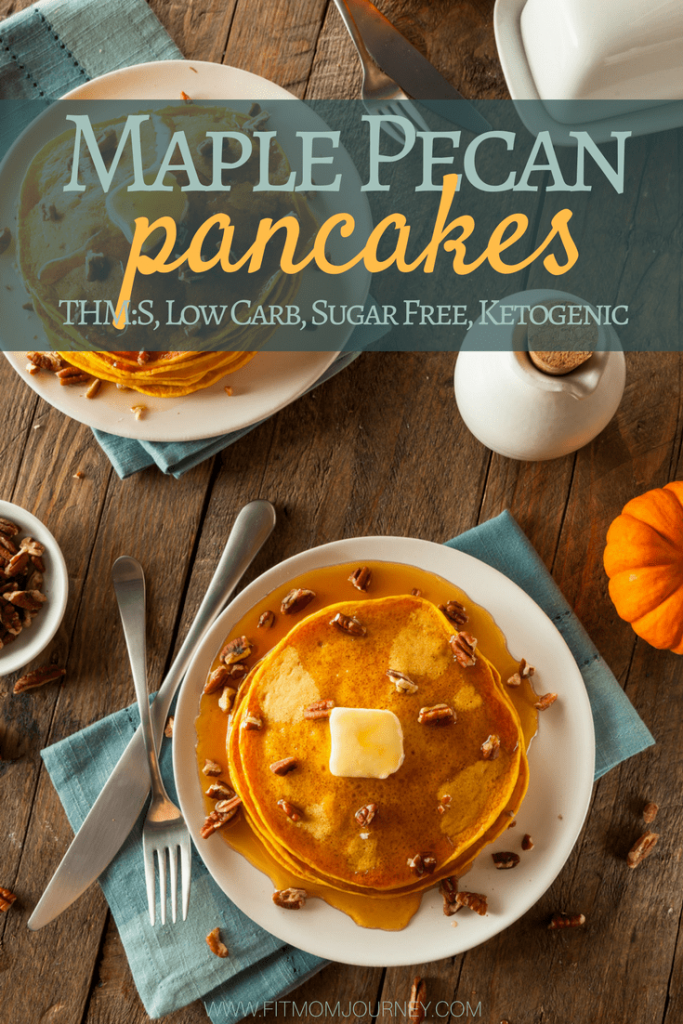 Pancake Topping: I can think of so many topping ideas for Maple Pecan Pancakes!
Low Carb Fruit: Raspberries, Blackberries, Strawberries
More Low Carb Nuts: Chopped Macadamias, Pecans, Walnuts, Almonds
Butter!
Fried Eggs: With running yolks, this combination of sweet and savory is delicious!
THM Whipped Cream: Get the recipe here!
Lily's Chocolate Chips: great on top OR IN the Maple Pecan Pancakes
---
My newest eBook, THM Fall Beverages, is done and it's FREE!  Subscribe to the FMJ newsletter for access to the book:
---
These Maple Pecan Pancakes are designed to be fluffy, rather than thin and crepe-like – to accommodate the chopped pecans.  They cook up beautifully in butter or ghee (like at Cracker Barrel) with crispy edges, a nice buttery crunch, and soft insides.
For syrup, I used the Syrup recipe from the Trim Healthy Mama Cookbook (pg. ) so I highly recommend using that recipe!
Affiliate Links: the following links will take you to some of the tools I used to create this recipe.  When you purchase through my link, I get a small commission, at no cost to you, which helps to support the cost of running this site.  This means more FREE recipes and resources for you.
You May Also Like:
Pumpkin Cake Roll with Cream Cheese (THM:S, Ketogenic, Low Carb, Sugar Free)
Maple Waffles (THM:S, Ketogenic, Low Carb, Sugar Free)
Cinnamon Roll in a Mug with Cream Cheese Frosting and Browned Butter Sauce (THM:S, Low Carb, Ketogenic Fat Bomb)
Chocolate Chip Pound Cake (THM:S, Ketogenic, Low Carb, Sugar Free)
Dreamy Caramel Turtle Bites (THM:S, Ketogenic, Low Carb, Sugar Free)
Are you ready for some awesome pancakes?

Maple Pecan Pancakes (THM:S, Ketogenic, Low Carb, Grain Free)
Prep time:
Cook time:
Total time:
Ingredients
¾ cup Almond Flour
½ cup Coconut Flour
1.5 tsp Baking Powder
1 T Truvia
½ cup Chopped Pecans
6 large Eggs
¼ cup Almond or Macadamia Milk
1 tsp Vanilla Extract
2 tsp Maple Extract
½ tsp Salt
Instructions
Mix the Almond flour, Coconut Flour, Baking Powder, Truvia and Chopped Pecans in a bowl. Add the Eggs, Almond (or Macademia) Milk, Vanilla Extra, Maple extract and salt and whisk to combine.
If batter is too thick, add a little more Almond milk until the batter is the consistency of traditional pancake batter.
Preheat a skillet coated with butter on medium heat. Drop the batter onto the skillet and swirl into circles. Cook about 2 minutes, or until browned on the bottom side, then flip and repeat. Bubbles will start to form in these pancakes just like traditional pancakes, so watch for that as a good indicator of when to flip.
Repeat with the rest of the batter, then serve with the low carb syrup of your choice.
So, how'd you like them?  Leave me a comment and let me know!
xoxo,
Gretchen
---
Become a part of the FMJ family & join the newsletter!  We'd love the have you:
---
This post may contain affiliate links.  See my disclosures for more information.