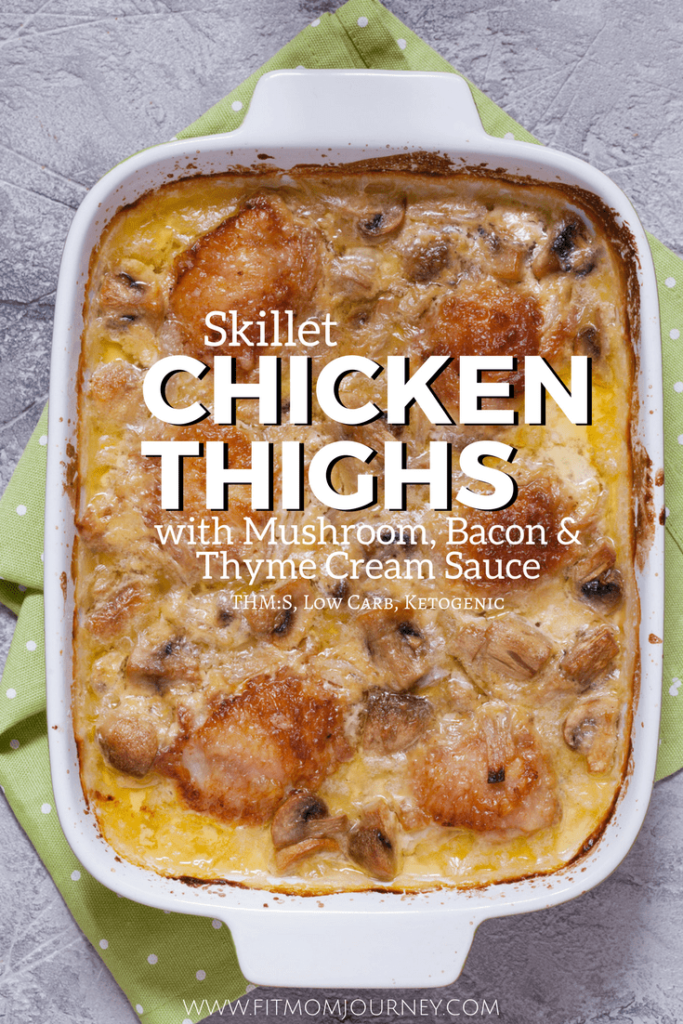 ---
Skillet Chicken with Mushroom, Bacon and Thyme Cream Sauce
Need a quick weeknight dinner?  Look no further than these Skillet Chicken Thighs with Mushroom, Bacon and Thyme Cream Sauce.
I love using chicken thighs in recipes because they're inexpensive, you can find them in nearly every grocery store, and they don't dry out like chicken breasts.  That being said, their flavor is not my favorite, so I tend to pair them with strong flavors like the bacon and thyme found in this recipe.
And can I give you a quick tip?
No matter how pressed for time you are, make sure to sear the outside of the thighs in a pan with some ghee or coconut oil on medium-high heat to keep them from drying out and giving them a nice golden brown color.  It takes only a couple of minutes per side, and will be well worth the time.
The best part?  This recipe takes only 30 minutes or less from start to finish!
You May Also Like:
Keto Beef Stew (THM:S, Low Carb, Keto)
Slow Cooker Crack Chicken (THM:S, Low Carb, Keto)
Slow Cooker Pork Carnitas (THM:S, Low Carb, Keto)
Chicken Mushroom Stroganoff (THM:S, Low Carb, Keto)
Quick Crockpot Cheesy Broccoli Soup (THM:S, Low Carb, Keto)
Affiliate Links: the following links will take you to some of the tools I used to create this recipe.  When you purchase through my link, I get a small commission, at no cost to you, which helps to support the cost of running this site.  This means more FREE recipes and resources for you.
This recipe is a THM:S Fuel, Low Carb, Ketogenic, Gluten, and Grain-Free.

Skillet Chicken with Mushrooms, Bacon and Thyme Sauce
Prep time:
Cook time:
Total time:
Ingredients
8 Boneless, Skinless Chicken Breasts
Salt and Pepper, to taste
Ghee
1 cup heavy Cream
8 ounces sliced Mushrooms
3 slices Bacon, cooked and diced
1 tsp Thyme
Instructions
Warm a large skillet over medium heat. Trim all the extra fat off of the chicken thighs, then sprinkle each side with salt and pepper.
Add about 2 tablespoons of Ghee or coconut oil to your skillet, then add the chicken thighs and cook about 3 minutes on each side, until each side is browned.
Remove the chicken thighs from the skillet and set aside.
Add the mushrooms to the skillet - no salt - and caramelize them, about 7-10 minutes, flipping halfway through.
Add the heavy cream, bacon, and thyme to the skillet, whisking well to combine.
Add the chicken thighs back in, and cook on medium-low about 20 minutes, stirring every few minutes, and flipping the chicken thighs about halfway through.
Serve over zucchini noodles, cauliflower, or on it's own immediately!
xoxo,
Gretchen
---
Ready to give Keto a try?  I changed my life with Keto and you can too!  Sign up below right now to get started:
---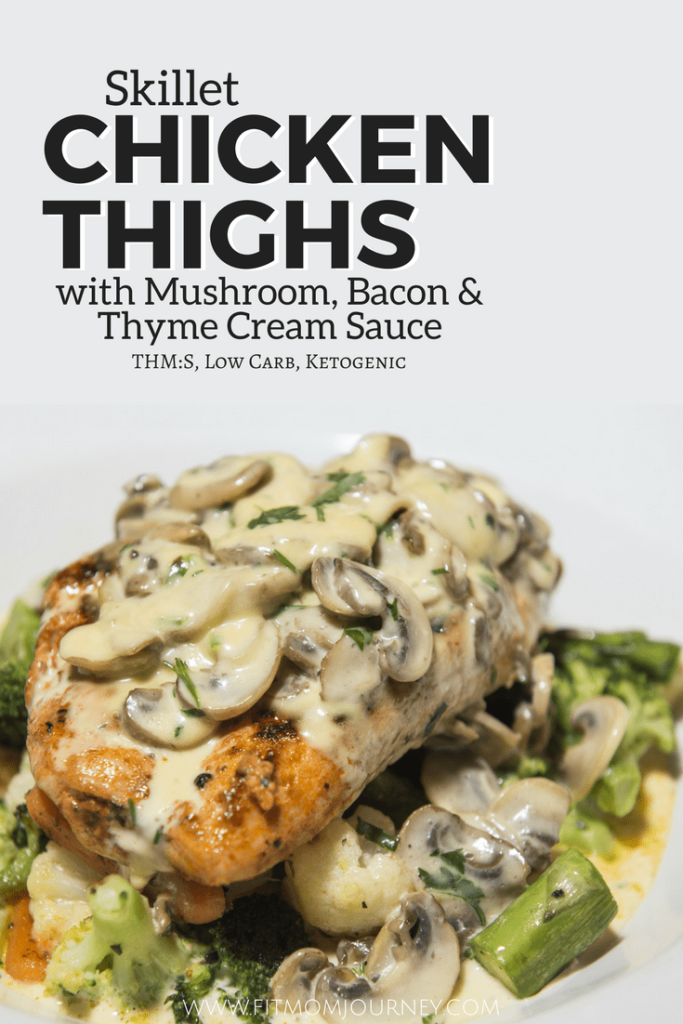 This post may contain affiliate links.  See my disclosures for more information.