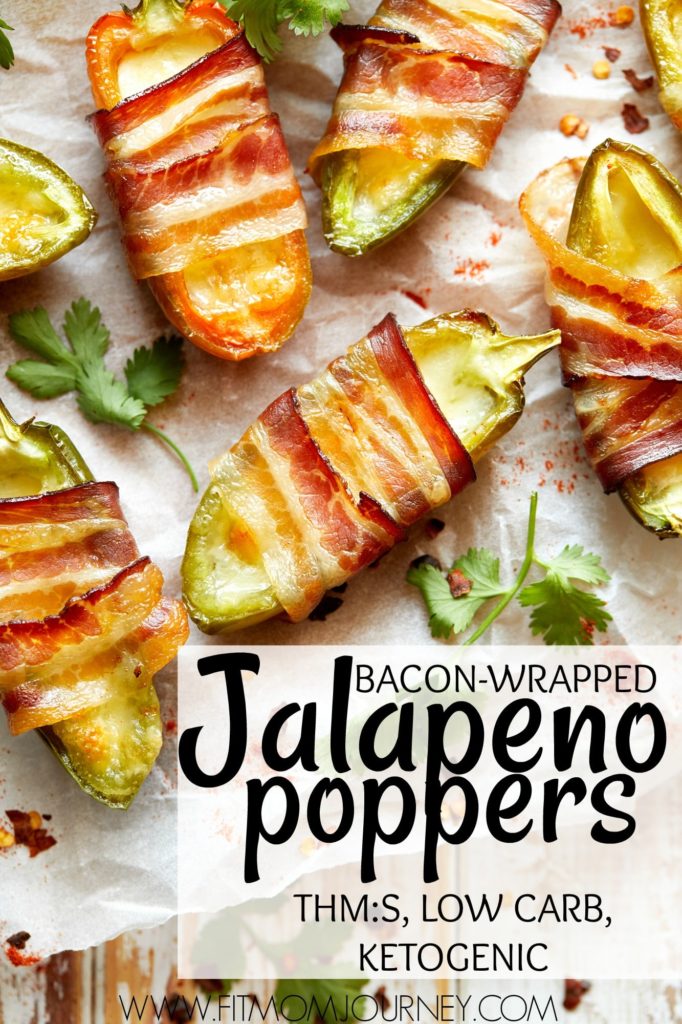 ---
Bacon-Wrapped Jalapeno Poppers
(THM:S, Ketogenic, Low Carb)
Guess what's right around the corner?
Appetizer parties!
Just kidding….
The Super Bowl will be here before we know it!  If you're like me, you aren't really a football fan, but going to a Super Bowl party is fun because of the food, and fellowship, and the friends.
Or maybe you really get into sports, and that's cool too – as long as you enjoy the snacks too!
These jalapeno poppers are on of those appetizers, that when you make them, you can always count on them being snapped right up.  And of course they're perfect for your Super Bowl Party.  Traditional Jalapeno Poppers are just jalapeno halves stuffed with cream cheese, then breaded and friend.
But I've kicked them up a notch.
With bacon.
I'm keto, so really bacon is the solution to everything.
There are so many reasons to love these Bacon Wrapped Jalapeno Poppers, but at the top of my list are the fact that they're super simple to make, and that no one will suspect they're Keto-fied. Making them doesn't get any easier, either.
---
New to Keto?  Check out these other awesome articles:
My Keto Success Story: What 60 Days in Ketosis Did for Me
Keto 101: What is a Ketogenic Diet?
How To Get Rid of Keto Flu
7 Signs You Are In Ketosis
How To Calculate Your Keto Macros
How to Use Exogenous Ketones Correctly
---
Here's what you'll need:
Directions:
First, slice your jalapenos lengthwise.  I like to leave a bit of the stem on each half, which acts like a "handle" to pick up the popper.  Once sliced, remove the seeds from the insides.
In a bowl, mix the cream cheese, shredded cheese, and garlic salt.  Then stuff each pepper half with just enough cream cheese that's filled but not overflowing.
Now you'll want to get your bacon ready.  You will need 1/2 slice of bacon for each jalapeno half.   I like to use thin-cut bacon, but thick cut will work to if you like your ratio of bacon to popper to be greater.  Wrap each 1/2 slice of bacon around a stuffed jalapeno half.  If you're struggling getting the bacon to stay, you can secure it with a toothpick, but I find wrapping it tightly and then setting it back on the pan does the trick just fine.
We used the grass-fed bacon from our Butcher Box, which had the perfect amount of fat and meat on it, and was sliced at just the right thickeness!
Place the poppers on a rimmed baking sheet and bake for 15 minutes at 400F.
These poppers are so simple!
You May Also Like:
Slow Cooker Ranch Pork Chops
90-Second Cinnabon (Keto, THM:S, Fat Bomb)
Chocolate Chip Peanut Butter Cookie Dough Fat Bombs
InstantPot Sloppy Joes
Fathead Pizza Crust
The Best Keto Starbucks Drinks

Bacon Wrapped Jalapeno Poppers THM:S
Prep time:
Cook time:
Total time:
Ingredients
12 Jalapeno Peppers, sliced lengthwise and de-seeded
8 oz Full-Fat Cream Cheese, softened
½ cup Shredded Cheddar cheese
1 T Garlic Salt
12 slices of bacon, cut in half
Instructions
Preheat oven to 400F.
Slice Jalapenos lengthwise, clean and de-seed. Then mix the cream cheese, shredded cheddar, and garlic salt.
Stuff each jalapeno half with the cream cheese mixture . Do not overfill, or you will have a mess in your oven.
Wrap each stuffed jalapeno half with ½ slice of bacon and place on rimmed baking sheet. Bake for 15 minutes, until the bacon is cooked through and crispy.
Remove from the oven and cool for 5 minutes before serving.
xoxo,
Gretchen
---
More Keto Recipes?  Join the Fit Mom Journey newsletter:
---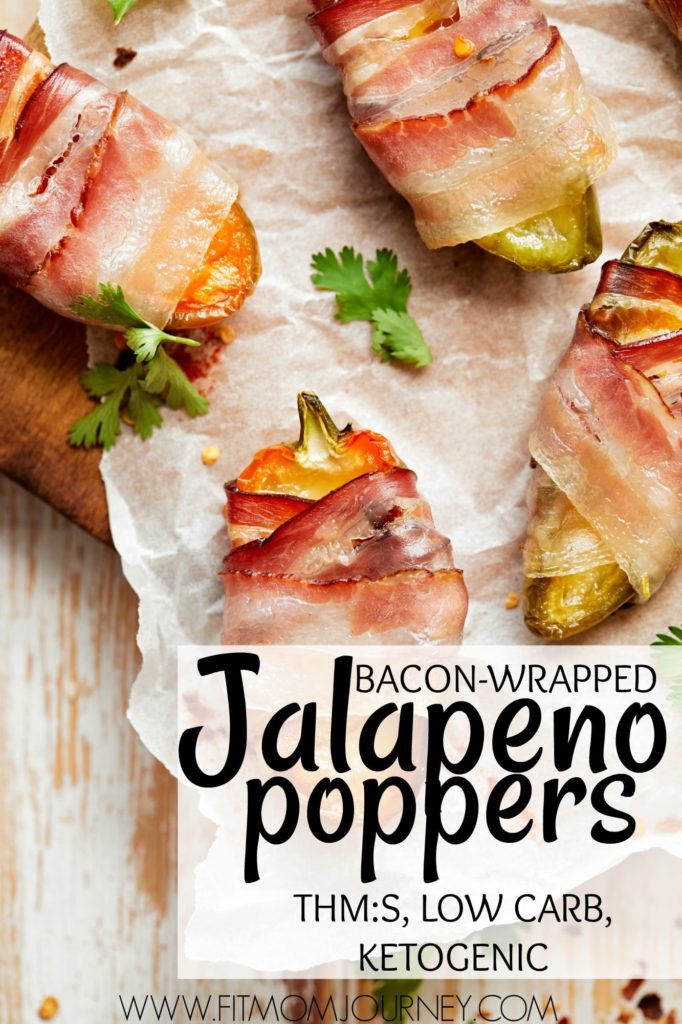 This post may contain affiliate links.  See my disclosures for more information.