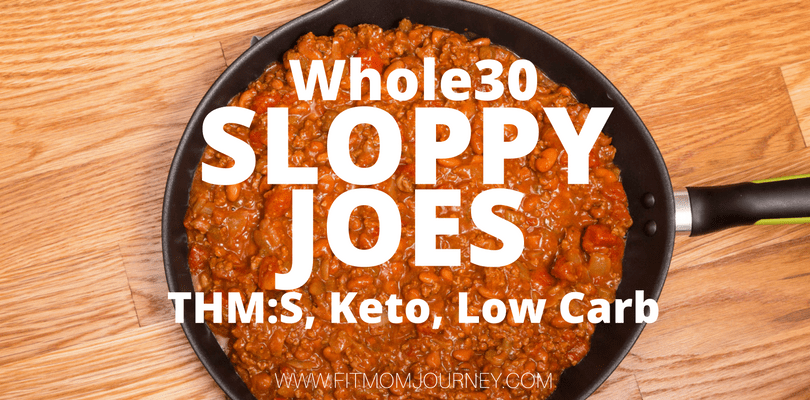 InstantPot Whole30 Sloppy Joes
I grew up Sloppy Joes, Hot Dogs, and Goulash.  My mom was a frugal meal planner, and that means that at least once a week, we would have one of these meals.  Growing up I thought everyone ate sloppy joes – weird name for a sandwich, right? – but as it turns out, they didn't.
Still, if you grew upon sloppy joes, then they probably signal comfort food to your brain, like me!
There's just something about the sweet and spicy flavor, the fat, and how easy they are to throw together that makes them a staple at my grown-up house to this day.
But when I did Whole30, I realized that I couldn't make Whole30 Sloppy Joes the same way I made "regular" sloppy joes.  So I dreamed up this little recipe, hoping to give your family and mine some of the comforts of home – in a Whole30 complaint way.  My Whole30 Sloppy Joes are also meant to be a husband-pleaser.  So far it's worked on mine, since the hubs went back for seconds, and took the leftovers in his lunch the next day.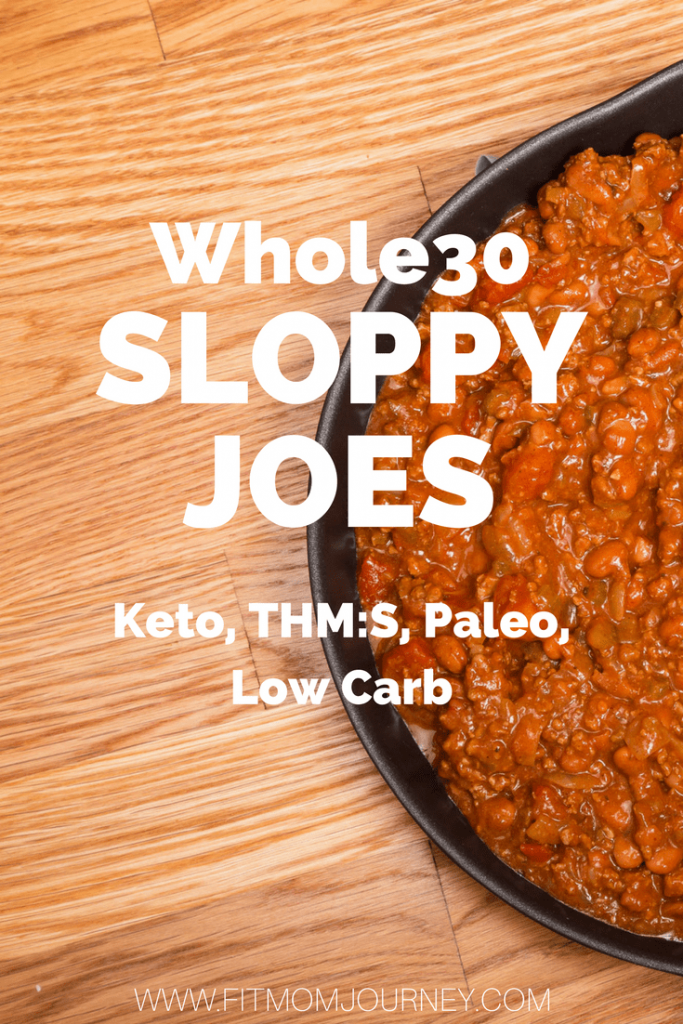 Yep, these are Whole30 compliant, made from real food, and cooked 100% in your InstantPot.  They're also Keto, a THM:S and Low Carb, so they'll fit into many different eating styles.
Even though my mom made Sloppy Joes in a deep skillet on the stovetop, I chose to make mine in my Instantpot (I have this one) because it is quickly becoming my favorite kitchen appliance.  I swear if it weren't for my InstantPot, I would have give up on Whole30 or Keto already.  It just saves me so much time!
Related: 7 Reasons Why My InstantPot is My Favorite Appliance
You guys, I can throw 2 pounds of completely frozen ground beef into my InstantPot, set it to manual high pressure for 15 minutes, and it will be cooked through, ready to crumble into whatever dish you're making and that alone make me love it.  I am terrible about thawing out meat of any kind, and even worse about actually following through and browning/cooking it on the stove in a skillet.  #wasteoftime
If you haven't picked up an InstantPot yet, trust me and just take the leap.  Yes, they may seem expensive, but the time and hassle they save make it so worth it.  And if you're cooking 3 meals a day, 7 days a week, you're basically a professional chef – invest in some good equipment!
And also, doing this Whole30 thing has showed me the power of Pureed Dates when sweetener is needed.
Need some sweetness to your salad dressing?  Throw a date or two in and blend.
Need some sweetness in your homemade almond milk?  Put dates in the blender for a bit of sweetness.
And Whole30 Sloppy Joes need a bit of sweetness to them too, so here's what you'll do: Add 1/4 cup water and 3 dates to a blender cup.  Blend really well, for about 2 minutes, then add half of the mixture to the sloppy joes.  Taste them, and add the rest of the prune puree if it needs more sweetness.  How much you add will be up to you, depending on how sweet you like them!
These Whole30 Sloppy Joes are great over a variety of Whole30 Compliant sides: white potatoes, sweet potatoes, mashed cauliflower, cauliflower rice, or any number of other sides.  It's even great over zoodles!
Looking for more Whole30 Recipes your family will love?  Try a few of these Whole30 Compliant Dishes:
InstantPot Whole30 Cauliflower Soup with Sausage
Whole30 Thai Salad
Whole30 Chili
Slow Cooker Pork Carnitas: Paleo, Whole30, THM:S, Low Carb
Let's get sloppy!

InstantPot Whole30 Sloppy Joes
Prep time:
Cook time:
Total time:
Ingredients
2 pounds Ground Beef, frozen
½ c Chopped Onion
½ c Chopped Green Pepper
1 4oz can Tomato Paste
½ c Water
2 T Apple Cider Vinegar
2 T Dijon Mustard
1 t Minced Garlic in Olive Oil
1 t Parsley, dried is fine
2 tsp Salt
5 pitted Prunes
¼ c Water
Instructions
Place the steamer rack in the bottom of your InstantPot, and pour 1 cup of water in the bottom.m Place 2 pounds of ground beef on the steamer rack, then lock the lid, and set the InstantPot to High Manual for 15 minutes.
When the InstantPot is done, do a quick release, then take the ground beef out of the pot. Set aside while you drain the water and fat and remove the steamer rack. Put the InstantPot back together, and crumble the ground beef in the bottom. Add the onion, green pepper, tomato paste, water, apples cider vinegar, Dijon mustard, garlic, parsley and salt.
In a single-cup blender, blend the pitted prunes and water well, then add half the prune puree to the InstantPot and mix well.
Sample to see if the level of sweetness is to your liking, and add more prune puree if desired.
Lock the InstantPot's lid, and set it to Manual High for 5 minutes. When it's done, do a quick-release, then serve over potatoes, cauliflower, or zoodles!
xoxo,
Gretchen
---
Do you like Whole30 recipes?  I would love to you to join my newsletter:
---
This post may contain affiliate links.  See my disclosures for more information.